16 Best Keyword Research Tools
Keyword research is an important part of your SEO strategy. The right keyword research tools can help you grow your traffic. While keywords shouldn't be the only reason you create content, it can be helpful to understand what your audience is looking for. When I work with a new client on a PPC or an SEO campaign, one of the first things I do is keyword research. But you can't even get started without the right keyword research tool. This blog post will review 16 of the best keyword research tools for SEO available in 2023 to help you find high-value keywords and optimize your site content.
1. Google Keyword Planner
Visit Google Keyword Planner

What is it? Google Keyword Planner is a free tool that provides search volume and competition data directly from Google. This makes it one of the most accurate sources for global and local monthly search volumes. You can use keyword planner to find all of your SEO and PPC keywords, all you need is a Google Ads account.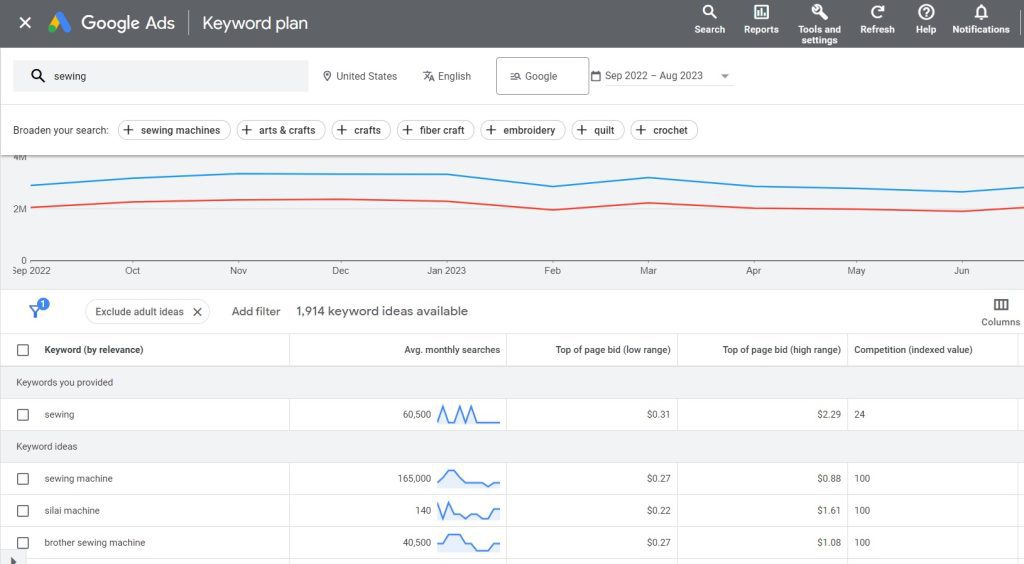 How to use Google Keyword Planner for Keyword Research: Use Google Keyword Planner to identify high-volume keywords to target, as well as lower-competition alternatives. Just note that search volume insights are limited without a paid Google Ads account and an active campaign. However, you can look at historic search volume data, find long-tail keywords, use filters to find the right keywords, view estimated CPC bids, view keyword competition and create a saved keyword list. You can then export your saved keyword list. If you enter 1 popular keyword into Google Keyword Planner, you will see hundreds or even thousands of relevant long-tail keywords.
Google Keyword Planner Video Tutorial
You can watch my video below or on YouTube. I go over exactly how to use keyword planner for beginners.
---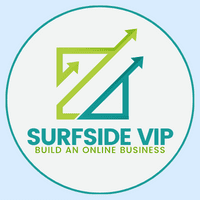 Join Surfside VIP today for only $2.99/month! Learn how to create a successful online business. Watch me build my websites and my YouTube channel to 500,000+ views per month and get all of my strategies.
---
2. SEMRush
What is SEMRush? SEMRush is a powerful keyword research and SEO toolkit. It provides a suite of tools to research and analyze keywords, track rankings, spy on competitors, and improve website SEO. SEMRush aims to help marketers boost their organic traffic and get the most out of search engine optimization.
How to Use SEMRush for Keyword Research: The Keyword Overview tool allows you to analyze any keyword to understand its search volume, difficulty level, CPC, and more. This helps you identify profitable, high-traffic keywords to target. The Organic Research tool lets you find keywords your competitors rank for so you can optimize your own content. The Keyword Magic Tool generates thousands of new long-tail keyword ideas from a single seed keyword. This allows you to find untapped keywords to conquer. With so many robust keyword research features, SEMRush makes it easy to find the best keywords to drive more organic traffic.
3. SpyFu
What is SpyFu? SpyFu is a powerful keyword research tool for SEO and PPC. It allows you to research competitor keywords, analyze SERPs, uncover profitable new keywords, and optimize website content. SpyFu provides data-driven insights to improve organic and paid search campaigns.
How to Do Keyword Research with SpyFu: SpyFu's keyword generator helps you discover new, relevant keywords to target. You can filter keywords by search volume, CPC, difficulty, CTR, and more. The keyword grouping tool lets you upload lists to organize and analyze keywords together. With SpyFu you can also research competitors' ads to find profitable keywords. The platform analyzes ad tests, surfaces winners and losers, and provides advice to improve PPC campaigns. For organic keyword research, SpyFu reveals ranking history and specific backlinks that help pages rank. This helps uncover opportunities and benchmark against competitors. With robust data and analysis, SpyFu enables comprehensive keyword research for both SEO and PPC.
4. Google Trends
What is Google Trends? Google Trends is a free tool that allows you to analyze search trends and compare keyword popularity over time. It provides insights into what people are searching for online globally or within specific regions.
How to Do Keyword Research with Google Trends: With Google Trends, you can input keyword phrases to view search volume and interest over time. This helps you identify rising trends and seasonal fluctuations in search behavior. You can also use the related topics and queries to find new keyword ideas. Comparing search volume for multiple terms side-by-side allows you to gauge relative popularity. Google Trends also shows interest by location, helping uncover geographic differences. By analyzing historical trends and search patterns, Google Trends enables you to research and select the best keywords to target.
5. Soovle & Auto-Suggested Keywords
What is Soovle? Soovle is a search engine that lists auto-suggested keywords from major search engines like Google, Bing, Amazon, and YouTube. It provides keyword ideas and phrases that people are searching for based on a short-tail keyword.
How to Do Keyword Research with Soovle: With Soovle, start by typing in a broad keyword related to your content topic. As you type, it will display auto-suggested keywords from across different search engines. This allows you to discover long-tail keyword variations and ideas that you can further research. Soovle provides a hub to uncover a wide range of search queries and high-volume keywords. You can also filter suggestions by search engine to customize ideas. By leveraging auto-suggestions, Soovle makes keyword research simple and efficient.
6. Moz Keyword Explorer
What is Moz? Moz is an SEO software company that offers tools to help with keyword research, backlink analysis, rank tracking, site audits, and more. Moz Pro is their premium software suite for SEO professionals.
How to Do Keyword Research with Moz: Moz's Keyword Explorer allows you to research and analyze keywords to optimize your site content. You can look up keyword difficulty, volume, CPC data, and competitor rankings. It also provides keyword grouping and list management features to save and organize keywords. With Moz's keyword research capabilities, you can identify high-value target keywords, gain insight into searcher intent, and develop an effective SEO keyword strategy.
7. Ahrefs
What is Ahrefs? Ahrefs is an SEO toolkit that provides robust keyword research capabilities. It offers data on search volume, keyword difficulty, clicks, questions, and more for billions of keywords across hundreds of countries.
How to Do Keyword Research with Ahrefs: Ahrefs' Keywords Explorer generates thousands of keyword suggestions that you can filter and refine. It calculates keyword difficulty scores to identify easier targets. You can research volume and clicks data for multiple search engines like Google, YouTube, Amazon, and Baidu. Keywords Explorer also provides advanced metrics like click-through rate and parent topics. With its huge keyword database and insightful data, Ahrefs enables comprehensive keyword discovery and analysis for global SEO campaigns.
8. Answer The Public
What is Answer The Public? Answer The Public is a freemium keyword research tool that generates questions and search queries using autocomplete data from Google and other search engines. It provides insights into what real people are asking about a given keyword.
How to Do Keyword Research with Answer The Public: Start by entering a seed keyword. Answer The Public will then display related questions and search queries in different formats like Prepositions, Comparisons, and Alphabetical. You can filter these results by location and time. It provides expanded long-tail keyword ideas that you can research further or use as content inspiration. With its unique algorithm and real searcher data, Answer The Public helps uncover hidden niches, popular questions, and fresh angles for content.
9. UberSuggest
What is UberSuggest? UberSuggest is a freemium keyword research tool that helps generate keyword ideas and provides data on search volume, competition, and seasonal trends. It sources autocomplete keyword data from Google and shows related long-tail variations.
How to Do Keyword Research with UberSuggest: Start with a seed keyword or domain. UberSuggest will instantly display keyword suggestions along with monthly search volume. You can filter keywords by location to customize results. It shows keyword difficulty scores to identify easier targets. The tool also surfaces valuable competitor data, top pages, and content ideas to inform your keyword strategy. With its extensive features and SEO insights, UberSuggest enables you to thoroughly research and select the best keywords to target.
10. Google Search Console
What is Google Search Console? Google Search Console is a free web service by Google that provides performance and auditing tools to improve a website's visibility on Google Search. It offers insights into how Google bots crawl, index, and rank your site's pages.
How to Do Keyword Research with Google Search Console: The Search Analytics report in Google Search Console shows queries that drive traffic to your site. You can analyze impressions, clicks, and rankings for those keywords. This allows you to identify high-potential search queries to target in your content. You can also submit new or updated URLs for crawling to improve keyword visibility. Overall, Search Console gives visibility into keyword-level performance to inform SEO strategy and content optimization.
11. KeywordTool.io
What is KeywordTool.io? KeywordTool.io is a free alternative to Google Keyword Planner. It generates long-tail keyword suggestions using Google autocomplete data. The tool provides up to 750+ keywords for every search term.
How to Do Keyword Research with KeywordTool.io: Start by entering a seed keyword or phrase. KeywordTool.io will instantly display related keyword ideas and search volume data. You can filter suggestions by location and language. It enables analysis of search trends on Google to inform your content strategy. With its extensive keyword suggestions and reliable performance, KeywordTool.io helps uncover targeted, high-potential keywords to boost your site's visibility.
12. Keyword Surfer
What is Keyword Surfer? Keyword Surfer is a free Chrome extension for keyword research. It displays search volume and related keyword ideas directly on Google results pages. The tool collects accurate search data through proprietary methods.
How to Do Keyword Research with Keyword Surfer: When you search any term on Google, Keyword Surfer will show metrics like search volume, CPC, and traffic estimates. You can access keyword suggestions and create collections to save keywords for future monitoring and exporting. With its dashboard integrated into Google, Keyword Surfer enables quick access to search insights without tab switching. This streamlines content research by providing key data as you search.
13. Keywords Everywhere
What is Keywords Everywhere? Keywords Everywhere is a browser extension that shows keyword data like search volume and CPC directly within Google and other search engines. It provides on-page insights as you browse to inform SEO and content strategy.
How to Do Keyword Research with Keywords Everywhere: While searching Google, Keywords Everywhere displays related long tail keyword ideas and their estimated search volume. You can dive into competitor keywords and optimize content for multiple search engines. It passively generates keyword research data as you surf the web. The paid version unlocks additional features like historical trends, traffic estimates, and full keyword import. With its seamless integration and wealth of metrics, Keywords Everywhere enables frictionless keyword research as part of your web browsing.
14. Keyworddit
Keyworddit suggests long-tail keyword opportunities that are semantically related to an input keyword. It provides volume estimates and helpful metrics like cost per click and competition.
The tool is designed to help find less competitive variations of popular keywords. The free version comes with limited searches each month.
15. SearchVolume.io
SearchVolume.io specializes in monthly keyword search volumes and trends over the past year. Analyze volume patterns months ahead to help plan content around rising keyword opportunities.
The site generates keyword ideas based on input seed keywords which you can then look up volumes for.
16. Bulk Keyword Generator
Why You Need to Use the Right Keyword Research Tools
First off, you don't ever want to waste your time and money. There are a lot of great paid keyword research tools and free keyword research tools to try. My goal is to help you make a keyword list without having to spend a fortune. You also can start with free tools and then invest in paid tools once you start growing your business.
The reason you need to use the right tools is because keyword research can help your business understand the following:
Search volume as well as SEO and PPC competition for target keywords
Related keywords and long-tail keyword opportunities
Competitor keyword targeting and gaps between your website and competitors
Keyword trends over time including seasonality
Free Keyword Research Tools
We put together a list of the best free keyword research tools. You can find a lot of insights, seo keywords, keyword gaps, and more with free tools. The main thing that free keyword tools usually don't have is unlimited access, search volume data, and rank tracking, which are very important for Marketers. However, I use free or freemium tools all the time with success.
You can watch my video below for more information about the tools.
Why is This Keyword Data Important?
With this data, you can identify low-competition keywords aligned with search intent to focus your content around. This helps you rank higher and attract more qualified organic traffic. While we all want to rank for high search volume keywords, they are generally very competitive. Unfortunately, most websites will struggle to compete with the massive websites that dominate search engines, such as Amazon, Wikipedia, Reddit, and Walmart.
Using multiple keyword research tools gives you a more complete picture of your keyword selection. I wouldn't recommend relying on one tool, especially as your website starts to grow.
How to Do Keyword Research for SEO
Creating a list of keywords is just a small piece of what you need to do to rank in search engines. A list of keywords is only effective if you create content for each of your keywords.
SEO Keyword Research Video Tutorial
Here is an effective 6-step process for finding the best keywords:
Create a list of topics that your website will cover. Each topic should represent a popular keyword. For example, for a website about sleep, one topic can be sleep stages.
Use the topics to find subtopics, which we can also call long-tail keywords. In this step, you want to find every long-tail keyword related to sleep stages using a keyword research tool, such as Google Keyword Planner.
Select the most relevant keywords that aren't related to other brands or companies.
Download a list of keywords related to sleep stages to find topic ideas.
Create a pillar page for sleep stages and create separate pages related to different topics related to sleep stages. Link your pages together to show you cover the topic comprehensively.
Use additional keyword research tools, keyword question tools, and keyword trends to find new long-tail keywords that you haven't targeted yet.
Conclusion
Do in-depth keyword research leveraging multiple tools to build a comprehensive list. Monitor new opportunities over time as you optimize existing content. Analyze your own site and top competitors for proven valuable keywords to target.
Which of these keyword research tools is your favorite or most helpful? Let me know in the comments!