Pay-Per-Click Advertising (PPC): Complete Guide 2023
In this guide, I will give you a complete overview of PPC Advertising. You will learn about the top Pay Per Click Advertising networks, strategies, ad formats, campaign types, and more. While PPC can be a major challenge in the beginning, this blog post will get you started on the right foot.
Introduction to PPC Marketing
Pay-per-click (PPC) advertising is a powerful online marketing model that drives targeted traffic and conversions for businesses of all sizes. But what is PPC and how does PPC work?
What is PPC?
PPC stands for pay-per-click, a model of online advertising where advertisers pay a fee each time one of their ads is clicked. Essentially, you're paying for targeted visits to your website or app with PPC.
With PPC advertising, you set targets for your campaigns and create ads to drive leads or sales for your business. When someone is in your targeted audience or searches one of your targeted keywords, your ads will show to that person. If that person clicks your ad, then you will pay for that individual click, which is why it's called Pay Per Click.
---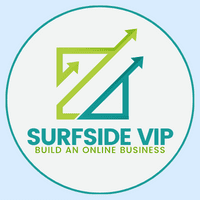 Join Surfside VIP today for only $2.99/month! Learn how to create a successful online business. Watch me build my websites and my YouTube channel to 500,000+ views per month and get all of my strategies.
---
How Pay Per Click Advertising Works
With PPC advertising, advertisers go through these key steps to create and run a campaign:
Create an offer and create or optimize your landing pages to drive conversions.
Choose a campaign objective based on your goals, such as lead generation or sales.
Set targeting to reach your ideal audiences, including demographics, interests, locations, keywords, and more.
Create your ads with compelling headlines, descriptions, assets, videos, and images.
Choose your budget, bids, and bidding strategy for the keywords and audiences you want to target.
Provide the landing page URL where you want to send clicks.
Track campaign results and optimize campaigns based on performance data.
PPC platforms use advanced algorithms to determine when and where to display your ads. Factors like your bids, budget, targeting, and ad quality/relevance impact the ad ranking and cost per click. You can set a maximum bid amount and a daily budget to control costs.
Why PPC Advertising Works
Here are some of the key benefits that make PPC advertising an essential strategy for most businesses. If you aren't driving new customers to your business, it will be difficult to grow. In addition to your organic strategies, you should also test paid advertising to improve your results. When used strategically, PPC delivers a positive return on ad spend and diversifies your marketing strategy to reach new audiences.
1. Advertisers Can Monitor Results With Ease
PPC ads can drive traffic to your site almost instantly, as soon as your campaign is approved and live. When you launch a new campaign, the approval process is generally pretty quick. You should be able to create a campaign and see results for the campaign on the same exact day.
2. Advanced Targeting Capabilities
PPC platforms allow you to target ads to specific demographics, locations, interests, behaviors and more. You can create a profile for your target customer and reach the people who are most likely to purchase your products. You can also target individual keywords that people type into search engines.
3. PPC Campaigns Are Easy to Measure
You can track PPC performance in real-time and determine ROI on your ad spend. You can track campaigns through each PPC Advertising channel. In addition, you can use analytics tools like Google Analytics 4 to see even more information.
4. Flexible Budgeting For Advertisers
You choose how much to spend on PPC per day, week, or month. There are no long-term commitments. Every Pay Per Click Network will give you complete control over how much you spend. In addition, you can increase or decrease budgets at any time based on performance.
5. Build Brand and Product Awareness
PPC ads help increase brand visibility and exposure. Let's say you sell the most innovative toothbrush in the world. You can create Pay Per Click campaigns and target people who are searching for a new toothbrush.
6. Control Over Targeting and Ads
You can adjust bids, targeting, and ads at any time to optimize performance. If you have a targeting group that's not working, you can easily test a new audience. If you have ads that are not performing, you can also incorporate new advertisements into your campaign. It's very easy to A/B test with PPC Advertising campaigns.
7. Support for Multichannel Campaigns
PPC works well alongside other channels like SEO, email marketing, and social media marketing. If you have a limited promotion, you can maintain a consistent message to potential customers.
8. Remarketing Can Drive Additional Conversions
You can target people who have visited your website but have not converted yet. You can also target people who are your most valuable customers. Remarketing allows you to reach people who have interacted with your business before. Therefore, you can create ads targeting people who visit your website, join your email list,
Creating an Effective PPC Marketing Strategy
Follow these best practices when developing your PPC strategy:
Set Business Goals for PPC Campaigns
Be specific in defining what you want to achieve from PPC. Do you want to generate leads, drive site traffic, increase sales, or raise brand awareness? Match your campaign objective to your business goals.
Research Your Target Audience
Use website analytics to understand who is the most likely to become your customer. Look at their demographics, interests, behaviors, pain points, and search intent. Build audiences and tailor your messaging specifically to them. You should always focus on customer profiles that purchase from you the most. You may also have different target audiences for different products you sell.
Choose Your PPC Platforms
Evaluate the top PPC platforms like Google, Facebook, Microsoft, LinkedIn, Pinterest, and Amazon. Determine where your target audience is most active to get the best results. For example, a B2B SaaS company would be better off focusing on a channel like LinkedIn.
Master Keyword Research for PPC
Find keywords and phrases your audience is searching for. Include short and long-tail keywords, as well as brand and competitor terms. Organize keywords into ad groups around specific topics.
Create Quality PPC Ads
Write compelling ad copy with attention-grabbing headlines, detailed descriptions, and persuasive calls to action. Design visuals that stand out. Test different ad variations in your campaigns because the platforms will serve your top-performing ads.
Develop Optimized Landing Pages
Send clicks from your ads to dedicated landing pages that align with the ad message and keyword. Optimize pages to increase conversions.
Set a Realistic PPC Budget
Calculate your cost per conversion goal, factor in competition and set an initial daily budget. Adjust over time based on performance. Use bid strategies to maximize conversions within your budget.
Track PPC Conversions
Set up tracking to monitor leads, sales, downloads, or other goals generated from PPC ads. Measure conversion rate, cost per conversion, and return on ad spend.
Optimize and Refine Your PPC Campaigns
Analyze campaign data regularly. Kill underperforming keywords. Enhance ads and landing pages. Expand top-performing keywords and ads. Automate bidding strategies.
By following a structured PPC strategy, you can boost campaign performance and return on investment. Be sure to continuously test, track and optimize over time.
Top Pay Per Click Advertising Platforms
Now that you understand the basics of how PPC advertising works, let's look at some of the most popular PPC platforms where you can run campaigns. You should focus on the best PPC Networks first and foremost.
Google Ads
As the world's #1 search engine, Google Ads is the largest and most popular PPC platform. Text ads appear on Google search result pages and across their network of publishing partners. You can target keywords, demographics, interests, locations, devices and more.
Google Shopping
Google Shopping ads showcase product images and prices in dedicated retail sections of Google search results. They help drive product discoveries and direct sales for ecommerce businesses.
Microsoft Advertising
Reach targeted audiences on Microsoft properties including Bing, MSN, Microsoft Edge and more. You can run search, native, shopping and audience ads with robust targeting options.
Facebook Ads
Run PPC ads on Facebook, Instagram and the Facebook Audience Network to engage social media users. Choose from different ad formats including image, video, carousel, collection, slideshow and more.
YouTube Ads
YouTube video ads play before, during or after other videos, or embed beside video search results and content pages. Video ads have high viewability and memorability.
Twitter Ads
Promote tweets, accounts, trends or website cards on Twitter with PPC advertising. Engage Twitter users with relevant and timely messages.
Amazon Sponsored Ads
Reach people who are actively shopping on Amazon with Sponsored Products, Sponsored Brands and Sponsored Display ads. Drive product visibility, clicks and sales.
LinkedIn Ads
Target professionals on LinkedIn with a range of ad formats. Create Sponsored Content, Sponsored Messaging, and dynamic ads tailored to members.
Pinterest Ads
Showcase image-based Promoted Pins to the Pinterest audience. Pinners can save Pins to boards or click through to your site.
Snapchat Ads
Create full screen vertical video ads, lenses, filters and Commercials on Snapchat. Target different Snapchat shows or content categories.
Quora Ads
Sponsored questions, posts and links on Quora enable you to connect with an informed audience researching topics related to your business.
Reddit Ads
Reach Reddit's diverse, engaged communities with targeted Promoted Posts. Get meaningful engagement and interactions from Reddit users.
No matter your industry, target audience or budget, you can find a PPC advertising platform that meets your marketing objectives. Most offer self-serve ad platforms and managed services available.
Top-Performing PPC Ad Formats
In addition to different platforms, PPC ads come in a variety of formats. The most common are:
Search Ads
Search ads text-based ads with a headline, description and URL that appear on search engine results pages. They target keywords people search for.
Display Ads
Display ads include images, graphics, animation, video and other visuals. They appear on websites, apps and platforms to increase brand visibility.
Shopping Ads
Shopping ads feature product imagery, pricing and details. They aim to drive product discovery and purchases on platforms like Google and Amazon.
Video Ads
Video ads use motion graphics, animation, live footage and other video content. They engage audiences on YouTube, Facebook, TikTok and more.
Social Media Ads
Social media ads are organic-looking sponsored posts and content tailored for each platform. They raise awareness and prompt engagement.
Dynamic Ads
Dynamic ads update automatically with customized content for each user, such as past site visit data or purchase history.
Remarketing Ads
Remarketing ads target people who previously visited your website or interacted with your business to drive them back.
Lead Generation Ads
Lead gen ads include form fields so viewers can input contact or other info to convert directly from the ad.
Understanding the different ad formats can help you choose options that work best for your goals and audience. The best PPC advertisers test across formats.
How to Create PPC Advertising Campaigns
Ready to launch your first PPC campaign? Here are some tips:
Pick your PPC Platform and Set Up Your Account
Evaluate Google Ads, Facebook Ads, Microsoft Advertising and other PPC options. Choose one to start and create an account so you can run ads. Once you add your billing and payment details, you are ready to set up conversion tracking.
Set Up Conversion Tracking
Add tracking pixels from the networks where you are running ads. You can create conversions and events to monitor leads and sales from your ads. You can track everything from a thank you page to an online order.
Establish a Campaign Objective and Settings
Define your campaign type, budget, dates, location targeting, audience targeting, and conversions. You should focus on objectives that drive leads or sales for your business. Simply driving traffic is not good enough when you want to grow your business with paid advertising.
Identify Your Target Audience
Use your website analytics to add demographic, interest, behavioral, and location targeting. You should be able to use Google Analytics 4 to find the people you should target. You can also test different audiences and focus on the audience targeting that drives the highest ROAS.
Research Keywords
Find high-value keywords your audience searches for using keyword research tools. For some platforms, you will focus strictly on audiences. However, Google Ads, Microsoft Advertising, and Pinterest Ads allow you to target keywords. This is also referred to as Search Engine Marketing or SEM.
Organize Targeting Groups and Ad Groups
Group keywords with similar themes to maximize relevance. In addition, make sure your audience targeting is organized and aligns with your ads and your landing pages. Organized campaigns lead to improved PPC campaign performance.
Create and Test Your Ads
Write compelling headlines, descriptions, and call to action. Design beautiful visual assets like images and videos to create engaging ads. Most importantly, always test multiple ads against each other. You never know how an advertisement will perform until you test it against an alternative.
Optimize and Test Landing Pages
Make sure you are always sending traffic to a relevant and optimized landing page. The landing page is where your audience converts. If your landing pages are not relevant or optimized, it will hurt your conversion rate. Therefore, you should create multiple landing pages and test them against each other. Continuously improve your landing pages to drive the highest ROAS.
Launch Campaigns, Analyze, and Optimize
When you launch your campaign, the hard part is not over. While you should spend a lot of time creating organized PPC Advertising campaigns, you should also spend a lot of time optimizing PPC Marketing campaigns. Review your performance data on a weekly basis and focus your campaign on what is working. Then, consistently test new targeting, new offers, new ads, and new landing pages.
Is PPC Advertising Worth It?
Yes, because Pay-Per-Click Advertising helps you reach customers in the buying process and when they are ready to convert. Where else can you reach people who are already prequalified and have shown an interest in your products or services? You can drive leads and drive sales using PPC advertising.
PPC can be very lucrative with a great product or service and a strong user experience from the ad to the landing page.
Why Test Pay-Per-Click Advertising Campaigns?
Ultimately, you want to have a positive return on your ad spend. You need to find the ideal budget that helps you remain profitable and continue to drive new business. Many times, you can maximize your overall results by figuring out your customer lifetime value and matching it up with your PPC efforts. In addition, if you can use PPC Advertising to drive sales and improve your overall business results long term, then you will see the best bang for your buck.
When developing an online marketing plan, it is a great tool for most businesses, regardless of industry, client/customer base, or the type of customer you are trying to reach.
Conclusion
PPC is a model where advertisers pay a fee when someone clicks their ad. PPC platforms like Google Ads, Facebook Ads, and Microsoft Advertising enable targeting such as keywords, demographics, interests, and locations to reach the right audiences. The benefits of PPC include precise targeting, measurability, testing capabilities, and quick results. To maximize success, follow best practices like thorough keyword research, quality ads, testing, monitoring campaigns, and optimized landing pages. Useful ad formats to test include search, display, shopping, and video. Start with a small PPC campaign, analyze performance, and continuously optimize your campaign. Ultimately, the goal of PPC is to increase our leads and our sales.