Top 10 PPC Keyword Tools 2023
PPC Keyword Tools are vital when you need to find the best keywords for your business. Keyword research is very important when you want to run a successful PPC campaign. Finding that ideal mix of high-converting yet cost-effective keywords is critical. But with billions of searches happening across Google, Bing, YouTube, and more every day, where do you start?
That's where PPC keyword research tools come in. The right software simplifies discovering untapped, high-value keyword opportunities to drive qualified traffic and maximize ROI.
This comprehensive guide covers the top 10 PPC keyword tools available, including insight into key features and comparative analysis to help select the best for your needs. Let's dive in to find the best keyword tool for you.
10 Best PPC Keyword Tools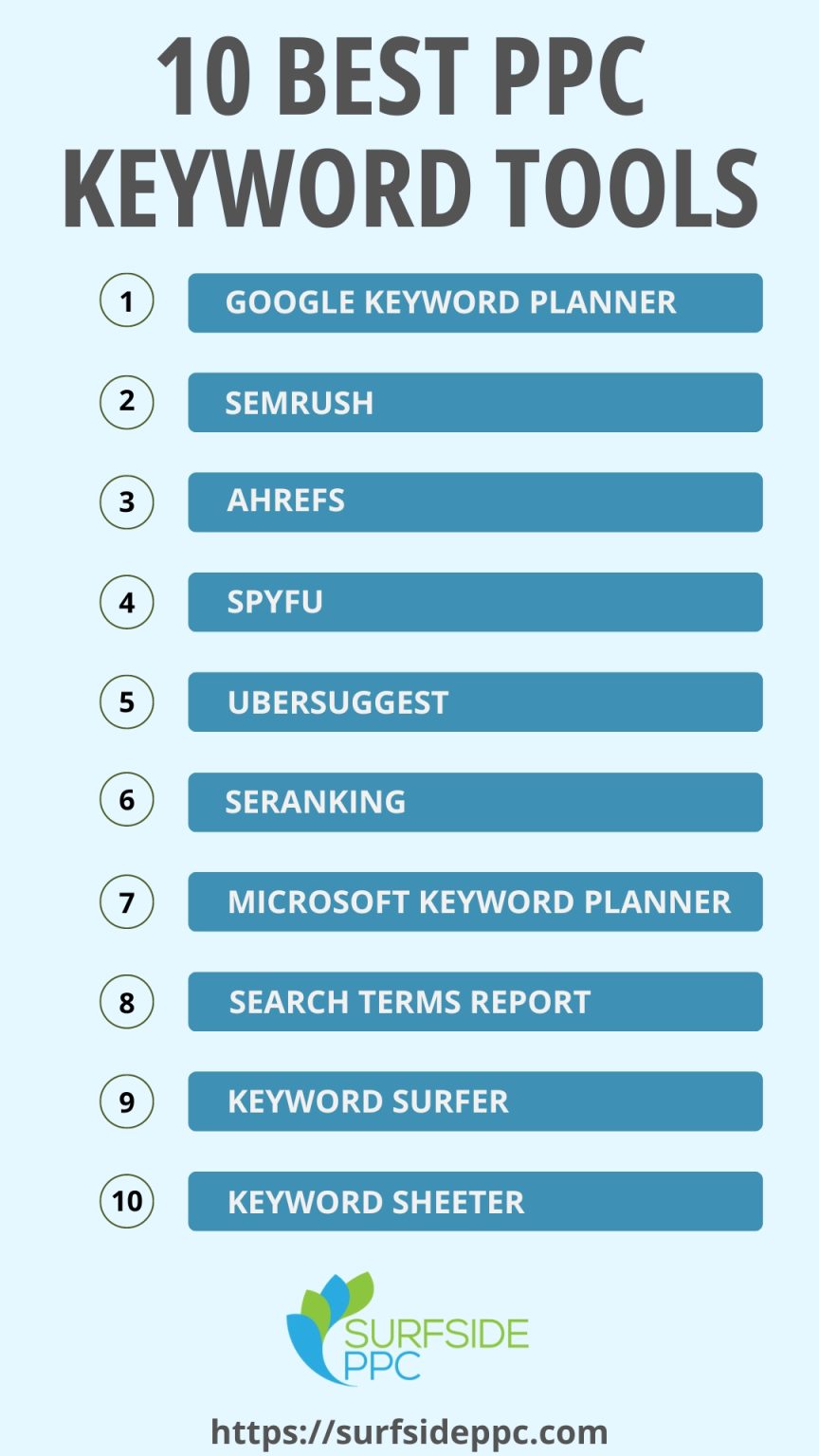 ---
Join Surfside Niche today and learn how to create a successful niche website! Watch me build my websites and my YouTube channel to 1,000,000+ views per month. Join and build with me and hundreds of other creators.
---
1. Google Keyword Planner
Access the Google Keyword Planner here.
As Google's own free keyword research tool, Keyword Planner integrates directly with Google Ads for relevant data.
Key Features:
Estimated monthly searches and historical cost metrics
Keyword ideas from website URLs or categories
Filters like language, location, device
Ad group creation and traffic projections
Search trends and top locations
Pros:
Tight Google Ads integration
Helpful filters to refine keywords
Easy workflow to project performance
Cons:
Generic wide-range search volumes
Keyword competition data is unreliable
Limited keywords per download
For beginners, Keyword Planner provides an intuitive starting point to generate keyword ideas aligned to your business and get a sense of relative search popularity and PPC costs over time.
2. SEMrush Keyword Magic Tool
SEMrush's advanced keyword database identifies the most profitable keywords for PPC and SEO campaigns.
Key Features:
20+ metrics including search volume, CPC, competition level
Clickstream data for search intent insights
Questions and related keywords
Export unlimited keywords
Track keyword ranking positions
Pros:
Huge keyword database with precise volumes
Clickstream-powered intent analysis
Unlimited exports and saved keyword lists
Cons:
Can be complex for beginners
Requires paid plan for full access
SEMrush Keyword Magic equips you with the robust, accurate keyword data needed to build high-value PPC and SEO campaigns.
3. Ahrefs Keywords Explorer
Ahrefs boasts the largest keyword database in the industry. Their tool uncovers massive opportunities.
Key Features:
1.5+ billion keywords with exact volumes
Keyword Difficulty for SEO and PPC strength
Expected organic and paid traffic metrics
Search trends and seasonality
Export keyword lists
Pros:
Enormous long-tail keyword inventory
Click potential data to quantify the value
Helpful difficulty and opportunity scores
Cons:
Steeper learning curve than Google's tool
Requires paid plan for full access
Traffic data estimates only
For large-scale keyword research across paid and organic, Ahrefs Keywords Explorer delivers high-volume, precise data to build out extensive PPC and SEO campaigns.
4. SpyFu
SpyFu reveals the PPC keywords your competitors target and displays their ads to inspire your strategy.
Key Features:
See competitors' current and historical keywords
Analyze their ad copy performance
Identify overlooked opportunities
Research display and shopping keywords too
Get full SERP analysis for keywords
Pros:
Learn from competitors' success
Find untapped, proven keywords
Website audit for optimization gaps
Free trial available
Cons:
More limited keyword suggestions
Requires paid plan for full features
No search volume or trend data
SpyFu gives you a rare insight into the specific keywords driving traffic and conversions for leading competitors. Uncover their winning formulas to expand your own PPC and SEO keyword lists.
5. UberSuggest
UberSuggest is a free keyword research tool from Neil Patel that generates ideas for PPC, SEO, and content.
Key Features:
Broad and long-tail keyword suggestions
Filter and refine keyword lists
See basic volume and difficulty data
Get search trends and geographic interest
Integrates with Google Keyword Planner
Pros:
Easy to use UI to quickly build lists
Helpful filters and exporting
Free to use with generous limits
Cons:
Limited keyword data points
No historical metrics or bidding insights
Requires other tools to augment insights
UberSuggest provides an intuitive starting point for beginners to find numerous relevant PPC and SEO keyword ideas through its broad suggestion engine.
6. SERanking
SERanking helps you spy on competitors' top keywords and gain strategic insight from their PPC and SEO activity.
Key Features:
See competitors' most successful keywords
Analyze their ad copy and landing pages
View keyword growth and trends
Generate negative keywords
Downloadable reports
Pros:
Learn directly from competitors
Well-designed desktop and mobile UIs
Helpful workflow for exporting insights
Cons:
No search volume or CPC data
Requires paid plan for competitor tracking
Limited filters and alerting capabilities
If you want to benchmark competitors' strategies and accelerate your own progress, SERanking makes it easy to unlock their proven approaches based on real PPC and SEO data.
7. Microsoft Advertising Keyword Planner
Access Microsoft Keyword Planner here.
Microsoft Advertising Intelligence integrates directly with Bing Ads accounts to optimize your keyword approach.
Key Features:
Search volume and cost data
Keyword ideas based on site or category
Retargeting list insights
Suggests negative keywords
Integration with Bing Ads account
Pros:
Tightly aligned with paid search platform
Filters help refinement
Historical cost data
Cons:
Focused heavily on Bing data
Doesn't analyze competitor activity
Less functionality than standalone tools
For advertisers focused primarily on the Bing search network, Microsoft Advertising Intelligence provides helpful direction powered by their platform's own dataset.
8. Google Ads Search Terms Report
Google provides great insight into your own account's highest potential keywords within their Search Terms Report.
Key Features:
Shows historical search queries that triggered your ads
Frequency and conversion data for each term
Downloadable into spreadsheets
Filters to isolate valuable keywords
Pros:
Precise view of your accounts' untapped potential
No added costs – built into Google Ads
A good workflow for isolating winners
Cons:
Only shows existing triggered terms, no new ideas
Time-consuming to comb through extensive results
Requires history of active PPC accounts
If you run Google Ads campaigns, be sure to mine the Search Terms Report regularly. It surfaces proven winners specific to your offerings based on real user search patterns.
9. Keyword Surfer
Keyword Surfer identifies highly valuable long-tail keywords using machine learning and search data.
Key Features:
Uncovers high-potential long-tail keywords
Filters based on difficulty, value, and more
Graphs for opportunity analysis
Campaign workflow lists and tracking
Limited free version available
Pros:
Quantifies profit potential
Automated analysis and categorization
Easy exporting and tracking features
Cons:
Requires paid subscription for full access
Doesn't include ad copy or landing pages
Rely on Keyword Surfer to automatically surface hidden, targeted PPC gems based on proprietary algorithms and metrics.
10. Keyword Sheeter
This tool lives up to its name by using an AI database to give you endless long-tail keyword ideas.
Key Features:
Generate thousands of long-tail keywords
Customize based on filters like keyword length
Get keyword ideas for multiple languages
Download results as spreadsheets
A simple free version is available
Pros:
Huge autogenerated long-tail inventory
Customizable refinement
Broad language support beyond just English
Cons:
Light on keyword metrics and analysis
Results tend to require lots of refining
Free version limits downloads
If you need an automated starting point to build an extensive list of long-tail keywords, Keyword Sheeter can deliver through brute force generation.
Why Keyword Research is Vital for PPC Success
In PPC advertising, every ad group and campaign revolves around specific keywords. The terms you target, and more importantly the ones you don't target directly impact results.
Robust keyword research optimizes several aspects of PPC:
Relevance: Carefully chosen keywords result in your ads showing for searches highly relevant to your products, services, and website content. Irrelevant traffic drives up costs without sales.
Bid Strategy: Understanding keyword intent and competition levels allow you to set intelligent cost-per-click bids to balance the budget with volume.
Quality Score: Optimizing keywords for a close match to ad copy and landing pages raises your Quality Score for lower fees.
Conversions: Targeting keywords aligned to your offering ensures visitors have high intent when they click from Google to your site.
Scalability: You identify the largest universe of relevant keywords at various funnels and competition levels to drive growth.
Regularly refreshing your PPC keyword research uncovers new opportunities over time as interests and trends evolve. Ongoing optimization lifts conversion rates, lowers cost-per-acquisition and maximizes return on ad spend.
7 PPC Keyword Research Steps
Though there are lots of keyword tools available, a structured process is still required to extract maximum value. Here are the key steps:
1. Brainstorm Widely
Don't limit yourself initially – the goal is to freely brainstorm a large list of every keyword relevant to your business before analyzing and refining.
2. Segment by Funnel Position
Sort keywords across the buying journey – early-stage informational terms vs. late-stage transactional ones requiring different bidding strategies.
3. Check Historical Performance
Look at search volumes, clicks, costs, competition levels, and other historical data to estimate future value.
4. Identify Gaps
Find where competitors are overlooking quality targets and niches aligned to the offerings that you can dominate.
5. Organize into Ad Groups
Group closely related keywords to customize ad copy and landing pages for relevancy.
6. Analyze Search Trends
Identify new or seasonal opportunities based on upward-trending keywords.
7. Expand Keyword Modifiers
Add modifiers like location, device, and more for additional variations.
Expert usage of PPC keyword tools guides each phase of this research process. Next, let's explore the top software options.
Choosing the Right PPC Keyword Tools
With a crowded marketplace of keyword tools claiming to deliver results, how do you choose what's best for your PPC campaigns? Here are the key selection criteria:
Your Current Skill Level
Beginners may prefer simpler tools like Google Keyword Planner and UberSuggest to get started. Experienced PPC advertisers will require more advanced functionality only found in paid platforms like SEMrush.
Data Scale and Accuracy
Look for tools with vast keyword databases that get refreshed frequently for the latest search trends and metrics. Avoid tools relying only on estimated data.
Competitive Research
The ability to analyze competitors' keywords and ad approaches provides a strategic advantage in identifying untapped potential based on real-world success.
Keyword Analysis
Robust filtering, segmentation, search trends, and metrics like difficulty and profitability scores help isolate the most valuable keywords to prioritize.
Campaign Workflow
An intuitive workflow to save keyword lists, notes, and track optimization progress saves time and improves results.
Budget
Some extremely powerful paid tools like SEMrush and Ahrefs require monthly subscriptions but deliver commensurate insight that fuels PPC success. Free versions of tools can provide a starting point before upgrading.
Conclusion
Well-researched keywords are the springboard for successful PPC and SEO campaigns. They enable you to connect with your best potential customers at scale across search engines like Google. That's why continually optimizing your targeted keywords using the tools in this guide is important. Look for opportunities where competitors are falling behind. Uncover rising new trends your brand can capitalize on.
The foundations of marketing have not changed. Reaching consumers when they have expressed need or intent remains the key to success. Do your homework using the robust PPC keyword tools now available. Turn research into results through planning, analysis, and refinement.