Google Search Console is a free tool offered by Google that helps you monitor, maintain, and troubleshoot your website's presence in the Google Search results. It's not a requirement to utilize Google Search Console to be included in Google Search results, but the tool helps you learn more about how Google views your website and any crawl errors or security issues you may have to fix.
What Does Google Search Console Do?
Website owners can monitor the indexing and performance of their website in the Google search results, which includes viewing top search queries and top-performing pages. Website owners, Developers, and Marketers can optimize and improve the visibility of their website. In addition, it can be used to find the websites that link to your website.
How To Access The Google Search Console
You will need a Google account to get started and then you can verify your websites with ease. Once you verify your websites, you should start receiving data within 2-3 days about your performance in the Google search results. You can find the Google Search Console here.
There is more information below about verifying your website and getting started. I will refer to this tool as 'GSC' at times throughout the article as well.
Google Search Console Video Tutorial
You can check out our video tutorial on YouTube or watch the video below. We also have a corresponding article to help you learn how to use this tool and some of the main reports.


---
Welcome to Google Search Console
When you initially sign-in to your Google account and access the tool, you will see an image like the one below.
You can either verify your website by using the 'Domain' or the 'URL prefix' option. Both methods work and I go into more detail below.
Getting Started With Google Search Console
In this article, we will cover how to verify your website with GSC, how to navigate the Performance area, URL inspection, sitemap submission, and backlinks. In essence, we are giving you a step-by-step guide to getting started and learning how to improve your website in the Google search results.
1. Verifying Your Website
To begin using Google Search Console you need to verify your website. My recommended method is using Google Analytics, but you can use other methods such as uploading an HTML file to your website, adding a Meta tag to your header file, using your Google Tag Manager account, or Associating a DNS record with Google.
---
Linking Google Search Console with Google Analytics
1. Create a free Google Analytics account and install the tracking code on your website.
2. Create a free Google Search Console account for your website.
3. If you create them with the same Google account, select to verify your Search Console property with Google Analytics.
4. Use the image below as a guide to ensure that your accounts are connected. Go to your Google Analytics Admin screen, under Property click on the 'All Products' link, and then Verify your Search Console account is linked.
---
Linking Google Search Console with Google Tag Manager
1. Create a free Google Tag Manager account and install Google Tag Manager on your website.
2. Create a free Google Search Console account for your website.
3. Ensure that you have the 'noscript' tag for Tag Manager immediately after your opening 'body' tag.
4. Ensure that you have the 'Manage' permission in Google Tag Manager.
5. Click on the Verify button to use GTM for Google Search Console verification.

---
2. Google Search Console Overview
Now, you can open your account and view more information about your website. You will not have data immediately, but you should have some performance data after several days, unless your website is not ranking yet.
As you can see from the corresponding images, you get a detailed overview, which includes performance stats, enhancements, URL inspection, errors, and more. On the left, you will see a menu with all of the settings options.
---
3. Google Search Console Performance
In my opinion, one of the best free SEO tools available is GSC because you can view your overall performance with ease. With information available including total clicks, total impressions, average click-through rates and average position, this is SEO gold.

Compare Date Ranges
When you are looking for your performance in search results, one common option is to compare your results over time. If you see the image below, you can compare 7 days to the previous period, 28 days to the previous period, and compare 3 months to the previous 3 months.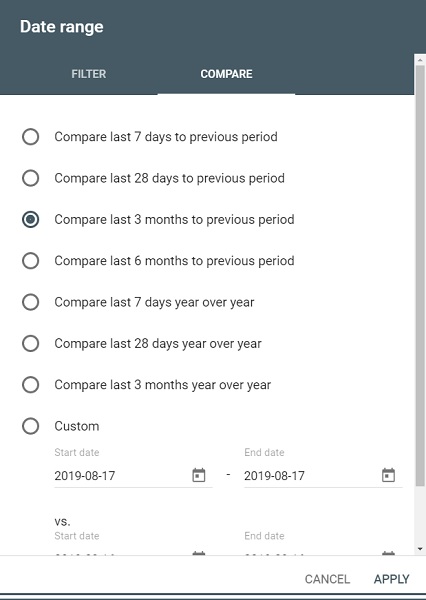 ---
As you can see in the image below, I looked at data from the last 6 months and I can compare the previous 3 months with the 3 months before that. The dotted lines represent the first 3 months and the solid lines represent the last 3 months.
---
In addition, you can compare how your website performs for certain search queries, how some of your pages perform, and the overall difference in clicks, impressions, search CTR, and Avg position.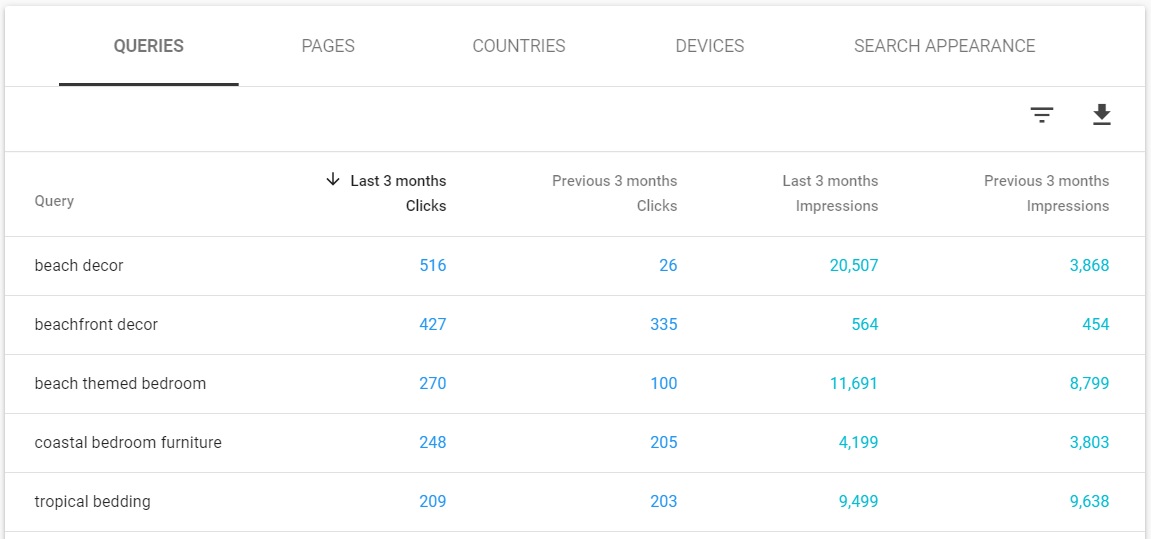 ---
As you will see below, I can also narrow down search queries, top pages, top countries (where traffic is coming from), devices, search appearance rich results, and AMP non-rich results. With queries able to be tracked over time, you can determine which ones are going up and also where you are falling short. You can look at different dates and analyze different pages to see what keywords drive you the most search engine traffic.
Search Queries
You obviously want your website to rank high for your top search queries and the keywords you are targeting. We can view which specific search queries are matching up to the page and gain ideas on how to add traffic with new content. You could also go so far as to create whole new pages on your website for high search queries and optimize those popular keywords. This is where Google Search Console excels for growing website traffic.
---
Top Pages
In addition to top search queries, you can also view your top pages in search results. I love using this feature to understand what pieces of content are ranking the highest and why they are ranking high. You can use it to guide your content strategy.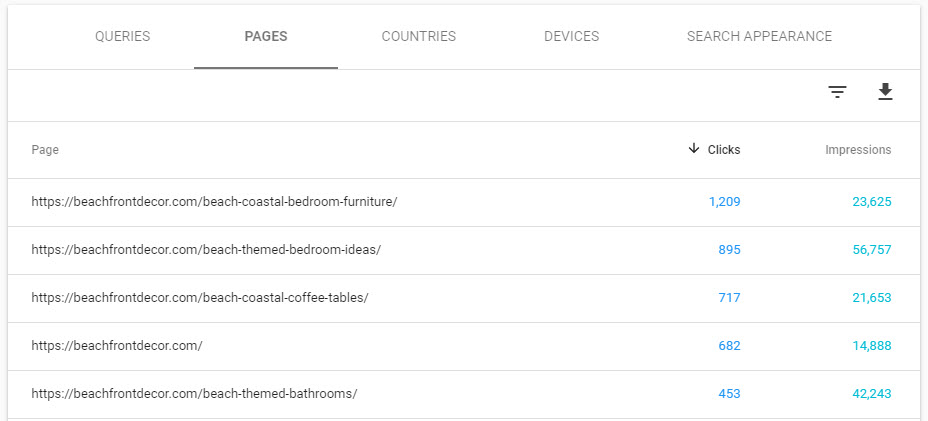 ---
Average CTR for Pages
In addition, you can view the click-through rates on pages with top impression count. When these click-through rates are higher, compare what is helping drive more traffic to the top pages and utilize those content strategies on other lower-ranked pages. This feature helps you understand where you need to improve and see which keywords you are ranking highest. You can use this data to find areas of optimization and opportunities.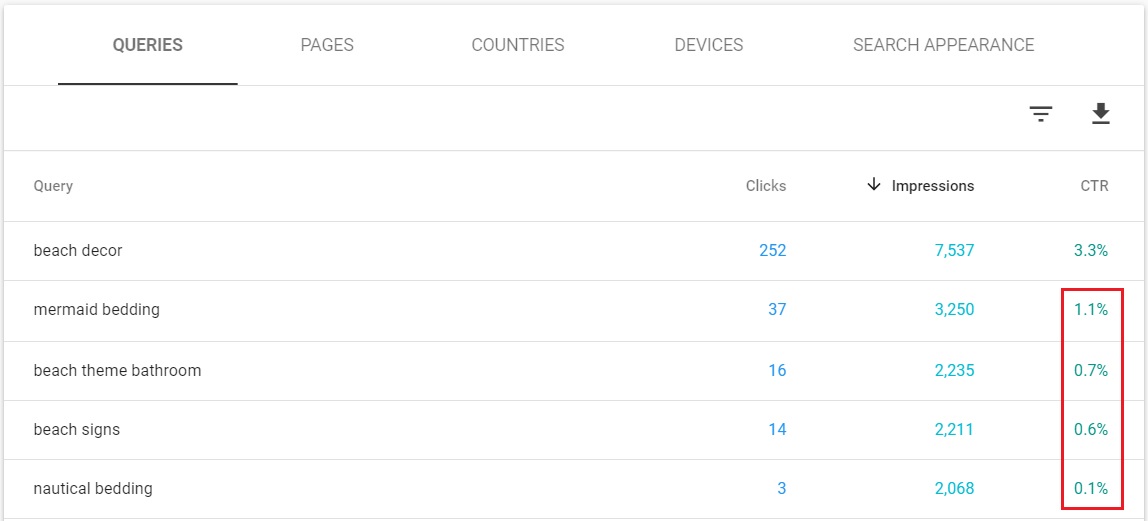 ---
Average Position for Pages
Another item we want to point out that drives click-through rate is the website's average position in search results. The lower the average position; the lower the click-through rates will generally be. Reviewing the Search Console listings to see how you can optimize current content will improve results and click-throughs.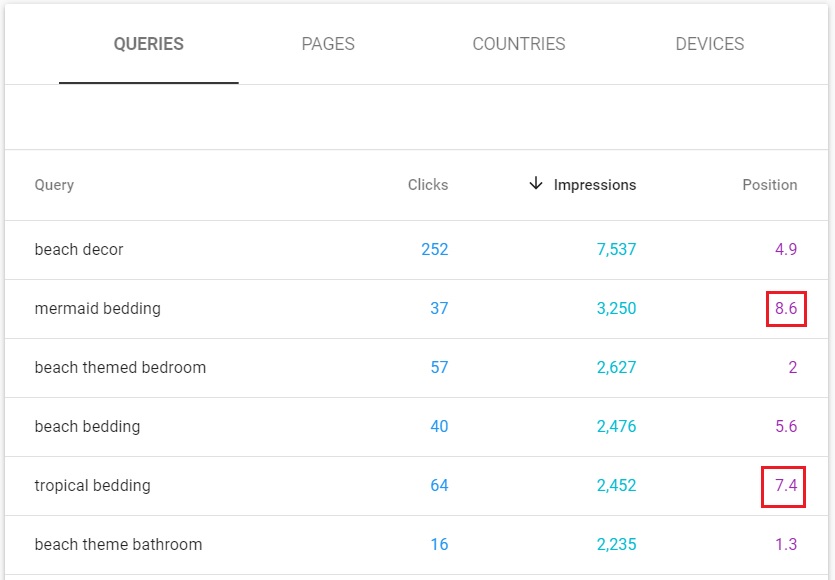 ---
Top 100 Keywords
Lastly, I will say that the top 100 keyword feature is the number one tool Surfside PPC recommends for comparing keywords for SEO. We choose to look at the top 100 keywords by impressions and export them to a spreadsheet to compare to search queries. If you need more assistance with keywords, visit Surfside PPC's Google Keyword Planner Tutorial for more detailed information.
---
4. URL Inspection
The URL Inspection tool provides information about Google's indexed version of a specific page. Information includes AMP errors, structured data errors, and indexing issues; which includes:
Retrieving information about Google's indexed version of your page.
Testing whether a page on your site is able to be indexed.
Request that an inspected URL be crawled by Google.
See a screenshot of how Googlebot sees the page.
View loaded resources list, JavaScript output, and other information: See a list of resources, page code, and more information by clicking the more information link on the page verdict card.
When you open the URL inspection function, the most important thing is making sure you have green checks down the list. Any errors and coverage issues need to be fixed ASAP in order to maintain your website reach.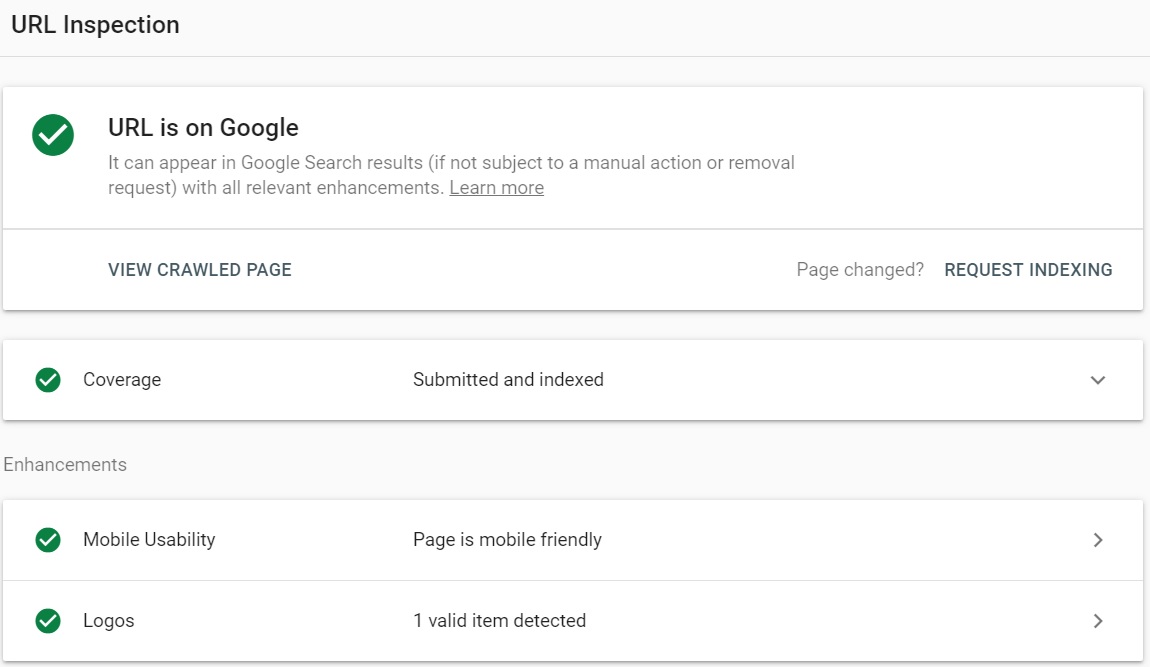 ---
For example, when you see a coverage or a mobile usability error, make the necessary changes and validate your fix on the Search Console. You are in essence telling Google to double-check the site to ensure the errors have gone away. Google is tracking that you are maintaining your site and fixing index issues, which will give you better search results. If you are fixing everything – Google will maintain higher ranks for index pages
5. Index – Coverage and Sitemap
Index represents your website's coverage in the Google search results and you can make sure that you have your Sitemap submitted as well to keep Google updated with your new pages.
Coverage
You can see all of your valid pages in search results, errors, valid with warnings, and excluded pages. Coverage is important and one thing I focus on is fixing any errors immediately. In addition, the number of valid pages should be increasing because that means you are growing the content on your website.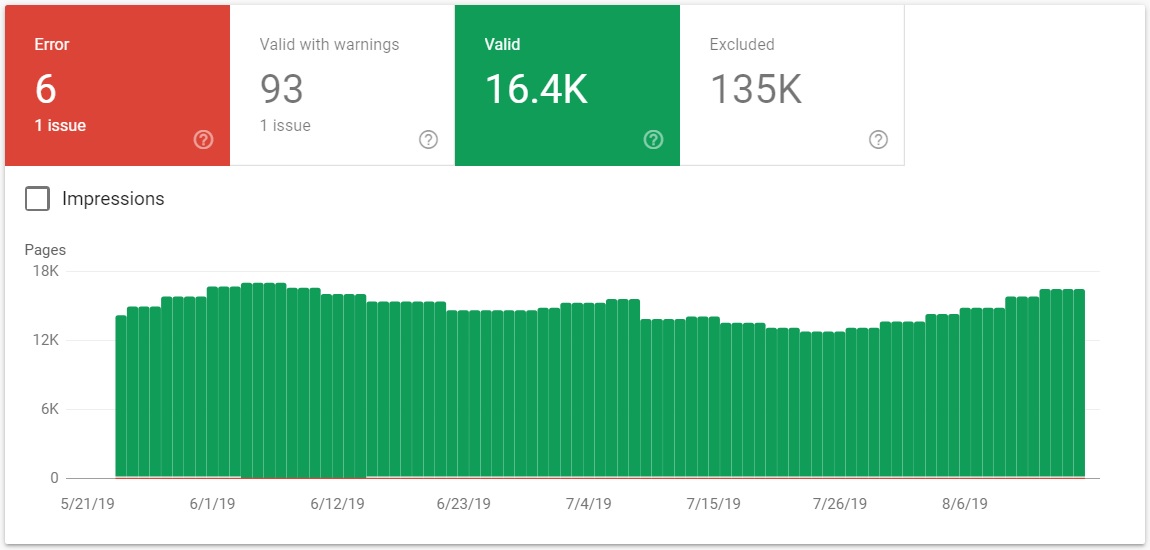 ---
Sitemap
Another important aspect of the Search Console is submitting your sitemap. By placing a formatted xml file with a sitemap on your web server, you enable Search Engine crawlers (like Google) to find out what pages are present, and which have recently changed, and to crawl your site accordingly.
If you are not familiar with creating a sitemap, go to a site such as XML Sitemaps to generate one for you. Surfside PPC utilizes WordPress, and there are quite a few sitemap plug-ins that will also create a sitemap, including Yoast SEO Plugin.
Add a New Sitemap

Once you have your sitemap, you need to submit on the Search Console; making sure is says status success. Now your updates are automatic; telling Google when you add new pages to your, update your structure, remove pages, and more. This keeps your website up-to-date in search results without errors.
Submitted Sitemaps
---
5. Enhancements
This section describes any Search enhancements detected by Google on your URL the last time it was indexed. If the URL could not be indexed, or no enhancements were detected, this section will be empty.
Mobile Usability
Mobile Usability will let you know if your website has any mobile issues, which can impact your pages in the search results negatively.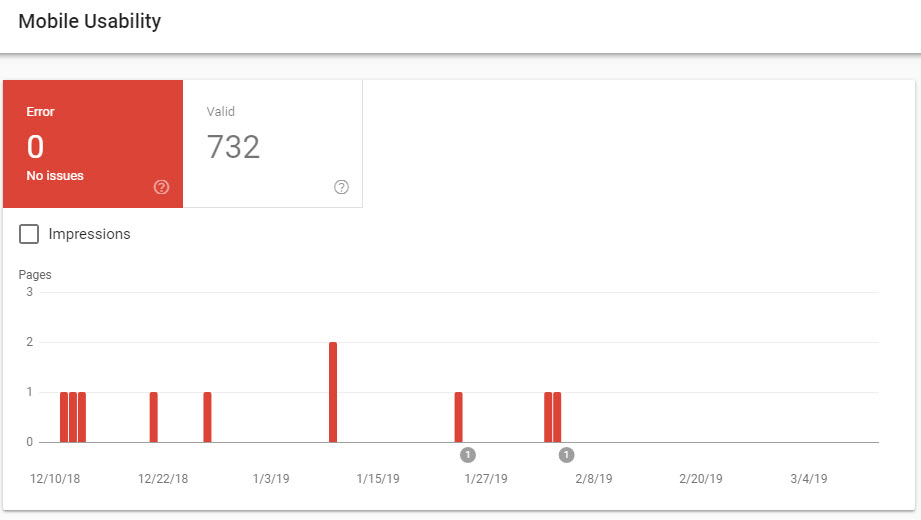 ---
The enhancements section will show any issues with mobile usability, accelerated mobile pages (AMP), Products, and various rich result types. You can see information about any rich result types (structured data) found on the page. Information includes the number of valid items found on the URL, descriptions of each item, and details about any warnings or errors found.
AMP – Accelerated Mobile Pages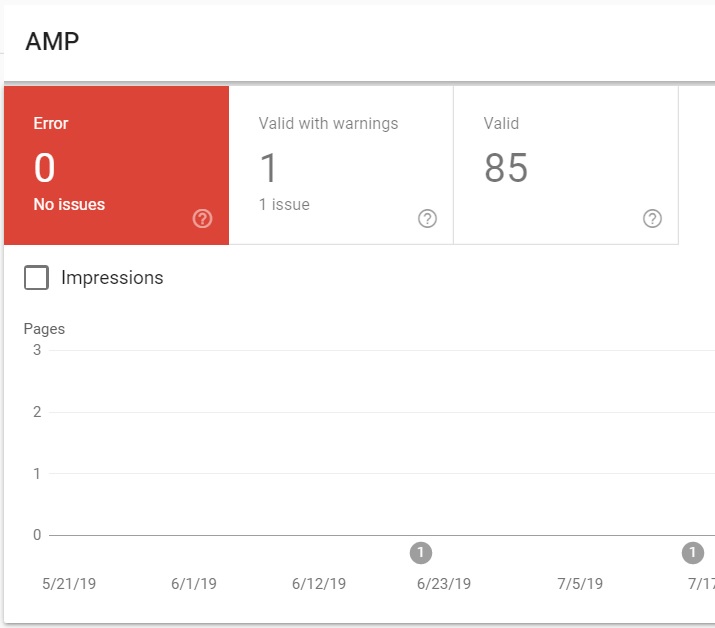 ---
Products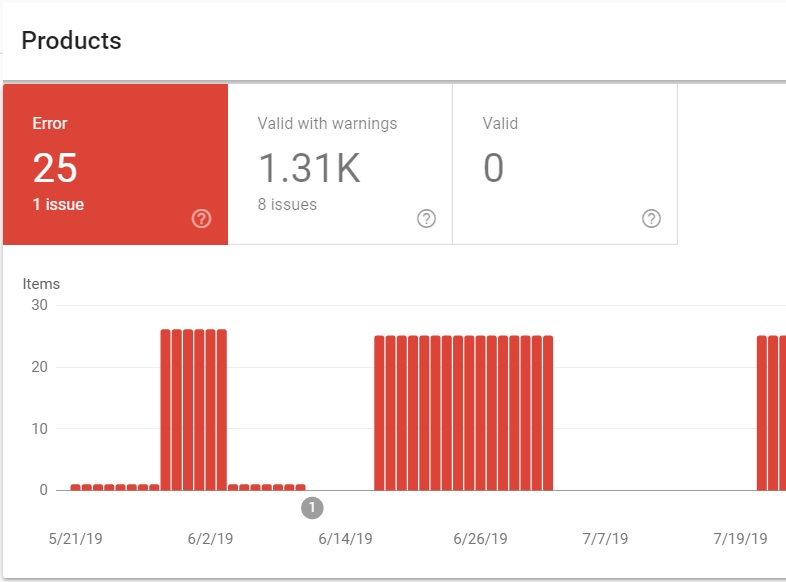 ---
It is imperative that any errors indicated in this section are addressed and validated. As you can see in the corresponding image, simply click on the error and validate the fix once it is complete. Enhancements help people click-through faster, so staying on top of them is important.
6. Security and Manual Actions
This is fairly self-explanatory; If there are any security issues on your site, they will show up here. Similar to having an extra set of eyeballs on your site's back end; Google can tell you what to fix, identify hacks, detect flaws and will send you an email when these issues pop up.
Manual Actions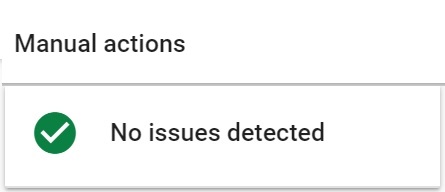 ---
Security Issues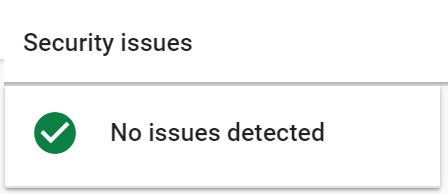 ---
7. Links
Using this feature helps you view the external links and internal links on your website. Using our example, you will see which pages have top links: who is linking to you and top linking text, to name a few.
External Links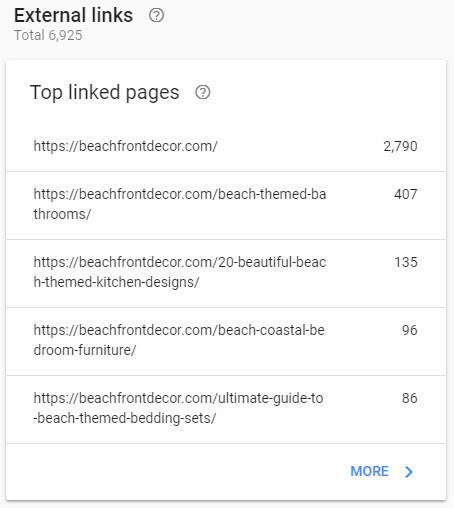 ---
---
Internal Links
---
One major recommendation we have is to review your backlinks to see what websites are currently linking to you, what your top pages are, and how your internal links are performing.
Why You Should Use Google Search Console
While there are plenty of reasons to utilize free SEO tools, especially the top-rated options, there are some benefits to using GSC below.
Ensure that there are no issues with Google crawling and indexing your website.
Fix any indexing errors that may lead to poor performance in the Google search results.
Monitor performance data for your website in the Google search results.
Find the top search queries that lead to impressions and clicks for your website.
Learn more about the websites that are linking to your website and your content.
Uploading a sitemap and submitting new pieces of content.
Who Should Use Google Search Console?
While the easy answer is everyone with a website who wants to rank high and drive organic traffic from Google, there are some key roles in organizations that should use it below.
Website Owners
If you own a website, there's no downside whatsoever to installing and using Search Console. It is a tool that will allow you to monitor your website in the Google search results and improve your organic search traffic as well.
Developers
One of the main benefits to GSC is you can find technical issues, which should then be sent to your Web Developer. Some of the errors you may find include issues with technical data, AMP errors, Mobile Usability problems, website speed, and Core Web Vitals errors as well.
SEO Agencies
Any SEO specialist or SEO agency should install and utilize GSC immediately. Not only can it be useful to provide reports to clients, it can also be used to improve results. Lastly, you can easily show your clients what keywords they rank for, which pages are performing well, and offer SEO solutions as well. In the end, it can help your business drive more revenue.
PPC Specialists
If you work in PPC Advertising, you know a huge portion of your job is PPC keyword research, particularly for Google Ads. If you are a PPC specialist who creates and monitors campaigns, then you can get tons of keyword ideas for a client by using GSC.
Google Search Console Insights
You can access Search Console Insights here.
GSC Insights will give you more information about how your content is performing and resonating with your website visitors. It combines data from Search Console and Google Analytics so you can learn what types of content will increase engagement on your website.
In addition, you can learn about lifetime pageviews on your website and individual pieces of content. Also, you can see your new backlinks and what websites are linking to your content. Lastly, you can discover what social channels are driving traffic to your content and your website.
We have a screenshot below for some of the data you will see through Insights.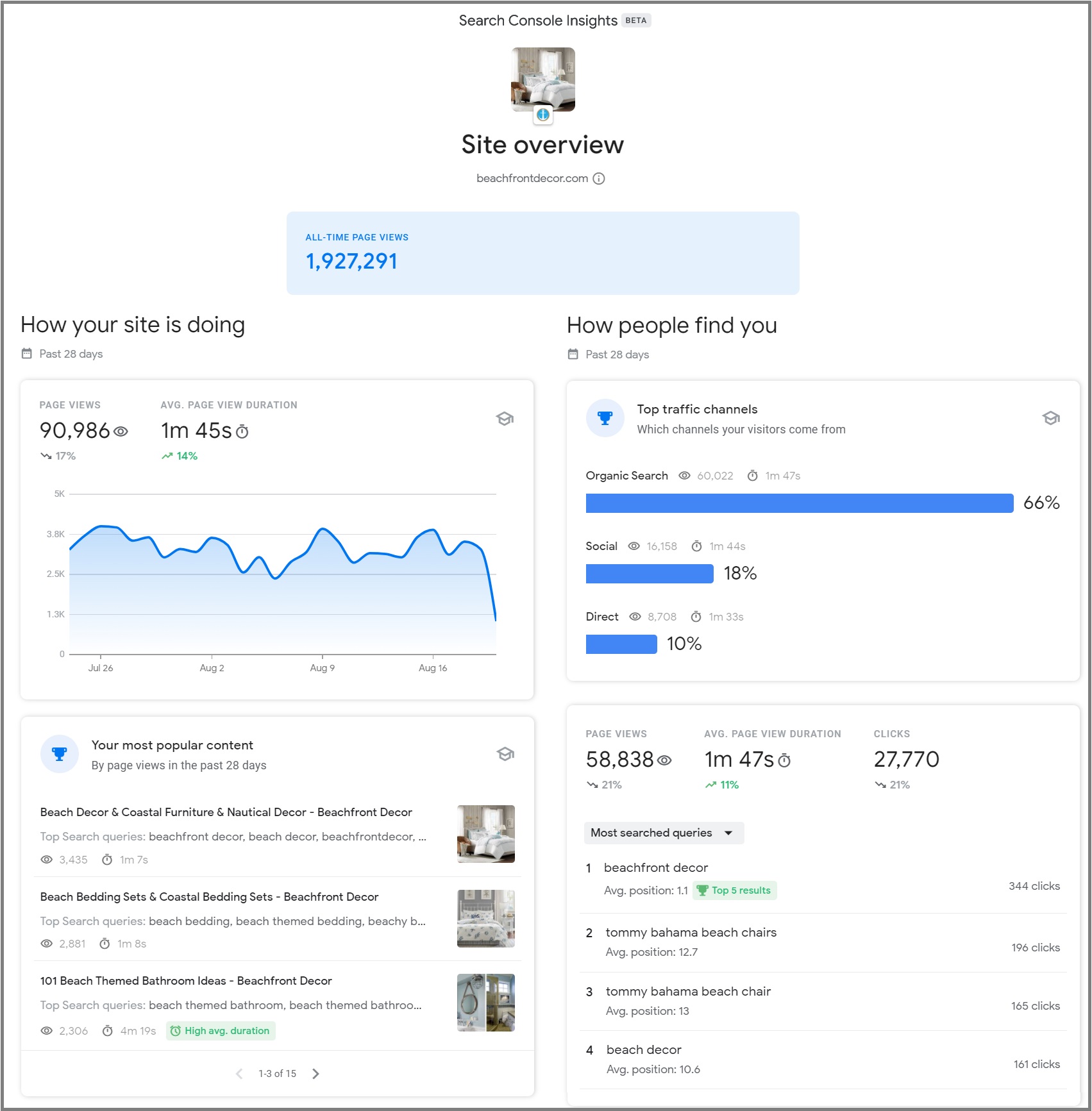 ---
Google Search Console Videos
Subscribe To The Surfside PPC YouTube Channel
Google Search Console Tutorial 2020 Step-By-Step - Google Webmaster Tools Tutorial
7 Google Search Console Tips & Tricks To Improve Google Rankings - SPPC SEO Tutorial #11
10 Helpful Google Search Console Tips to Find Website Traffic Opportunities
How To Use Google Search Console to Quickly Increase Search Engine Traffic
Google Search Console Insights - What It Is, How to Access & How to Use
Google Search Console Tutorial - Google Webmasters Tools Tutorial
How To Install Google Tag Manager, Google Analytics, & Google Search Console On a WordPress Website
Google Search Console Tutorial For Beginners 2017-2018 aka Google Webmasters Tutorial
In Summary
Google Search Console is one of the top SEO tools out there; showing you opportunities to optimize your site to improve your rankings. We invite you to view our detailed Google Search Console Tutorial on YouTube see this plan in action! Until next time!
---
---