Welcome to our complete guide for Search Engine Marketing, which is shortened as SEM. You will learn everything you need to know about SEM here. We'll start by answering some common questions that you may have.
What is Search Engine Marketing?
Search Engine Marketing (SEM) is the process of creating paid advertising campaigns that appear in the search engine results of a search engine. SEM refers to the creation of pay-per-click (PPC) advertising campaigns in search engines in order to reach a targeted audience searching for products and/or services. Through this practice, companies can reach potential customers by targeting keywords and advertising in search engines.
---
Search Engine Marketing Overview
Below, you will find our short overview of SEM. I answer some common questions, go over the top platforms, and give some SEM examples as well.


---
Search Engine Marketing YouTube Playlist
Subscribe To The Surfside PPC YouTube Channel
Search Engine Marketing (SEM): An Overview for Beginners
Google Ads Tutorial 2020 - Step-By-Step Google AdWords Tutorial for Search Campaigns
7 Useful Google Ads Ad Group Best Practices
7 Great Examples of Google Search Ads You Can Learn From
How Google Ads Works - Google Ads Explained in 10 Minutes
7 Google Ads Search Keyword Targeting Best Practices
Google Ads Tutorial For Beginners - Google AdWords Tutorial For Search Campaigns
Google Dynamic Search Ads Tutorial - How To Setup Google Ads Dynamic Search Ads Campaigns
Google Ads Conversion Tracking With Google Analytics - Track Forms, Clicks, and Transactions
---
What is the Difference Between SEM and SEO?
The difference is that SEM refers to paid advertisements in search engines and SEO refers to optimizing for organic listings in search engines. With Search Engine Optimization, companies optimize their website and their content to appear high in search engines without paid placements. With Search Engine Marketing, companies pay to appear high in search engines with advertisements.
The image below shows the difference between SEM ads and SEO organic listings in Google.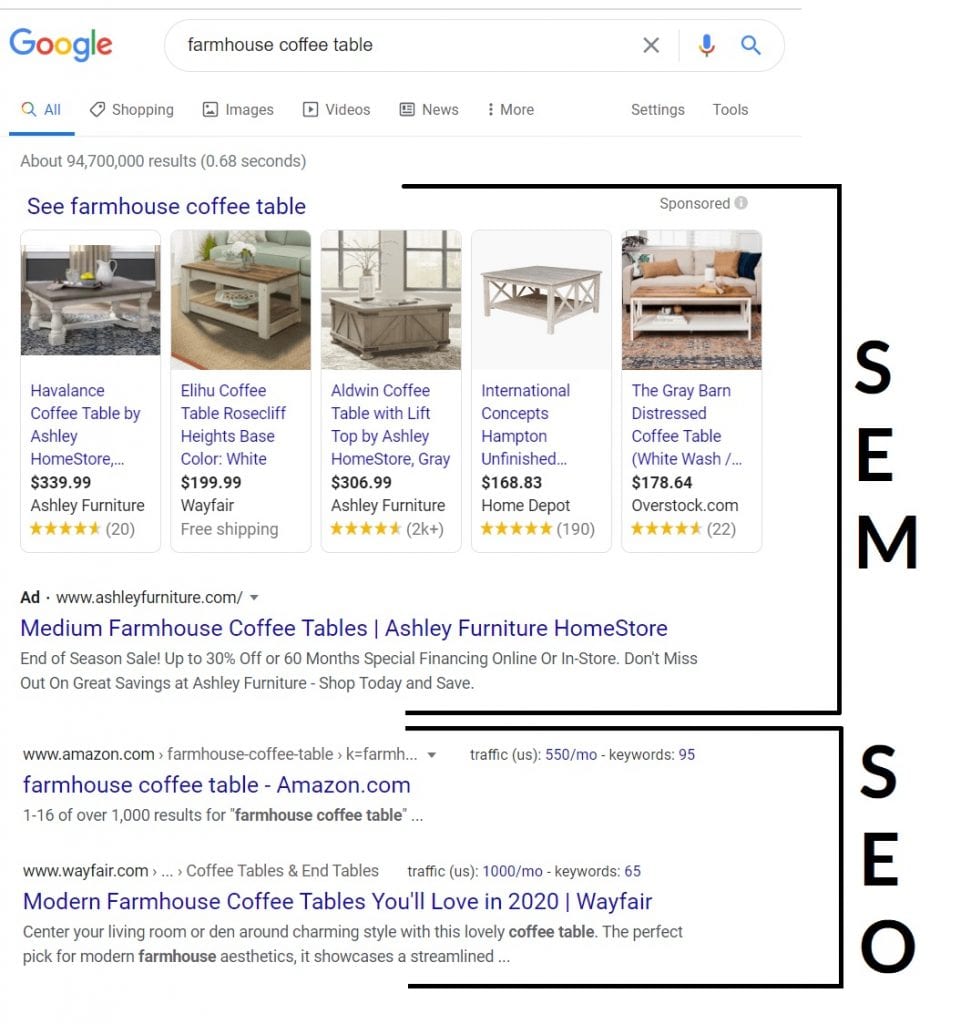 ---
Why Should Businesses Use Search Engine Marketing?
SEM campaigns represent a very effective strategy to get new customers through paid online advertising. It is one of the best ways to spend a paid advertising budget because you can provide customers with solutions as they search for them.
Advantages & Benefits of SEM
Businesses can promote a product or service to a targeted group of customers instantly.
Easy to monitor ad spend and measure Return on Investment (ROI).
Effective method to build awareness to an ongoing promotion.
Advertisers only pay when people actually click their advertisements and visit their website.
Allows businesses to compete with larger companies in their industry.
Targeting can be refined so you are reaching your target market.
Disadvantages of SEM
Businesses have to pay for each click to their website and results are not guaranteed.
Some advertisers may be priced out by the competition if they can't generate a positive ROI.
Budgets can be limited for small businesses.
It can be time-consuming to manage campaigns and landing pages.
---
How Does Search Engine Marketing Work?
Search Engine Marketing works by allowing businesses to pinpoint their prospects based on their search terms. We can assume that someone who goes to Google and searches for the best running shoes is actively looking for new running shoes. Therefore, I can bid on the keyword 'best running shoes' and drive traffic to a page that lists the best running shoe options for Women and Men.
Keep in mind, many people do not convert right away. Therefore, SEM should be used as a strategy along with SEO, Content Marketing, Social Media Marketing, Email Marketing, and more. Someone may visit your website 5-10 times before they ever purchase from you.
---
4 Reasons to Use Search Engine Marketing
Below, there are some major reasons why you should at the very least test SEM.
Showing Up is Most of the Battle

You want to be present where your prospects and customers are. If your customers regularly use YouTube, you want to publish videos that they will actively search and learn from. If your customers regularly use Pinterest, you want to create Pinterest content that will convert them. With Search Engine Marketing, you want your website to be easily accessible for the keywords that represent your products & services.

Turning Prospects Into Customers

Converting a new customer will always be more expensive than driving sales with recurring customers. When you get a new customer, you may think that person has just found you and made a purchase. But, chances are that their journey started days, weeks, or even months ago. The way you consistently and repeatedly presented your brand during that time has helped turn a prospect into a paying customer.

With SEM, you can find prospects as they are searching. People go to search engines when they want to do research or find something new to purchase. Whether it's running shoes or Marketing services, prospects start their journey on Google, Bing, Amazon, YouTube, or one of the other popular search engines.

Recognition and Trust are Key

Recognition becomes familiarity. People realize that the brands they love are better known than those they don't. Most people would rather spend a little more on a brand they know than on a brand with no name. The importance of SEM is unquestionable, especially with so many ads appearing in the search results of every major search engine.

SEM is Part of a Strong Digital Marketing Strategy

The Internet and search engines are currently the greatest source of information to which people turn, so it is crucial to maintain a good Digital Marketing strategy, otherwise the chances are very high that other companies that do implement this method will receive the attention of our possible customers.
---
6 Reasons to Optimize SEM Campaigns
Once you get started with Search Engine Marketing, it is important to improve your Google Ads, Microsoft Advertising, Amazon Advertising, Pinterest Ads, Ebay Advertising, and more. Optimization is vital to spending your budget effectively.
Campaign optimization allows you to drive more conversions at a lower cost.
Optimizing your landing pages can increase your overall website conversion rate.
A/B testing ads can help you learn about the best copywriting for your business.
Testing new keywords and targeting is an SEM best practice for improved results.
Optimization can ultimately lead to increased business revenue and more new customers.
New customer purchases can turn into repeat customers over time.
---
in Summary
Every company that wants to grow new customers must use their Marketing budget effectively. Search Engine Marketing is one of the best ways to spend an Advertising budget because you can reach targeted customers.
The growth of SEM over the years is because businesses find lots of success. Whether you are launching a new product or service, or you just want to increase sales, it's worth testing SEM with different platforms.
All you need to do is continue to improve your strategy as you create, manage, and optimize your online advertising campaigns.
---
---