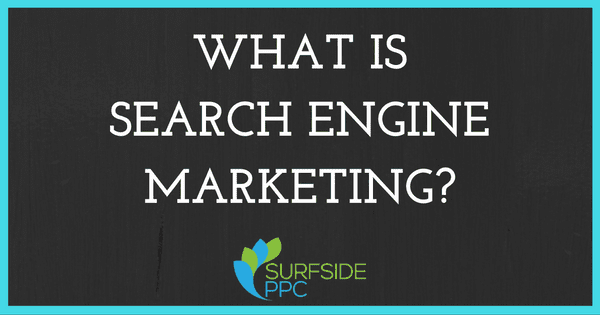 One challenge that advertisers and business owners face is understanding the difference between Search Engine Marketing (SEM) and Search Engine Optimization (SEO). The biggest difference is that SEM is paid advertising and SEO is the process of optimizing for the top organic listings in search engine results. Search Engine Marketing gives you the ability to target keywords so you can reach ready-to-buy customers with your paid ads on search engine results pages (SERPs).
If you are a business owner or you work in a Marketing department, it is imperative that you understand how to reach potential customers in search engines like Google, Bing, and Yahoo. Ready to buy customers are searching every day for your products or services and you want to be front and center to serve their needs. Therefore, you need a Search Engine Marketing strategy so you can drive relevant and targeted traffic to your website with paid advertising.

What is Search Engine Marketing
Why Use Search Engine Marketing?
Today, almost anything and everything can be searched through search engines. When someone wants to learn about the daily news, products, or services, they go to their favorite search engine because it is effective and efficient. The more you can expose your business to a potential customer, the better your long-term results will be. If you have a website, it's vital to test search engine marketing at the very least. For most businesses, it becomes a long-term strategy to drive more customers and more revenue.
---
---
The Future of SEM
Search Engine Marketing is not anything new but it constantly evolves. Several years ago you could not pay for phone calls but with the rise of mobile devices, you can pay for each phone call rather than a click. In the past 10 years, many things have changed with Google AdWords and Bing Ads and our goal at Surfside PPC is to keep up with all of the changes. You no longer need to spend thousands of dollars on TV advertising, newspapers, or billboards because now you can reach targeted customers when they are ready to buy. Do not be left behind. Make it a point to make good use of this Search Engine Marketing in order to seek out better earnings for your small-scale business or large enterprise.