Browse The Keyword Research Tutorial:
When you get started with Digital Marketing, Search Engine Optimization, and PPC Advertising, you learn about the importance of keyword research. The largest search engines in the world handle billions of keyword searches every single day. As a business, you want your website to appear in search results to drive targeted traffic back to your website.
---
Example: If you offer Small Business Checking Accounts to customers, you want to rank high for a keyword like 'Small business checking' when potential customers type it into search engines.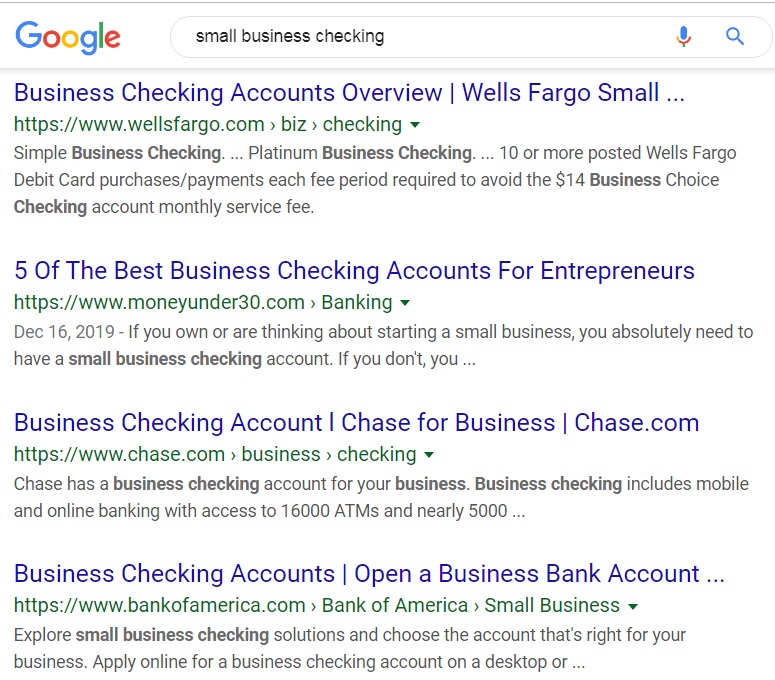 ---
If you can rank for the most popular keywords related to your products and services, you will drive more revenue for your business.


Below, you will find our complete guide to keyword research, how it works, why it's important, and how to get started. Whether you just created your new website, or you want to expand an existing website, researching keywords is vital to any business.
You can also watch the video directly on YouTube here.
---


The first thing I want to go over is short-tail keywords vs. long-tail keywords. Both types of keywords are important when you want to rank or when you want to bid on them with your Search Engine Marketing campaigns.
A short-tail keyword is generally frequently searched but also very broad and represents a large topic. For example, 'fire pits' and 'Google Ads' would be considered short-tail keywords.
A long-tail keyword is usually not as popular as short-tail variations and represent a subtopic. For example, 'metal propane fire pits' and 'Google Ads keyword research' would be considered long-tail keywords.
My Keyword Research Process
Start by Listing the Products/Services Your Business Offers
Focus on Topics Realted to Your Products/Services
Use Keyword Research Tools to Create a Keyword List
Identify Long-Tail Keywords
Create Content Based on Your Keyword List
Why You Need to Do Keyword Research
When someone searches for something online, they type in certain phrases and words to find it. Words and phrases like 'pizza', 'shoes', 'plumber', 'furniture', 'wicker furniture', and millions more are used every single day to find millions of different products and services.
Getting started, let's say we have a website dedicated to 'Wicker Furniture' and we need to do keyword research.
So, what is your task as an online marketer? To figure out which of those words consumers are using to find what you're selling so that you can use those words in your content marketing, advertising, on your website and more.
By researching keywords, you'll know what specific words or combinations of words potential customers are using when they search. Then, you can optimize your website for those words as bait to lure customers to your business.
Step 1 – Understand The Products and Services Your Business will Offer
Does your business focus exclusively on outdoor wicker furniture? Do you offer wicker furniture cushions? Do you offer wicker baskets? Do you offer wicker furniture assembly?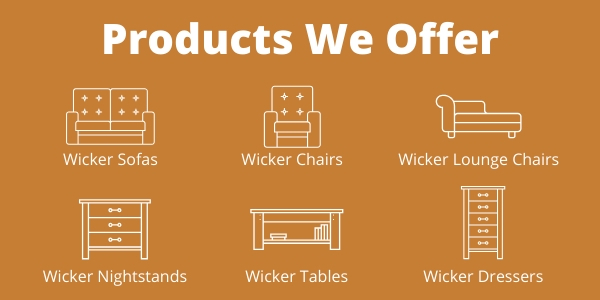 By understanding the actual products and services your business offers, you can research keywords more effectively. It doesn't make sense to optimize for a keyword like 'Wicker baskets' if you don't have those products on your website.
Step 2 – Make a List of Short-Tail Keywords and Topics that Relate to your Products and/or Services
This can be anything that relates to your particular industry, and you may find that you need to start several lists and group them together under specific topics. One key to making a list of topics is to think like a customer. What words would they use to find your brand online when they're searching the internet?
The list of topics for a wicker furniture company may look like this:
Wicker Furniture
Wicker Baskets
Wicker Chairs
Wicker Material
Wicker Sofas
All of those topics could have several, if not dozens, of quality keywords and subtopics that you should be using for your content marketing strategy. Your next step is to find them.
Step 3 – Use Google Autocomplete and a Keyword Research Tool like Google Keyword Planner
Once you've completed your lists it's time to do some research, and you can find your top keywords for free by using Google Autocomplete. When you type your keywords into Google, it will give you the related results that potential customers also type into Google.
Using The Google Keyword Planner
The Keyword Planner is the Google Ads Keyword Tool that can be used to find keywords, competition in Google Ads, estimated bids, and more. You can access the Google Keyword Planner here.
The Keyword Planner is one of the top tools you can use and it is free with your Google Ads account. It can be very useful for finding hundreds or even thousands of relevant keywords related to your business. You can watch our Google Keyword Planner Tutorial below.
---
---
Step 4 – Identify Long-Tail Keywords and Subtopics Related to Your Main Topics
One thing to keep in mind here is that the keywords you want are those that people are searching the most often in search engines. These can be single words or phrases that a likely client or customer would use, specifically, to find your business.
For example, if we are finding long-tail variations and subtopics related to 'Wicker Baskets', a potential list of keywords might look like this:
wicker storage baskets
wicker kitchen baskets
wicker baby baskets
round wicker baskets
rectangular wicker baskets
wicker baskets with lids
Do this for every topic on the list and drill down as far as you can for words and phrases that you think a consumer will use to find your products.
Step 5 – Create & Optimize Your Content Using Your Keyword List
The best reason to research keywords is that you'll discover which words and phrases consumers are using most. Now your task is to create comprehensive pages of content that focus on your topics and your subtopics. You should create content based on the topics that your potential customers are searching for. Then, you need to keep your content updated and relevant over time or you will lose your rankings and your content won't be useful anymore.
Keep in mind that optimizing your content with keywords means using your keywords diligently, specifically, and naturally. Don't 'keyword stuff' or use them too often in your content. Once you get started, you need to be consistent and focus on creating relevant content every day for your website's topics.
5 Keyword Research Tips
The keyword research tips below can help you get started with your strategy. Your keyword strategy can vary for SEO and PPC, but ultimately you want to optimize your websites for the keywords that will drive your business revenue.
5 Simple Keyword Research Tips
Start with the most relevant keywords for your products and services.
Use the most relevant keywords to find similar ideas.
Understand how keywords can be linked to cover topics comprehensively.
Optimize your website's content for your most relevant keywords.
Continue to create new content and update existing content for your top keywords.


Tools are a vital aspect of researching keywords for your business. There are a lot of free and premium tools that can be used to do everything from finding new key terms to tracking your rankings in search engines for particular keywords. The key is to use the top-rated keyword research tools and find the tools that work best for you.
There is a list below of some of the most popular and top-rated keyword research tools.
The Google Keyword Planner is the Google Ads keyword research tool. It is available for free through the Google Ads interface. You can use the keyword planner to find PPC Advertising keywords and SEO keywords for your business.
---
The Microsoft Keyword Planner is the Microsoft Advertising keyword research tool. The tool is completely free to use through your Microsoft Advertising account. It is very similar to Google's tool, but it gives search volume data for the Microsoft Search Network. You can use it to create Ad Groups for a campaign or to find SEO keywords.
---
Wordtracker is a freemium tool that gives you several free searches every day and it is a great tool for finding long-tail keywords. In addition, you can search for Google, Amazon, YouTube, and eBay keywords. With the free version, you will find 50 of the top keywords related to your initial search.
---
Keyword Tool is a freemium tool that uses autocomplete to find long-tail variations of your seed keyword. You can also search using Google, YouTube, Bing, Amazon, eBay, Play Store, Instagram, and Twitter autocomplete.
---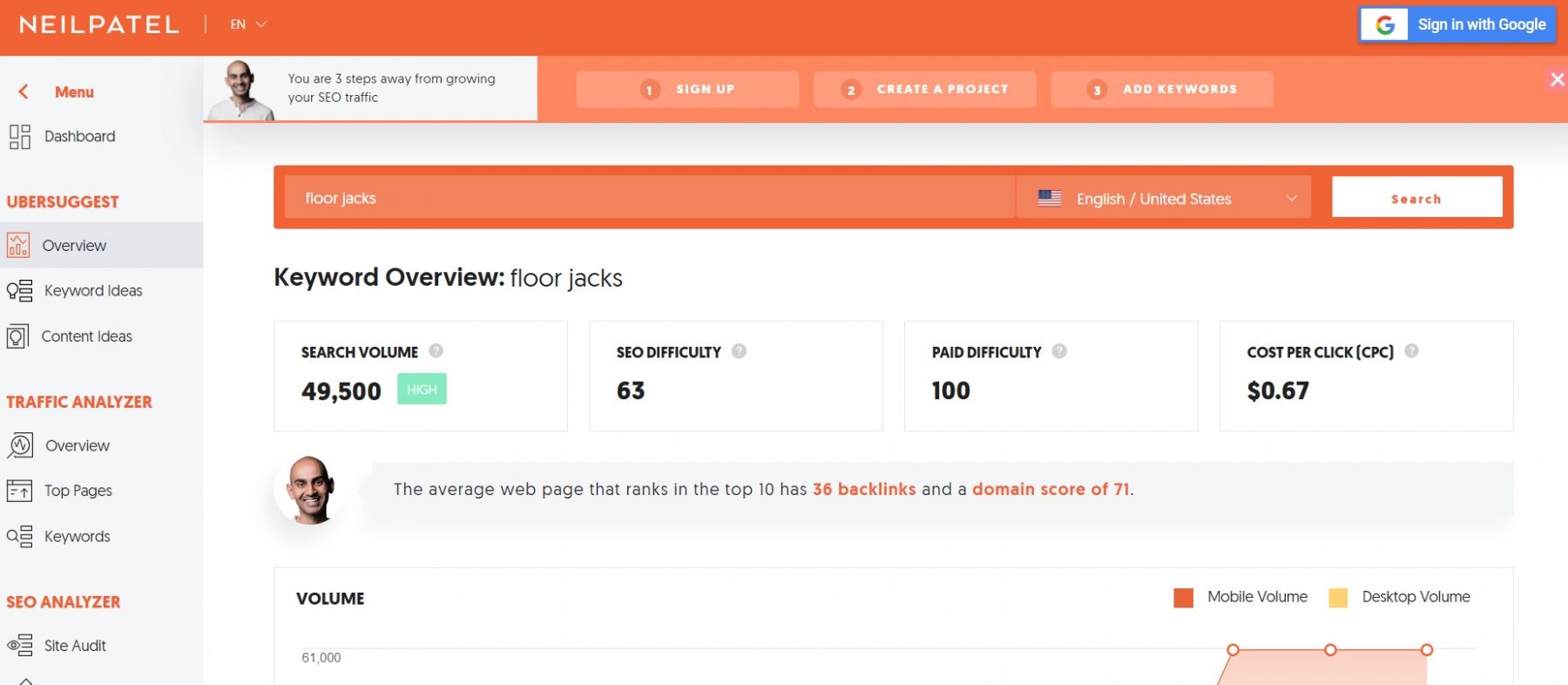 UberSuggest is a freemium tool that will give you keyword ideas and content ideas. One of the benefits of UberSuggest is that you can also enter a website to find information specific to the website you enter. It also shows additional information such as backlinks and social shares for specific webpages.
---
SpyFu is a premium tool that allows you to do SEO keyword research, PPC keyword research, and competitive research. You can use rank tracker to track your keyword rankings, find backlink ideas, and get additional keyword suggestions.
---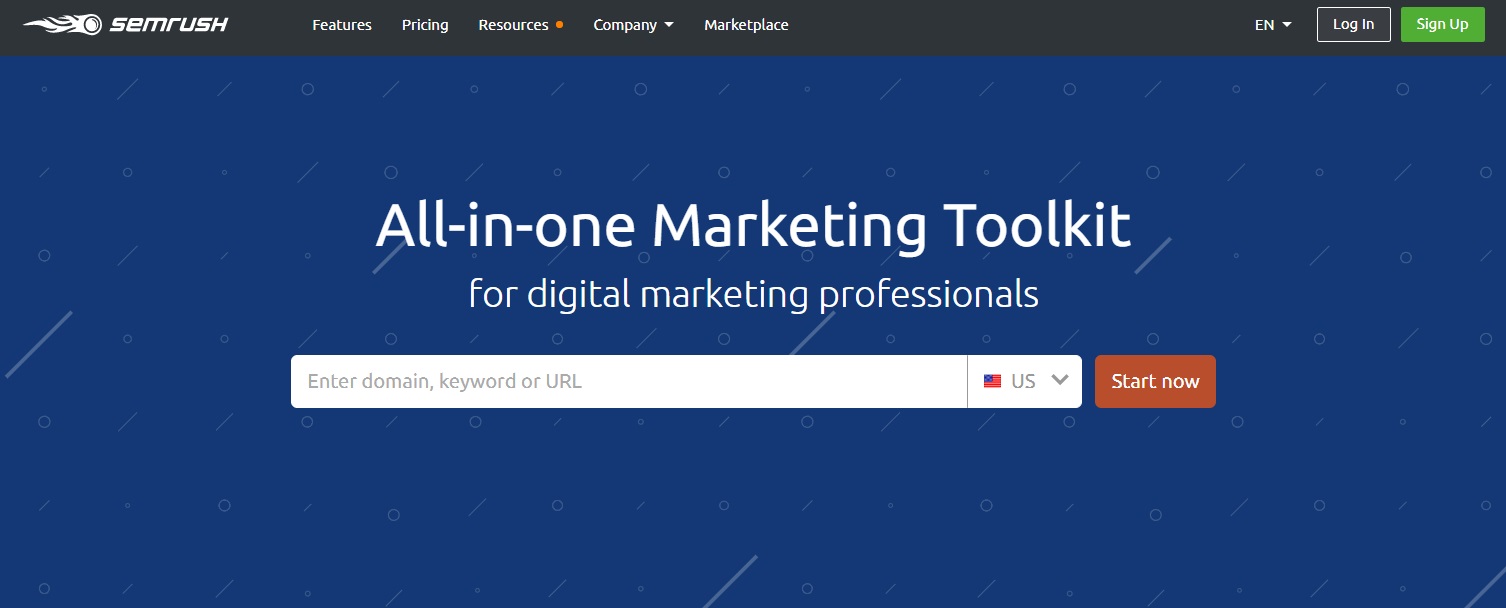 SEMRush is a premium tool that can assist your entire Digital Marketing strategy. If you are looking for the most powerful keyword research tool on the market, SEMRush is the one to choose.
---
Free Keyword Research Tools
In addition, you can find our guide to free keyword research tools here. And, we also have a corresponding video below that can be helpful.
---


You can find our complete Keyword Research SEO Strategy here.
The majority of marketers want to find keywords for their website that can drive them organic search traffic. One of the most important aspects of Search Engine Optimization is keyword research. Large websites rank for thousands of keywords, which allows them to drive a lot of traffic from search engines like Google, Bing, and Yahoo.
In the video below, you can learn a simple SEO keyword research technique for finding the top keywords for your website.
---


Your keyword research strategy is different for PPC Advertising campaigns compared to SEO. When it comes to PPC keyword research, you need to focus on the terms that drive value to your business.
It's important to pay attention to your competition for keywords and average bids. If your average profit for each sale is $25 and your website conversion rate is 4%, then you can't bid higher than $1 in order to run profitable campaigns. Using the same scenario, if I drive clicks for $0.50 from a PPC network, then I will spend $50 for every 100 clicks and drive 4 sales that leads to $100 in profit. In that case, it's worth bidding on the keywords that drive you a 200% Return on Ad Spend (ROAS).
---


You can find our complete Google Ads Keyword Research Strategy here.
When you get started with Google Ads search campaigns, you want to start with keyword research. The best way to do that is with the Google Keyword Planner. In the video below, you can follow my step-by-step guide for finding keywords to target in your Google Ads campaigns.
---


Since YouTube is the 2nd largest search engine in the world, it makes sense that we would focus on the key terms that people type in there. If you have a YouTube channel or if you want to reach more people on YouTube, then you should perform YouTube keyword research. It is the main strategy that has helped me gain over 100,000 YouTube subscribers.
You can watch my video below or directly on YouTube for more information.
---


You will see some FAQs related to finding keywords in the following section. If you have any additional questions, feel free to leave them in the comments section.
What is Keyword Research?
Keyword research is the process of finding, managing, and targeting the most important keywords for your business. Marketers research the key terms for their business in order to drive more customers utilizing organic search traffic and paid traffic.
---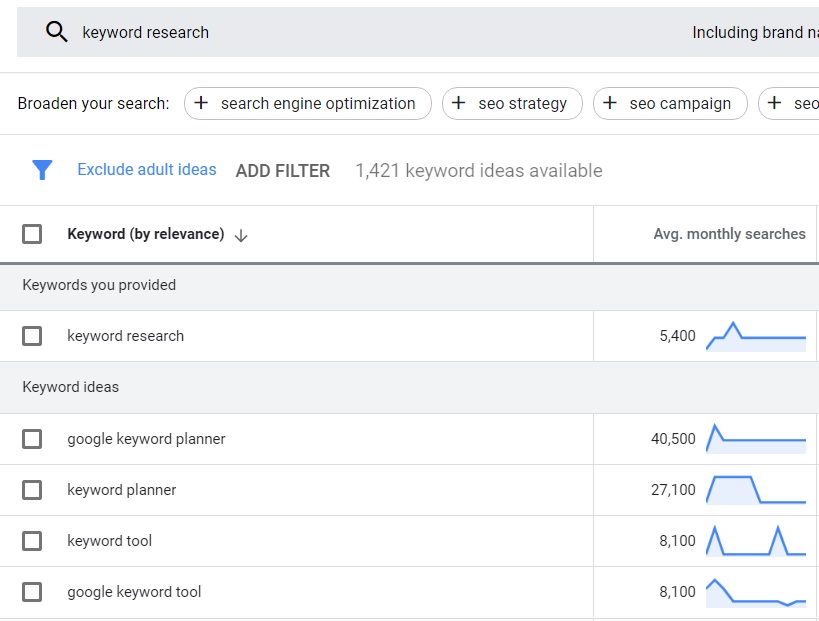 ---
What are Keywords?
Keywords refer to popular phrases and search terms that people type into search engines like Google, YouTube, Bing, and Yahoo. Since potential customers are searching for products, information, and solutions to problems using search engines, it is imperative that marketers optimize their websites for keywords.
For example, a company that offers small business credit cards should optimize for the following keyword search:

---
For a second example, a plumbing company located in Chicago should optimize for the following keyword search:

---
How do you Start Keyword Research?
You can start the process of keyword research by utilizing keyword research tools like the Google Keyword Planner, Ubersuggest, SEMRush, Google Search Console, Moz, and more. Ultimately, you want to start by finding keywords that will drive more sales and leads for your business.
What is an Example of a Keyword?
A keyword is something that your potential customer would type into a search engine like Google. For example, a golf company would optimize for keywords such as 'Golf Clubs,' 'Golf Drivers,' and 'Golf Instruction.' For another example, a company that files taxes for customers would optimize for the keyword 'Tax Preparation Services.'
If you market anything, whether a product, service or combination of the two, your main objective is to sell those products and services using every tool at your disposal. One of the best tools available today is keyword research, specifically for Search Engine Optimization or SEO.
In Summary
We hope you enjoyed this brief primer on how to you use keyword research to find the best organic search keywords for your business. Finding the top keywords for your products and services is vital to the success of your online marketing strategy in today's business world. If you have more questions or need help with your keyword research, please leave a comment in the space below and we'll get back to you ASAP.
---
---