The videos and corresponding article below will cover Google Ads responsive search ads. There are best practices and examples when you are setting up campaigns and advertisements. Ad creation can be very difficult, especially when you have a lot of Ad Groups.
You can watch our responsive search ads video below or directly on YouTube. We cover Google AdWords Responsive Search Ads and some best practices for ad creation. You can create effective ads that drive results for your business.
Google Ads Responsive Search Ads
---
6 Responsive Search Ads Best Practices
At Least 2 Responsive Ads Per Ad Group: Create multiple responsive text ads in each ad group. More variations will only help your campaign in the long run.
Optimize Ads Each Month: If you are running multiple ads in each ad group, Google Ads will continue to serve your most optimal ads. One best practice is to pause under-performing ads and create new, unique advertisements periodically.
Utilize Unique Headlines: Use unique headlines that not only match your keywords but also encourage people to click your advertisements.
Look at Competitor Ads: Get inspiration for headlines and descriptions by searching your keywords in Google and Bing and looking at what your competitors are doing.
Create Expanded Text Ads Too: Use expanded text ads along with responsive search ads.
Maximize Ad Features: Try other features with your responsive search ads like Dynamic Keyword Insertion and Countdown ads.

---
When you can adapt each search ad to your customers' search terms, the responsive search ads will help improve campaign performance over time. The best practices above will help you get the best performance out of your Google Ads campaigns.
What Are Responsive Search Ads?
Essentially, this new ad format will allow you to create text ads that have more headlines and more descriptions so that Google Ads can create more ad combinations to serve to potential customers. Rather than having one headline and one description line, you can create more combinations. Ultimately, this will help you create the most effective advertisements, especially once you start to get data about how ads perform for each keyword in your ad groups.
Our video below covered Google Ads responsive search ads when they were originally released in 2018. You can watch it on YouTube as well.


---
Responsive Search Ads Examples
We listed a few examples below so you can see more about creating this ad format and how it works. The biggest challenge is creating as many unique headlines and descriptions as possible. You want to write compelling ad copy that will encourage people to click your ad and take advantage of an offer on your website.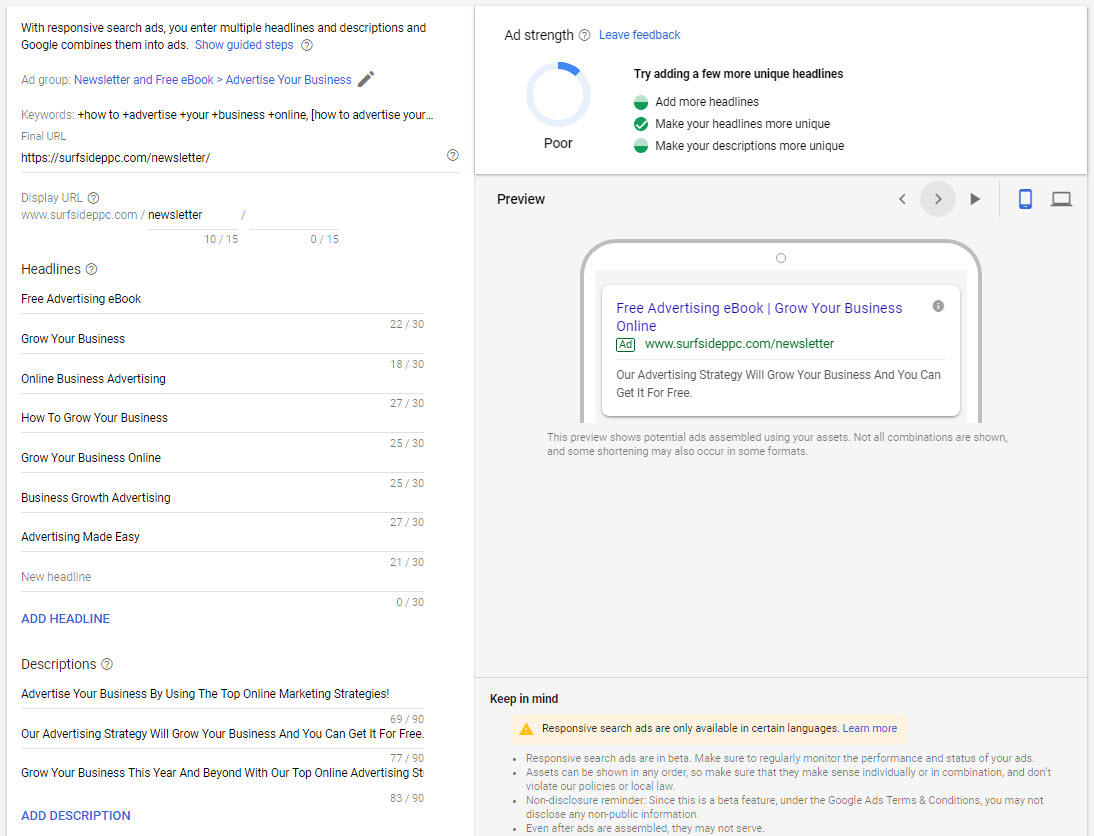 ---
The second example is from the Google Ads blog when they announced the release of responsive text ads.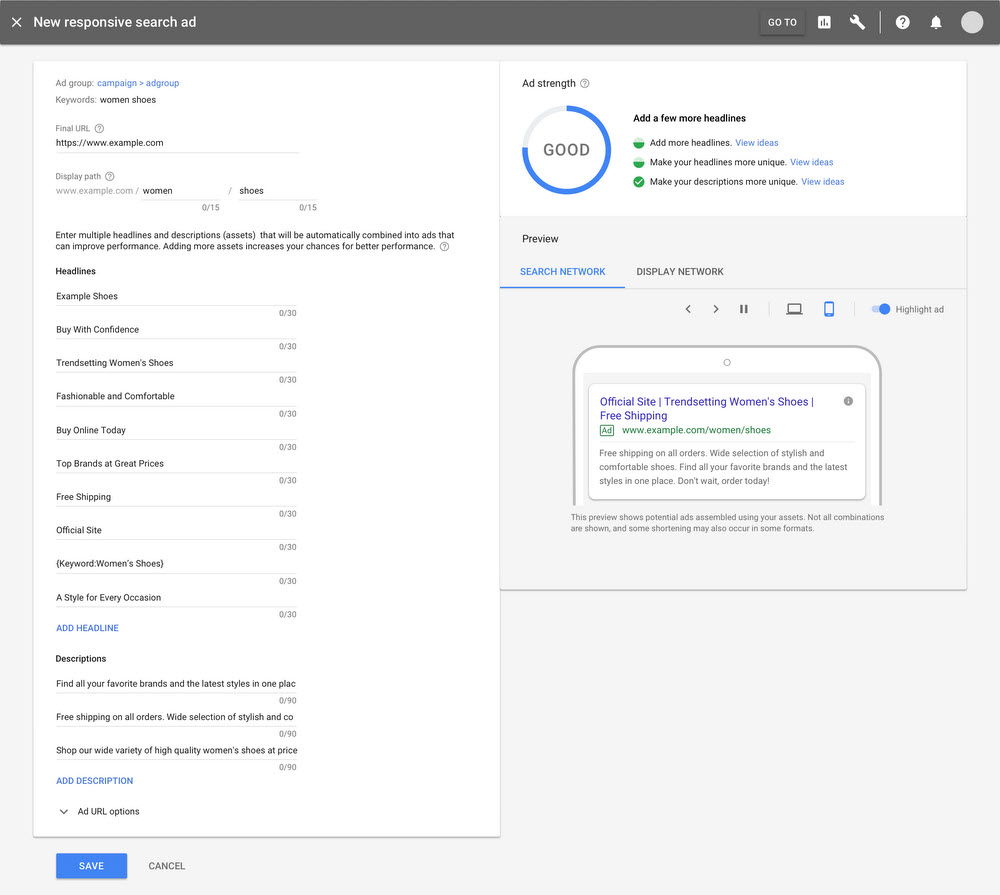 ---
Responsive Search Ads Specs
Each responsive search ad can contain the following in terms of headlines, description lines, and characters.
15 headlines with 30 characters for each headline.
4 descriptions lines with 90 characters for each description.
Option to pin your headlines and descriptions in specific positions of your ads.
Set your display URL path.
Set your final URL like a normal expanded text ad.
The option to pin your headlines and descriptions can help to ensure certain messages only appear in certain positions of the ads. For example, you can set if you only want certain headlines to show in headline position 1, 2, or 3.
Pin to Position for Responsive Search Ads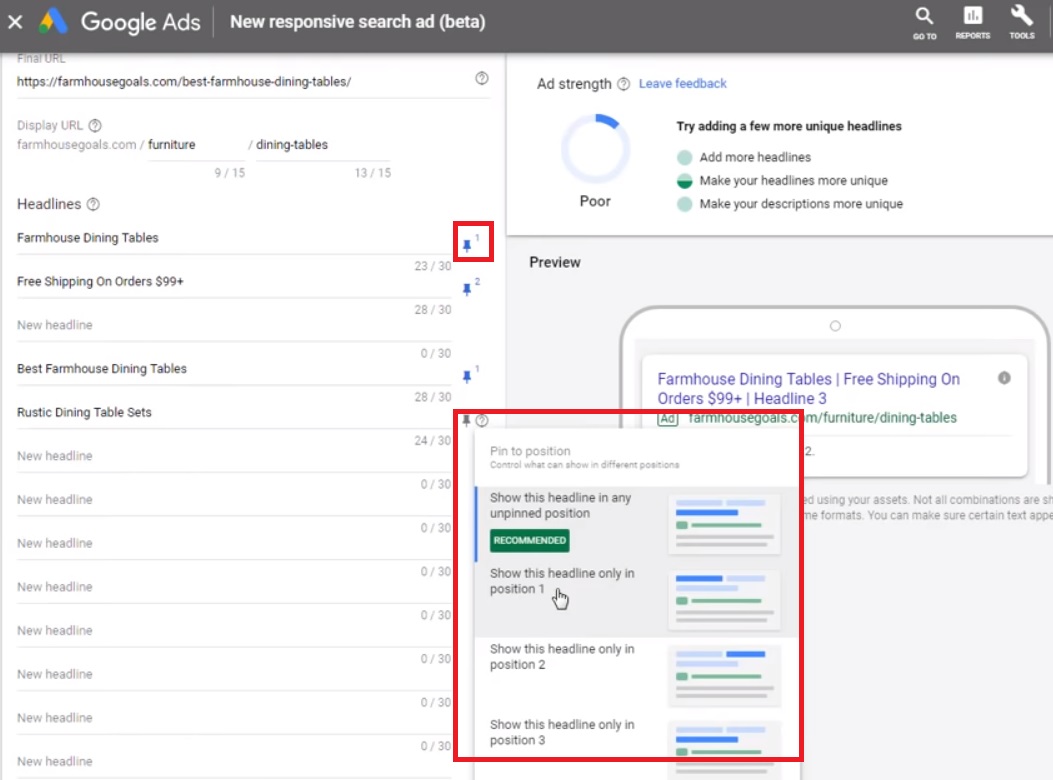 Click for full-size image
---
Creating Responsive Search Ads
Creating these ads is very simple. All you need to do is go to your Google Ads account, create a new campaign, or edit the existing ads in your campaign. When you click to create a new Google ad, one of the options from the Dropdown will be Responsive Search Ads. Then, you can get the most out of your advertisements by adding creative headlines and descriptions in addition to headlines that match your targeted keywords.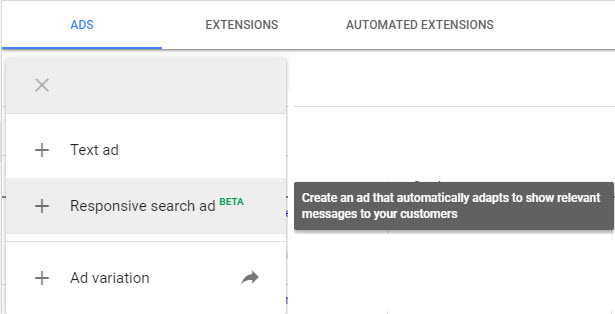 How to Create Great Google Ads
In order to improve ad relevance, improve your click-through rate, and improve your quality score, you need high-quality advertisements in each ad group. The video below will go over 10 ways to create search ads that stand out in the search results.


---
In Summary
Google will use machine learning to help deliver the top-performing search ads in your account. By creating all the different types of ad formats and creating a large number of ad combinations, you can get the most out of your campaign. In addition, your quality score will improve, which will help your ad rank every time you enter the auction.
---
---