Small business marketing is not easy, so we put together 13 small business marketing strategies to help you grow your business and gain more customers. If you're wondering the best ways to market your small business, our video and article below will help you get started.
Small Business Marketing Strategies Video
---
Small Business Marketing Strategies
Attract more customers and increase your bottom line in 2019 and beyond with the 13 marketing strategies for small businesses below.
Want to get clients to notice you? Sell more products? Growing your small business can sometimes seem like a monumental task, but there are plenty of resources to help you navigate through the marketing waters. In this article, we will guide you through 13 of the best marketing strategies for small businesses—taking it one step at a time. While some of these strategies may work great for you, others may not be helpful or even the right fit for your business. But regardless, using one, several, or all of these tools will help you begin to promote your products or services more seamlessly.
1. Use G Suite by Google Cloud
G Suite is a great Software as a Service (SaaS) option for small business owners. One of the most attractive features about G Suite, compared to other SaaS providers, is the affordability of the service—you get quite a bit of bang for your buck! With pricing packages starting at $5 per month; you can get business email, video conferencing, calendar and file sharing, cloud storage, and a variety of other benefits. It not only provides the security of cloud storage, but it will assist your team while working more collaboratively—combining different files and business email accounts from multiple devices; all in one place.
And it's easy to get started. Simply create a Google account, if you don't already have one, and sign up at https://gsuite.google.com. I personally use many of the solutions myself, and I highly recommend G Suite – it has everything you need.
2. Create a Useful and Helpful Website
It goes without saying that your website is your most important point-of-contact with your customers. Creating and maintaining a solid website with a clear listing of all of your products and services is extremely important. You want to save prospects time and make it easy for them to find exactly what they are looking for.
For example, let's say I am looking for junk removal services near me after a large home project. I go online and find Junk Relief. As you can see on the homepage, I can easily find everything I need on their home page. I can see what they do, how they work, what removal services they provide, how much it will cost, and how to contact them. Anything I could possibly need to know is right at my fingertips—I can even book an appointment.
This is the type of structure you need on your business website. Make sure your products and services are all listed and easily accessible. Be transparent about what you do and how you do it. Ensure customers know your pricing structure and how they can get in touch with you. By having a clear and concise website, you will attract more customers and sell much faster.
3. Create Online Content
Creating meaningful content, no matter the industry will showcase you and your business as a knowledgeable source for information and problem-solving. Using my Surfside PPC YouTube Channel as an example, when I posted a Google Ads Tutorial video, I received a lot of feedback from viewers and landed new clients as a result. Some viewers didn't know how to begin, and rather than try to do it themselves, they looked to my channel and decided to hire Surfside PPC for assistance with their Google Ads.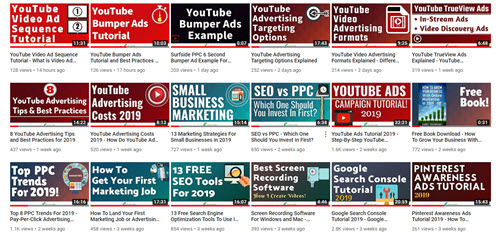 When businesses, regardless of industry, search for problem-solving content and find an informative channel; they are more likely to ask questions and hire someone who has a proven track record and skill set. Whether you are B2B or B2C, creating content drives traffic and provides valuable contacts, leads, and conversions. Whatever outlet you are using; YouTube, Facebook, Pinterest, etc.; you are providing content that helps people.
I have had customers tell me their industry is too boring; wondering who would find their content useful? Someone always has a need for what you offer—you just need to find those people and target them.
To give you an idea, you would be surprised at how many channel subscribers something as targeted as swimming pools would garner. The Swimming Pool Tips, Reviews and How To channel on YouTube has over 800 videos, over 30 million video views, and nearly 56,000 subscribers. Individuals who are interested in anything and everything swimming pools will undoubtedly find this channel, see their content and quite possibly hire them in the future.
4. Be Active on Social Media Channels
There is no doubt that your customer base is active on social media; and hopefully you are too! The key to social media engagement in the business world is consistency. You need to be active on these channels on a regular basis in order to gain more followers and increase your conversion rate. Just to give you an example, I recently noticed a post on the Facebook Page for Burger Revolution. They were offering Valentine's Day specials to their followers – which numbers at over 6,000. Using opportunities like this to bring in more business is extremely effective using social media channels.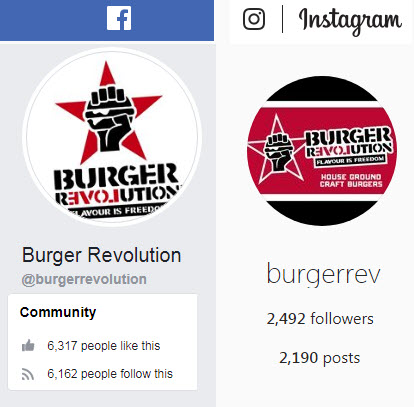 But while this is important, you need to make sure you are utilizing the channels your customers are more likely to use; and vice versa for your business. For Surfside PPC and many other companies in the digital realm, YouTube is extremely popular, along with Facebook and LinkedIn. But Pinterest is not a great platform for us to utilize. Not many people in our target audience will be pinning about PPC. So, make sure you are consistent and active on the platforms that matter to you and to your customers.
5. Implement Search Engine Optimization
In addition to having a helpful website, businesses will always benefit from having their websites optimized for search engines (SEO). If you hop onto Google and type in NYC personal injury law firm; which is very popular search, in a very competitive field; you will notice there are a few specific lawyers that are always ranked towards the top. Their websites are utilizing SEO and they are driving more potential clients to their site with these rankings. This is the case with nearly any search you may be doing; on any search engine.
Since SEO is quite technical, it may be worth investing in professional SEO assistance. You can always take a course; there are numerous options online. But whether it's an investment with your time or your company's monetary resources in hiring a professional; the ROI is worth it. More people will be driven to your site; which equals more clicks. More clicks equal more conversions – quite the no brainer!
6. Create a Google My Business page
Google My Business is something every small business should be using and optimizing. And why not? It only takes a few minutes and it is completely free. Your Business Profile appears right when people are searching for your business or businesses like yours on Google Search and Maps. The service is easy to create and easy to update with your Google account.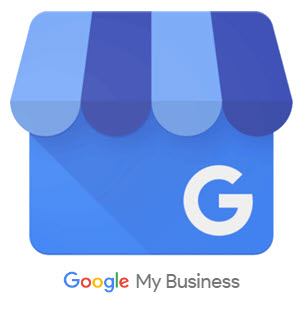 For example, if you search a specific restaurant and their page pops up, you can learn almost everything you will need to know about this establishment. You can read reviews, see how they rank, hours of operation, location, food type, website, phone number, etc. You also get a Google Maps listing. These pages help customers understand everything you have to offer and also assists in your SEO efforts.
7. Optimize for search engines your customers utilize
Yes, there is more to the world that just Google. Your customers are searching on other channels, and it's important that you are optimizing on them. Even YouTube, Yelp, HomeAdvisor, TripAdvisor; they all can be utilized in your SEO campaign. The type of business you run will determine where you should focus. A hotel chain would want to be using TripAdvisor; but a service-related company would be better suited on HomeAdvisor.
No one knows your customers better than you – figure out where they are doing their research and make search you are optimized for those platforms. Also, it's important to keep your profiles and listings up to date. List as much as you can about your business so you can be easily located.
8. Use Email Marketing
For those of you who aren't familiar with email marketing, it's a fantastic way to keep in regular touch with customers who have shown interest in your business. You collect contact information from a variety of different sources (website, transactions, etc.), and in turn you send out regular email updates. These are highly effective for e-commerce sites but can be utilized for almost any type of business. You can announce new sales, holiday promotions, coupons, special events – the options are limitless. As long as the client has subscribed to your emails, they are open to receiving the information.

At Surfside PPC we use Mailchimp; although there are quite a few email marketing platforms on the market. The pricing structure with Mailchimp is extremely affordable. They offer a free plan allowing you to send 12,000 emails per month to less than 2,000 subscribers. They also offer a Grow plan ($10 per month and up) and Pro plan ($199 per month and up).
One of the biggest upsides to email marketing is the cost. It's a very budget-friendly way to keep in touch with your loyal and potential customers. And with tools like Mailchimp, it's relatively easy.
9. Utilize PPC Advertising
For the most part, the days of print advertising are dwindling. Companies, both large and small, are utilizing paid digital ads with Google Ads, Facebook Ads, Bing Ads and other search engine and social media platforms. And the beauty of these opportunities – you can set your budget and target audience down to the letter. Paid advertising is a great way to amplify your marketing efforts – whether you are just reaching out to your regional area or on a national level.
You see these ads daily when you hop on Google or Facebook. To use a previous example, if you type in junk removal services in Google, you will see several ads appear above the search results. These are all part of the Google Ads program with targeted key words and the location being served.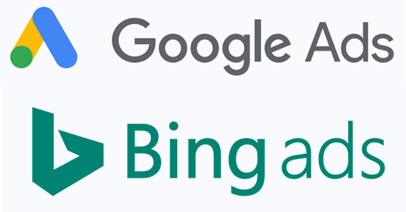 The beauty of paid advertising, both big and small, is that it complements many other facets of your marketing activities. Ads will bring you more clicks, but without a helpful website you won't be able to convent as many prospects. All of these tools work in tandem with each other.
10. Learn about your industry and attend conferences
Staying on top of your industry trends is extremely important; ensuring you are at the top of your game and hopefully topping the competition. While it can be an investment of your time and resources; you will get a good ROI when it's all said and done. In the industries we cover at Surfside PPC, I utilize the website Searchengineland.com to keep up-to-date on the latest news, trends, and products. I can also view upcoming industry conferences; several of which I have attended. There are many sites and associations like this for almost every industry in our country.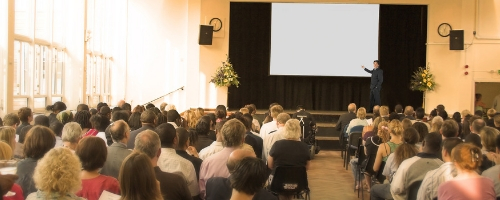 At conferences, you can learn a lot of great new information, get educated on other brands and what they are doing to remain successful, and receive industry updates. Conferences also provide great in-person networking opportunities with fellow business owners and potential clients.
11. Copy your competitor's strategies
This can also be applied to our last strategy in regard to industry trends. Learning as much as you can about your competitors ensures you are matching what they are doing. I would argue that making sure you are doing it better is even more paramount. If you do a search for your company, you will see your competitors listed right there with you! Check out their websites and make sure your site is as easy to use as your competitors. Check their pricing and see how you compare. Look at how long it takes for them to book or do a certain service and try to beat their turnaround time. This can also be applicable to social media. Follow competitor pages, sign up for their emails—see what is working for them and innovate to better your business.
To use a real-world example, pay attention to any of the fast-food burger franchises. If you see McDonald's launch a new burger or menu item, you will inevitably see Burger King and other franchises follow suit. It's simply the nature of the business world.
12. Outsource your weaknesses to employees or freelancers
We can't all be experts at everything. As business owners you have to wear many different hats; but part of being a leader is learning when to delegate. If you aren't great at design, don't try to create your own logo. If you aren't a good writer, don't try to pump out website copy. When you aren't well-versed at something, don't spend forever trying to figure it out. Hiring freelance and outsource help is worth the investment. It not only saves you time; but it will ensure that your creative content is top-notch. This is why companies hire people in different roles. We all have our strengths and weaknesses.

Platforms like Upwork make outsourcing for talent a breeze. Upwork is a global freelancing platform where businesses and independent professionals connect and collaborate remotely.
You set your budget and can hire freelancer in areas from graphic design and writing to photography and administrative tasks.
13. Focus on consistency rather than branding
Now obviously when you start a business you do have to go through some branding. But once you have your identity and everything in line; you want to keep your main focus on consistency. Surfside PPC grows the most when I am producing and posting regular videos to our YouTube channel. We can talk about branding all day; but that won't make up for a lack of dependability. If you are not creating consistent, meaningful content; all the beautiful logo designs in the world won't make a bit of difference.
Many companies spend so much time and money on the branding process; but I would say that your real branding comes from your consistency. Apple is successful not because they have pretty packaging, but because their products are always high-performance.
Be consistent with the products and services you offer. Be consistent with your content. Your brand will follow, and your business will grow.
---
---