13 SEO Mistakes You Should Avoid in 2023
There are plenty of SEO mistakes that we all need to avoid if we want to rank high or even rank at all. Search engine optimization is vital if you want to drive relevant organic traffic to your website. However, there are many SEO mistakes that can actually harm your site's rankings. In this comprehensive guide, we'll overview 13 major SEO mistakes and how to avoid them.
Why You Should Avoid SEO Mistakes
You don't need to be an SEO expert to drive organic search traffic. The most important thing is identifying keywords for your niche, understanding search intent for keywords, creating high-quality content to solve for search intent, and optimizing your content. Continue publishing high-quality content on an optimized and easy-to-use website. Then, grow your audience through social media and email, and build your backlinks. The SEO mistakes below will hurt your traffic if you don't avoid them.
SEO Mistakes Video
You can watch the SEO mistakes YouTube video below. In this video, I show you the main things you want to avoid when you are working on your SEO strategy.
---
Join Surfside Niche today and learn how to create a successful niche website! Watch me build my websites and my YouTube channel to 1,000,000+ views per month. Join and build with me and hundreds of other creators.
---
SEO Mistakes Infographic and PDF
Download PDF: SEO Mistakes to Avoid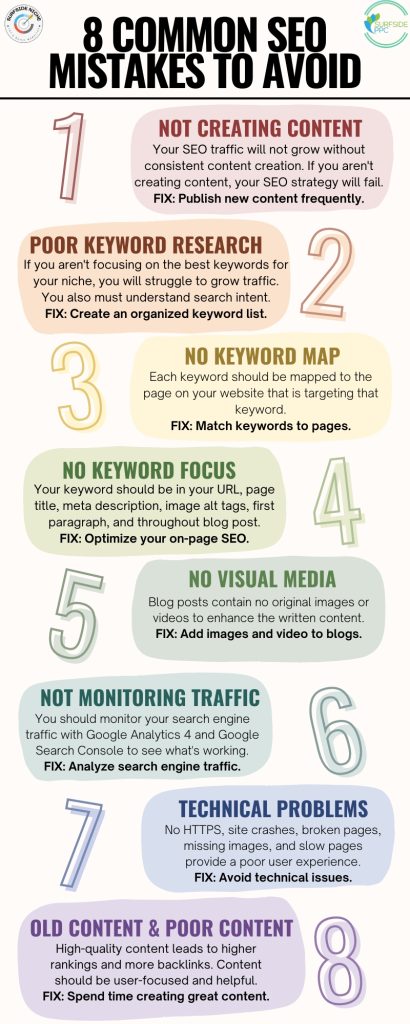 Mistake #1: Not Creating Content
If you aren't actively creating and publishing new content, your SEO growth will stagnate. Fresh, optimized content provides new keyword targeting opportunities and new pages to rank. There is also a correlation between the amount of content you create and the amount of backlinks you get.
How to Fix It:
Commit to consistently creating blog posts, guides, tools, and other resources aligned with your target keywords. Repurpose content from other formats too. Publishing regularly keeps your site active and climbing in the SERPs.
Mistake #2: Poor Keyword Research
Targeting the wrong keywords dilutes your SEO strategy. You must research terms aligned with your offerings and user intent through tools like Google Keyword Planner. Simply using high-volume keywords without context won't drive meaningful traffic.
Watch my Keyword Research Course
If you're struggling with keyword research for SEO, I have you covered with the video below.
How to Fix It:
Spend time building a strategic keyword list focused on effective long and short-tail phrases. Analyze monthly search volumes and competition levels to identify the best keywords for your business. Optimize blog posts and pages around your targeted keyword.
Watch my Keyword Mapping Tutorial
Keyword mapping can be difficult to understand at first. The spreadsheet below can help understand what it will look like. I generally build mine in Microsoft Excel and keep it updated as I write content.


Mistake #3: No Keyword Mapping
Once you identify target keywords, map them to relevant pages on your site. This entails matching each keyword to the page that should rank for that term.
How to Fix It:
For example, your "Project Management Software" page should target the phrase "project management software" and related keywords. Mapping keywords to landing pages keeps optimization focused.
Mistake #4: No Keyword Focus and Poor On-Page SEO
You don't want to neglect on-page SEO like titles, headers, content, meta descriptions, alt text etc. On-page factors significantly influence rankings, so optimize them properly. Each blog post on your website should have a keyword focus, even if it isn't a popular keyword. When I am writing blog posts, I try to cover topics comprehensively. The goal is to take a popular keyword and provide a solution by understanding search intent.
How to Fix It:
Target your primary keywords in strategic places like page titles, headings, image names, opening paragraphs, and content. This establishes relevance and improves click-through rates. Don't ignore on-page optimization.
Mistake #5: No Visual Media
Most written content can benefit from visual enhancements like images, infographics, and videos. Images can be step-by-step screenshots, custom graphics, statistics, charts, studies, and even entertaining images. However, some blog posts don't contain any visual content whatsoever. In this blog post, I am including different videos and screenshots that will help explain each of my points. A lack of visuals leads to higher bounce rates and weaker engagement.
How to Fix It:
Enhance pages and blog posts with related visual media. Break up text with relevant photos and graphics. Create simple videos to showcase products or expand on topics. Visuals can boost overall interest and increase the average time on each page.
Mistake #6: Not Monitoring Traffic
One major mistake is launching SEO strategies without tracking the results in tools like Google Analytics and Search Console. You need to actively monitor traffic to gauge the effectiveness of your efforts. It's very helpful to set initial goals and track those goals. Try to publish 100 high-quality blog posts and monitor your organic search traffic for those blog posts.
Discover how to install Google Analytics 4, Google Search Console, and Google Tag Manager on a WordPress website. You can monitor your website traffic using Google Analytics 4 and you can monitor your search engine traffic using Google Search Console.
How to Fix It:
Continuously analyze whether you're driving growth in organic traffic, impressions, clicks and keyword rankings. Review reports regularly and double down on what's working. If certain pages are not ranking or are losing rankings, then you should update them and improve them.
Mistake #7: Technical SEO Issues
Site errors like broken pages, missing images, crashes, or extremely slow speeds frustrate visitors and turn off search engines. Fix technical problems as soon as possible.
How to Fix It:
Maintain your site with 404 monitoring, image audits, and page speed checks. Keep plugins, themes, and hosting up-to-date. Invest in better servers or CDNs to improve performance. A smooth site demonstrates credibility.
Mistake #8: Old, Low-Quality Content
Weak, old, duplicate, or purely promotional content does little for rankings and traffic growth. Google wants to see valuable, insightful content that actually satisfies user intent and queries. Keyword mapping can help avoid keyword cannibalization – You shouldn't be optimizing for the same exact keyword with multiple pages.
Rank Higher on Google With These Tips
In one of my recent videos, I showed some SEO tips using Google Search Console. There are some ideas so you can improve your existing content and target long-tail keywords more effectively.
How to Fix It:
Audit old content and refresh or replace poor pages. Spend time creating robust, useful content like detailed guides and reports. Offer unique perspectives, data, and advice your audience will actually find helpful.
Bonus Mistake #1: Over-Optimization
Don't go overboard stuffing SEO keywords into headlines just to rank. You also don't need hundreds of internal links in every single article. Keep optimization actions subtle and suited to human readers.
How to Fix It:
Use keywords naturally without sacrificing readability. Seek genuine opportunities for internal linking that make sense. Let relevance, not just rankings, guide your efforts.
Bonus Mistake #2: Weak Link Building
Every SEO strategy needs high-quality backlinks from reputable websites. However, you can't just buy links or spam low-value networks. You need to create content that is worth linking to.
How to Fix It:
Build links naturally through outreach, partnerships, and value-added contributions. Focus on earning placements on authority sites through your niche expertise and content. Quality over quantity prevents penalties.
Bonus Mistake #3: Ignoring Analytics Data
If you installed Google Analytics 4 and Google Search Console, don't ignore the data. You don't need a lot of data to get insights from your search engine traffic. Many businesses launch SEO initiatives without planning ongoing performance monitoring and analytics reviews. You need to continually track and analyze data so you can fix a drop in rankings and keep increasing your existing rankings.
How to Fix It:
Use tools like Google Analytics 4 to monitor rankings, traffic, conversions, and other KPIs. Set up reporting dashboards so you can quickly see your performance. Review analytics regularly and tweak underperforming areas of your strategy.
Bonus Mistake #4: Not Prioritizing Mobile Optimization
With more than 60% of searches now happening on mobile, optimizing for mobile users is essential. If your site isn't responsive or mobile-friendly, you'll miss opportunities. You should create content that will be easy to follow and understand on any device.
How to Fix It:
Test your website on multiple devices and browsers. Check that the design, fonts, CTAs, and navigation work. Eliminate anything hindering the mobile experience. Invest in responsive design and dedicated mobile pages. Lastly, you should have menus that work on every device.
Bonus Mistake #5: Forgetting the User Experience
SEO is about creating the best possible user experience based on what the user is searching for. Earning links and gaming algorithms shouldn't outweigh focusing on visitor needs. Users are usually visiting your website to solve a problem they are having. It's your job to provide the best user experience while also solving problems.
How to Fix It:
Keep the user at the center of your strategy and use your own website to see if it's useful. If your content isn't the most helpful content on the internet, you need to improve it. Optimize your site for their search intent, not just keywords. Simplify navigation, improve site speed, and craft valuable content. Meeting user needs earns trust.
FAQs About Common SEO Mistakes
Below, I tried to give some more details about different issues to avoid. If you follow the tips above, you should be on your way to increasing your website rankings.
What are some of the most common technical SEO mistakes?
Some major technical mistakes include slow site speed, mobile optimization issues, broken links, thin content, and security problems like not using HTTPS. Prioritizing page speed and site performance is hugely important. Your website should be easy to access, secure, and you should not have broken pages.
How often should I create new content for SEO?
The best answer for this question is to publish as much high-quality content as you possibly can. If you have the resources to do it, I would recommend a new blog post every single day. However, you should write at least 1 new piece of content per week while also updating old blog posts. More frequent posting is even better for SEO. Repurposing content in new formats like video also helps.
How do I avoid keyword stuffing that hurts SEO?
Do not ever overstuff target keywords just to hit a certain keyword density. Use them naturally within content where they are the most relevant and useful. Include keywords in titles, meta descriptions, image tags, opening paragraphs, and several times organically in the content itself. You should also focus on incorporating long-tail keywords naturally as well.
What are some SEO link building best practices?
The best way to build links is to build content and resources that other websites link to naturally. If you write high-quality resources for your niche, website owners are much more likely to link to you consistently. You can also do things such as link outreach, guest blogging, YouTube interviews, podcast interviews, and press interviews. I would not recommend paying for hundreds of links as it likely won't help your rankings.
How often should I analyze my SEO metrics and analytics?
You should always analyze your website analytics to identify issues and growth opportunities. Set up reporting dashboards to monitor traffic, rankings, search engine impressions, search engine clicks, and conversions from organic search traffic. I would recommend reviewing monthly reports and looking for increases and decreases.
Conclusion
By avoiding these common SEO mistakes, you can build long-term organic growth. Focus on quality over quantity, technical site health, useful content, and optimization for readers and search engines. Keep your website ranking high by following SEO best practices and monitoring your website analytics consistently.