Google Trends: Complete Guide For 2023
Google Trends is a powerful tool that provides information on search trends, allowing users to explore what people are searching for, when they're searching for it, and where they're searching from. If you are a Marketer, Google Trends is one of the best free tools to try. You can see what is trending now, where topics are trending, why topics are trending, historical trends, related search queries, related topics, rising search queries, and rising topics. In this article, we'll take a deep dive into Google Trends, exploring its features and capabilities and providing tips and tricks for leveraging its power to drive traffic and engagement.
Google Trends Video Tutorial
You can watch the video embedded below or you can watch the video on YouTube.


---
What is Google Trends?
Google Trends is a free online tool provided by Google that is entirely free to use that provides data on trending topics, keywords, subjects, and phrases in any industry. The tool analyzes Google searches across platforms like Google News, YouTube, and the general search. It provides real-time data on the number of searches, and the current trends, identify subtopics or related topics and review the search within a geographical area. The information provided can provide you with insights into your target audience and what interests them as you prepare a content strategy or boost your SEO for your website.
---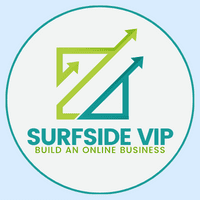 Join Surfside VIP today for only $2.99/month! Learn how to create a successful online business. Watch me build my websites and my YouTube channel to 500,000+ views per month and get all of my strategies.
---
What is Google Trends Video
You can watch the video embedded below or you can watch the video on YouTube.


---
What You Can Do With Google Trends
Google Trends analyzes a sample of Google searches to show the popularity of search terms and topics across different regions and languages. The tool displays search interest on a scale of 0 to 100, where 100 indicates peak search popularity. This allows businesses to extract consumer insights from search patterns. Trends helps you spot new trends early, understand customer interests, and pinpoint opportunities.
With Google Trends you can:
See how search volume for keywords changes over time
Compare search popularity between different terms
Filter data by country, state, metro area
Discover rising and breakout related searches
Gain insights into seasonal trends
How to Use Google Trends
It's completely free to use and you don't even need a Google account to use it. All you have to do is go to the Google Trends website and enter any search term or topic. You can also view what is trending now and explore any search term or topic you want.
How Does Google Trends Work?
Google Trends works by analyzing the billions of searches that are made on Google every day and presenting the data in an easy-to-use interface. The tool uses a scale from 0 to 100 to indicate the level of interest in a particular search term or topic, with 100 representing peak popularity.
Why is Google Trends Important For Marketers?
Google Trends can be an invaluable tool for businesses and content creators. By analyzing search trends, it can provide insights into consumer behavior, allowing businesses to tailor their products and marketing strategies to meet the needs of their target audience.
For content creators and marketers, Google Trends can provide inspiration for topics and help identify trends that are likely to resonate with their audience. By creating content around popular search terms and topics, creators can increase their visibility and engagement, driving traffic to their site and growing their audience.
How to Use Google Trends Video
You can find our complete Google Trends tutorial below or directly on YouTube. You can learn exactly how to use this amazing free tool offered by Google. For some industries and websites, Google Trends is a must-use Marketing tool.


---
11 Ways to Use Google Trends
Google trends can be used in several ways to boost your marketing efforts and drive traffic to your website or social media channels. You can use the data from Google Trends to create relevant content for your target audience in real time. Here are some great ways to use Google Trends to stay competitive in your industry.
Keyword Research With Google Trends

You can get all sorts of information on search terms by using Google Trends. If you are looking for trending keywords or popular keywords related to a specific search term or topic, Google Trends will give it to you for free. By researching different topics, you can figure out what people are actively searching. By being the first to know about trending keywords, you can drive traffic to your website before your competitors do.

Google Trends Keyword Research Video




---

Explore Topics and Search Terms

One of the most basic uses of Google Trends is to explore the popularity of topics and search terms. By entering a keyword or topic into the search bar, users can see the level of interest over time, as well as related topics and queries. For example, we can look at the overall popularity of coca-cola since 2004, which has stayed pretty constant. There has been a slight drop, but also a few spikes of popularity throughout the year. In addition, we can see a total of 50 keywords related to the topics or search terms that we enter.

Compare Search Terms

Google Trends allows users to compare the popularity of up to five search terms at once. This can be a powerful tool for identifying trends and understanding the relative popularity of different keywords. It can be a quick way to see how popular different topics and search terms are. In the example below, I looked at some of the top streaming services by looking at the trend of the search term over time. It's interested how some of them spike in interest and others are not nearly as popular as Netflix.

View Related Topics and Queries

When you do a search in Google Trends, you can scroll down on the Google Trends results page to see related topics and related queries. They will be related to whichever topic or search term you enter. You can see rising related topics, rising related queries, top rated topics, and top related queries. This can be a useful tool for identifying related keywords and topics to any topic or search term.

This is one of the absolute best features of Google Trends. If you enter something like Laptops, you can actually see some of the trending brands and models. In addition, you can see the most popular laptop brands and models using Google Trends. It's one of the best ways to do keyword research with Google Trends.

Explore What is Trending Now

Google Trends provides real-time search data, allowing users to see what people are searching for at any given moment. You can see daily search trends and real-time search trends for a lot of different countries. This can be a powerful tool for identifying emerging news stories and staying on top of the latest events. You can also categorize the real-time search trends to see business, entertainment, health, sci/tech, sports, and top stories. This area of Google Trends is vital for websites that cover news. The image below shows the top stories for sports on a given day.

Market Research

If you are about to launch a new product, promotion, or brand, you need to perform thorough research. With Google Trends, you can learn more about the interest in your product or service and understand the market you plan to launch in. You can use Google Trends to filter to specific locations by simply clicking on the map on the data page. For example, if I want to release a new type of toy, I can make sure I focus on the areas where people are actively looking for this type of toy.

Generate Blog Post Ideas

Google Trends can help you find new and exciting topics to add to your blog and increase your SEO. It's a sure way to find topics your target audience is interested in and can lead them to your website by including trending keywords and phrases that you find using this tool. You can use the related queries (rising and top) to come up with keywords for blog post ideas. For example, when I searched LinkedIn Ads, it gave me 3 different keywords that can potentially be blog post topics and YouTube video topics.

Social Media Strategies

Finding great topics through Google Trends can be effective for your social media strategies. In order to grow your following, you need your brand to stay on trend and relate better to your audience, which can be a daunting task. Google Trend shows you the data your audience is currently looking into to help you plan future posts.

Improve SEO

Google Trends is an effective tool to help you find trending keywords that can help you boost your SEO for your website. The trends will show the popularity of your chosen keywords over time, and you can adjust the date range to look over any timeframe to better distinguish trends and fads. It can help you avoid keywords that may not help and find related keywords that could potentially boost your website traffic.

Find Seasonal Trends

Some products and services perform better at different times and seasons throughout the year. Using this feature can help you determine the best times to advertise for your brand depending on seasonality to boost your sales and increase your traffic when it matters the most. You can ensure your brand stays relevant.

For example, you will see opposite trend lines for topics like Camping and Skiing. Camping is very popular in the summer and not as popular in the winter, and skiing is the exact opposite. You can see the seasonal trends using Google Trends over the past 5 years in the image below.

Monitor Competitors

Within the Google Trends tool, you can use the compare feature to monitor your competitors to see how well they are doing compared to your brand. You can compare up to five search terms or competitors and leverage Google Trends to always stay one step ahead and analyze how you can improve when needed. It can be useful to compare the trend of your website against some of your competitors. For example, I can look at the level of interest between brands like Adidas, Under Armour, and New Balance since 2004 in the United States.

I love to put my own niche website into Google Trends against some of my niche website competitors. It can also help uncover some of the top and rising search queries as well. You can see in the graphic below that Google Trends will give me 50 total search queries for a brand like New Balance. I can see their 25 rising search queries and their 25 top search queries. We can use Google keyword trends to actually steal ideas and keywords from our competitors.

Set Up Email Alerts for Daily Search Trends

When you go to Trending Now, you can look at the daily search trends and set up notifications. Click on the 'subscribe' bell and you can customize the way that Google Trends send you email updates. You can use this to see trending news stories and it can be useful if you write about what's trending.

Google Trends Best Practices

Use the tips for Accurate Google Trends Analysis:
Frame comparisons consistently – Always compare terms over the same date ranges and locations for accurate comparison.
Use topics rather than only keywords – Topics include related terms and phrases to give you better data.
Look at long date ranges – Short time periods can show misleading spikes. Take a longer view and look at a year or several years of data.
Compare groups of keywords – Add multiple related terms to compare their popularity and find related search queries for each of them.
Adjust for seasonality – Factor in recurring seasonal peaks/troughs which can obscure the real trends. Some search terms and topics will peak in the summer or the winter depending on the interest throughout the year.
Select appropriate filters – Use Google Trends filters like location, time range, category, and search type to narrow down the results to your specific needs.
Validate marketing strategies – Use Google Trends to assess the effectiveness of marketing campaigns. Compare the interest in your brand or product over time and correlate it with marketing efforts.
Explore related queries – Check out the "Related queries" section to identify associated topics and queries that people search for along with your primary term.
Conclusion
Use Trends to identify rising trends early, understand seasonality and cycles, benchmark against competitors, gauge regional differences, spot threats and opportunities, and predict future business performance. Using Google trends as a marketer can provide valuable insights to help you plan your content strategies, understand trending topics, and improve your SEO. You'll be able to ultimately boost your traffic and increase your revenue by creating and updating your content to what's trending at the right times. Ensure you're always one step ahead of the competition by understanding what your target audience is searching for.