3 Free SEO Chrome Extensions For 2023
Search engine optimization (SEO) is the best way to drive organic traffic to your website. One easy way to improve your SEO is by utilizing helpful free SEO Chrome extensions. These free tools provide valuable SEO data and analysis to help you optimize your content and track your site's performance.  With the right SEO tools, you can rank higher in the search results and increase your organic traffic. In this post, we will cover the 3 best free SEO Chrome extensions that every SEO professional should be using.
What are SEO Chrome Extensions and Why are They Useful?
SEO Chrome extensions are add-ons you can install in Google Chrome to get helpful information about websites and keywords. When enabled, these extensions will show metrics and data right on Google search engine results pages (SERPs) and on individual websites. This provides easy access to key SEO factors like keyword difficulty, backlinks, word count, traffic estimates, on-page SEO optimization, long-tail keywords, keyword search volume, and more.
SEO extensions are extremely beneficial for conducting keyword research, competitor analysis, on-page optimization, and tracking your own site's progress. They help streamline SEO workflows and provide insights you would otherwise need paid tools to access. For DIY SEO professionals and agencies, these Chrome extensions are essential for saving time and maximizing your optimization efforts.
Free SEO Chrome Extensions Video
I put together a YouTube video showing how to use each free SEO chrome extension. By watching the video below, you can get more information for how to use Keyword Surfer, SEOQuake, and WooRank.
---
Join Surfside Niche today and learn how to create a successful niche website! Watch me build my websites and my YouTube channel to 1,000,000+ views per month. Join and build with me and hundreds of other creators.
---
---
3 Best Free SEO Chrome Extensions
Below, we listed our favorite free SEO Google Chrome extensions for 2023.
1. Keyword Surfer
The first free SEO Chrome extension is Keyword Surfer. This tool provides search volume data, keyword ideas, and website analysis directly within the SERPs.
Features of Keyword Surfer
When searching for a term in Google, Keyword Surfer will display the monthly search volume and average Google Ads bid.

As you scroll through the results, it will also show the estimated monthly traffic for the domain in the United States. It will also show the word count of the page in the search results and amount of times the keyword you searched was used on the page in the search results.
Keyword Surfer also generates long-tail keyword ideas related to your search term. You can view search volume data for these suggestions as well. Useful keywords can be saved into collections for export and organization.
Why I Love Keyword Surfer
Overall, Keyword Surfer is ideal for on-page SEO and determining which keywords to target. It recently replaced the popular Keywords Everywhere extension and is the best alternative for free search volume data.
SEOquake
The next free SEO Chrome extension to have in your toolkit is SEOquake. This tool reveals valuable on-page and off-page SEO metrics for optimization.
When viewing Google search results, SEOquake shows the authority score, estimated monthly visits, backlinks, and other data points for each listing. You can also rearrange the SERP based on metrics like backlinks and traffic to analyze competitors.

On individual pages, SEOquake gives a top toolbar with website stats like Google index count and backlinks. You can diagnose technical SEO issues through the page audit feature. It checks elements like title tags, metadata, image alt text, and more. Comparisons between URLs help prioritize optimization efforts.


SEOquake integrates with SEMrush to provide robust data like organic traffic valuation estimates. You'll get access to powerful SEO insights for free through this extension.

WooRank
The third recommended free SEO Chrome extension is WooRank. It offers both on-page and off-page analysis for comprehensive website reviews.
WooRank's SERP toolbar shows the WooRank Score, a grade out of 100 that represents the site's overall SEO effectiveness. On individual pages, it provides tons of useful website data from traffic and engagement to backlinks and technical issues.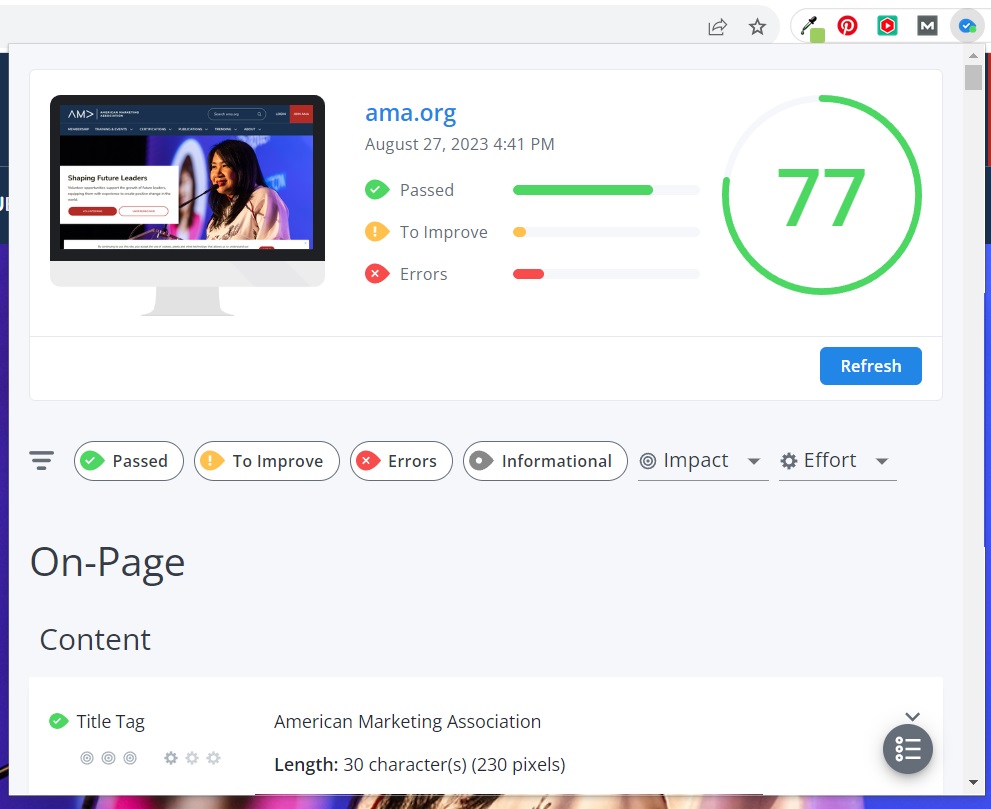 You can view monthly visits, analyze links, check social media profiles, and audit elements like meta titles and headings. WooRank gives you a big-picture overview of a site's optimization status and specific suggestions for improvements.
While some features require paid plans, the free version equips you with valuable insights to diagnose issues and benchmark against competitors.
FAQs About Free SEO Chrome Extensions
What are some benefits of using SEO Chrome extensions?
The major benefits are that you can improve your on-page SEO, get a list of long-tail keywords, see errors on your website, see estimated traffic for competitors, and more. Some key benefits include easy access to SEO data, the ability to conduct keyword and competitor research, streamlined optimization workflows, on-page and technical audits, and tracking website performance.
Are SEO Chrome extensions safe to use?
Yes, SEO extensions offered through the Chrome Web Store have been vetted for security and privacy. Be sure to read reviews and permissions before installing any extension.
Can SEO extensions help improve website rankings?
While extensions don't directly improve rankings, they provide valuable insights to help inform optimization strategies that can improve rankings over time.
What are some top SEO Chrome extensions to use?
Some of the top options include Keyword Surfer, SEOquake, WooRank, MozBar, UberSuggest, and SEMrush. Look for extensions that offer the data and features most relevant to your needs.
Conclusion
Installing helpful SEO Chrome extensions can level up your analysis and workflows. Keyword Surfer, SEOquake, and WooRank are three excellent free tools every SEO professional should be leveraging. With the ability to view metrics right in Google search, these extensions streamline research and optimization. Add them to your browser now to save time and maximize the impact of your efforts.