Google Ads Assets (Ad Extensions): Complete Guide 2023
I highly recommend adding Google Ads assets to your campaigns and I would add them at the Campaign level and add some to the Ad Group level. They used to be called Google Ads ad extensions and a lot of advertisers still refer to them as that. However, they have officially been renamed to Google Ads assets. Every campaign can benefit from Sitelink assets and Callout assets at the very least. By the time you finish reading this blog post, you will have a great overview of assets and how they work. I will give you all of my tips and best practices based on my experience.
What are Google Ads Assets?
Google Ads Assets allow advertisers to add additional information to their ads to make them more compelling and informative to potential customers. Assets can help improve ad performance by increasing click-through rates, decreasing cost-per-click, and improving ad rank. Assets appear below the ad headline and description.
There are several types of assets available:
Sitelink Assets – Additional links to important pages on your website
Callout Assets – Short messages highlighting key information
Structured Snippet Assets – Highlight specific products, services, or features
Call Assets – Add a clickable phone number
Location Assets – Display your business locations
Affiliate Location Assets – Show where your products are sold
Price Assets – Highlight your product or service pricing
App Assets – Link to your mobile app listing
Lead Form Assets – Allow users to submit information directly from the ad
How to Add Assets in Google Ads
Adding assets is simple within your Google Ads account:
Navigate to the Assets tab.
Click the plus (+) button to select the asset type you want to create.
Choose whether to create a new asset or use an existing one.
Select the level you want to apply the asset – account, campaign, or ad group.
Configure the specifics of the asset (content, labels, etc).
Submit the asset for review.
Assets can be added at the account, campaign, or ad group level, depending on your goals. Ad group level assets tend to perform better, as they are more closely related to each keyword and ad.
---
Join Surfside Niche today and learn how to create a successful niche website! Watch me build my websites and my YouTube channel to 1,000,000+ views per month. Join and build with me and hundreds of other creators.
---
Types of Google Ads Assets
Here is an overview of the different asset types available in Google Ads:
Sitelink Assets
Sitelink assets allow you to showcase links to other pages on your website, such as special offers, product category pages, service category pages, contact pages, and more. You can add headlines and descriptions to each sitelink for more context. They are the most popular asset type and one that applies to most search campaigns.

Callout Assets
Callout assets highlight short messages of up to 25 characters. They are great for emphasizing promotions, offers, slogans, or key brand differentiators. You can use them to highlight your unique selling points and important information that customers should know about your business.
Structured Snippet Assets
Structured snippets highlight specific products, services, brands, or features you offer. You select a predefined drop-down (e.g. brand, course, coverage) to showcase unique attributes. They are great for showcasing exactly what your business can offer to potential customers.
Call Assets
Call assets enable you to add a phone number to your ad. On mobile devices, this becomes a clickable call button that users can tap to directly call your business. If you are trying to drive more phone calls for your business, then you absolutely need to add these to your campaign. You can also incorporate call tracking so you can track conversions from phone calls back to your Google Ads campaigns.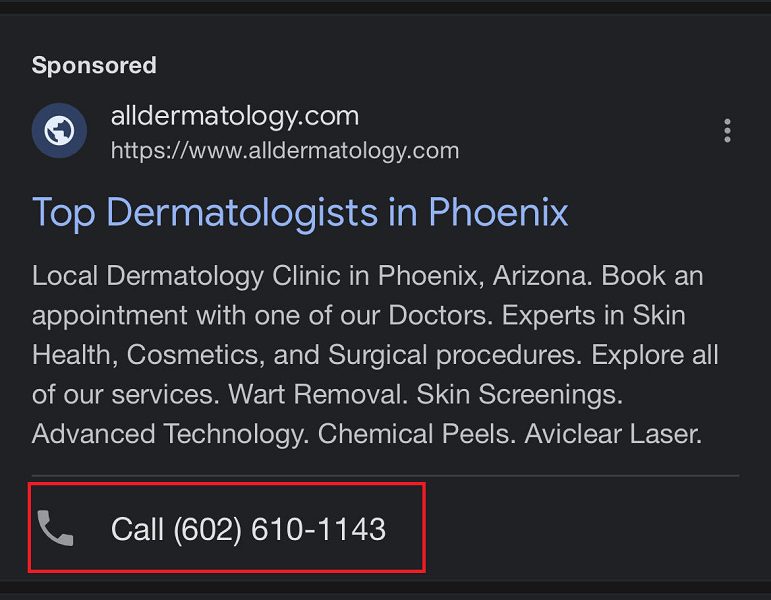 Location Assets
Location assets display your business' physical addresses and a map marker to your ad. For mobile ads, this also includes clickable directions. If you have a physical location for your business where customers can visit or shop, then you should add that location using your Google Business profile.

Affiliate Location Assets
Affiliate location assets showcase nearby retail locations where your product is sold, allowing searchers to find local stores that carry your product.
Price Assets
Price assets highlight the cost of your products or services. Searchers can browse prices directly in your ad carousel. For example, service businesses with specific prices for specific services can show how much each service costs. You can also show the base price for each service that you offer.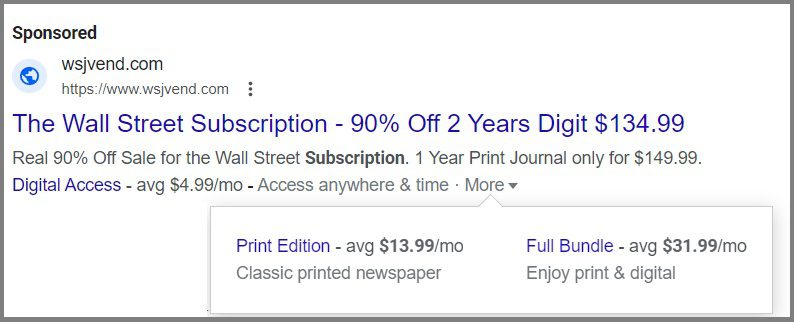 App Assets
App assets add a link to download your mobile app on app stores. This asset is only shown to mobile users. It can be a great way to encourage potential customers to download your app.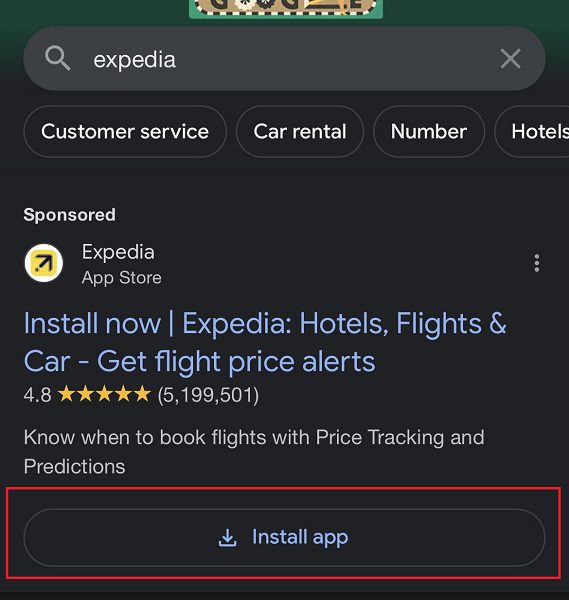 Lead Form Assets
Lead form assets allow searchers to submit their contact information directly from your ad without having to visit your site. This asset type is great for capturing leads. If you want to drive more leads for your business, you should add lead form assets so prospects can easily become a lead.
You can see below what a lead form will look like from an advertisement in the search results.
When you click on the lead form asset, it will open and you can fill out your information. When you enter your name, email, phone number, and any other information that the advertiser requires, they will count you as a new lead.
5 Benefits of Using Ad Assets
Assets can provide the following benefits:
1. Increased Click-Through Rate (CTR) – By adding more relevant information, assets can entice more searchers to click on your ads.
2. Lower Cost-Per-Click (CPC) – Assets can improve your Quality Score, which lowers your CPCs.
3. Improved Ad Rank – Higher CTRs and Quality Scores boost your ad rank, helping you gain more impressions and clicks.
4. More Context – Assets give searchers more information about your business before they click your ad.
5. Bigger Ad Size – Assets expand the amount of space your ad takes up on the search results page.
Best Practices for Using Ad Assets Effectively
1. Focus on Asset Relevancy and Improving Your Ads
I always say that the more relevant your assets are to each search query and to your landing pages, the better they will perform. Only add assets relevant to each ad group's keywords and the landing page where you are sending traffic. Don't just randomly add assets and hope for the best. For example, if someone is searching for a luxury SUV, incorporate assets relevant to luxury SUVs. It provides a better user experience for potential customers.
For example, I searched for landscaping near me and the sitelink assets below give more information about what the company does and they also include a link to their landscaping design services.

2. Complete Your Ad Assets
Add descriptions to your sitelink assets and make sure you have at least 4 sitelink assets for your campaign. You should also add more at the ad group level if it will enhance your advertisements.
3. Use Location Assets If You Have a Physical Location
Location assets are great for location-based searches and for highlighting your local business. If I'm searching for oil changes near me, I want to see where the local businesses are and how far they are from me. Lastly, make sure your Google My Business listing is accurate and up to date because it will help generate more customers.
You can see in the ad below that they have their store location and the hours they are open. If people are searching for stores like yours, you want people to be able to easily find you.

4. Use Call Assets and Answer The Phone
I can't stress enough how important it is to always answer the phone. If you are using Call Assets or even listing your phone number to potential customers, there's nothing worse for conversion rate than not answering.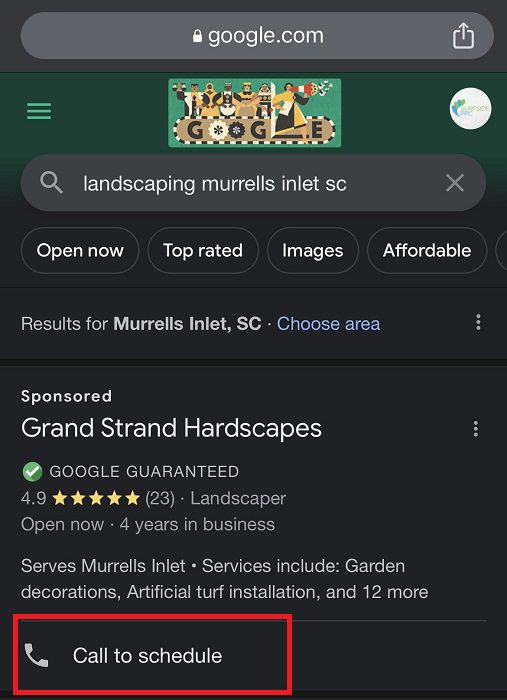 5. Utilize Structured Snippet Extensions
Structured Snippet Assets can provide additional context about your products or services. Use them to showcase product categories, service types, or more. For example, a university can list all of the different degree programs that they offer and make them relevant to specific searches. Someone who is interested in a science degree can see all of the science degree programs that a university offers. You can see in the example below that a local university lists some of their degree programs.
Conclusion
Google Ads Assets provide a way to enhance your text ads with additional, relevant information that can help gain more clicks and conversions. The various asset types allow you to highlight important website pages, offers, product details, locations, pricing, and more.
Be strategic with adding assets – only include those that will provide value to searchers for each keyword and ad. With useful assets, you can boost ad performance and take your Google Ads results to the next level.