In this article, we will answer the question: What is Gclid? We will explain Google Click ID (Gclid) and provide some examples of how it works. We hope to give you a better understanding of the importance of this feature. In addition, we will explain why you see them appended at the end of URLs after you click on advertisements. We also invite you to view the Google Click ID video below.
Gclid Video
---
What is Gclid?
Gclid, also knows as a "Google Click ID" or Google Click Identifier," is a tracking identifier that is generated when someone searches one of your targeted keywords and clicks on your ad. So, every time your ad gets clicked through Google Ads, a Gclid will be added to the end of the link. We have included an example image to show you where the Gclid shows up in a URL.



---
How to Activate Gclid
Setting up a Gclid is a very simple process; which will make your PPC advertising campaigns much easier to manage. The first step is to make sure your Google Ads and Google Analytics accounts are linked.
Step 1 – Link Google Ads and Google Analytics
In Google Analytics, click on "Admin" and you will see a screen with various options. By selecting "Google Ads linking", you can create a new link group and confirm that your Google account numbers match. If you are using the same Google email address for both accounts, this step will be a breeze. Visit Link Configuration > Link Group Title and enter your website name. During this step be sure to select "All website data" and make sure auto-tagging is enabled under Advanced settings.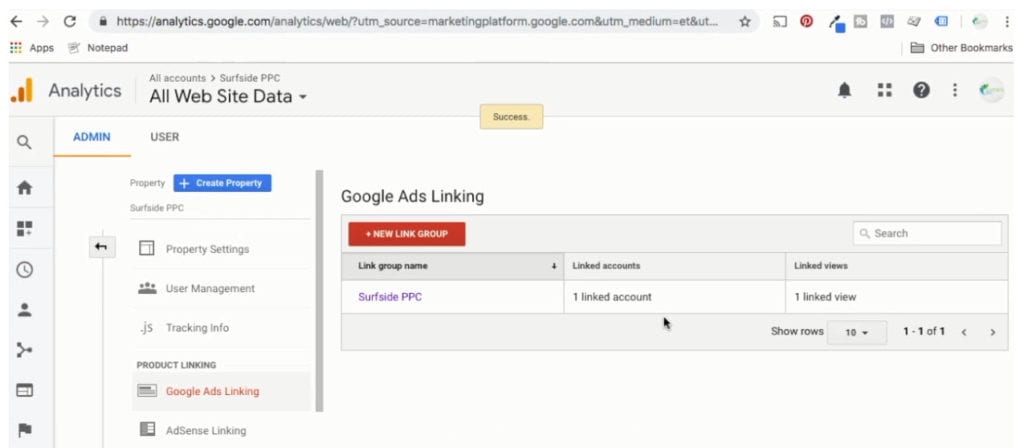 ---
Step 2 – Double Check That Link is Complete
Once you have completed the link information, go back to your Google Ads account and view the "Linked Accounts" section under the Tools menu on the top of your screen. Here you will double check that the account link is completed.

Step 3 – Enable Auto-Tagging in Google Ads
After that, you will click on "Overview" in your Google Ads account. On the left-hand side, you will click on "settings" and make sure that Auto-Tagging is enabled in Google AdWords. This will automatically add Gclid's to the end of your URLs when someone clicks on your Google ad.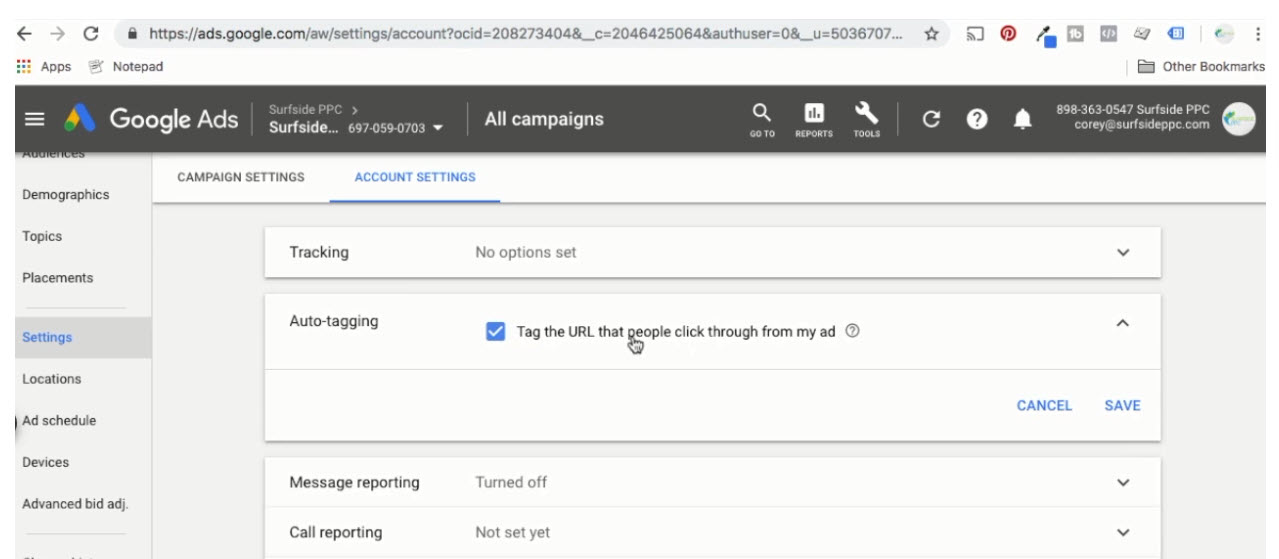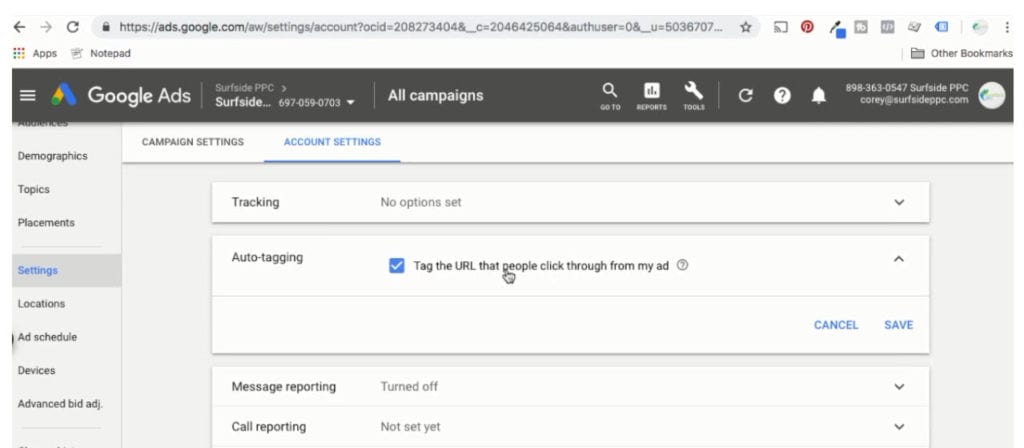 ---
Why Use Gclid?
In essence, Google Click ID passes information from your Google Ads account to your Google Analytics account automatically, without you having to create multiple, lengthy URLs. Enabling a Gclid will save you time and track the campaign specifics, including costs, cost-per-click, sessions, bounce rate, ad group targeting, keyword targeting, which ad was driving clicks, and conversion data. We have included some example images from a Google search that drives to a Surfside PPC ad campaign.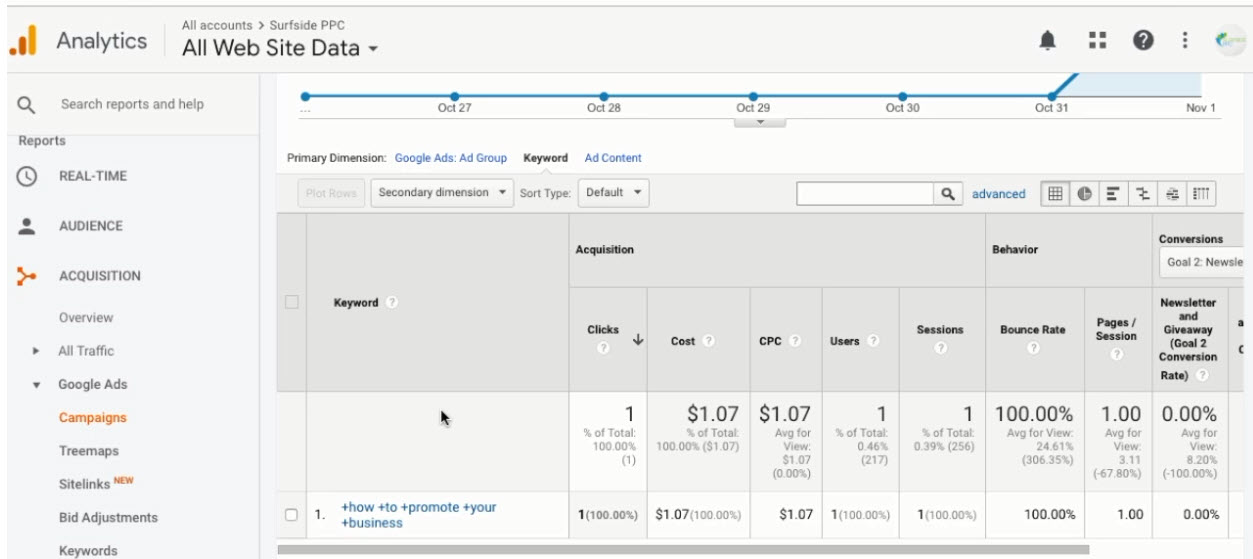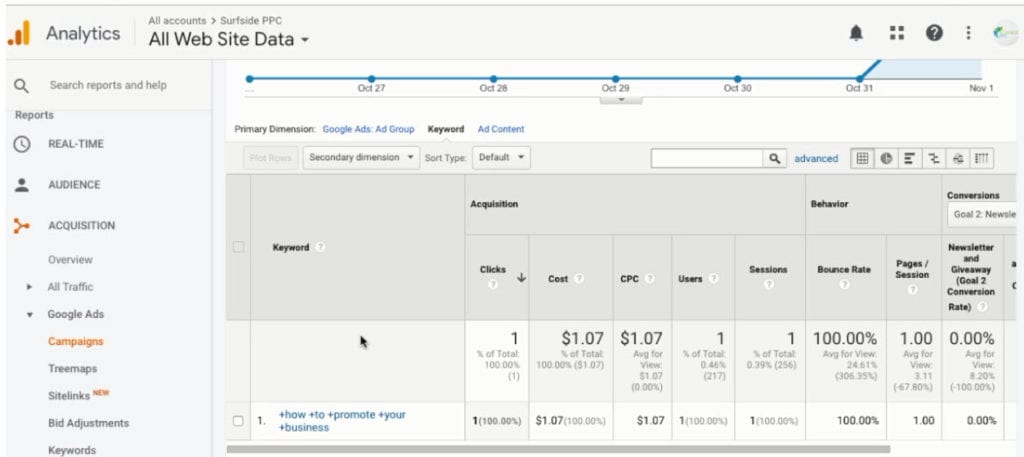 ---
PPC Advertising Tracking
You can also generate your Gclid in Bing Ads by going to your account settings and enabling auto-tagging in Bing Ads, which will help you track your campaigns into Google Analytics. While the Gclid removes the need for the Google Campaign URL Builder when using Google Ads and Bing; we do recommend still using the builder tool for mediums such as Pinterest Ads and Facebook Ads to track your campaigns.
In Summary
If you would like more information, including access to tutorials on Google Ads, we invite you to subscribe to the Surfside PPC YouTube Channel. Until next time!
---
---