My Google Ads Strategy For Dentists To Drive Leads
Table of Contents
The dental industry is very competitive, especially for new practices. While some dentists stay scheduled year-round with their current patients, others need more leads. That's where Google Ads can be very effective. You can actually target people who are actively looking for a new Dentist. The best part is, that each patient can become a patient for life, visiting your office every 6 months for a cleaning and a check-up. In addition, you can target keywords for all of the different services you offer such as dental implants, teeth whitening, crowns, bridges, and even the dreaded root canal.
I searched for a dentist near me and this large ad took up the entire top portion of Google's search engine results page. If I click on any link or call their practice, they will be charged for that individual click. This is a great example of a dentist's Google Ad.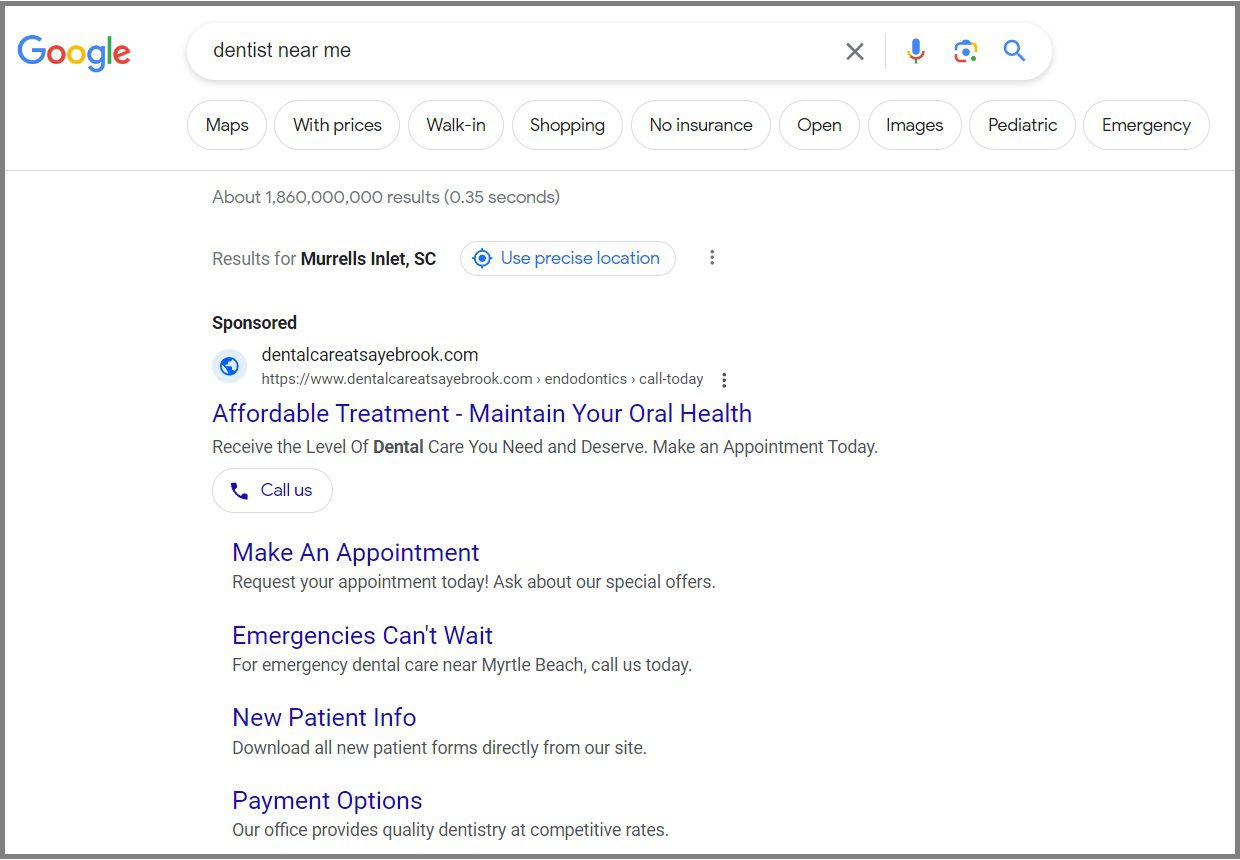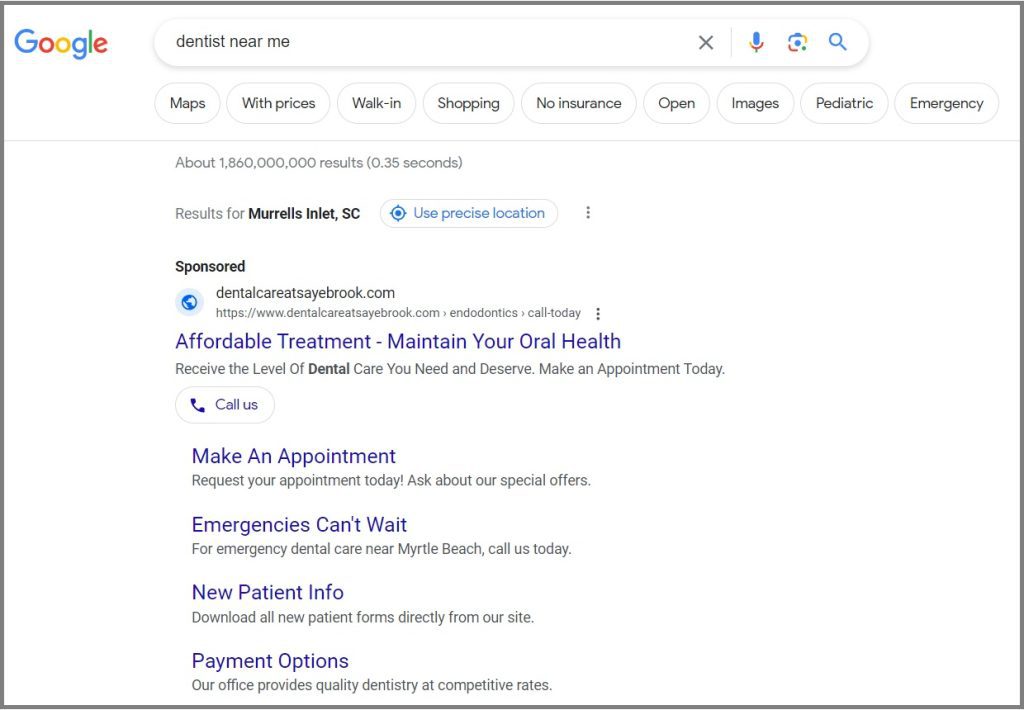 Why Dentists Should Use Google Ads
In my opinion, Google Ads is the best online advertising platform for local businesses. While Facebook Ads and Bing Ads are great advertising channels, Google Ads has the most volume and ready-to-buy customers who are actively searching for something, such as a new dentist.
As a dentist, you can bid on specific keywords related to your dental practice, such as "dental implants" or "dental services," to target potential patients actively searching for these services. With a Google Ads campaign, dentists can connect with patients looking for the specific dental treatments and procedures they offer.
---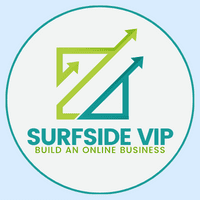 Join Surfside VIP today for only $2.99/month! Learn how to create a successful online business. Watch me build my websites and my YouTube channel to 500,000+ views per month and get all of my strategies.
---
Most importantly, when I searched for the best dentist around Charleston, South Carolina, you can see there are 4 advertisements at the top of the search results. It can be very competitive, and you don't want to miss out on these searches.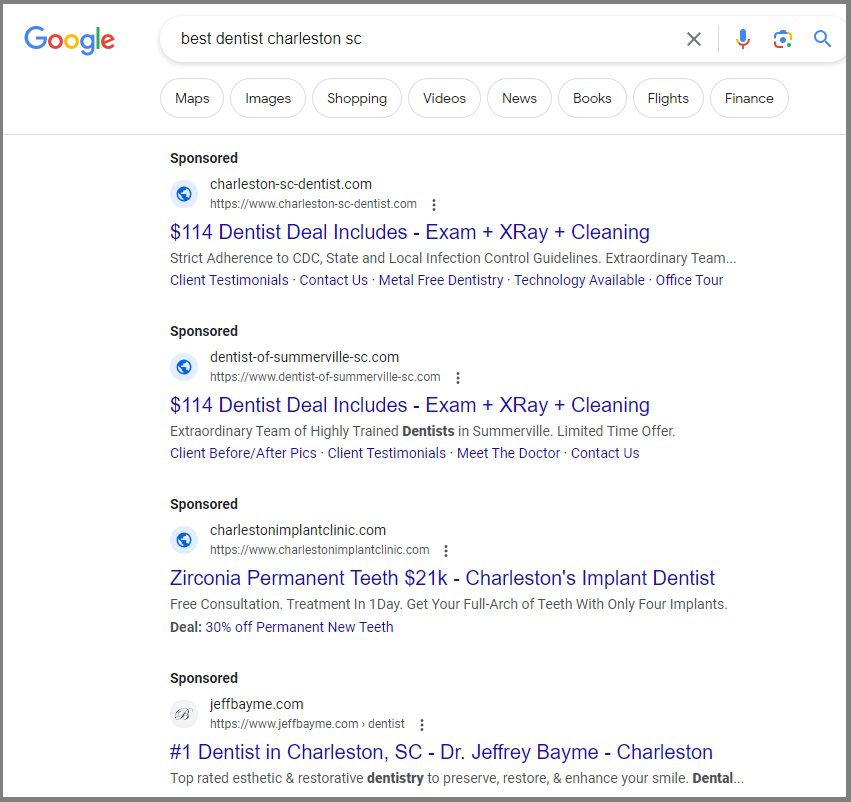 Google Local Services Ads
Google Local Services Ads are a great way for dentists to connect with local patients. These ads appear at the top of Google search results and feature a "License verified by Google" badge, giving potential patients peace of mind when they are choosing your practice. You can see an example of local service ads for dentists below.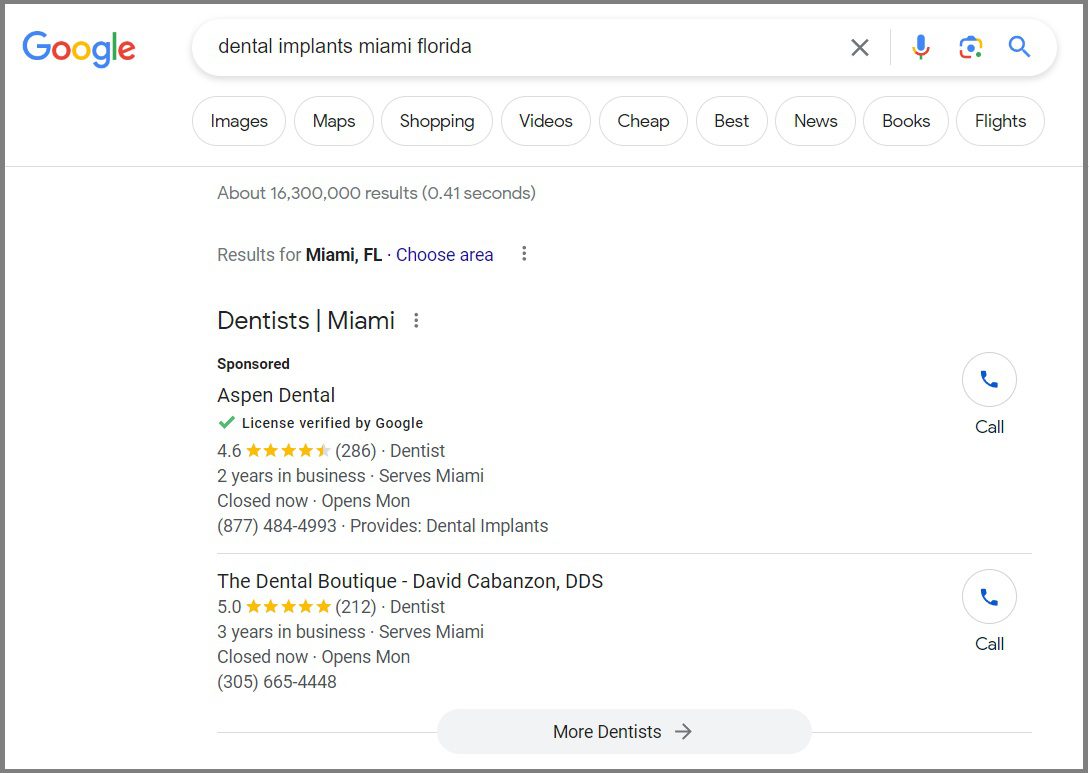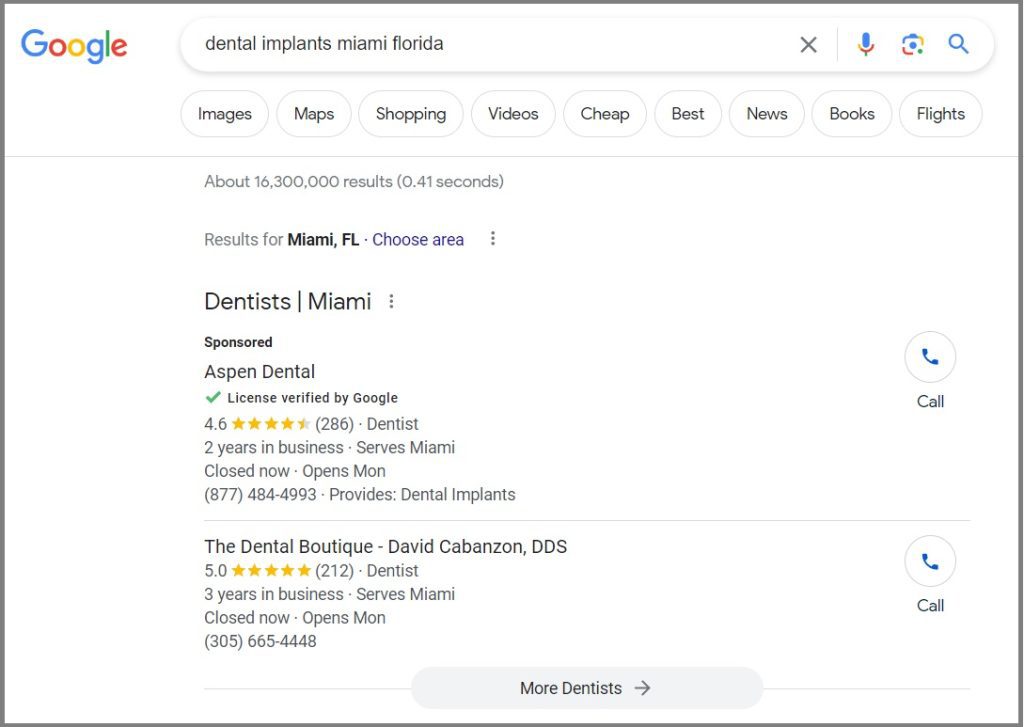 By utilizing these ads, dentists can increase their visibility and attract new patients in their local area. Local Services Ads help dentists stand out and build credibility in their community. People are also more likely to contact a business that has gone through a background check by Google.
My Google Local Services Ads Video Tutorial
Google Ads Search Campaigns
Running a Google Ads search campaign allows dentists to reach potential patients right at the moment they are actively searching for dental services. By creating compelling ad copy and linking it to a well-designed landing page, dentists can drive qualified traffic to their website and increase their chances of converting visitors into new patients. With search campaigns, dentists can capture patients' attention when they are most ready to take action.
My Google Search Campaigns Video Tutorial
Conversion Tracking
To measure the success of your Google Ads campaigns, it's essential to set up conversion tracking. This allows you to track specific actions, such as appointment bookings or contact form submissions, and determine the return on investment (ROI) of your ad spend. By analyzing the data, you can make informed decisions and optimize your campaigns for better results. Conversion tracking provides key insights so dentists can continually refine their Google Ads approach.
My Conversion Tracking Video Tutorial
5 Google Ads Tips for Dentists
When running Google Ads for your dental practice, it's important to optimize your campaigns for success.
Here are some best practices to follow:
Keyword Research: Conduct thorough keyword research. Use tools like Google Keyword Planner to find high-value keywords related to your services and location. Look for keywords with search volume and low competition.
Organized Ad Groups: Create targeted ad groups. Organize keywords into ad groups around specific services like "dental implants" or "pediatric dentistry" for more relevant ads.
Compelling ad copy: Write ad headlines and descriptions that grab attention and motivate clicks and conversions from potential patients. Focus on the benefits that you provide and highlight a promotion for new patients.
Optimize Landing Pages: Drive traffic to relevant landing pages that are designed to convert prospects into customers. Send visitors to tailored landing pages that match the ad content and encourage conversions.
Smart Bidding Strategy: Use bid strategies that are focused on driving conversions like contact form fills and phone calls. You want to use a bidding strategy that will help you get the most out of your budget such as Maximize Conversions or Target CPA.
Hire Surfside PPC to Create and Manage Your Dentist Google Ads Campaigns
When it comes to paid advertising, I recommend my dentist clients use Google Ads and Bing Ads (Microsoft Advertising) campaigns. That way they can reach customers who are searching Google, Google Search Partners, Bing, Yahoo, AOL, and even DuckDuckGo. Then, I work on their campaigns to drive the cost per lead as low as possible.