Get More Calls with Google Ads Call Assets
Table of Contents
Want your Google Ads search campaigns to drive more calls to your business? Google Ads Call Assets, which used to be referred to as Call Extensions, make it easy to add a clickable phone number to your search and display ads. Implementing Call Assets can significantly lift ad performance. Follow these tips to utilize them effectively.
What are Call Assets?
Call Assets allow advertisers to show a phone number prominently within responsive search ads and to Smart campaigns. When they are shown on mobile devices, users can either click to call your business directly from the ad or click through to your website. On desktop devices, it will show a call forwarding number so each phone call can be tracked.
Examples of Call Assets
First, you can see what a call asset will look like on a mobile device.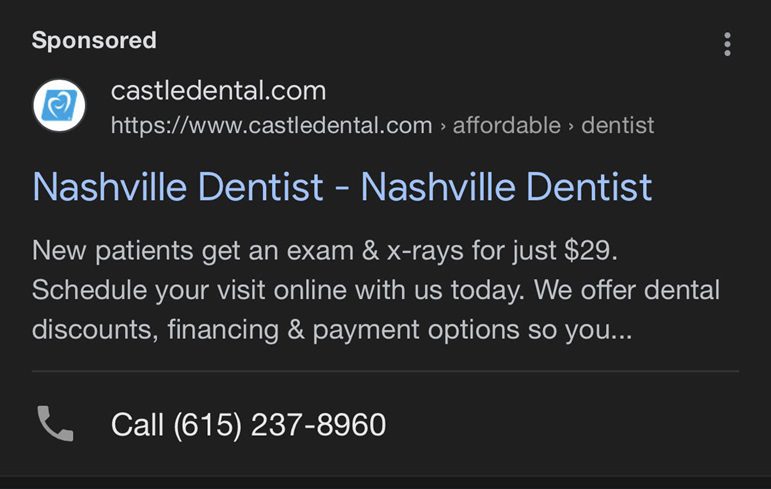 Second, you can see what a call asset will look like on a desktop device.
---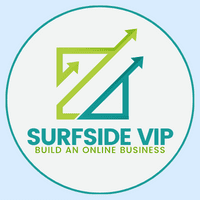 Join Surfside VIP today for only $2.99/month! Learn how to create a successful online business. Watch me build my websites and my YouTube channel to 500,000+ views per month and get all of my strategies.
---

Call Assets Video Tutorial
Campaigns that Use Call Assets
Call Assets can be added to search campaigns and Smart campaigns running on the Google Search Network. They won't serve on the Display Network.
How to Add Call Assets to Search Campaigns
First, sign in to your Google Ads account. From there, you want to click on the campaign you want to add call assets to. Once you are in the campaign, click on the Assets link on the menu on the left-hand side. Then, click on the 'Call' button on the Assets page and click on the blue plus-sign (+) to add your Call Asset. The image below will show you exactly where you need to go.
You can also visit this link directly: https://ads.google.com/aw/assetreport/associations/call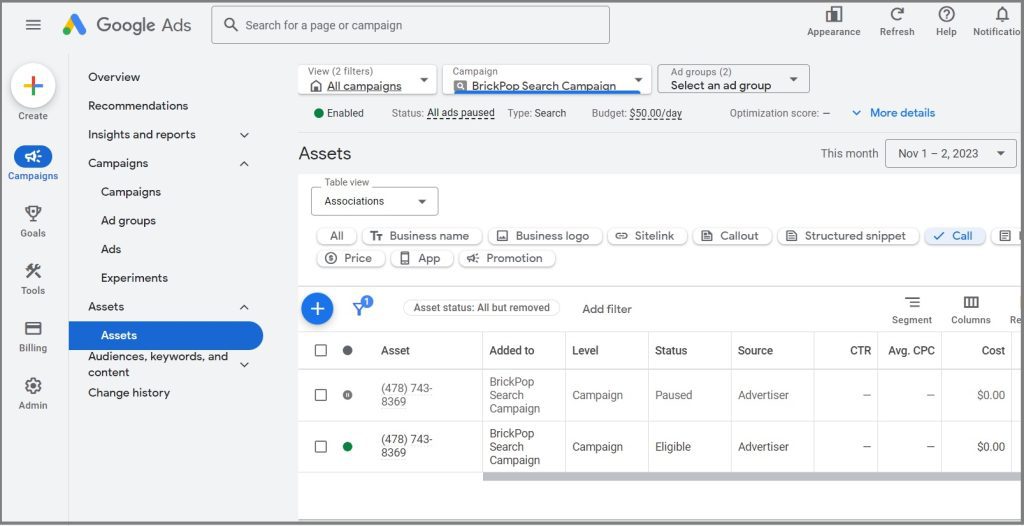 Call Assets can be added at the account, campaign, or ad group level depending on your structure. Just enter the phone number and optional business hours.
Requirements for Call Assets
Your phone number must be verified by Google and relevant to the advertised business.
Call Asset Specs
Phone number with optional call button
Can set business hours for when someone will be available to answer the phone
Max 30 characters for phone number
Benefits of Using Call Assets
Adding a clickable call option directly on ads provides multiple advantages:
Increased ad click-through rates
More calls are driven by ads
Conversion tracking with call reporting
Improved reconnect rates for calls
5 Tips for Using Call Assets
1. Verify Number Beforehand
Confirm Google accepts your phone number before adding it to prevent disapprovals. Your phone number must match the phone number on your website. Google will verify that your phone number is the same as your contact phone number.
2. Set Business Hours
Increase relevancy by showing call assets only during open business hours. Unless you have a 24/7 call center, you should only show your phone number when you will answer it. You don't want to pay for phone calls that you don't answer.
3. Monitor Performance
Check your campaign metrics to see the impact on website clicks and direct phone calls. You can also use your conversion tracking for call reporting to see how many phone calls you drove over a certain duration through your ads campaign.
4. Use Location Targeting
You don't want phone calls from outside your service area, so make sure your location targeting is only to the locations you serve.
5. Adjust Bids and Use a Smart Bidding Strategy
Use bid adjustments to show call ads more often, especially if you are seeing great performance from phone calls. In addition, the Maximize Conversions or Target CPA bid strategies will help you drive more phone calls. As Google collects more data about your campaigns and what actually drives conversions, your overall performance will improve.
Drive More Phone Calls With Google Ads Video Tutorial
If your goal is to drive more phone calls, the video below will give you a complete strategy. You can use all of the Google Ads features such as Local Services Ads, Call Campaigns, Call Assets, and Google Ads Search Campaigns for your local business to get more calls.
Final Takeaways
All businesses that drive phone calls should add Call Assets to their campaigns. In addition, place your phone number prominently on your website. With phone call conversion tracking, you can track every time someone clicks on your call asset, every time someone calls you on desktop devices with the use of call forwarding, and every phone call on your website that ties back to Google Ads campaigns.