What is the Google Display Network (GDN)?
A common question you may have as you get started with Google Display Ads is "What is the Google Display Network?" You want to know where your display advertisements will appear. The Google Display Network (GDN) allows businesses to reach new audiences and drive results with display ads. This large ad network provides massive reach across millions of websites, apps, and videos. In addition, advertisers can use the Google Display Network to run Remarketing campaigns.
Publishers monetize In this complete guide, we'll cover everything you need to know about successfully utilizing the Google Display Network.
What is the Google Display Network?
The Google Display Network (GDN) is a collection of over 2 million websites, apps, and YouTube videos where Google display ads can appear. Basically, it's the largest group of publishing partners that Google can place ads on. The Google Display Network reaches over 90% of internet users worldwide thanks to its massive scale.
Businesses use display ads to serve visually compelling ads across and reach potential customers. Display ads can incorporate images, text, logos, and a call to action to capture attention. Advertisers can target relevant audience segments and send targeted traffic to their landing pages. Advertisers can set an objective, such as leads or sales for their campaign and bid for their objective. The goal is to reach targeted audiences with relevant offers to increase conversions. Lastly, advertisers can optimize their campaigns by testing creative, landing pages, audience segments, and offers.
---
Join Surfside Niche today and learn how to create a successful niche website! Watch me build my websites and my YouTube channel to 1,000,000+ views per month. Join and build with me and hundreds of other creators.
---
Example of a Google Display Network Ad
I was browsing the Advance Auto Parts website earlier in the day. Later in the day I went to AllRecipes to browse different recipes I can make. Since I was on the Advance Auto Parts website, they served me a targeted Google Display Network ad. This is an example of a Google Display Network Remarketing ad.
Google Display Network Video
If you want to learn more about the Google Display Network, which is abbreviated as the GDN, you can watch the video below. The video is also live directly on YouTube.
How Does the Google Display Network Work?
The Google Display Network utilizes advanced targeting features to deliver your ads to the audiences most likely to engage. Advertisers can create a campaign that includes an objective, a bidding strategy, audience targeting, location targeting, advertisements, and their landing page. Google will serve ads across the Google Display Network based on the campaign objective and the audience segments that an advertiser selects.
How Does Google Display Network Targeting Work?
There are several ways that advertisers can target users across the GDN: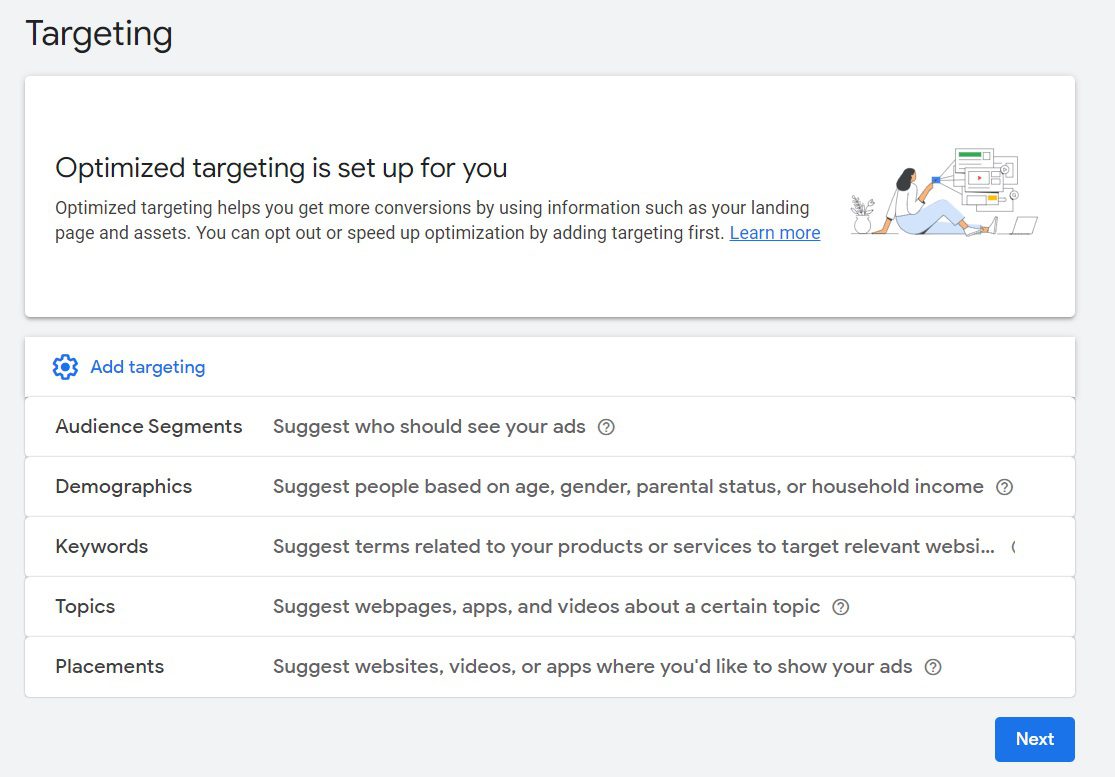 Location Targeting and Language Targeting
First and foremost, you need to choose the locations that you want to target. In addition, you want to use language targeting so you are reaching audiences who will be interested in your offer. Where are your customers located? What languages do they speak?
Audience Segments – Interest-Based Targeting
Interest targeting shows your ads to users who are likely interested in your types of products and services. By using these targeting options in your Google Display Ads campaigns, you can tailor your messaging to reach the most relevant audiences. The goal is to drive more conversions for your business with Google Display Ads. We listed some of the audience segments that you can target below.
Affinity Segments:
Affinity segments allow you to connect with users who share a deep passion for specific topics and exhibit particular habits and interests. By targeting these individuals, your Google Display Ads can tap into the enthusiasm and engagement of a pre-qualified audience.
Custom Segments:
Custom segments empower you to define your ideal audience by inputting relevant keywords, URLs, and app preferences. This granular approach ensures that your ads are seen by those who align perfectly with your offerings, driving higher engagement and conversions.
Detailed Demographics:
Detailed demographics enable you to reach users based on long-term life facts, such as age, gender, and income. This precise targeting ensures that your ads are displayed to individuals who fit the demographic profile you seek.
Life Events:
Life event targeting allows you to connect with users during significant milestones in their lives. Whether it's a wedding, a move, or another life-changing event, your ads can be there to provide solutions when they're needed most.
In-Market:
In-market targeting lets you reach users who have recently shown a keen interest in purchasing products or services related to your industry. This timely approach capitalizes on their intent to buy, increasing the chances of conversions.
Your Data Segments:
Your data segments focus on users who have previously interacted with your business. By retargeting this audience, you can rekindle their interest and encourage them to take the next step in their customer journey.
Website and App Visitors:
Website and app visitor targeting allows you to reach people who have explored your website or engaged with your apps. This method reengages users who have already shown interest in your brand, improving your chances of conversions.
Customer Match:
Customer Match lets you target your existing customers based on the data stored in your CRM system. By staying connected with your loyal clientele, you can nurture their loyalty and encourage repeat business.
Similar Segments:
Similar segments enable you to extend your reach to new users who share similar interests to your website visitors or existing customers. This approach helps you discover untapped audiences with high potential for engagement and conversions.
Demographic Targeting:
Target ads by age, gender, parental status, and other attributes. Layer demographics on top of interest targeting for even better optimization.
The GDN then displays your ads on sites, videos, and apps frequented by your target audiences. The power of this interest + demographic targeting allows your message to reach more of your potential customers.
Benefits of Using the Google Display Network
Here are some of the key advantages you can gain from incorporating the Google Display Network into your ad strategy:
Complete Control Over Budgeting and Bidding
You can set your daily budget and you can control spending. If your campaign isn't working, you can turn it off at any time. You can also choose a bidding strategy based on your campaign objective. I would recommend using conversion tracking and a smart bidding strategy for the best results. You want to maximize conversions or maximize conversion value for your campaign.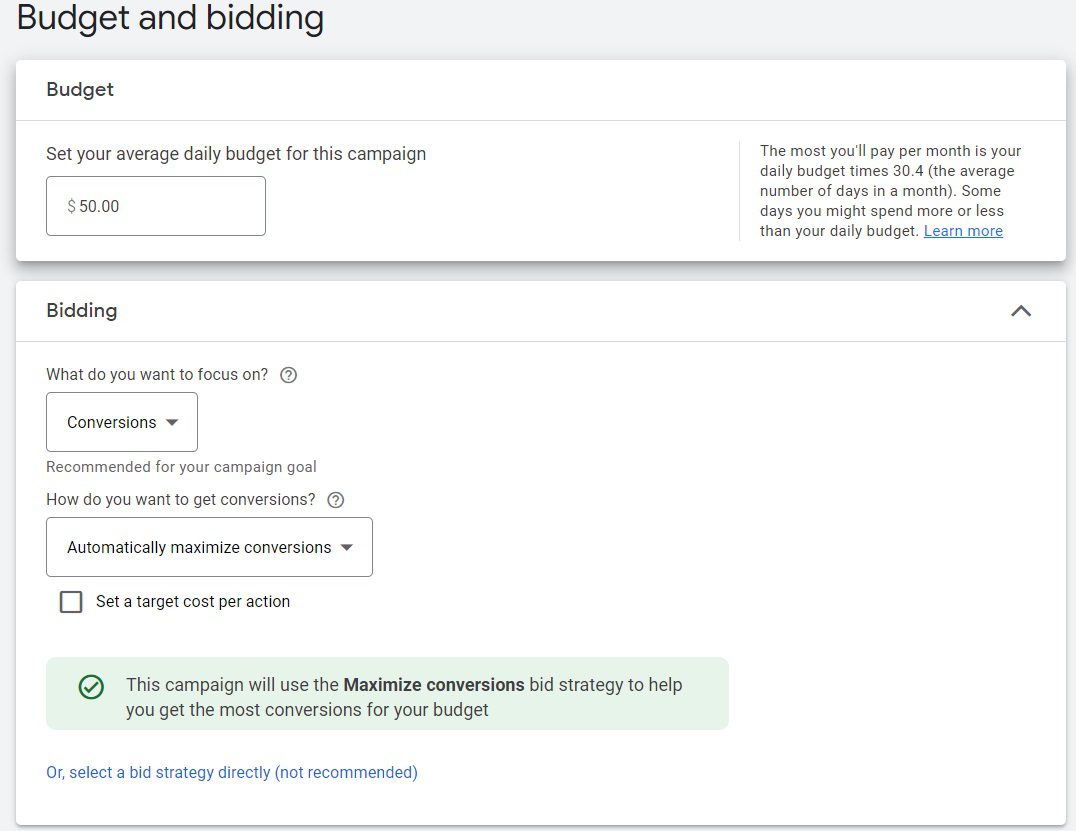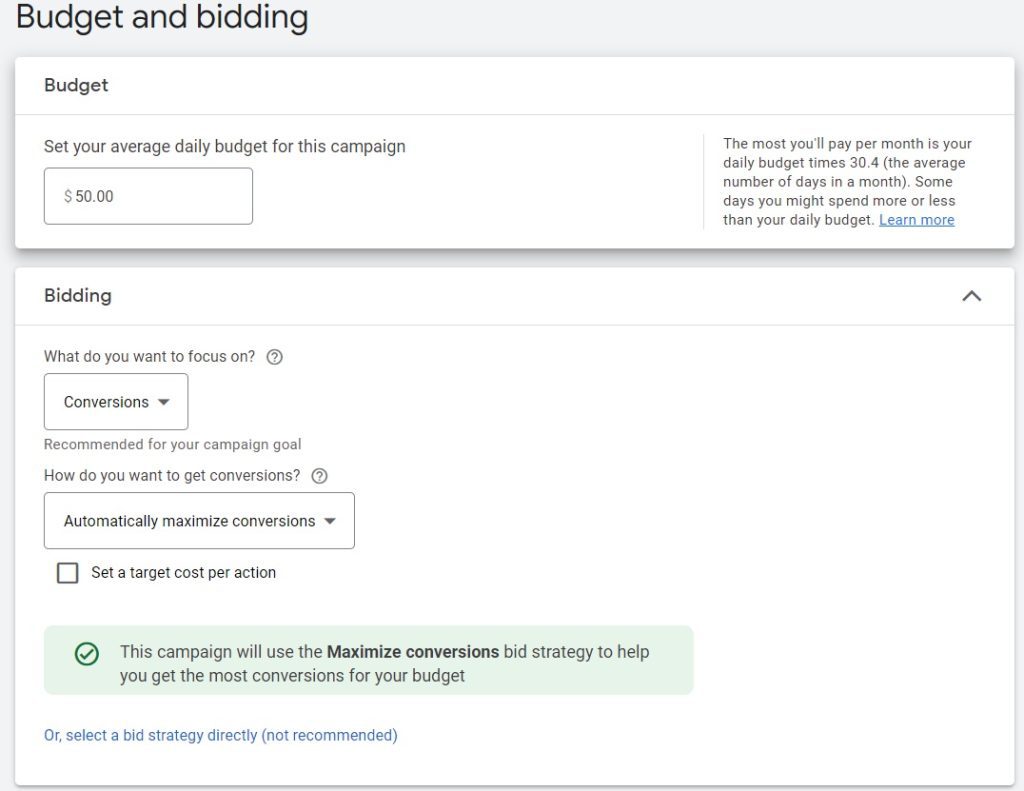 Reach New Audiences
There are not many ad channels that can give advertisers access to such a vast audience. You can expand your ads beyond Google Search to access millions of new potential customers. The Display Network allows you to put your ads in front of audiences you may not already be reaching.
Capture Attention Earlier
Engage audiences even before they even start searching on Google by reaching them as they visit websites, watch videos, and use apps. Drive early awareness and influence consideration with the use of display ads.
Broaden Your Reach
Increase the number of impressions and people exposed to your brand when you supplement Search campaigns.
Enhanced Branding Capabilities
Share your brand story through compelling ad formats with videos, images, and custom elements.
Cost-Effective Impressions
CPCs on the Display Network are typically lower than Search and CPM rates are very low on the Google Display Network. Advertisers can get more impressions on their advertisements for a lower cost, which can be great to improve branding and product awareness.
Remarketing Capabilities
Remind previous visitors about your brand by showing ads to them around the web.
Google Display Network vs. Search Network
The Google Display and Search Networks work very differently:
User Intent
Search Network reaches high-intent users actively searching for products/services. The Display Network targets a wider range of intent levels.
Ad Placement
Search Network ads appear on Google Search and partner sites. Display Network ads show on thousands of unrelated sites.
Ad Formats
Text ads on Search Network. Visual display ads on the Display Network.
Targeting Methods
Search Network targets keywords. Display Network targets interests, URLs, topics, etc.
Metrics
Search favors clicks and conversions. Display focuses more on reach and branding metrics.
In summary, the Search Network works well for bottom-funnel conversion actions while the Display Network builds awareness at top-funnel. Using both together provides a complete approach.
How to Create Google Display Network Ad Campaigns
To run Google Display Network ads, you'll first need to create a Display campaign in your Google Ads account: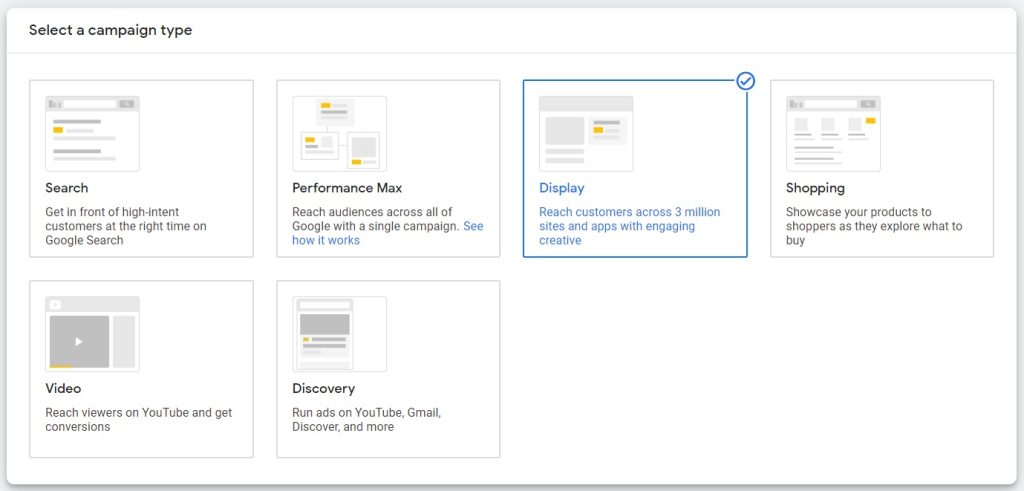 Click on Campaigns > +Create Campaign
Select your campaign goal. Choose "Display" as the campaign type.
Give your campaign a name start configuring your campaign settings.
Choose your location targeting and language targeting.
Choose your budget and your bidding strategy.
Configure your targeting – demographics, audience segments, remarketing, etc.
Design your responsive display ads with compelling images, headlines & descriptions.
Set your landing pages when you create your responsive display ads.
Review your campaign and launch your ads!
Google will automatically optimize your responsive display ads to fit placements across text, image, and video ad formats. Your ad will serve to the audiences you select.
How to Optimize Responsive Display Ads for Better Performance
Follow these best practices when creating responsive display ads for the Google Display Network: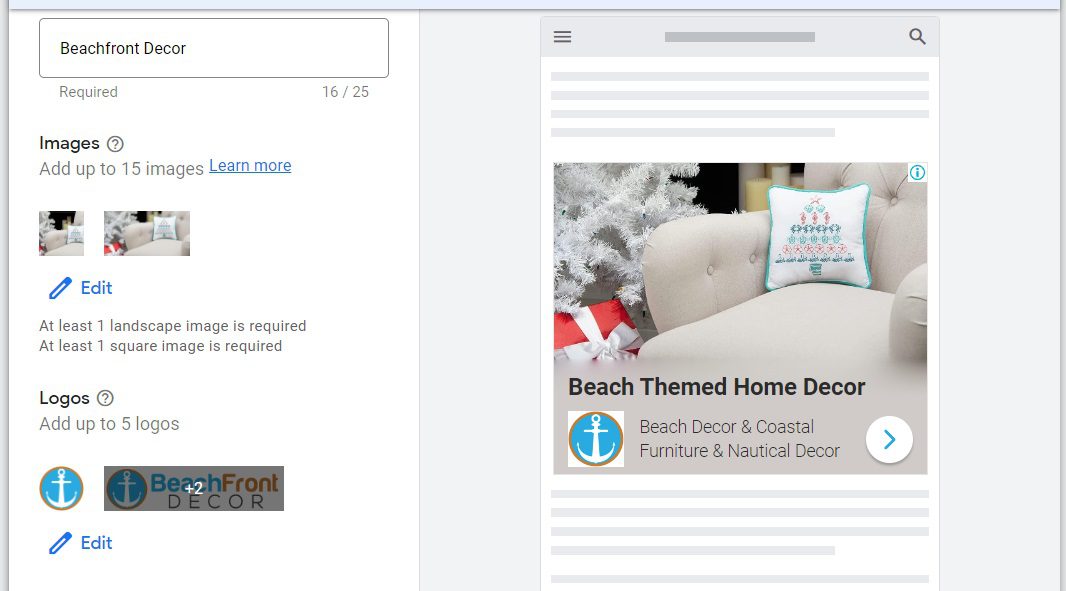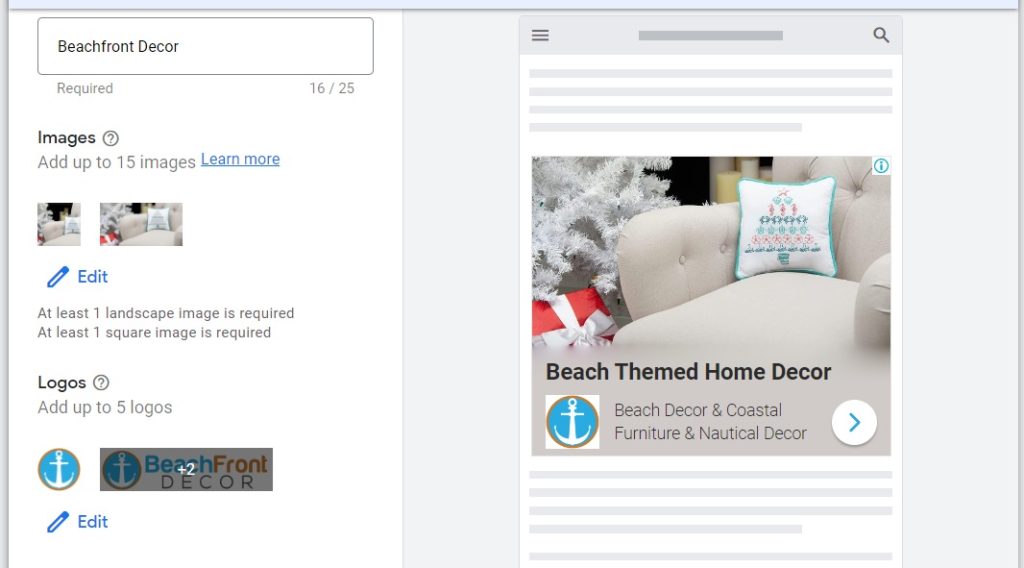 Use High-Quality, Relevant Images
Display ads rely heavily on images. Use original photos that clearly depict your offering and adhere to Google's recommended specifications. Also, test a lot of different images to see what drives the best results. You never know which image will perform the best until you test it.
Write Clear, Benefit-Focused Headlines
Highlight your value proposition, promotions, or unique differentiators in your ad headlines. Your headline should quickly grab a potential customer and highlight what you are selling to them.
Craft Descriptions That Complement the Headlines
Elaborate on your headlines and brand promise in the description text. While description text isn't always prominently featured, it should still be optimized.
Target Ads to Relevant Placements
Focus your ads on sites frequented by your ideal audiences for better relevance. If you are selling a product related to cooking, your ad is likely to perform better on websites related to cooking and recipes.
Measure Results and Optimize
Evaluate performance metrics and iterate to improve your ads over time. When you launch your campaign, you should make sure you have conversion tracking set-up properly. Then, focus your budget on the audience segments and the ads that are driving conversions like leads or sales.
Create Ads for Different Goals
Tailor message variations to serve different goals like lead gen, sales, or brand awareness. Brand awareness ads can be focused on product awareness and product understanding. Then, you can retarget those potential customers with a sales offer so they purchase your product.
Google Display Network Best Practices
Here are a few other tips to maximize the impact of your Display Network campaigns and how you can optimize your results.
1. Conversion Tracking
Implement conversion tracking with a focus on leads and sales objectives. Tracking conversions ensures you know what's working and what needs improvement, guiding your campaign toward success.
2. A/B Testing Ads
Conduct A/B tests on images, text, colors, and buttons to refine your advertisements. A/B testing allows you to fine-tune your visual elements, ultimately increasing the effectiveness of your ads.
3. Remarketing to Website Visitors
Maximize conversion results by utilizing remarketing for previous website visitors. Remarketing allows you to re-engage with potential customers who've shown interest in your offerings in the past.
4. Create Separate Display and Search Campaigns
Combine display campaigns with search campaigns to expand your reach. Display campaigns can be used to help build more product and brand awareness. Search campaigns are used to drive more conversions for your business. A small Display campaign can help bring more people into your funnel.
5. Optimize Landing Pages
Improve your conversion rate by testing and improving your landing pages. Your landing page what customers see after they click on your ads.
6. Aligning with Offers and Promotions
Coordinate your display campaigns with timely offers, promotions, and events. By aligning your offers and the promotions your business is offering, you can engage with more customers who want to take advantage of a limited-time offer.
7. Smart Bidding for Conversions
Use a smart bidding strategy that focuses on conversions or conversion value. Smart bidding strategies use advanced algorithms to maximize conversions, delivering the best value for your budget.
How to Create Google Display Network Ads
If you are looking for a detailed Google Display Ads Tutorial, we have you covered with the video below. You create display advertisements directly through your Google Ads account.
You can view my complete Google Display Network course below. I go over everything you will ever need to know about creating responsive display ads and running display campaigns that convert.
Conclusion
The Google Display Network provides a powerful outlet to increase brand visibility and engage potential new audiences at scale. By combining advanced targeting capabilities with visually compelling ads, the GDN can amplify your marketing efforts.
Carefully crafting your display ads and prudently managing each campaign leads to success. Start small, measure results, and scale up winners based on data. With the right strategy, the Google Display Network can take your brand to the next level.