4 Google Ads Smart Bidding Strategies
When you get started with Google Ads, smart bidding strategies might seem complex. There are plenty of Google Ads bid strategies to choose from, especially when you create your first campaign. We cover the 4 Google Ads smart bidding strategies below, which have become a best practice when you set up your campaigns. If you view the video and read the corresponding article, you will understand how to use smart, automated bid strategies and select the best one for your business. We will cover all 4 of the "Smart" bidding strategies available through Google Ads, which require conversion tracking. Google's AI will automatically optimize your campaign conversions or conversion value in every ad auction when you use these strategies.
Smart Bidding strategies include Target CPA, Target ROAS, Maximize conversions, and Maximize conversion value. This comprehensive guide will explain what Smart Bidding is, the benefits it provides, when you should use it, and step-by-step instructions to set up Smart Bidding for your Google Ads campaigns.
What Does Smart Bidding Mean?
Smart Bidding refers to automated bid strategies in Google Ads that leverage machine learning to optimize bids. The goal is to improve campaign performance for advertisers by increasing conversions or conversion value. With Smart Bidding, Google's algorithms train on vast amounts of data. They can then use that data to predict when a specific search is more likely to lead to a conversion. Google Ads uses historical signals and makes more accurate predictions about how different bids might impact conversions and conversion value across your campaigns.
Google Ads looks at a variety of factors during every auction to return the ads that are the most likely to convert. They use auction-time bidding and machine learning to enter your ads into auctions where they are the most likely to convert. For example, they will look at a search query and determine the searcher's device, location, time of day, browser, operating system, and more.
---
Join Surfside Niche today and learn how to create a successful niche website! Watch me build my websites and my YouTube channel to 1,000,000+ views per month. Join and build with me and hundreds of other creators.
---
In Google's words:
Smart Bidding refers to bid strategies that use machine learning to optimize for conversions or conversion value in each and every auction—a feature known as "auction-time bidding".
Setting Your Smart Bidding Strategy
If you don't see the option for Target CPA or Target ROAS, you will have to choose either Maximize Conversions or Maximize Conversion Value. Then, you can choose to set a Target Cost-Per-Action or a Target Return on Ad Spend.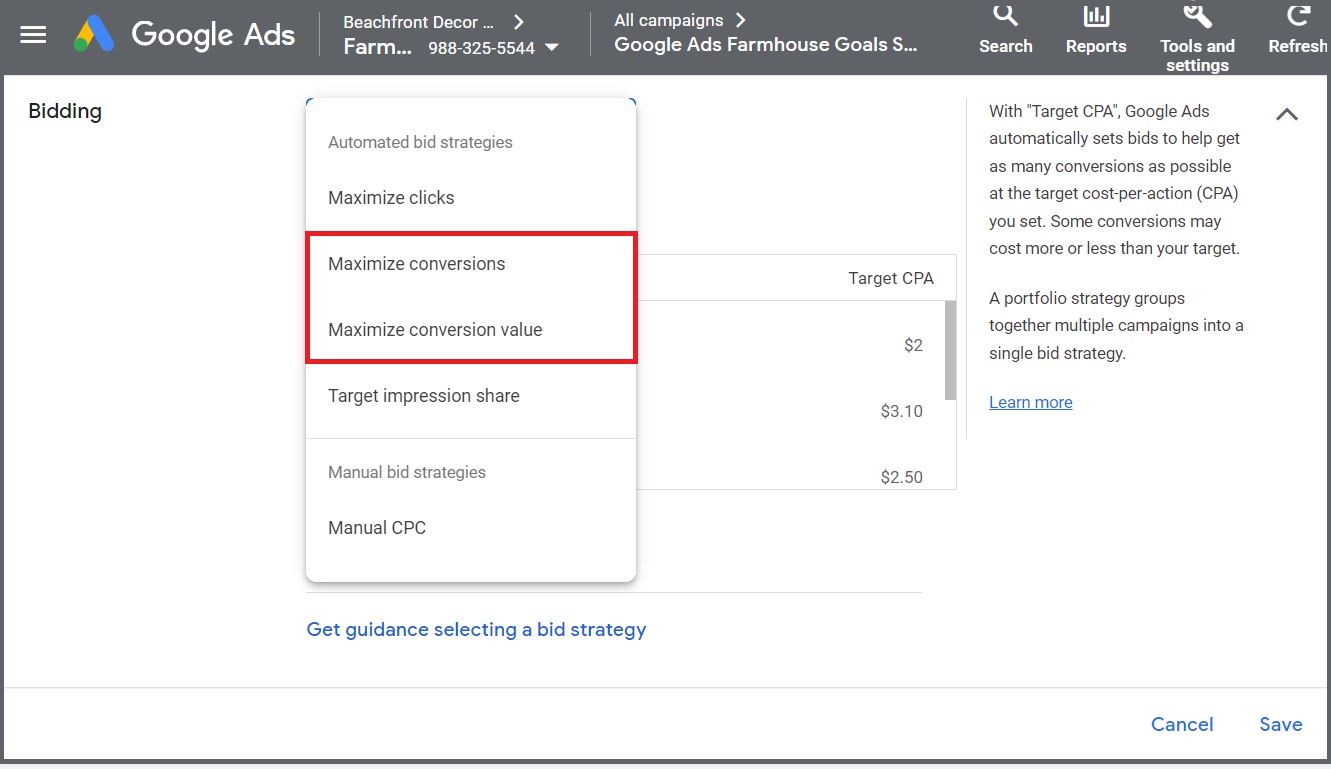 Google Ads Smart Bidding Video
You can watch the video below or you can watch it directly on YouTube. It will show you exactly how to set your smart bid strategy and some tips for getting started. You will need conversion tracking set-up properly first.
---
---
4 Google Ads Smart Bidding Strategies
At the time of writing this article and creating the video above, there are 4 smart bidding strategies. A bidding strategy is considered 'smart' if it is automated and uses machine learning to optimize for conversion goals. If you are not using conversion tracking, you won't be able to use these bidding strategies through Google Ads.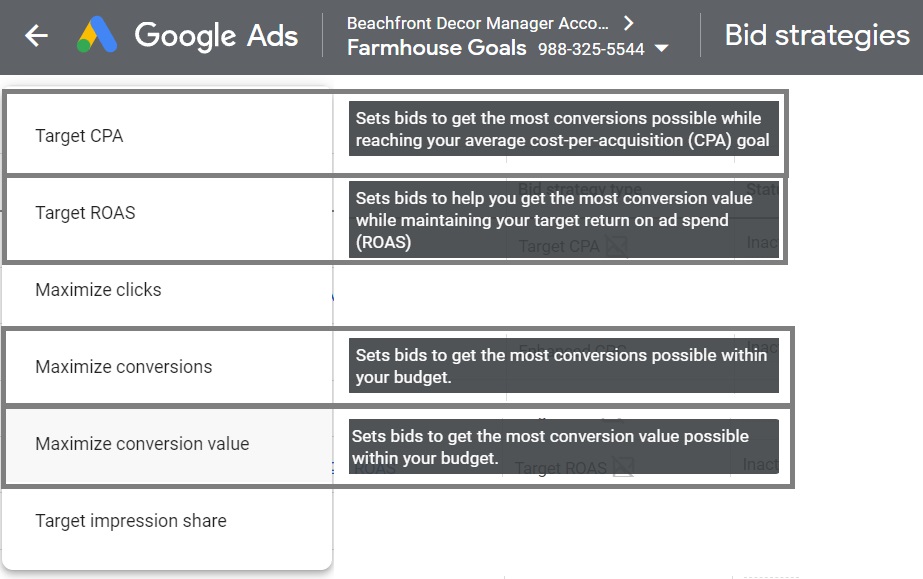 Maximize Conversion Value
The Maximize Conversion Value bid strategy tells Google Ads to drive as much revenue as possible for your business based on your budget. You don't set a specific target for your return on ad spend. It's an ideal bid strategy for eCommerce websites and companies with prices attached to their conversions.
If you are utilizing conversion tracking with value, which you should if your key performance indicators have a value attached to them, then you can set your bid strategy to maximize value compared to your spending.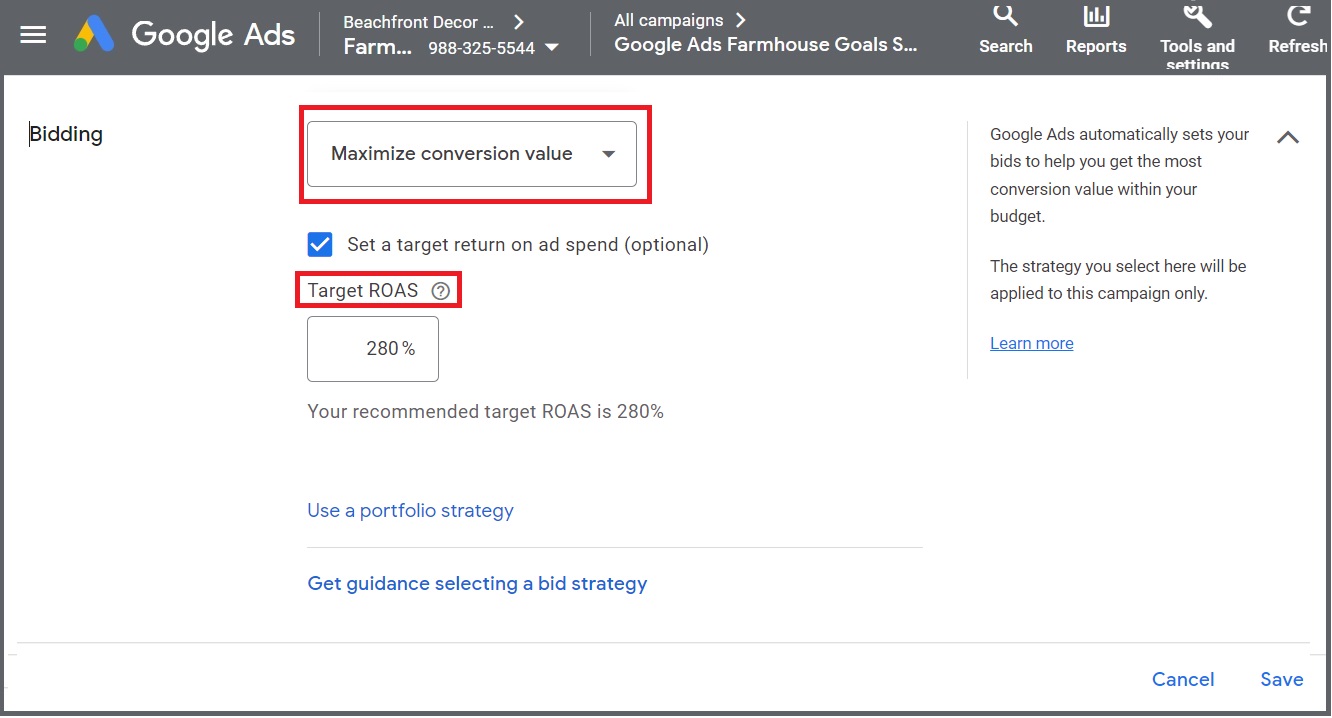 Target ROAS (Return On Ad Spend)
The Target Return on Ad Spend bid strategy tells Google Ads to optimize for conversion value and you set a target for your ROAS. It will use your previous conversion data and campaign data to optimize your campaign for a specific percentage return on your advertising spend.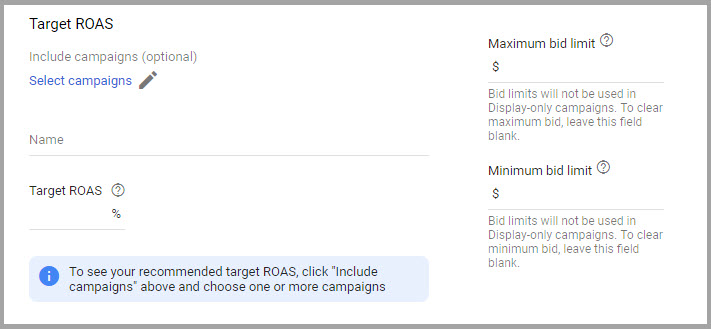 If you create a campaign for an e-commerce store, you want to use import your conversions and conversion value for tracking, and then use the Target ROAS bid strategy. If you are spending $10 per day for example, you can optimize for a 200% Return on Ad Spend (ROAS) so for every $10 you spend, your campaign returns $20 in revenue.
The Maximize Conversions bid strategy tells Google Ads to drive as many conversions as possible within your budget.
When you first create your campaign and you start driving some conversions, you might want to use the Maximize Conversions bidding strategy. It works exactly as it sounds: Google Ads will use all the data they have about your campaign to enter your website into ad auctions that are most likely to drive conversions.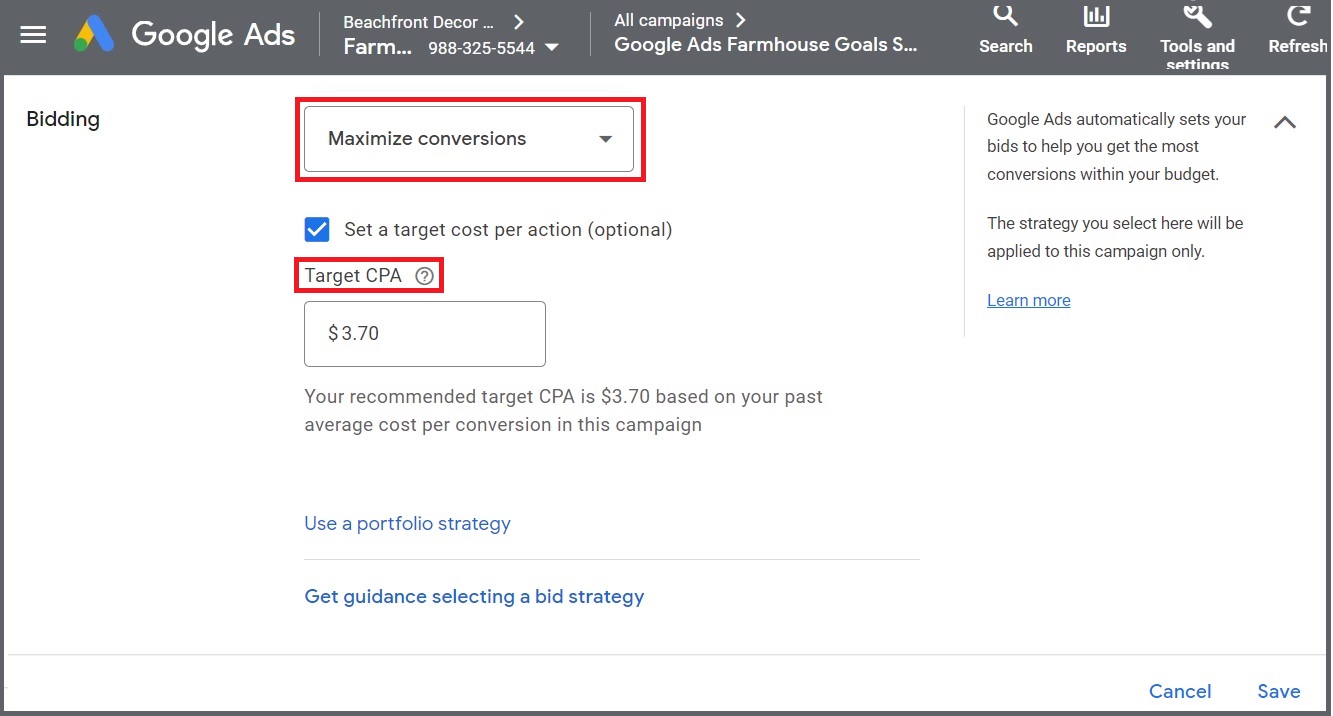 Target CPA (Cost-Per-Acquisition)
Target Cost-Per-Acquisition is a bidding strategy that optimizes conversions at a specific cost. Google Ads will use your conversion data and you can set your Target CPA when you are setting up your bidding strategy. For example, if a conversion is worth $50 for your business, you want to set a Target CPA that is lower than the worth of your conversion. Therefore, you can drive optimal conversions for your business.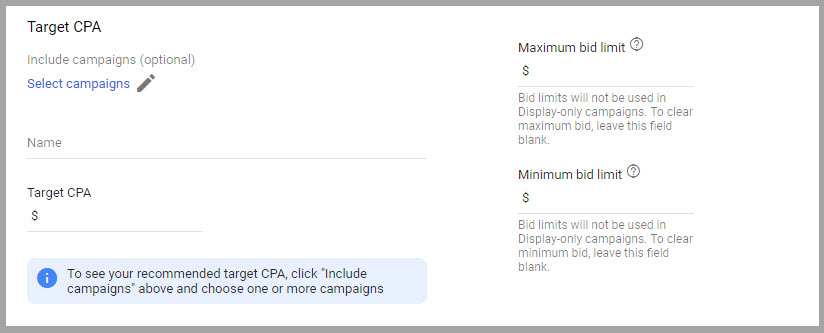 In my experience, you can lower your Target CPA over time as you get more campaign data and test your ads, keywords, audiences, ad assets, and more while optimizing your Google Ads campaign.
Step-by-Step Guide to Setting Up Smart Bidding
Follow these steps to start using Smart Bidding for your Google Ads campaigns:
1. Confirm Conversion Tracking is Implemented
Since Smart Bidding optimizes for conversions, the first step is making sure you have accurate conversion tracking set up. Below are some of the different options you have when you have to set up conversion tracking. Website conversions are the most common and they are very easy to implement using a Google Ads Tag, Google Analytics 4, or Google Tag Manager.
Website Conversions: Install Google Ads conversion tracking tag on your website to track website conversions.
Offline Conversions: Use the Google Ads API to upload any offline conversions from CRM data.
Phone Calls: Install call tracking to measure phone call conversions.
App Actions: Implement Firebase to track in-app actions.
Review reporting to confirm your conversions are being captured correctly.
Watch our Conversion Tracking Video Tutorial
2. Select a Smart Bidding Strategy
First, are you optimizing for individual conversions like leads or conversion value like sales? If you are optimizing for conversion value, you can focus on improving your Return on Ad Spend (ROAS). If you are optimizing for conversions, you can focus on improving your Cost-Per-Acquisition (CPA).
Maximize conversions – Get the most conversions possible within budget. You can set minimum and maximum bids when you use a portfolio bid strategy, but you don't set a specific CPA target.
Target CPA – Get conversions at a target cost per acquisition. You set your Target CPA when you choose this bidding strategy. You want to set a CPA that keeps your campaign profitable.
Maximize conversion value – Maximize conversion value within budget. You can set minimum and maximum bids when you use a portfolio bid strategy, but you don't set a specific ROAS target.
Target ROAS – Get conversions at a target return on ad spend. You set your Target ROAS when you choose this bidding strategy. Generally, your Target ROAS should be a minimum of 200% and most advertisers should want a ROAS of 300% or higher.
For example, if you want to increase sales volume, Maximize conversions may be the best fit. If you have a profitability goal, Target ROAS makes sense.
3. Create a Portfolio Bid Strategy
The best practice is to create a portfolio bid strategy that includes all relevant campaigns. This allows the algorithm to optimize bids across your entire account to meet goals. You can also create multiple portfolio bid strategies that align with different goals. When you create a portfolio bid strategy, you can also set minimum bids.
In Google Ads, go to Tools > Bidding and Budgets > Bid Strategies. Click + and select your Smart Bidding strategy. Give it a name and add campaigns.
4. Launch and Monitor Performance
You can apply the portfolio strategy to 1 or more campaigns. Once you apply the strategy, give it several weeks before you make any decisions about performance. You can start with a lower budget while your campaign is gathering more data. You can always increase your budget as you scale your campaign.
Review your Google Ads performance reports regularly, particularly your cost per conversion and conversion rate. Adjust your current targets, add more targeting such as additional ad groups, and adjust conversion settings as needed to maintain strong performance. You can change your Target ROAS and your Target CPA.
5 Benefits of Google Ads Smart Bidding
Smart Bidding provides significant advantages over manual bidding through the use of advanced machine learning, per-auction bid optimization, expanded signal sets, flexible controls, and transparent reporting. These benefits can help drive higher conversion volume and conversion value.
1. Advanced Machine Learning
Bidding algorithms leverage predictive modeling and machine learning techniques to optimize bids. With machine learning, the algorithms can analyze vast amounts of historical data to uncover statistical relationships between different signals, bids, and conversion rates.
2. Auction-time Bidding
Bids are optimized for each and every ad auction in real time. Smart Bidding optimizes bids for each and every ad auction in real-time. This per-auction bid optimization allows your campaigns to show the right ads to the right users at the right time with bids tailored to that exact search context.
3. Automated Bidding Signals
A rich set of signals about the user, context, and environment are used to optimize bids.
Smart Bidding strategies don't just rely on basic signals like device type, location, and time of day. The algorithms also factor in other parameters like:
Browser
Operating system
Language
Page visit history
Query meaning
And more
This allows your bidding strategy to consider many more attributes about the user's environment and adapt bids based on the context.
4. Flexible Performance Controls
Customize strategy settings based on business goals. You maintain control over the high-level strategy objectives and settings. For example, with Target CPA bidding, you choose your target CPA levels. The algorithms then optimize to get as many conversions as possible at those target costs.
You can also use features like bid adjustments, campaign exclusions, and location targeting to steer strategies as needed. The algorithms work within the parameters you set.
5. Transparent Reporting
Insights into bidding performance can help troubleshoot performance issues. You can see how each bid strategy is performing and test multiple bid strategies against each other.
FAQs About Smart Bidding
Below, we answered some of the questions that you may have.
How is Smart Bidding different than manual CPC bidding?
With manual CPC bidding, you set an individual max CPC bid for each keyword. But Smart Bidding uses machine learning algorithms to set a data-driven bid tailored to each auction based on predictive models to better meet your goals.
What is auction-time bidding?
Auction-time bidding means the bid strategy optimizes a bid for each and every ad auction dynamically in real-time, rather than bidding based on a static keyword-level bid. This allows for personalized bid optimization.
Do I still need keywords if using Smart Bidding?
Yes, keywords are still used to determine which auctions your ads can participate in. Smart Bidding then sets the optimal bid amounts within those auctions using real-time algorithms.
How much data do I need for Smart Bidding to work effectively?
Aim for at least 30 conversions per month in your campaigns. For Target ROAS bidding, 50 conversions per month is recommended. This provides sufficient data for the machine learning models.
How quickly will Smart Bidding improve my campaigns?
Expect a learning period of 1-2 months as the algorithms optimize bids. Measure overall performance over longer periods of at least a quarter to accurately evaluate Smart Bidding results.
Google Ads Automated Bidding Strategies
Not every automated bidding strategy is considered a smart bidding strategy. If you are looking for more information about automated bidding in Google Ads, watch the video below.
Conclusion
Smart bidding is a feature that continues to improve through Google Ads. I'd highly recommend using one of the four smart bidding strategies along with conversion tracking. You will see the best campaign results with that strategy. If you have any questions or comments, please leave them in the comments section.