Check out our video and article below to discover the top Google Display Ads strategies. There is a ton to learn when it comes to the Google Display Network and Google Display Advertising, so our goal is to give you some of the best tips when you are setting up campaigns. You can create successful and profitable Google Display campaigns by utilizing some of our strategies below.
You can watch the video below, or watch it directly on YouTube. In addition, check out our free Google Display Ads course on our website.
Google Display Ads Strategies
You can start by viewing our video below and then read the corresponding article below. We spend a lot of time using Google AdWords, so we listed 11 of our favorite display ads strategies you can use for your campaigns.


---
11 Google Display Advertising Strategies
We listed some of the top Google Display Network strategies and best practices for your campaigns. You can scroll down for all of the strategies, but I highly recommend checking out our Google Display Ads Tutorial below. We cover exactly how to set-up Display Advertising campaigns on the Google Display Network.
Google Display Ads Tutorial
---
1 – Link Google Analytics and Google Ads Accounts
Linking these accounts is important in order to import conversions and track goals for your campaigns. In Google Analytics, click on "Admin" and you will see a screen with various options. By selecting "Google Ads linking", you can create a new link group and confirm that your Google account numbers match. If you are using the same Google email address for both accounts, this step will be a breeze. Visit Link Configuration > Link Group Title and enter your website name. During this step be sure to select "All website data" and make sure auto-tagging is enabled.
Confirm Your Link in Google Analytics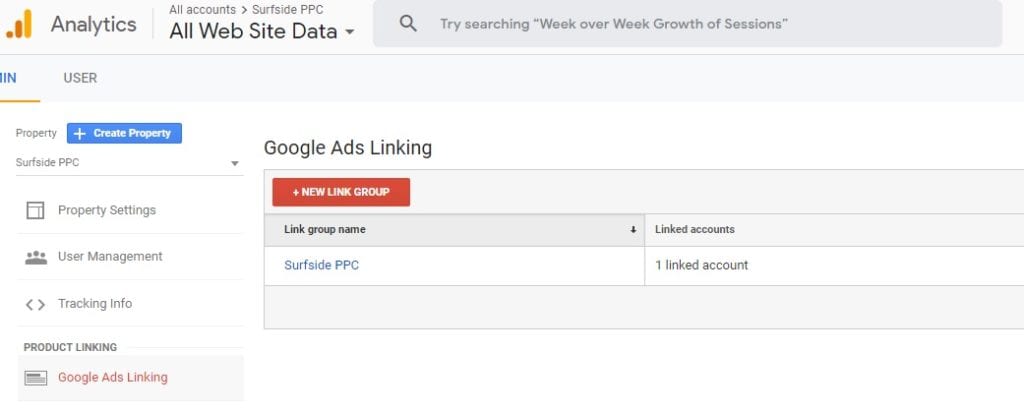 Once you have completed the link information, go back to your Google AdWords account and view the "Linked Accounts" section under the Tools menu on the top of your screen. Here you will double check that the account link is completed, and your Auto-Tagging is enabled. Both tools are now able to communicate with each other and track conversion data.
Confirm Your Link in Google Ads


Next, you will want to import your conversions from Google Analytics into Google Ads for tracking. If you go in your Tools menu and click on "conversions" and use the "Add a New Conversion" button to review your options – you can see website, app, phone calls and import. When you click on "Import", you will see a list of sources available to you. This is an incredibly important step to complete; as conversion tracking will help you optimize your Google Display Ads campaigns and utilize your budget more effectively.
Set-Up Conversion Tracking
2 – Separate your Google Display Campaigns by Goals
Goals measure how well your site or app fulfills your target objectives. A goal represents a completed activity, called a conversion, that contributes to the success of your business. Examples of goals include Leads, Sales, Product and Brand Consideration, and Brand Awareness and Reach.
Choose Campaign Objectives for Your Google Display Campaigns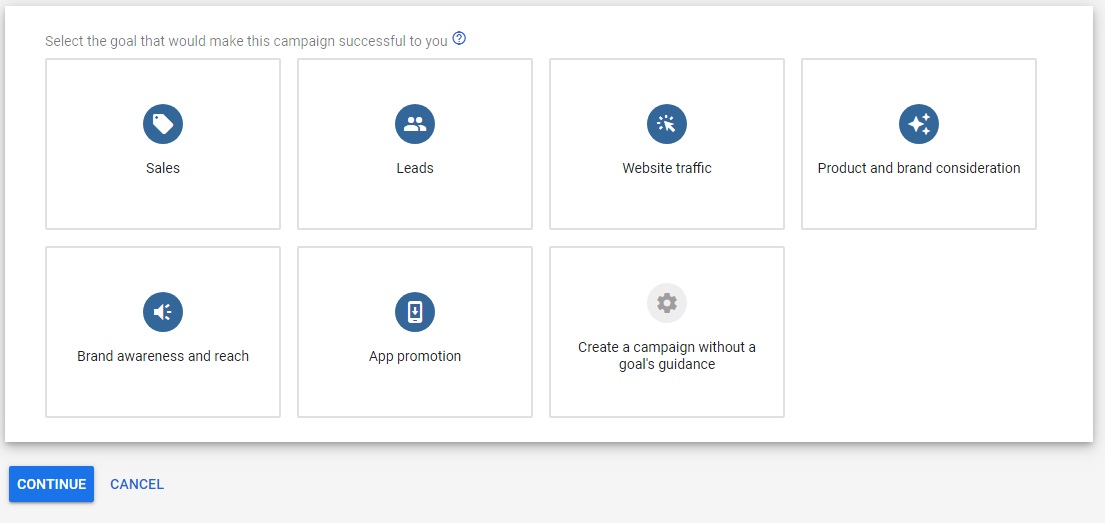 We highly recommend separating your campaigns by goals, depending on what you are trying to accomplish. You shouldn't be running a campaign with two different goals; set up different campaigns for different goals.
3 – Use Different Display Campaign Types
When you are creating a Display Campaign, you are asked to choose whether you want to run a Standard or Gmail campaign type. We highly recommend that you try both types of campaigns and test to see which type performs better for your business. You can run two campaigns at the same time, or test one after the other. As long as you are tracking your campaigns in Google Analytics, you will be able to review your results to determine which type suits your needs.
Test Display Campaign Subtypes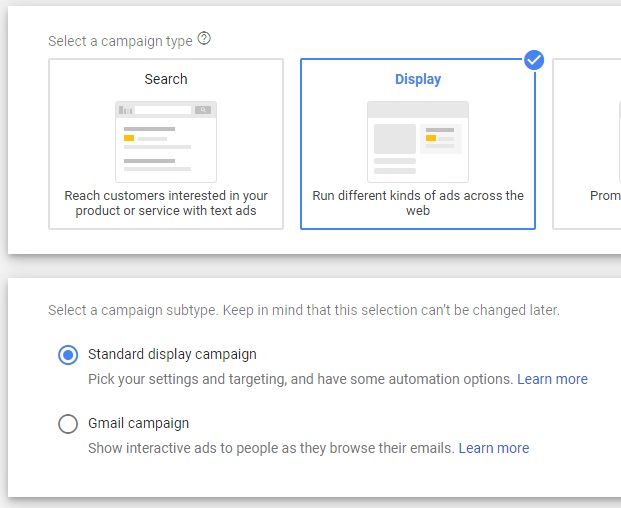 4 – Understand and Test Display Network Targeting Options
Before you begin a Google Display Campaign, it's important that you understand audience targeting options. Your choices include Remarketing Audiences, Similar Audiences, Custom Intent Audiences, In-Market Audiences, Affinity Audiences, Demographics Targeting, and Content Targeting. We don't recommend putting a ton of targeting into one group; it's good to separate activity into different groups in order to maximize your budget.
Remarketing Audiences
Remarketing Audiences will typically perform well for Display Campaigns since those are people who have already interacted with your business in some form.
In-Market Audiences
In-Market Audiences are useful to advertisers who are looking to raise awareness and drive consideration among people who are "in-market" to purchase a particular type of good or service.
Custom Intent Audiences
Custom Intent Audiences allow you to go beyond Display & Video 360's predefined In-Market categories and use your own keywords, URLs (websites), and apps to reach specific people as they are making a purchase decision related to your product or service.
Affinity Audiences
Affinity Audiences are best for brand awareness and reach, and are useful to advertisers who are looking to raise awareness and drive consideration among affinity groups that have a strong interest in their products.
Custom Affinity Audiences
Custom Affinity Audiences are also good for brand awareness and reach. When using Custom Affinity targeting, enter the interests your audience is likely to have, and then Display & Video 360 will intelligently define an audience without unnecessarily limiting the scale of your campaigns.
Demographics Audiences
You can also use Demographics Targeting, in conjunction with your Google Analytics data, to reach your most popular demographics for your website. Regardless of the targeting you choose, it's important to test different types to determine which is working best to achieve your campaign goals.
5 – Use Google Display Planner
The Display Planner is very helpful when you are planning and creating your Google Display Network Advertising campaigns. In the Placements section of the campaign creation process, all you need to do is enter any relevant keywords or search terms and Google will pull up the top websites, YouTube channels, YouTube videos, apps, and app categories that you can target. You will need make sure you review the different listings – some will work well for your business, and others may be too broad or not relevant to your content. Surfside PPC has a new Google Display Planner Tutorial on YouTube if you would like more details.


---
6 – Use and test different Google Display Ads Formats
When you are creating a new campaign, it's important to use and test as many ad formats as you can in order to determine which will work best; this is especially true for Responsive Display Ads. To create a Responsive Display Ad, all you need to do is upload your assets (images, headlines, logos, videos, and descriptions), and Google will automatically generate numerous ads to be shown on the Google Display Network.
Use Responsive Display Ads
The benefits of using Responsive Display Ads are numerous and include ease of optimization with less guess work. By simply uploading several images, logos, and creating ad copy; Google will create hundreds of versions of your advertisements with broader reach. By utilizing and testing various formats and ad sizes, you will have more information to determine what is more successful for your business.


---
7 – Use Automated Bidding Strategies
To drive more conversions and value, we recommend using automated bidding strategies such as Target CPA and Target ROAS.
Target CPA Bidding
Target CPA is a bidding strategy that sets bids to help get as many conversions as possible at the target cost-per-acquisition (CPA) you set. While setting this up, you will need to enter a monetary amount that indicates what a conversion is worth to your business. Your ultimate goal is to get your Target CPA down over time, but it depends on the level of your budget.
Target ROAS Bidding
Target ROAS lets you bid based on a target return on ad spend (ROAS). Your bids are automatically optimized at auction-time, allowing you to tailor bids for each auction. For this strategy, if you set it at 100 percent, for every dollar you spend you will gain a dollar in revenue. So, we typically start around 110 percent when beginning a profitable campaign; and we will scale up from there.
8 – Exclude Under-Performing Placements
When you are reviewing campaign performance in Google Ads, you have the ability to review performance for placements on websites, YouTube videos, and apps. By removing under-performing placements, you have room in hour budget to bid more aggressively on your top-performing placements. One thing to look for is excluding placements with high costs and low conversions. You should also remove placements that are unrelated to your content.
9 – Test Different Landing Pages
By creating and using various landing pages on your website in your Display Campaigns, you can test them against each other to see which pages drives more conversions. By testing, you can optimize your strongest performers as you continue your campaign. Regardless, Google will automatically drive your best performing ads.


---
10 – Monitor and Track Your Display Campaigns Closely
When you link your Google Analytics and Ad accounts and enable auto-tagging, you have the ability to review your campaign results. While in Google Analytics, click on "Acquisitions", "Google Ads" and then "Campaigns". You can then view the campaigns you are running and view all of the corresponding data, including conversion rates, click, cost, CPC, etc.
You can also display the different targeting options, including interest remarketing. This is how you learn about your targeting performance levels and review demographic information. Monitoring this information, and making the necessary changes, will help you optimize your campaign and get more out of your budget.
11 – Understand View-Through Conversions and Cross-device Conversions
Your "View-through conversions" column tells you when customers see, but don't interact, with your ad, and then later complete a conversion on your site. This is different from the data in your other conversion columns, which record when customers interact with an ad and then complete a conversion on your site. View-through conversions are a helpful way to track the value of your display or video ad campaigns. For display campaigns, for example, they measure the conversions where a customer saw—but didn't click—an ad before completing a conversion. View-through conversions take into account the settings of your conversion actions, such as the way conversions are counted.
Cross-Device Conversions
As an advertiser, you want to track all the conversions your Google Ads campaigns drive, including those that begin on one device or browser and end on another. By using the "Include cross-device conversions" setting, you can include these conversions in your "Conversions" column and factor them into any automated bid strategy you've set up.
Enable Conversion Columns
To use both of these conversions, select your Tools tab and then select Conversions. In the menu on the left, click "Settings". Then select both options to include in your conversion list. Most importantly, these options give you just one more way to see how valuable your Google Display Campaigns are to your business.
In Summary
If you would like more information, including access to tutorials on Google Ads, we invite you to subscribe to the Surfside PPC YouTube Channel. Until next time!
---
---