7 Best Pinterest Marketing Strategies and Tips
Pinterest is one of the best social media marketing channels for business owners. That's why it is so important to understand Pinterest Marketing tips and best practices. Not only can you grow your audience, you can also drive targeted traffic to your website. However, it can be difficult to know how to grow your Pinterest business profile.
We put together the top Pinterest Marketing strategies that we use below. We own the Beachfront Decor Pinterest Page, and we have been using a variety of methods to grow our page. I have also utilized these strategies for other clients and if you follow my tips, you will be able to grow your website traffic. Our goal was to give you the methods that will help you grow your page the fastest. You can find the Pinterest Business home page here.
What is Pinterest Marketing?
Pinterest marketing is the use of the Pinterest platform to promote products, services, or content to a wider audience. It involves creating and sharing appealing visual content, known as pins, on relevant Pinterest boards. Pins are created to engage users, drive traffic, and grow your Pinterest following. Businesses and individuals use Pinterest marketing to showcase their products, increase brand awareness, and connect with people interested in their niche. It is one of the best visual platforms to promote your content.
Who Should Use Pinterest Marketing?
Pinterest marketing is beneficial for businesses, bloggers, e-commerce stores, and anyone looking to reach their audience. It's particularly suitable for those in industries related to fashion, home decor, food, beauty, travel, and DIY projects. However, a niche like Marketing or Accounting is not likely to be nearly as popular. If you have visually appealing content or products to share, Pinterest Marketing is a great way to reach a new audience.
---
Join Surfside Niche today and learn how to create a successful niche website! Watch me build my websites and my YouTube channel to 1,000,000+ views per month. Join and build with me and hundreds of other creators.
---
---
Pinterest Marketing Video
You can watch my video below or watch it directly on the Surfside PPC YouTube channel.
Pinterest Marketing Video for Surfside Niche
You can join Surfside Niche by going directly to my membership section. It costs $2.99/month and you will get premium content and bonus ad-free content.
---
7 Pinterest Marketing Strategies and Tips
This comprehensive beginner's guide will outline effective Pinterest marketing tips to expand your reach, engagement, and website traffic. I have included some of the best tips for Pinterest Marketing below.
1. Getting Started: Optimizing Your Pinterest Business Profile
A professional, optimized Pinterest business profile establishes credibility and discoverability. Make sure you complete all of the information when you create your account.
Here's how to set up your Pinterest business page for success: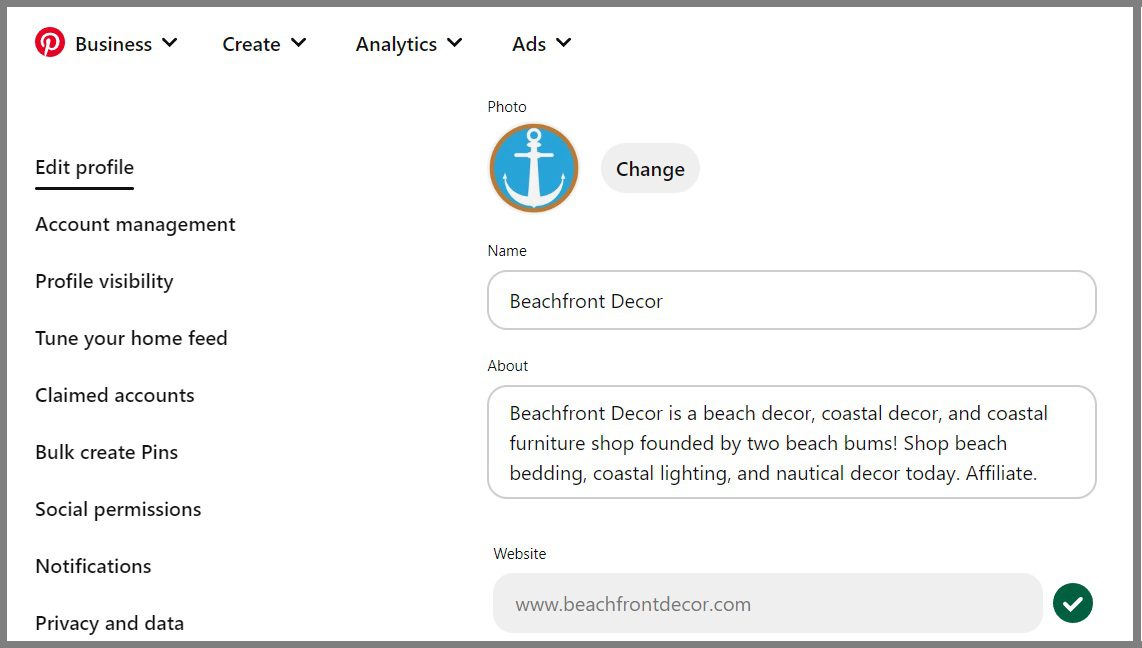 Convert to a Business Account
Upgrade to a business account to access analytics, promotions, and ads. This also allows you to claim your website links. If you want to grow your Pinterest page, you need to have a Pinterest business account. It gives you access to more tools and you can track how much traffic you are sending to your website.
Craft an Appealing Profile Picture
Use your brand logo as your profile photo and make sure that you can see it easily, even when it is small. You should ensure it's high-resolution and eye-catching. In addition, make sure you use colors that will make your profile picture stand out.
Include Relevant Keywords to Bio
Incorporate popular niche keywords in your profile name, description, and website URL for better search visibility. You should be targeting some popular keywords with your content. Choose the main keywords that represent your brand and use them in your profile, for your boards, and for your board descriptions. We'll go over more Pinterest SEO strategies below.
Link to Your Website
Add your website URL so Pinterest can track traffic and confirm you as the owner. You can verify your website in Pinterest so that should be one of the very first things you do.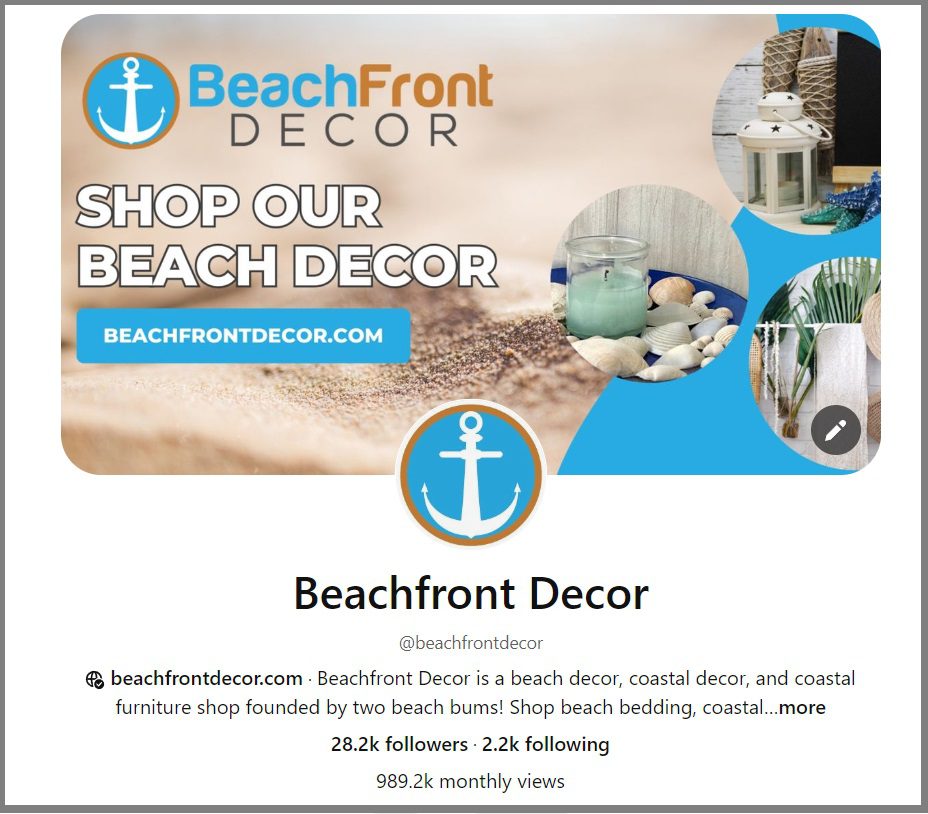 2. Use Pinterest SEO and Pinterest Keyword Research
Pinterest has a search engine, which means you need to optimize your Pinterest page. Your entire profile should follow Pinterest SEO best practices. You should create topical boards based on your keyword research. Your boards should be aligned with your user's interests to help attract followers.
Use Keywords for Pinterest Board Names
Research popular Pinterest keywords and create board names that incorporate them for better Pinterest SEO. I always name all of my boards based on the keywords that I am already targeting with my content. Then, you can also link to the most relevant pages on your website from your boards.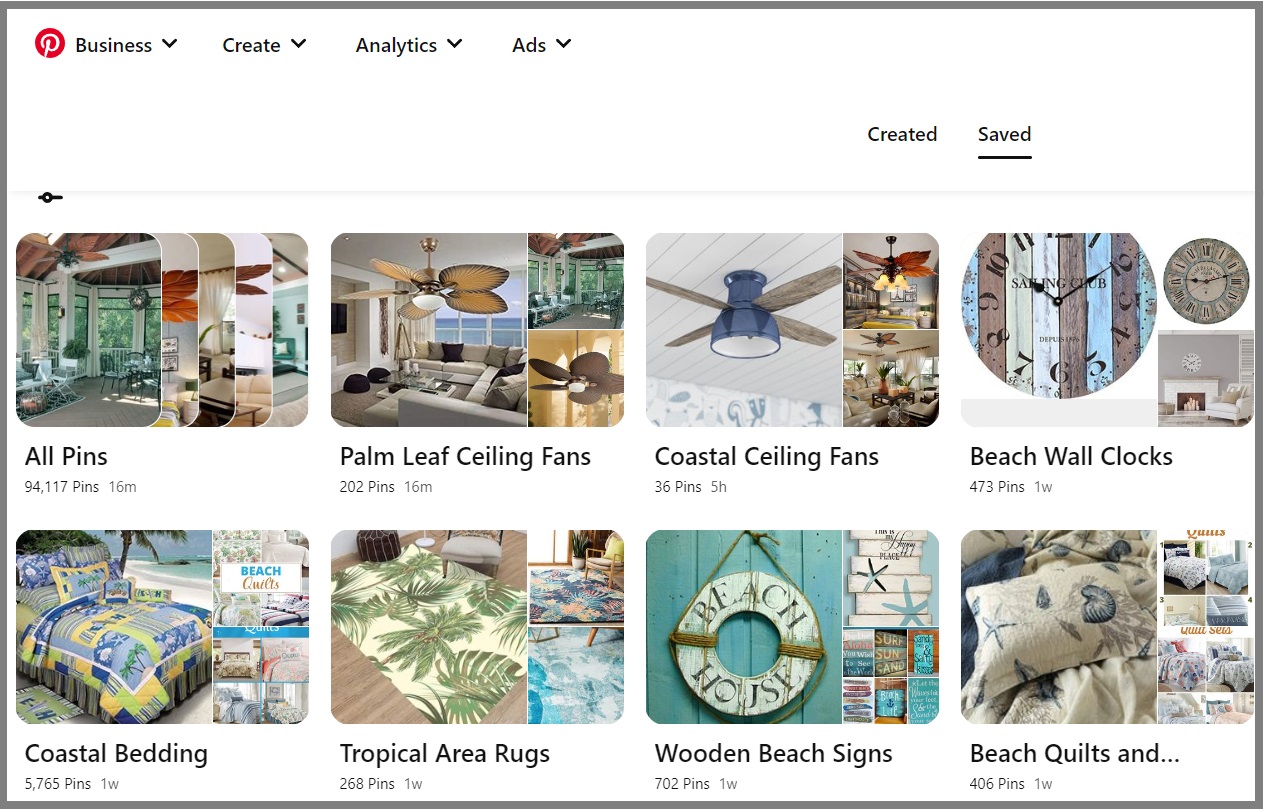 Optimize Pinterest Board Descriptions
Include relevant keywords, relatable descriptions, and helpful information in your board descriptions to enhance Pinterest SEO. Make sure you write exactly the type of pins that people can expect to see when they visit your board. Incorporate relevant long-tail keywords when you are writing your board descriptions as well.
Optimize Pinterest Cover Photos
Complement boards with attractive cover images that visually represent the topics and grab attention. Use bright and colorful photos and try to follow a theme so they look the best they possibly can. You want people to think your Pinterest page is beautiful when they visit your profile, look at your boards, and click on the Follow button.
3. Engage With Your Target Audience on Pinterest
Growing a loyal audience starts with interacting with potential followers interested in your niche. You can't just simply publish Pins and never follow anyone or share content. You will grow much faster if you are following other popular Pinterest pages and sharing other pins to go along with your custom pins.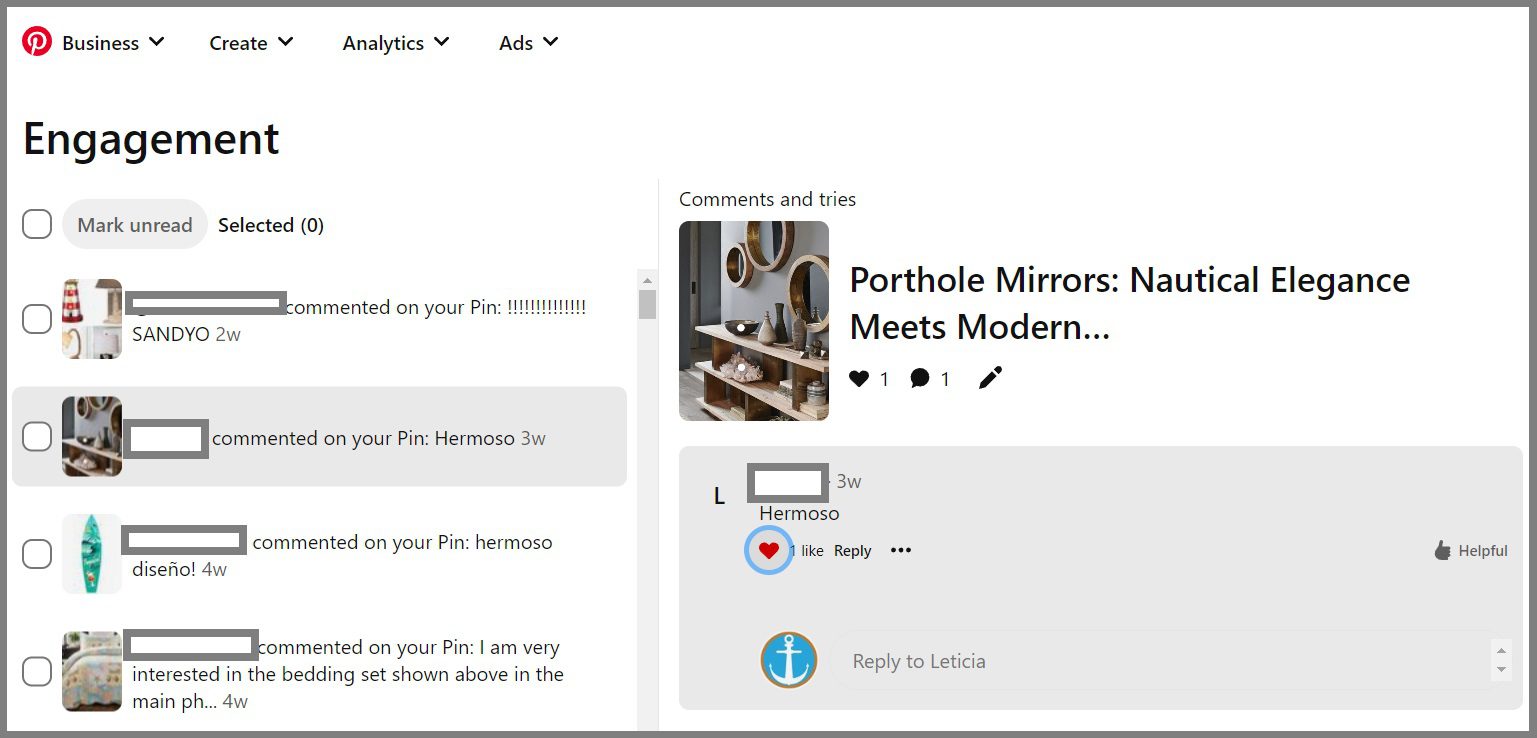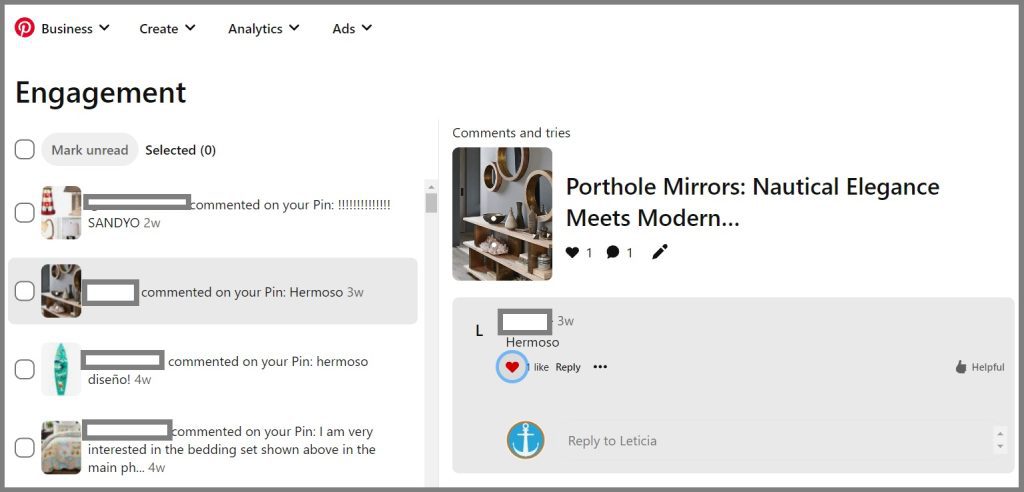 Follow Related Pinners and Boards
Discover and follow pinners and boards in your industry. Like and comment on their content to help get noticed and engage with other people in your niche. There are so many different Pinterest pages that are very helpful and you should follow some.
Respond to Followers and Comments
Check notifications and reply promptly to followers and commenters. This builds community on your Pinterest page. If someone has a question or just leaves a nice comment, make sure you reply.
Avoid Spam Behaviors
Steer clear of indiscriminate following, repetitive commenting, and insincere engagement. You should also not be pinning too often. Instead, focus on creating the best Pinterest pins you can to grow your profile.
4. Create Engaging and Helpful Pinterest Pins
Compelling images and descriptions motivate pinners to save and share your content.
Create Beautiful Pinterest Pins
You can use a tool like Canva to create the best Pinterest pins. They have plenty of pre-built templates that you can add to your branding guidelines, colors, fonts, logos, and images. Try to create professional Pinterest pins that feature beautiful images and consistent branding.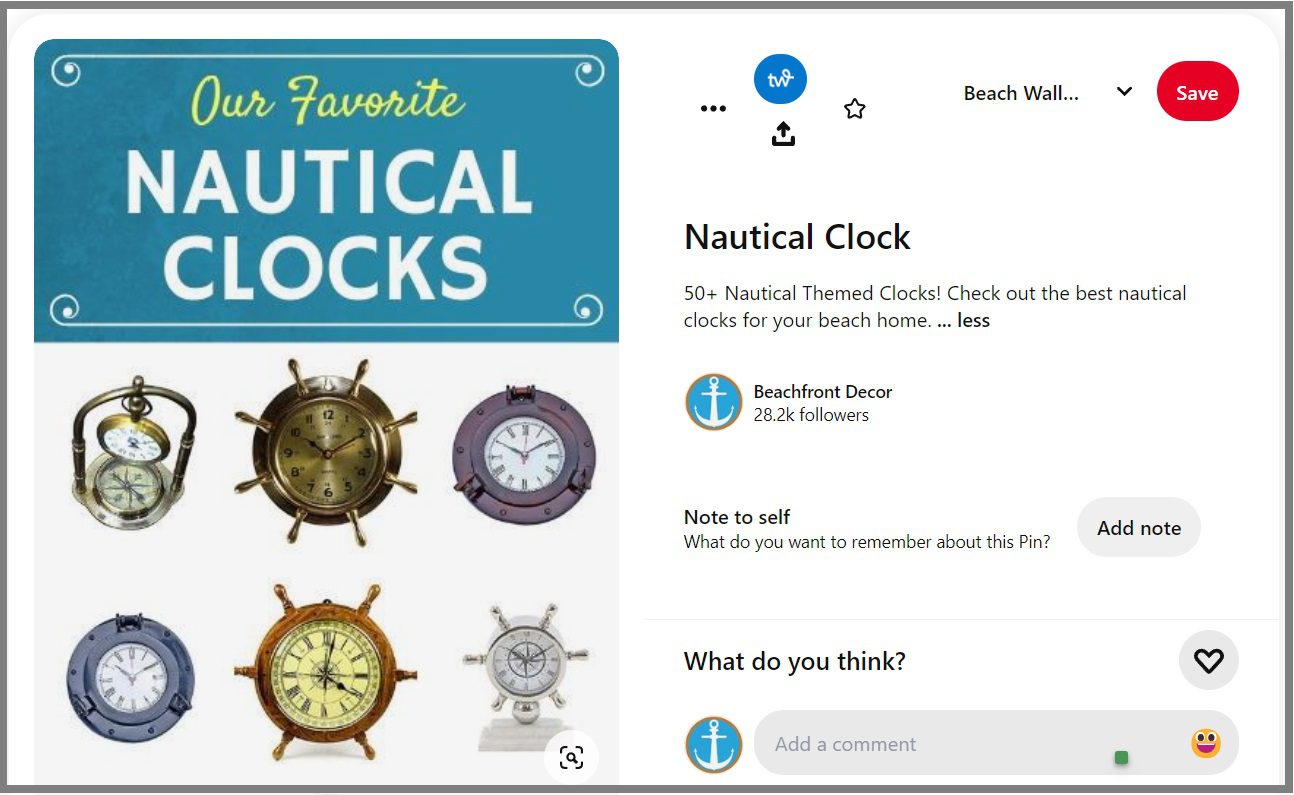 Write Click-Worthy Headlines and Descriptions
Include keywords, descriptive captions, and website links so pinners want to actually click through to your content. It's important to use headlines that people will want to click on and actually visit your article. Your descriptions can help people better understand each Pinterest pin.
Use Quality Images to Create Unique Pins
Avoid low-quality images, stock photos, or heavily watermarked images. Original photos and original Pinterest pins designs show you put in effort to create unique content. Unique pin designs with beautiful images are much more likely to be shared and amplified on Pinterest, leading to more website traffic for you.
5. Use a Pinterest Scheduling Tool
Use a Pinterest scheduling tool, such as Tailwind, to publish more pins more often. You can use scheduling tools to efficiently plan, schedule, and analyze Pinterest activity. Personally, I have used TailwindApp for years and I would highly recommend it to everyone. If you have another Pinterest scheduling tool you prefer, then go with that one.
Schedule Pins in Advance
Use Tailwind or your favorite Pinterest scheduling tool to schedule multiple pins per day. This saves you time and you can ensure your Pinterest page is consistently sending out Pins. The only way to grow is to focus on creating new Pinterest pins consistently.
Join Tailwind Tribes to Expand Reach
By joining relevant Tailwind Tribes, your pins get exposure to new potential followers. You can also join Group boards and invite others to collaborate on your boards.
Track Performance Insights
Tailwind provides analytics on your most popular pins, engagement levels, and website traffic. You should focus on what Pinterest pin designs get the most engagement and website traffic. Test a lot of different designs in the beginning and figure out what works best for your page.
6. Test Pinterest Advertising
Pinterest ads offer affordable ways to find new followers beyond your current reach. You can also drive more traffic directly to your website.
Promote Your Best Pins
You can boost highly engaging pins as Pinterest ads to expose them to more targeted users. If your pins are already engaging, they will likely be amplified when you promote them. It can be a great way to get more Pinterest shares while also growing your Pinterest audience.
Drive Traffic to Your Site to Drive Conversions
Another option is to run website conversion campaign ads to get Pinterest users to visit your site and possibly convert. Whether you are trying to drive leads or sales, you can drive targeted website traffic with Pinterest ads.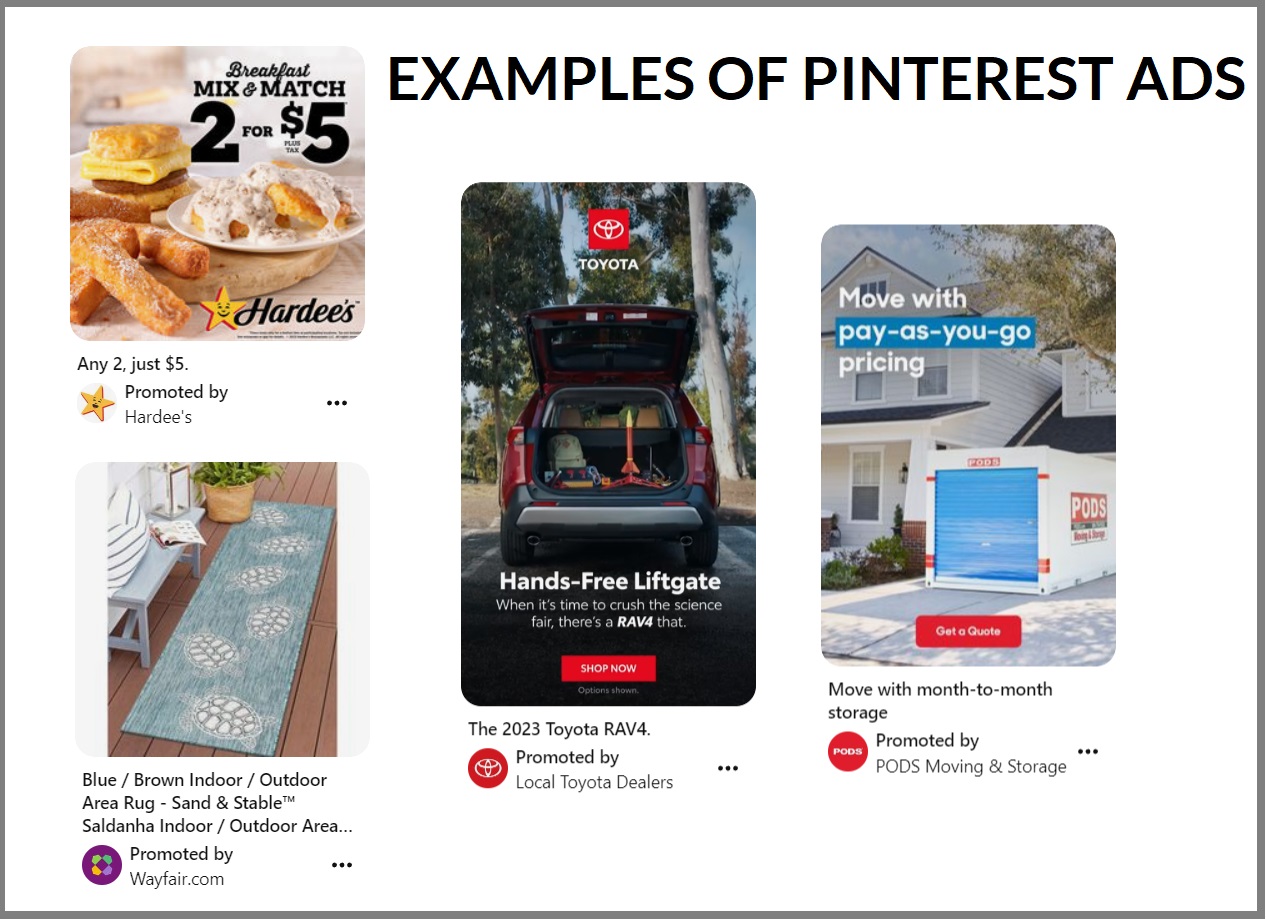 Retarget Site Visitors
With the Pinterest tag, you can serve ads to previous site visitors to reconnect with them. If someone is showing interest in your website already, they are much more likely to convert when they visit your website.
7. Cross-Promote Your Pinterest Page
Linking your Pinterest profile everywhere will help additional people find your page. If you create high-quality content on your website, you want your website audience to know about your Pinterest page.
Share Pins on Social Media
Post great pins on your other social channels like Facebook, Instagram, and Twitter. If you created an engaging Pinterest pin, you should share if everywhere. You can even add it to your website.
Add Pinterest Links to Your Website and Emails
List your Pinterest URL prominently on your site and mention it in email newsletters. Every month, encourage subscribers and website visitors to follow you on Pinterest. If your audience is an audience that frequently uses Pinterest, you want to add as many followers as possible.
Display Follow Buttons
Add Pinterest follow buttons to your website headers, sidebars, footer, or posts. Put them in a place where people are more likely to see them. Add a small section to your website asking people to follow you on Pinterest.
In Summary
Following these tips will give your Pinterest marketing strategy as a beginner a significant boost. Consistency and high-quality content are key. As your following and engagement grow, you'll reap rewards in brand awareness, traffic, and sales. Pinterest Marketing is not an easy task and it takes consistency to grow your audience. Our tips above should be a great starting point, you will simply need to use them to gain a following. The first 100 followers will be the most difficult but don't give up and continue to post great pins.
If you have any questions, feel free to leave them in the comment section and we will try to help you with Pinterest Marketing.