Google Ads For Plumbers: Drive More Qualified Leads
For plumbers, Google Ads can be a powerful tool to attract local customers and generate leads. However, Google Ads can be hard to navigate for beginners. Just like I call plumbers when I have a plumbing emergency, plumbers should contact experienced Google Ads managers to drive them more phone calls and clients.
This article will explore the benefits of Google Ads for plumbers and provide insights into how to create a successful campaign.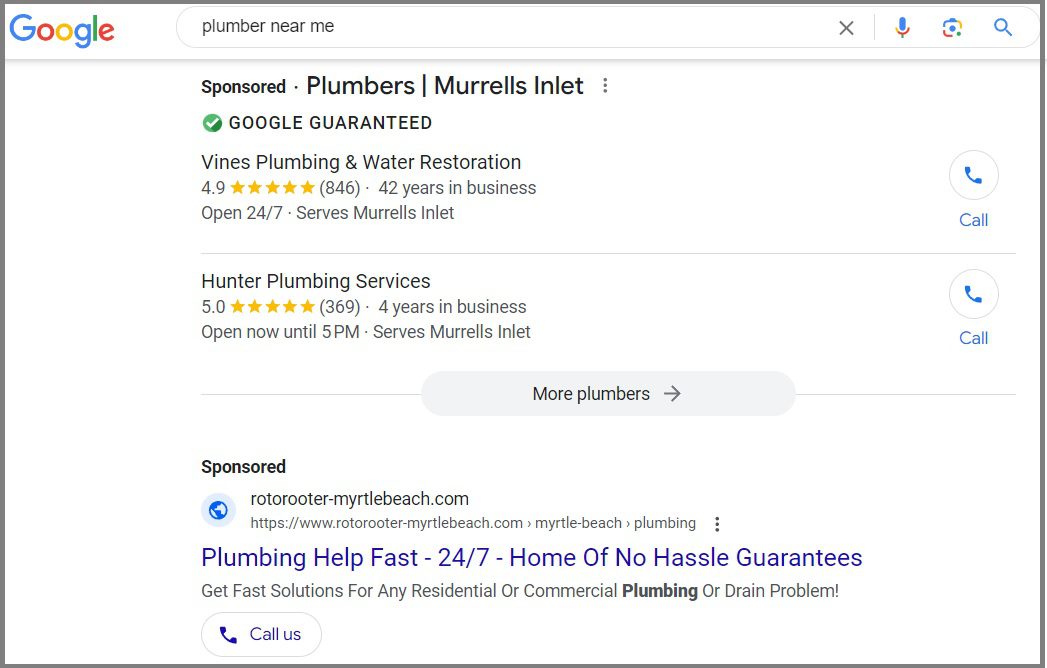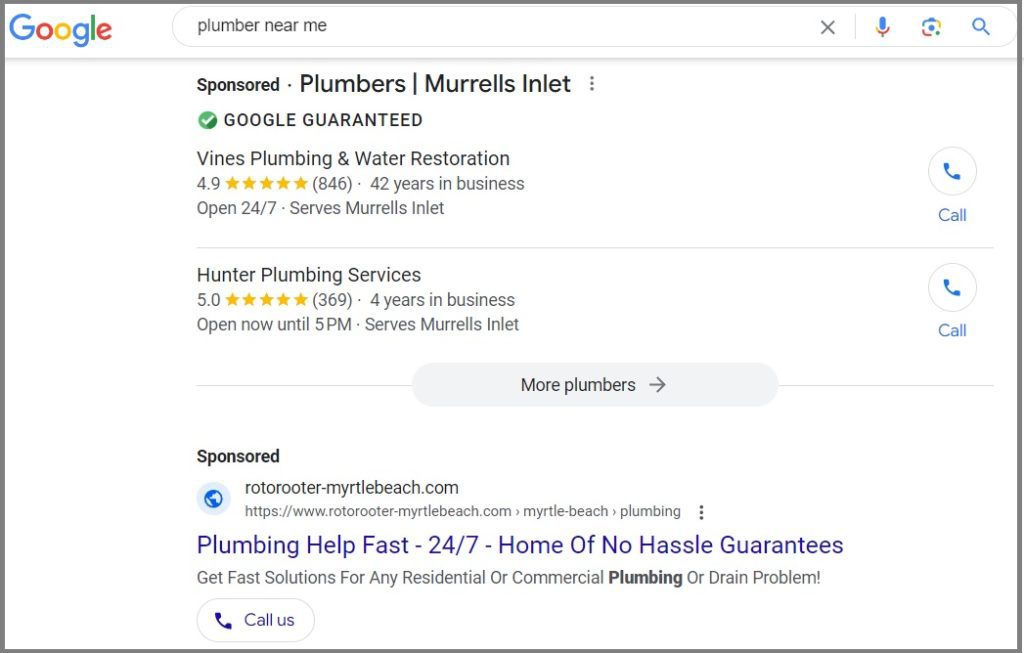 Why Plumbers Need Google Ads
For plumbers, Google Ads can help increase visibility among potential customers who are actively searching for plumbing services in your service area. By targeting specific keywords related to plumbing, they can ensure that their ads appear on relevant searches, increasing the chances of attracting potential clients.
How can Google Ads help plumbers reach local customers?
Google Ads allows plumbers to target their ads based on location. This means that they can tailor their campaigns to focus on specific service areas, ensuring that their ads are seen by potential customers in their target market. By reaching local customers, plumbers can maximize their chances of generating leads and attracting new clients. For example, if you serve a specific county, you can run ads to people in that specific county that are looking for plumbing services. In addition, plumbers can use Google local services ads.
---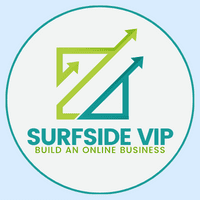 Join Surfside VIP today for only $2.99/month! Learn how to create a successful online business. Watch me build my websites and my YouTube channel to 500,000+ views per month and get all of my strategies.
---
Google Local Services Ads For Plumbers
Google Local Services Ads connect plumbers directly with customers searching for plumbing services in their area. As a plumber, you can sign up to have your business appear in these ads on Google Search and the Local Services site. To qualify, Google screens plumbing businesses by verifying licenses and conducting background checks. Once approved, your business will display a "Google Screened" or "Google Guaranteed" badge to build trust with potential customers. Local Services Ads help plumbers get quality leads precisely when customers need plumbing services.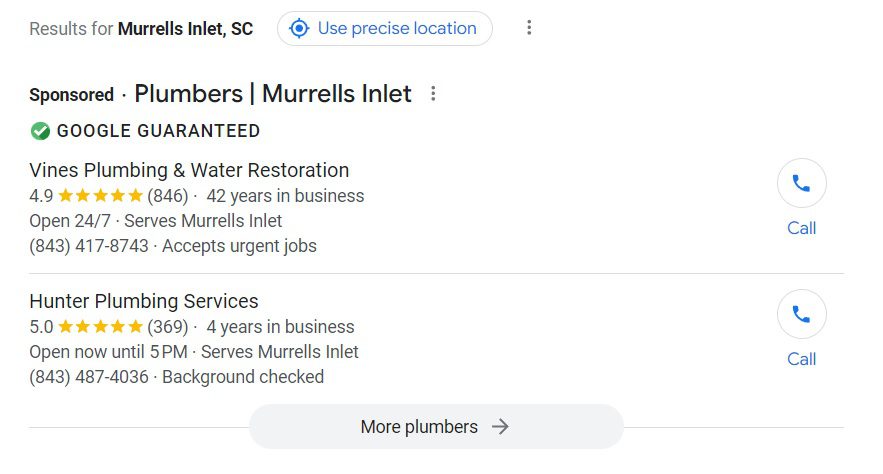 Google Search Ads For Plumbers
Below, I detail the step-by-step process that I use to help plumbers drive more customers with Google Ads. The most important thing to remember is that you need to track conversions, your targeting needs to be perfect, and your campaign should be created to drive leads.
1. Start with Conversion Tracking for Phone Calls and Leads
Whether you have a phone number, contact form, appointment booking, or a chatbot on your website, you should track every method by which customers can contact you. If you watch the video below, you can learn more about phone call conversion tracking and Google Ads conversion tracking for your business.
Target the Best Keywords For Your Plumbing Business
Keywords are one of the most important aspects of a successful Google Ads campaign. Plumbers should choose keywords that are relevant to their services and have a high search volume. By selecting the right keywords, they can ensure that their ads appear in front of people who are actively searching for plumbing services. I generally recommend that plumbers start with phrase match keywords so they can reach potential customers.
Organize Keywords into Ad Groups By Theme
You have your list of keywords to target, now it's time to organize them. You may offer services related to plumbing emergencies, residential plumbing, commercial plumbing, water heaters, water lines, pipe replacement, leaky pipes, drain cleaning, and water treatment. All of those keywords should be organized into different ad groups. That way, you can create relevant responsive search ads and send potential customers to targeted landing pages.
Creating Relevant Responsive Search Ads
The ad copy plays an important role in attracting potential customers. Plumbers should create compelling and informative text ads that highlight their unique selling points and encourage users to hire them. By crafting compelling ad copy, plumbers can increase the chances of attracting clicks and generating leads. In addition, your ad copy needs to be focused on what people are actually searching for so you create a seamless customer experience.
The ads below are good examples for plumbing companies that offer emergency services.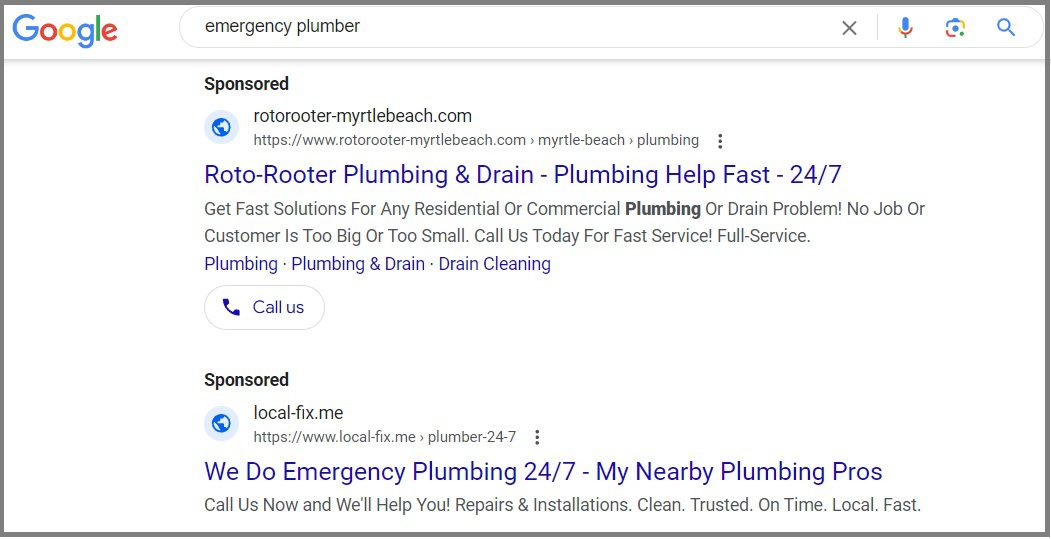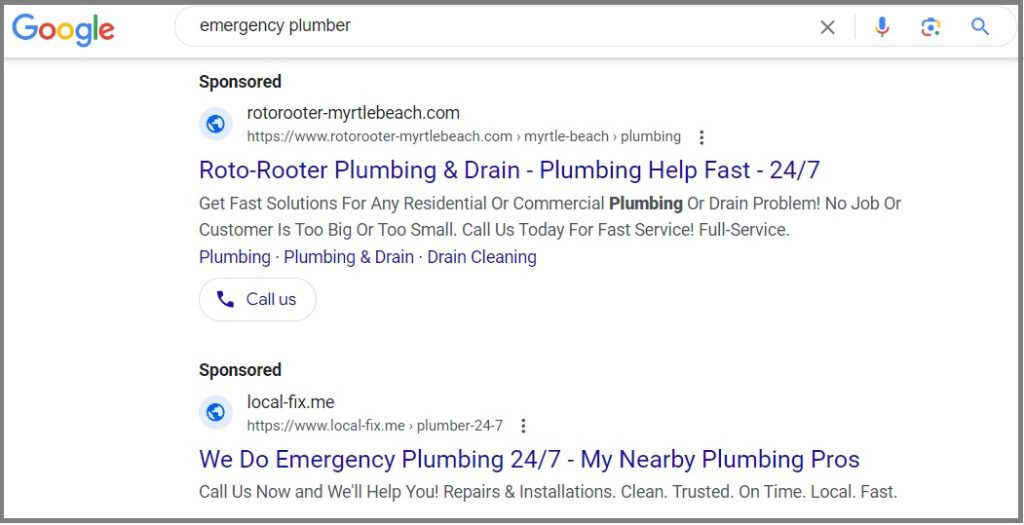 Use Ad Assets to Drive More Customers
Ad assets were previously referred to as ad extensions. Plumbers should be using call assets first and foremost because it allows customers to contact you directly from your mobile ads. Structured Snippet assets and callout assets can help plumbers list all of the different services they provide. Sitelink assets can be useful for plumbers who want to list all of their different service pages. Price assets can give customers an idea of your pricing for different services.
Use Landing Pages For Different Services
You don't want to drive every customer to your homepage. You want to create dedicated landing pages for each of your services. Then, potential customers can see more details about the services you offer and they can contact you directly. Not only will it improve the amount of leads that your business drives, it will also help improve your Google Ads quality score.
How to optimize your Google Ads campaign for maximum conversions?
Monitoring and adjusting your ad campaigns
Regularly monitoring and adjusting your ad campaigns is essential to optimize for maximum conversions. By analyzing ad performance data, plumbers can identify underperforming ads, keywords, or targeting settings and make necessary adjustments to improve their conversion rates.
Improving your landing page for better conversion rate
A well-designed and optimized landing page can significantly impact the conversion rate of your Google Ads campaign. Plumbers should ensure that their landing pages are relevant to the ad copy and provide a seamless user experience. The landing page should have clear call-to-actions, contact information, and relevant information about the plumbing services offered.
Using negative keywords to refine your targeting
Negative keywords are an essential tool for refining targeting in Google Ads campaigns. By excluding certain keywords that are not relevant to their plumbing business, plumbers can ensure that their ads are only shown to users who are most likely to convert, reducing wasted ad spend and improving the overall campaign performance.
How much does it cost to use Google Ads for plumbers?
Understanding the cost per click model
Google Ads operates on a cost-per-click (CPC) model, where advertisers only pay when someone clicks on their ad. The cost per click can vary depending on various factors such as keyword competitiveness and targeting settings. Plumbers should consider their budget and goals when setting their CPC bids.
Setting a budget for your Google Ads account
It is important for plumbers to set a budget for their Google Ads account to ensure they don't overspend. By carefully considering their advertising goals and budget, plumbers can allocate their ad spend effectively and maximize their return on investment (ROI).
Maximizing ROI with an effective ad spend strategy
To maximize their ROI, plumbers should develop an effective ad spend strategy. This involves continuously monitoring the performance of their campaigns, optimizing for better results, and allocating their budget towards the most successful ads and keywords.