10 Best Link Building Strategies For SEO (2023)
Link building is one of the biggest SEO challenges that we face. Personally, I would prefer to avoid spending any time building backlinks manually. However, link building remains one of the most effective ways to improve your website's visibility and performance in search engines. By securing authoritative backlinks from quality websites, you can improve your domain authority, increase referral traffic, and dominate search engine result pages.
After all, if a website is consistently growing its backlink profile with links from high-quality websites, it shows that the website is creating high-quality content. Google and other search engines have one focus and that's to deliver the best possible search results for every search query. Backlinks allow Google to understand how reputable a website is.
In this article, I put together 10 evergreen link building strategies for SEO in 2023 and beyond. First, we'll go over the basics of link building and why it is important.
What is Link Building and What are Backlinks?
Link building and backlinks are important concepts in SEO and refer to the practice of generating links from external websites that link back to your website.
---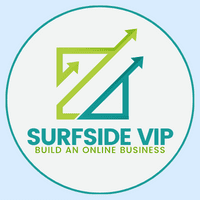 Join Surfside VIP today for only $2.99/month! Learn how to create a successful online business. Watch me build my websites and my YouTube channel to 500,000+ views per month and get all of my strategies.
---
Link Building
Link building is the process of building more external backlinks through various strategies such as content creation, outreach campaigns, and guest blogging. The goal is to earn links, also called backlinks, to your website from authoritative, relevant websites. For example, if I write a guest blog on a different SEO blog about generating backlinks and I link back to this page, that would be link building for SEO.
#1 Link Building Best Practice: If you create high-quality content consistently, you will generate more backlinks. Regardless of niche or industry, other websites are more likely to link to content that they cannot easily recreate themselves.
Backlinks
Backlinks are incoming links to a webpage from an external website. For example, if another website writes an article that links out to a page on your site, that link pointing to your page is considered a backlink.
#1 Backlinks Best Practice: You should focus on generating backlinks from relevant and authoritative websites. You should never buy hundreds or thousands of random backlinks for your website.
Why is Link Building Important for SEO?
Backlinks signal to search engines that other reputable sites find your content valuable and see you as an authority. More backlinks generally improve your domain authority.
Backlinks drive referral traffic to your site from readers following those links. This boosts visibility and expands reach.
High-quality backlinks from authoritative, topically relevant sites help boost your rankings in search engines like Google.
Backlinks pass "link equity", which aids search rankings and improves site metrics like domain authority and page authority.
Link building efforts will generate backlinks from external sites, which helps enhance a website's organic search performance and authority. It's considered one of the top SEO ranking factors.
10 Best Link Building Strategies for SEO
If you follow these strategies below, you won't have to worry about getting a Google penalty. I don't believe in trying to trick Google, I believe your backlink profile should consistently improve over time. And it will if you create shareable content.
1. Create Content Designed to Be Shared
One of the best ways to earn high-quality backlinks is to produce content so compelling, informative, or entertaining that readers are naturally inclined to share and reference it.
Some proven formats that encourage sharing include:
List posts and guides
Research studies with data
Informative and detailed infographics
Memes, quizzes, and interactive content
Curated lists of resources
Optimizing content for social sharing and promoting it across networks is a great way to gain referral traffic. Bonus points if influencers or industry authorities share your content.
Without even looking at the number of backlinks, I can tell you that this piece of content below has generated a lot of backlinks for Databox. Industry benchmarks and statistics can generate thousands of backlinks for a website.
2. Write and Distribute Guest Posts
One of the most direct ways to obtain a backlink is by contributing guest posts to industry blogs and publications that accept contributor submissions.
Many websites welcome high-quality guest content. Start by identifying reputable blogs that get good traffic and have a domain authority that can pass equity through links. Then, reach out to the editor or owner and pitch your article ideas tailored to their audience. Many websites will have dedicated pages for guest bloggers, such as the example below from MarketingProfs.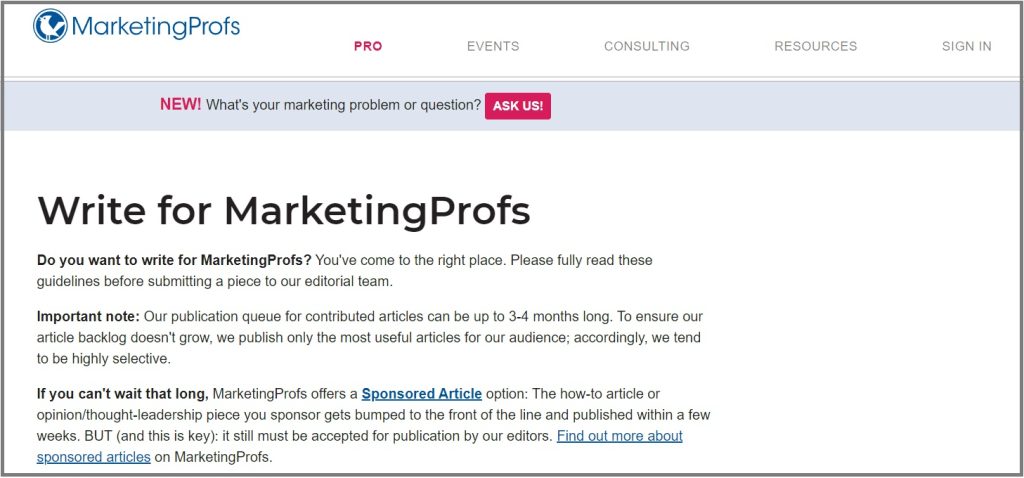 With guest blogging, just make sure to avoid low-quality blogs or spammy paid posts. Focus on building relationships with credible publishers.
Guest Blogging for Backlinks Tip – Do a quick Google search for "_____ blogs that accept guest posts" and simply fill in the blank with your niche. For example, I can search for "Marketing blogs that accept guest posts" and find a list of blogs to write for.
3. Create Resources and Tools
Creating link-worthy resources like online tools, calculators, quizzes, and even Chrome extensions are a unique way to form backlinks. Many websites will naturally link out when referencing or recommending useful tools you've created. For example, Neil Patel owns UberSuggest and it is available through his website. People often link to UberSuggest because it is such a useful tool, which helps Neil Patel generate a lot of natural backlinks to his website.
For example, Clickz has a CPM calculator on their website. It is a very simple calculation, but their CPM calculator page ranks at the top of search engines. Bloggers are likely to link to this page when they are describing CPM. Resources that solve real problems provide ongoing value.
4. Pursue Industry Link Roundups
Certain blogs will consistently highlight the top companies or influencers in an industry. When they write articles, they are likely to link to the websites they are talking about, generating a natural backlink from a relevant website.
Roundup posts that link out to the "best of" or "top 10" within your industry present ripe opportunities to secure backlinks. Find and connect with bloggers who produce these recurring roundup posts. Some bloggers will consistently write blog posts, social media posts, and email newsletters that link to high-quality blogs.
Submit your content for consideration, make sure it follows their process, and offer to reciprocate by mentioning their roundup in your next article. Roundups can generate ongoing exposure over time.
For example, WordStream has an article on its blog about the top PPC influencers.
For each influencer, WordStream is linking out to that person's website, their Twitter account, their LinkedIn account, and even some of their content.


5. Claim and Optimize Your Online Profiles
Populating and optimizing your online business listings and profiles can generate valuable backlinks, increase local visibility, and improve perception. You should make sure you set up social media profiles and link out to your website. Even if you only post It can be a great strategy for companies with a physical location or a retail store.
Where to Get Backlinks for Online Business Profiles:
Google My Business
Apple Maps
Bing Places
Yelp
Facebook
LinkedIn
Twitter
Pinterest
Foursquare
YellowPages
Keep your business name, address, phone, and website data consistent. Always make sure you link out to your website and encourage positive customer reviews.
6. Offer Your Expertise to Industry Influencers
Go on Podcasts
When you make an appearance on a podcast, the podcast will usually mention your name, your business, and your website in the podcast description. If they have a dedicated podcast website, they will link out to your website as well.
Collaborate with Video Creators
A simple interview with someone in your industry can generate a backlink. There are plenty of YouTube channels that create episodes focused on other people in their industry.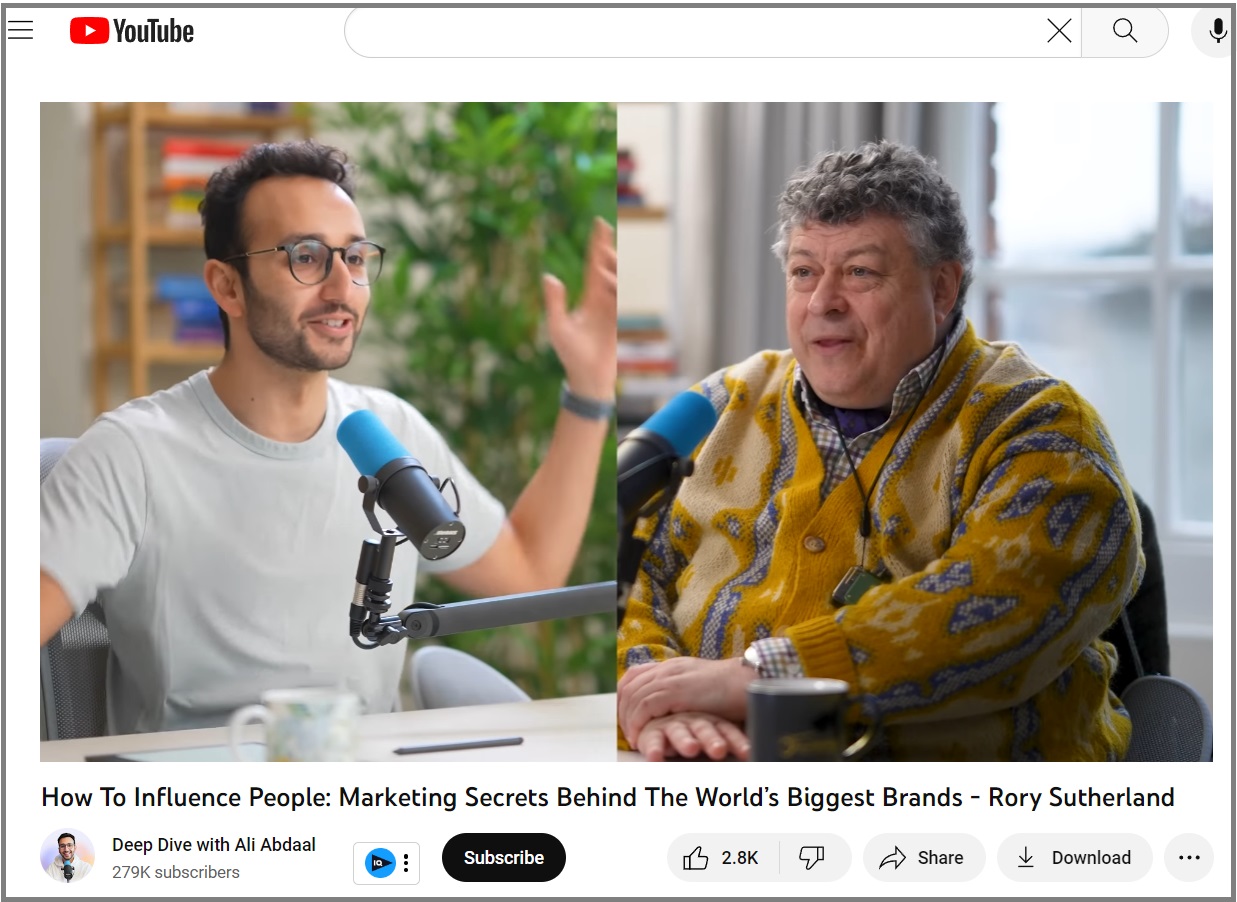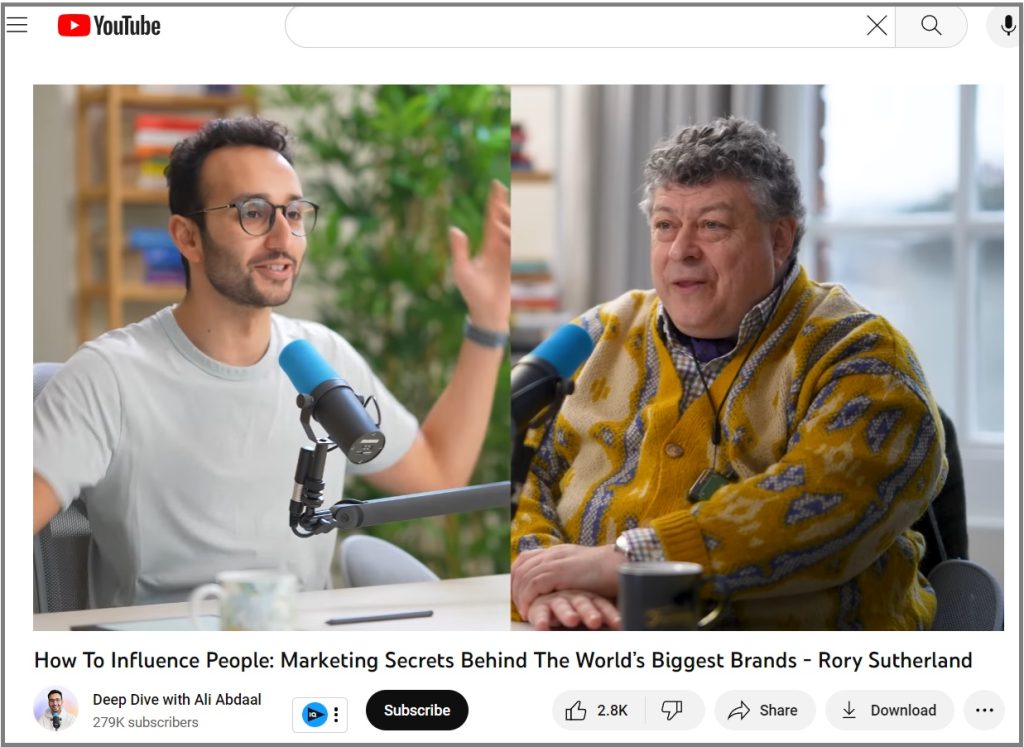 Offer Expertise to Blog Posts
One popular option is giving an expert tip to someone for their blog article. There are websites that will write content that features a roundup of expert tips. When you offer your tip, they are likely to link to your website from their blog post.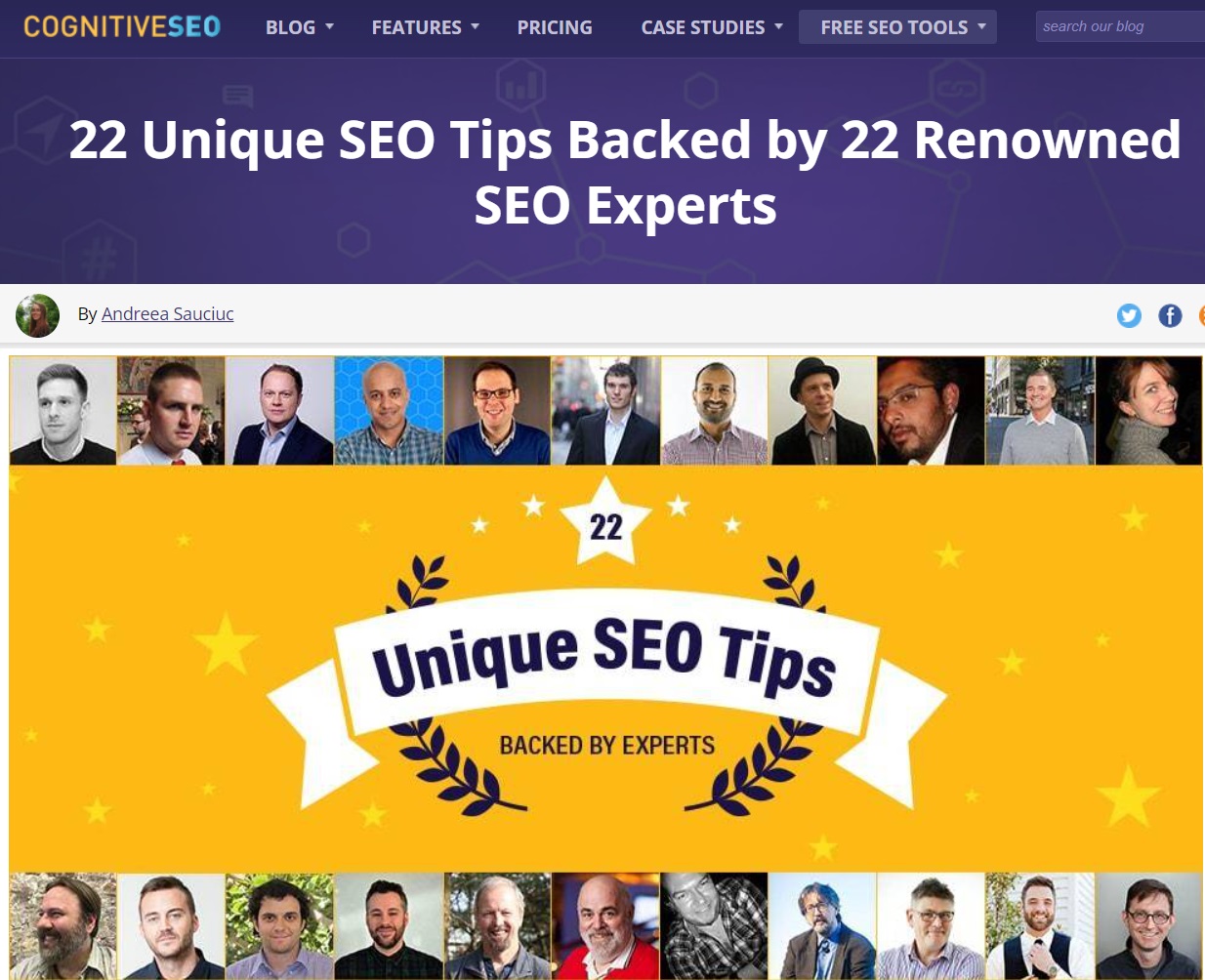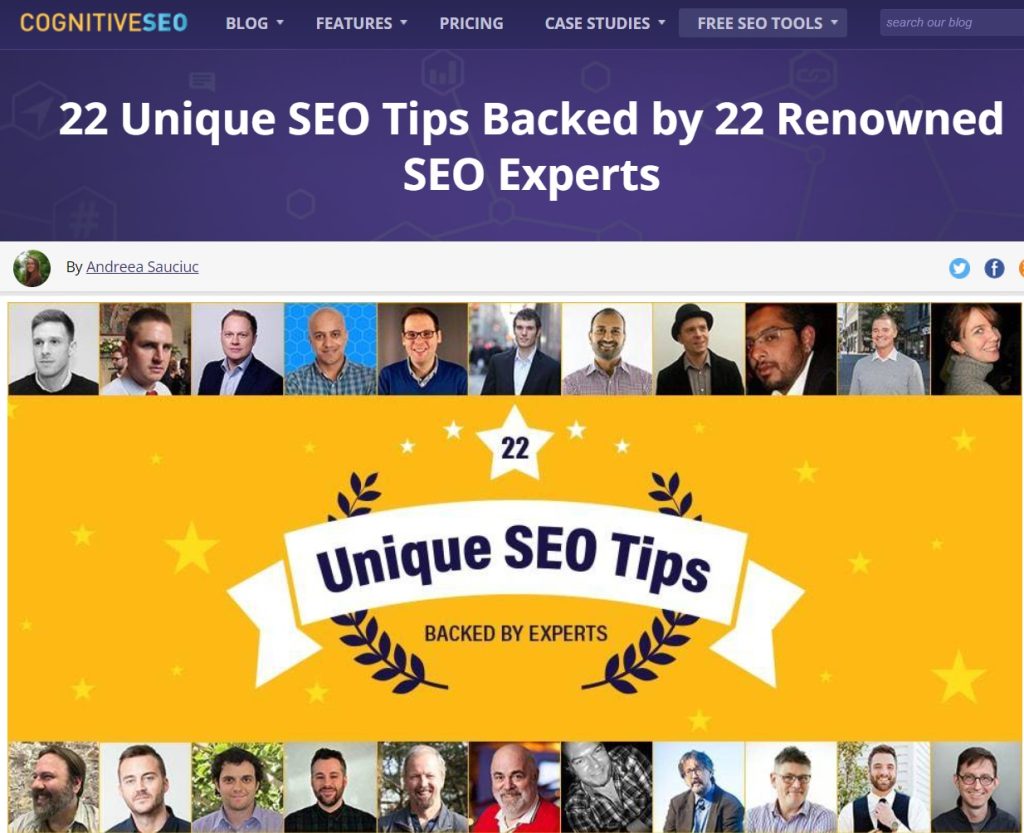 You can also turn industry influencers into powerful allies by networking strategically and providing mutual value. Follow them on social media, comment on their posts, share their content, and engage meaningfully over time.
Once you have rapport, they may voluntarily mention your site or feature your guest post. You could also ask them to review a new tool you've created. Finding mutually beneficial ways to collaborate expands your reach and link equity.
7. Secure .edu and .gov Links
Educational institutions and government websites confer more trust and authority than typical links due to their reputable domains. Getting .edu and .gov links should be a priority for businesses.
Search for relevant university research departments or groups and offer your data or expertise as a resource. For governments, provide useful localized tools and data or highlight their services. Their rigorous process means links must be earned through actual experience and expertise.
For example, I could offer to write a blog or teach a lesson for the college I graduated from, Coastal Carolina University. I could also try to get a profile written for my business as an alumnus, which helps me gain exposure in my local market along with a high-quality backlink.
8. Volunteer for Interviews
Interview opportunities are a potential SEO goldmine, as the piece will often be heavily promoted and translations may be syndicated by news agencies.
Watch for callouts from relevant media outlets looking for sources or story ideas. Build relationships with reporters who cover your industry and keep them apprised of newsworthy developments. Getting interviewed by a trusted news source can be link building paydirt.
9. Sponsor or Speak at Live Events
Prominent backlinks can come from being featured on event websites. Consider sponsoring events or conferences in your industry that attract important decision-makers and influencers.
You may also have the opportunity to speak or join a panel. The organizer will likely link to your website from the digital brochure and website. Use your visibility to increase awareness.
10. Create Partnerships with Other Brands
Forming win-win partnerships with complementary yet non-competing brands can multiply linking opportunities.
Collaborate on co-branded content, guest post on each other's blogs, conduct joint outreach campaigns, or build a tool together. There are many creative ways to pool audiences and resources while gaining new links.
Key Takeaways for Link Building in 2023:
Produce remarkable content designed for social sharing. Visual, interactive formats work well.
Guest post and participate in blogger outreach campaigns strategically. Avoid low-quality placements.
Build online assets and tools that websites will naturally recommend and reference.
Connect with industry influencers for collaborations that provide mutual benefits.
List your business and optimized profiles on high-authority local listing sites.
Focus on gaining trust-bolstering .edu and .gov backlinks.
Secure features, interviews, panels, and other high-visibility opportunities.
Choose partnerships that expand reach, boost authority, and generate referrals.
FAQs about Link Building For SEO
How important are backlinks for SEO?
Backlinks are vital for SEO as they serve as "votes of confidence" from other websites, indicating to search engines that your content is valuable and trustworthy, which can positively impact your search engine rankings.
What is link building in SEO?
Link building is the practice of acquiring high-quality and relevant backlinks from other websites to your own, with the aim of improving your website's authority, visibility, and search engine rankings.
What makes a backlink high-quality?
High-quality backlinks come from authoritative websites with relevant content and a strong online reputation. They are earned naturally and provide value to both users and search engines.
How can I build effective backlinks?
Effective link building involves creating high-quality content that naturally attracts backlinks, reaching out to relevant websites for guest posting or collaborations, and utilizing social media and online communities to share your content and gain exposure.
Are all backlinks beneficial?
Not all backlinks are beneficial. Low-quality or spammy backlinks from irrelevant or suspicious sources can actually harm your SEO efforts and lead to search engine penalties. However, you aren't likely to get a penalty for a spammy backlink profile, you just shouldn't focus on them.
What is anchor text in backlinks?
Anchor text is the visible, clickable text in a hyperlink. It plays a role in SEO as search engines use it to understand the context and relevance of the linked content.
Should I buy backlinks to improve my SEO?
Buying backlinks is not recommended, as search engines like Google consider it a violation of their guidelines. Focus on earning organic, high-quality backlinks through high-quality content.
How do I monitor my backlink performance?
You can use various tools like Google Search Console, Ahrefs, SEMRush, and Moz to monitor your backlink profile. With these paid tools, you can track new and lost backlinks as well as analyze the overall health of your link building efforts.
Conclusion
Focus on both the quantity and quality of your backlinks. While numbers matter, relevance and link equity from the site matters more. One link from an authoritative website can improve your rankings more than hundreds of low-quality links. Integrate these proven link building tactics into your 2023 SEO strategy to improve your search engine rankings.