How To Rank Higher On Google 2020
It's very difficult to rank high on Google in 2020. There is a lot of competition in the search results across every major industry, which makes ranking high very challenging. However, with a consistent SEO strategy and high-quality content, you can get to the top of the Google search results with your website.
You can start by watching our video below or watching it directly on YouTube. There is a corresponding article below as well that will give you some steps to improve your organic search traffic.
Rank Higher On Google Video
---
How to Rank Higher on Google
When you are trying to rank higher on Google, that means you want your website to rank as high as possible on the first page for your targeted keywords. It is imperative that you create comprehensive content around the topics and the subtopics that your website covers.
---
Join Surfside Niche today and learn how to create a successful niche website! Watch me build my websites and my YouTube channel to 1,000,000+ views per month. Join and build with me and hundreds of other creators.
---
Below, I go through a simple process for ranking higher and improving your website on the Search Engine Results Pages (SERPs).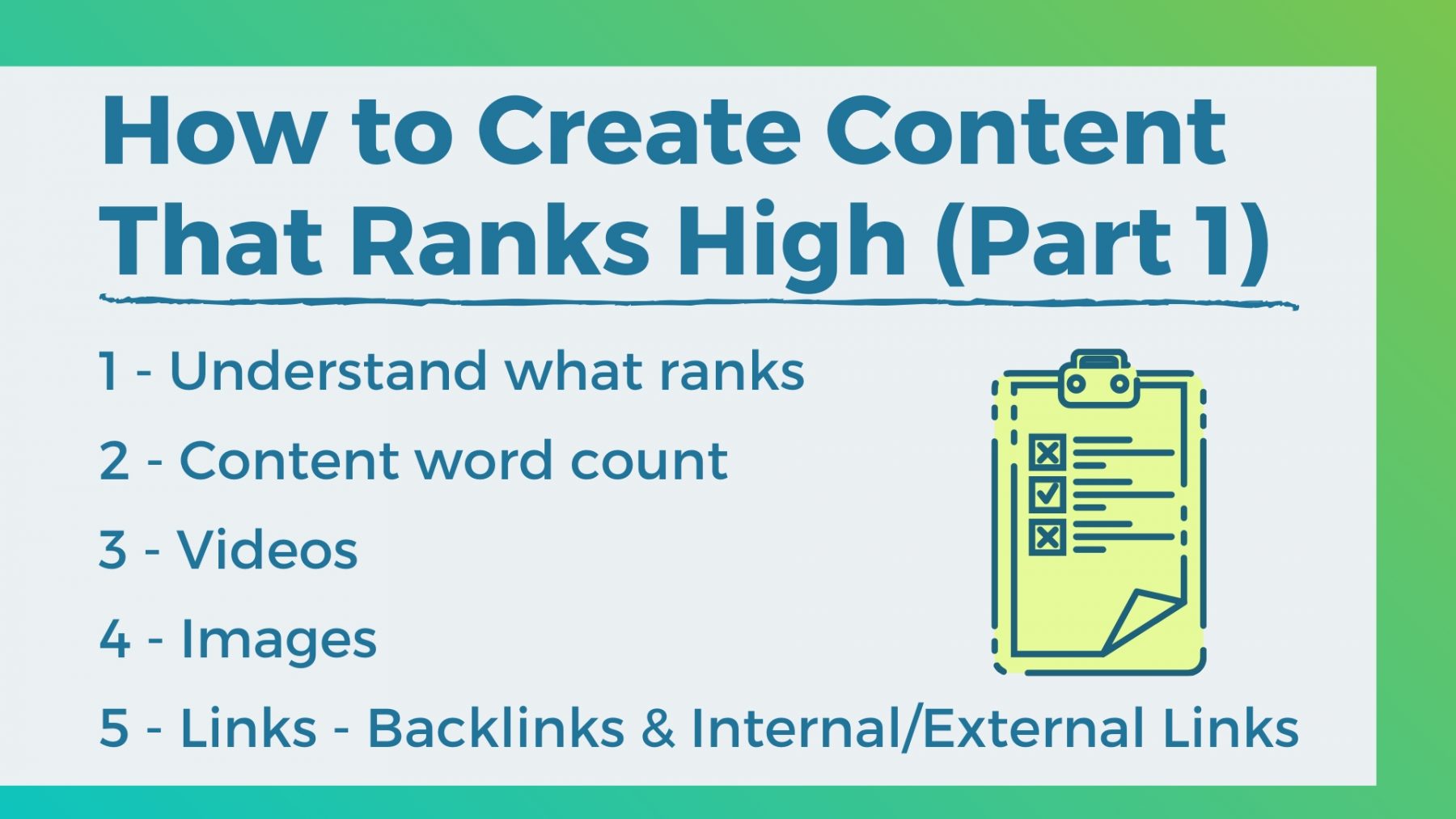 Understand What is Currently Ranking High for Keywords

One of my favorite things to do is search the keywords I am trying to rank for, read the existing content that ranks high, and try to improve on those resources. Search engines want to rank the best content for a given keyword, which is why you need to understand what is already ranking in the first 1-5 positions in the SERPs.

Below, I put an example of what currently ranks for 'YouTube Advertising Strategies' when you search that keyword into Google.

---

Example of What Ranks High in Google

---

Don't Fall Behind on Content Word Count

While word count isn't the #1 ranking factor in Google, it is very important when people are looking for resources and information. If I put together a list of 50 SEO tools and write 10,000 words describing how to use them, it's likely to rank higher than a guide with 7 SEO tools and 1,000 words.

You should still focus on using important and helpful words rather than simply writing, but search engines are looking to find who provides a solution for a given search query the best. Sometimes, that requires a lot of writing and a lot of words.

---

How to Check Word Count in Bulk

Personally, I like using the Bulk Web Page Word Count Checker Tool by SEO Review Tools. I put a screenshot below as well.

---

Utilize Supporting Videos

The main type of content I create for Surfside PPC is video content. Therefore, I embed videos from my YouTube channel on my blog posts. You can also embed videos from other creators on YouTube if it enhances your content.

Not only do videos rank high in Google to begin with, they can also be used to increase the rankings of your blog posts.

Incorporate Helpful Images

Images are perfect when you need to demonstrate how to perform certain tasks. In addition, they can be very useful to help explain your written content. Not only should you use videos, but you should use images and infographics as well.

---

Focus on Internal and External Linking as well as Backlinks

Internal linking allows you to link to the other supporting pages on your website. For example, if I am writing about keyword research tools, I can link to my guide about keyword research. People who visit my page about keyword research tools might find other relevant content helpful as well.

---

External linking can be useful as well. If you can link to another website to give the reader more information, it will only help your overall content.

List Your Supporting Keywords and Subtopics

Sometimes, we can all forget the value of long-tail keywords and supporting content. If you want to rank for a popular short-tail keyword, you will need content for subtopics as well.

What I would recommend doing is creating a list of a topic and all the relevant subtopics. For example, when it comes to YouTube Advertising, you can create a complete guide as well as articles about video formats, targeting, goals, campaign types, best practices, costs, and strategies.

---

Create Comprehensive Content for Supporting Keywords

Once you have your list of topics and subtopics, you want to create content for each list item. In the example above about YouTube Advertising, you should write a keyword-focused blog article for each topic you have listed.

The strategy I utilize is the creation of topic clusters, which were originally popularized by Hubspot. The video below will give you more information as well.

---

How to Create Topic Clusters




---

Answer The Questions that Readers Have

The "People Also Ask" section on Google is a great way to find questions that people have about topics. Do a quick Google search about almost any topic and you will find relevant questions that you can answer. Use your content to answer those questions and it will help with rankings.

There is a video below that will help you learn more about finding and answering questions related to your content.

---

Answer Questions to Rank Higher




---

Focus on Content That Keeps Website Visitors Engaged

One of the main factors that has an impact on your rankings is dwell time. Google wants visitors to find the content they engage with the most, which puts pressure on websites and content creators. Ultimately, you want low bounce rates and high average session durations across your entire website.

I would recommend using your Google Analytics account and specifically, the 'Behavior > Site Content > All Pages' report. You want to maximize average time on page and minimize bounce rate as well as exit rate.

---

E-A-T: Expertise, Authoritativeness, Trustworthiness

Three major factors that impact your rankings are expertise, authoritativeness, and trustworthiness, also known as E-A-T. Ultimately, it takes consistency and time in order to maximize your authority, build trust, and show expertise.
5 Reasons You Do Not Rank High
There are hundreds of reasons that your website may not rank high. The main 5 I would focus on first are listed below. Ultimately, you need to have a lot of high-quality, keyword-focused content, natural backlinks from other websites, no technical SEO issues, and consistency.
You do not have enough content on your website
The content you have created is not high quality or relevant
You have technical issues impacting your rankings
Your website is fairly new and you haven't built up expertise
Your website has no backlinks
7 SEO Focus Areas
I would recommend creating content hubs or topic clusters. You should create content for topics and sub-topics related to your niche. After you do keyword research, you want to find the most popular keywords related to your business. Then, you want to create and optimize content for your keywords. I listed 7 major SEO focus areas below.
Consistently create content
Consistently improve content
Improve user experience
Improve user engagement
Focus on user intent
Create content for topics and subtopics
Create the best resource to solve problems
Improving Rankings on Google
You may be wondering how to be on top of Google search, and it is incredibly difficult to rank on the first page for a keyword, let alone the very first spot.
Ultimately, you need to consistently create great content, focus on improving user experience, focus on improving user engagement, and focus on user intent when it comes to keywords and the content resources you create. Google wants to rank the highest quality websites that are relevant, comprehensive, and targeted towards their niche or industry.
In Summary
The higher you rank in the Google search engine the more traffic you will get from organic search. In addition, ranking high on other search engines like Bing and Yahoo will help you drive traffic as well. The goal of SEO is to rank high for as many keywords as possible, so I would recommend implementing the tips and strategies above.