How To Set Up Your First Bing Ads Campaign
In the video below, we go over how to set-up your first Bing Ads campaign. You can view the video here or click through to YouTube. After you create your account and set-up billing, we show you the step-by-step process of setting up your Bing Ads PPC Advertising.

Bing Ads Video Tutorial
Bing Ads Tutorial
Step 1 – Create Advertising Account
You will have to go to Bing Ads first and create your Microsoft Account if you don't have one already. That's the account you will use to sign-in and see your campaigns. You need to set-up Billing in order to have your campaigns running.
---
Join Surfside Niche today and learn how to create a successful niche website! Watch me build my websites and my YouTube channel to 1,000,000+ views per month. Join and build with me and hundreds of other creators.
---
Step 2 – Choose Campaign Goal
Are you trying to drive conversions? Do you want to drive website clicks? You are obviously trying to achieve some sort of goal with your advertising dollars so start there. Usually conversions is the most popular option, whether it be contacts or sales.
Step 3 – Name Campaign & Set Budgets
Your campaign name is just for you so you know what the overall theme and goal are. Your budgets are pretty self-explanatory, you want to set daily budgets that make sense for your own budget. You can always adjust them up or down based on the overall results.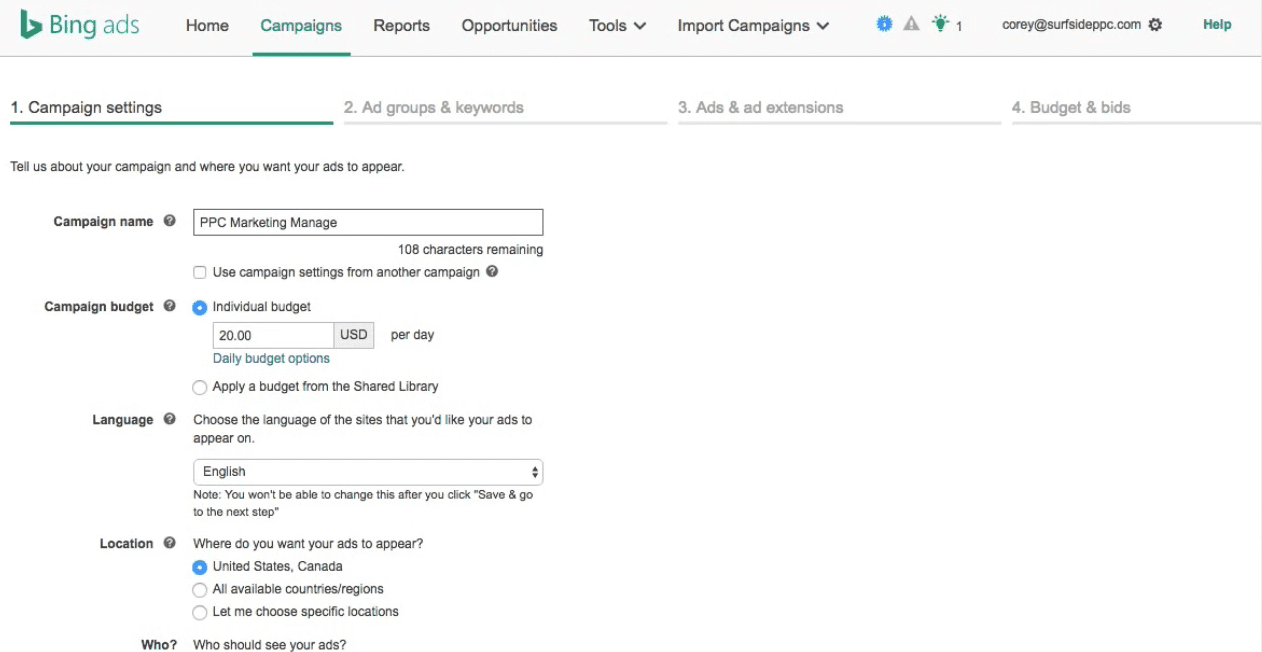 Step 4 – Set Location Targeting
What areas do you serve? Are you looking for new clients in Miami, Florida? Do you have a restaurant in Charlotte, North Carolina? Do you specialize in travel for the United States? Or do you sell physical products that can be shipped all over the world? Wherever a customer might be that can try your products or services, you should target.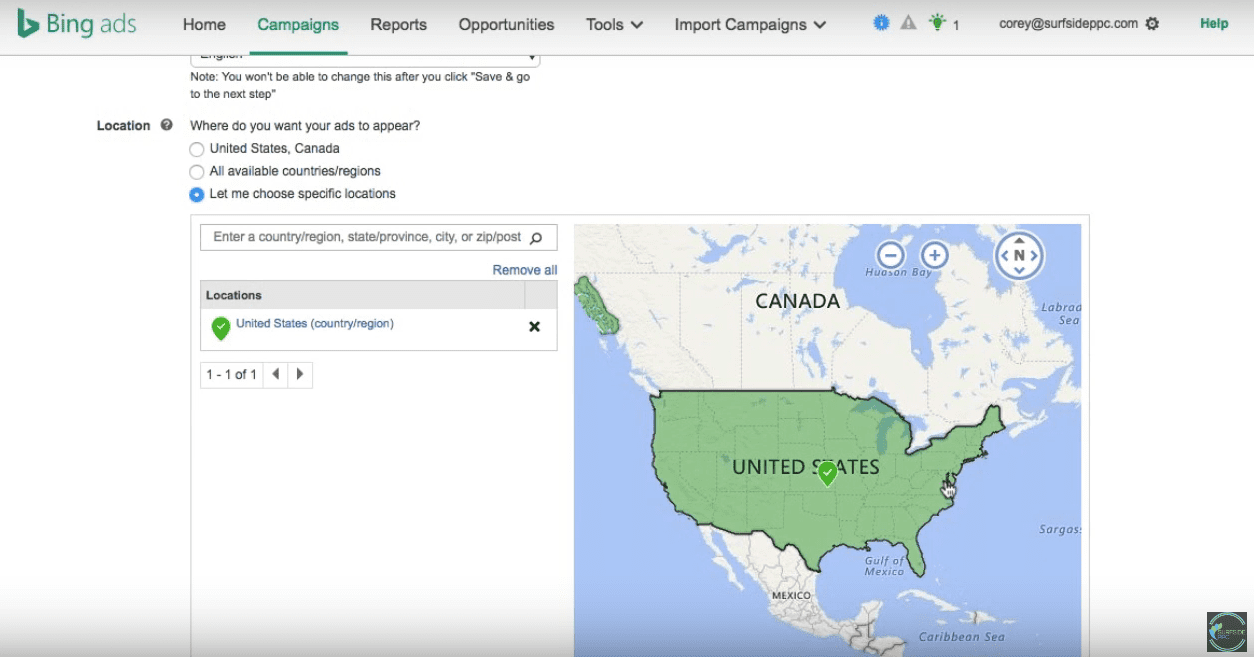 Step 5 – Create Ad Groups
You can create as many ad groups as you want within your campaign and the more organized you make them in the beginning, the better your campaign will run. As you start to get to 10 or more ad groups, you need to have a strong understanding on how the keywords you are targeting and the bids you are setting across ad groups can impact each other.
Start with an organized campaign and don't just add keywords that do not fit within the ad group. You can also use your website structure and the different pages on your website to guide the ad groups you create, keywords you target, and landing pages for your Bing Ads.
Step 6 – Add Keywords
You want to add 5-10 related keywords to your ad group using a mix of modified broad match and exact match keywords (At least that's what I recommend to begin with). Keywords and the way you target them will have a great impact on your campaign so if you understand how to do it properly then you can have achieve optimal performance.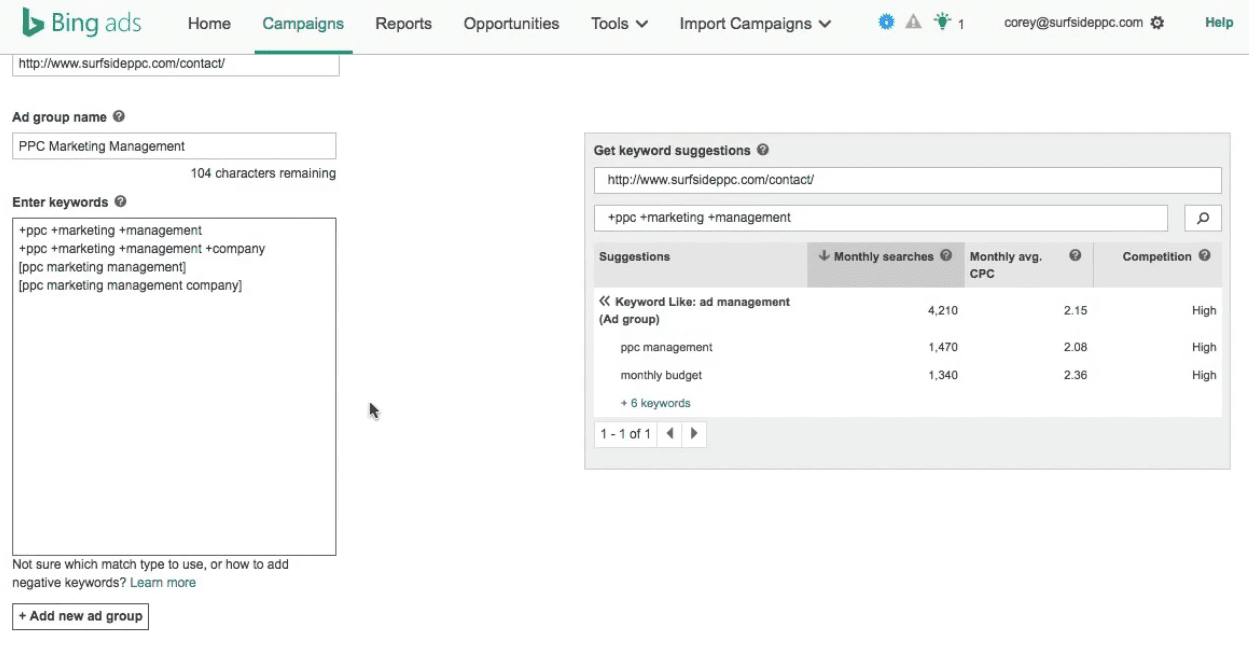 Step 7 – Create Expanded Text Ads
You want your text ads to include some of the keywords you are targeting and you also want to add your unique selling point. Do you offer a discount to new customers? Do you have a current promotion? Do you have better products or services than your competitors? Do you have great reviews? You need to stand out from the crowd and any competitive advantage you have over your consumers will help you drive clicks and conversions.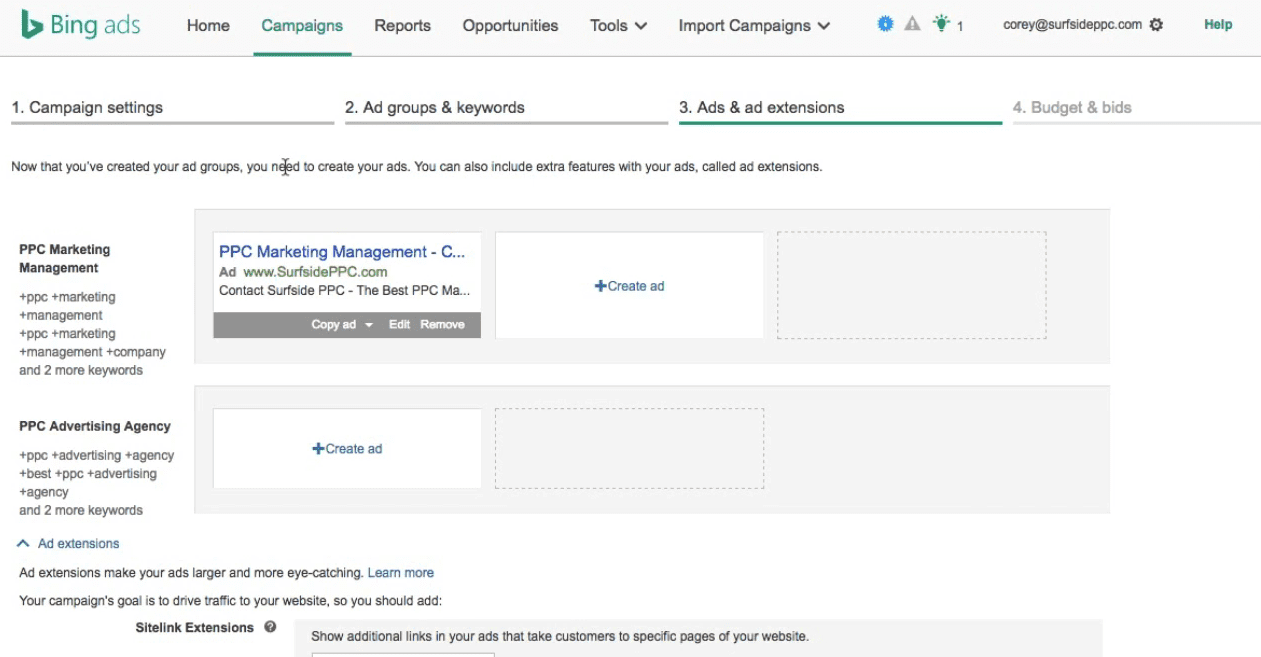 Step 8 – Set Bids and Submit Campaign
Once you have your ad groups created with keywords, you can set bids at the Ad Group level and they will apply to all of your keywords. What's awesome about Bing Ads is they will give you a rough estimate of what you can expect on a daily basis based on your bids and budgets even before you run your ad. I recommend starting your bids low and increasing them over time depending on the volume you see.
Once your bids are set, you can click 'Save' and you have just created a new Bing Ads search campaign. Your ads will run when people search your targeted keywords in the Bing search engine and you can drive new targeted traffic to your website.
In Conclusion
Hopefully you are able to get started with your first Bing Ads campaign. It's a great PPC Advertising channel and it mirrors what you can do with Google AdWords. You might not have the same search volume in the Bing search engine as you do for Google, but there is plenty to help you drive new customers or leads. Whether you need new B2B leads or you need to drive sales for your E-Commerce website, Bing Ads can help you.