LinkedIn Document Ads: How To Use Them Effectively
Creating helpful resources to drive prospects and turn them into customers is an effective Marketing strategy. By demonstrating your experience and your expertise, you are able to build more trust with customers. That's where LinkedIn Document Ads come in. LinkedIn Document Ads provide a powerful way for brands to share comprehensive content directly in the LinkedIn feed. With these ads, you can showcase whitepapers, ebooks, catalogs, presentations, and other files to your target audience. You can then use your document to drive more leads for your business, which we all need.
Document Ads add an interactive element that catches the eye compared to standard text and image ads. The document preview entices viewers to click and download or read the full file without leaving LinkedIn.
In this post, we'll explore what LinkedIn Document Ads are, who should use them, specs and best practices to maximize your Document Ads performance.
What Are LinkedIn Document Ads?
LinkedIn Document Ads enable you to promote PDFs, PowerPoints, Word documents and more through Sponsored Content ads. Rather than just displaying a static image and text, your ad unit previews the actual document.
---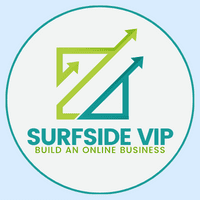 Join Surfside VIP today for only $2.99/month! Learn how to create a successful online business. Watch me build my websites and my YouTube channel to 500,000+ views per month and get all of my strategies.
---
Users can flip through pages, zoom in, and click to download or access the full file. This provides an engaging user experience.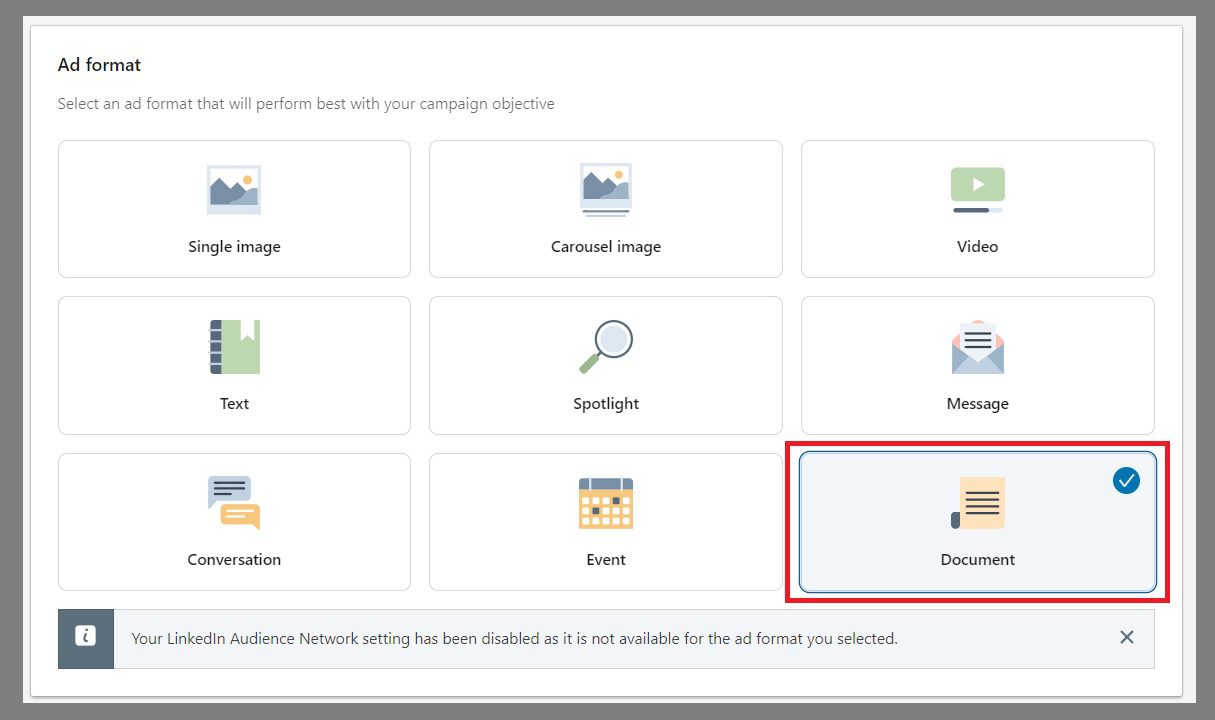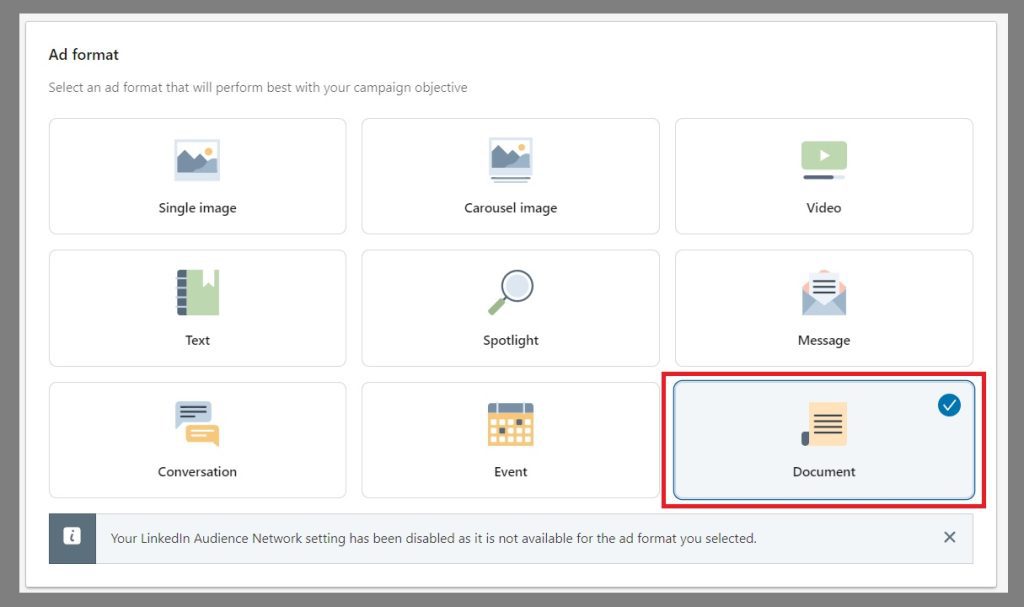 Potential documents you can promote with LinkedIn Document Ads include:
Whitepapers
eBooks
Research reports
Presentations
Catalogs
Magazines
Brochures
With the interactive document preview, you can share much more in-depth content compared to standard image-based ads.
LinkedIn Document Ads Video Tutorial
How to Create a LinkedIn Document Ads Campaign
Ideally, keep your headline under 70 characters and ad text under 150 characters so they don't get cut off on LinkedIn. For the document itself, aim for an informative but catchy title and visually engaging cover page to capture attention.
Here is an overview of how to set up a Document Ad campaign on LinkedIn in 10 steps:
Access the LinkedIn Campaign Manager and click "Create campaign."
Choose your LinkedIn Ads Campaign Group for your Document Ads campaign.
Select your objective for the Document Ad – I recommend using Lead Generation. You can also choose brand awareness, website visits, engagement, and website conversions to go along with the lead generation objective.
Define your target audience and geographic locations.
Choose "Document" as the ad format.
Set your budget, bidding strategy, campaign schedule, and conversion tracking.
Create a new ad and upload your document file when prompted.
Craft a compelling ad headline and introductory text.
Set your destination URL and your call to action for your ad.
Review your campaign and launch your LinkedIn Document Ads.
Why Advertisers Should Test LinkedIn Document Ads
Document Ads enable more multimedia, and interactive marketing to grab attention on LinkedIn.
Here are some of the key reasons that advertisers should utilize LinkedIn Document Ads:
Higher engagement – Document previews entice viewers to interact with the full content. Studies show 2x higher CTRs than regular Sponsored Content ads.
Increased brand visibility – More ad real estate allows you to showcase your content and thought leadership.
Flexibility – CTAs within the document drive traffic and conversions.
Detailed analytics – Track impressions, clicks, CTRs and more to optimize campaigns.
Visual differentiation – Document Ads stand out in the feed compared to text-heavy ads.
6 Benefits of LinkedIn Document Ads
Here are some of the key benefits Document Ads provide compared to regular static LinkedIn ads:
1. Share More In-Depth Content
Rather than being restricted to an image and short text, Document Ads allow you to share full presentations, catalogs, research reports, and more extensive material. By demonstrating your knowledge, you can earn prospects' trust to drive more customers.
2. Boost Engagement
The document preview intrigues users and encourages them to click through and actively engage with content. Studies show Document Ads have clickthrough rates over 2X higher than regular static Sponsored Content.
3. Expanded Brand Exposure
Document Ads give your brand more real estate on LinkedIn to showcase your content and expertise. You can also use your document ad to show your brand and some of your offerings, even for people who are scrolling. This increased visibility leads to greater brand awareness.
4. Visually Stand Out In The LinkedIn Feed
In a feed crowded with text-heavy ads, Document Ads' interactive previews catch the viewer's eye with visual interest. This differentiation makes your message more likely to be noticed.
5. Calls-to-Action Throughout Your Document
CTAs within your document can drive traffic to specific pages on your website or prompt contacts, downloads, purchases, and other conversions.
6. Detailed Analytics
LinkedIn provides metrics on Document Ad performance like clicks, CTR, impressions, etc. so you can optimize your strategy.
Who Should Use LinkedIn Document Ads
Any company or brand with in-depth content can use Document Ads to captivate professional audiences on LinkedIn. LinkedIn Document Ads are a great option for:
B2B companies – Share guides, reports and presentations relevant to your target industries.
Agencies – Promote ebooks and portfolios to attract new clients. Agencies can also share a case study to show the success they have had with other businesses.
Publishers – Promote new issues, magazines and publications to LinkedIn's professional audience.
Event marketers – Share conference agendas, programs and presentations to drive registration.
Educators – Distribute course catalogs, class schedules and program information.
Non-profits – Promote annual reports, impact studies and other material to support your cause.
LinkedIn Document Ad Specifications
Make sure you keep your document within these specs when setting up your Document Ad. You want your ad to be approved first of all, and second of all you want your ad to be engaging when it shows up in the LinkedIn feed.
To design visually appealing, optimized Document Ads, here are the key recommended specifications to follow:
Accepted File Types
PDF
PowerPoint (PPT/PPTX)
Word (DOC/DOCX)
File Size
100 MB maximum
Under 10 pages ideally
300 pages/1 million words limit
Dimensions
Vertical, horizontal, & square orientations
Standard paper sizes like letter, legal, A4 etc.
Page Design
Professionally designed and branded
Simple, easy-to-read layout
Relevant images and graphs
Hyperlinks
Include clickable links to your site pages
Flattened Layers
Any layered PDFs must be flattened first
Best Practices for LinkedIn Document Ads
Follow these tips to boost your Document Ad performance:
Choose relevant documents that provide value to your audience based on their interests and pain points.
Create an eye-catching cover with your brand logo, imagery and minimal text.
Include a strong CTA like "Download Now" to drive action.
Check page flow and branding for a consistent, professional look.
Add interactive elements like clickable menus and hyperlinks.
Use concise text with bullet points and whitespace for easy skimming.
Continuously optimize based on metrics like open rates, CTRs and conversions.
Potential Cons of LinkedIn Document Ads
While Document Ads have many advantages, also consider:
Production effort – Creating a polished document does require more upfront work than creating multiple advertisements. If you don't have a document ready, it will take more resources to create a new one than it would to use image or video ads.
Size limits – The 100 MB cap may preclude very large files. However, it's not likely to be an issue for most documents.
Design skills needed – Professionally formatting documents for aesthetics and flow requires expertise. You need great information first and foremost, but it also needs to be designed well so it's easy to read.
Longer time investment – Reading a full document takes more time than quickly clicking an ad.
Conclusion
LinkedIn Document Ads enable marketers to share in-depth content in an engaging, interactive format to capture attention.
To maximize results, follow LinkedIn's specs when creating documents and focus on producing quality content tailored to your audience's interests.
With the right strategy, Document Ads provide an innovative way to increase engagement and conversions on LinkedIn.