The Complete Guide to Google Ads Campaign Types
When you get started with Google Ads, it's important that you understand all of the different types of campaigns and ads. You may already be familiar with search ads since we all see them every time we search Google. But do you know what Performance Max campaigns are? Do you know what Local Services Ads are? My goal is to teach you all the different campaign types with this blog post.
Google Ads offers a variety of campaign types to help businesses achieve their advertising goals. Choosing the right campaign type is important for driving results and increasing your return on ad spend. This comprehensive guide will walk through each campaign type available and explain the best use cases.
Search Campaigns
Search campaigns show text ads on Google Search results pages when people search for your keywords and phrases.
These text-based campaigns are easy to set up. You just need to create your responsive search ads, choose the right keyword match types, use a smart Google Ads bidding strategy, and send traffic to optimized landing pages. Your responsive search ads will appear on Google and through Google Search Partners when someone searches for your targeted keywords.
---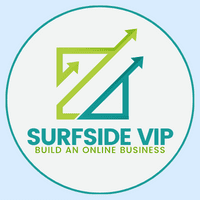 Join Surfside VIP today for only $2.99/month! Learn how to create a successful online business. Watch me build my websites and my YouTube channel to 500,000+ views per month and get all of my strategies.
---
Why Use Search Campaigns?
Search campaigns should be used to generate sales and leads by reaching audiences actively searching for your products or services.
Google Ads Search Campaign Tutorial
Performance Max Campaigns
Performance Max campaigns optimize for conversions across channels using machine learning.
Hitting sales, leads, and other conversion goals by leveraging Google's AI to optimize campaigns in real-time.
Performance Max looks at historical conversions and interactively shifts budget across Search, Display, YouTube, Gmail, Discovery to drive the most conversions based on your targe
Display Campaigns
Display campaigns show image, video, and text ads across websites, YouTube, mobile apps, and over 2 million sites in the Google Display Network. You have likely seen display banner ads and responsive display ads when you browse websites.
You have advanced targeting options with Display campaigns. You can target specific demographics, interests, remarketing lists, placements, topics, and more. Responsive display ads help you engage potential customers as they browse sites relevant to your business.
Why Create Google Display Campaigns?
Display campaigns should be used to increase brand awareness and visibility to audiences beyond just search results. They can also be used to create Google Ads Remarketing campaigns.
Video Campaigns
Video campaigns showcase video ads on YouTube, websites, and mobile apps. There are a variety of video ad formats, but the most popular video ad format is the skippable in-stream ad. You see these ads on YouTube when you watch videos.
Video ads also expand your reach beyond Google Search. YouTube alone offers over 2 billion monthly logged-in users. Video campaigns come in several sub-types depending on your goals.
Why Create Google Video ads and YouTube Advertising Campaigns?
Video campaigns can be used to drive conversions such as sales and leads for your business. They can also be used to raise brand awareness and consideration for your brand, products, and/or services.
Shopping Campaigns
Shopping campaigns feature visually appealing product images and details directly on Google Search and Shopping results.
To use Shopping ads, you need to create a Merchant Center account and upload your product catalogs. Then shoppers can discover and purchase your products through personalized ads.
Why Create Google Shopping Campaigns?
Shopping campaigns are best for driving online sales of physical products and moving retail inventory.
Local Campaigns
Local campaigns promote brick-and-mortar businesses to nearby customers searching for products and services.
Your ads target by proximity using location extensions. As people search for businesses near them, your ad can provide your address, phone number, store hours, and directions.
Why Create Local Campaigns?
Local campaigns are meant for businesses with a physical location. They can help businesses increase foot traffic, phone calls, direction requests, store visits, and sales at physical locations.
App Campaigns
App campaigns drive installs and engagement for mobile apps. They allow:
Getting more users for your Android or iOS apps by advertising across Google's properties.
These campaigns automatically optimize targeting and bidding to get your app in front of interested audiences across Search, Display, YouTube, Google Play, and over 3 million apps and sites in the Google Network.
Smart Campaigns
Smart campaigns use Google's artificial intelligence to automatically manage targeting and optimization. They are ideal for:
Beginners wanting simplified setup and hands-off ad management powered by Google's algorithms.
Just provide your business information and creative assets, and Google's AI will take care of the rest. Smart campaigns can be a great way to start advertising on Google without needing advanced skills.
Demand Gen Campaigns
Demand Gen campaigns, formerly known as Discovery campaigns, advertise across Display, YouTube, Gmail and more. They are excellent for:
Generating awareness, consideration, and website traffic using compelling image and video ads.
Demand Gen combines the scale of Google's network with engaging ad formats like carousels and cinemagraphs tailored to each user. Advanced analytics provide optimization insights.
Discovery Campaigns
Discovery campaigns are now known as Demand Gen campaigns.
Choosing the Right Campaign Type
First off, most advertisers should be running search campaigns. Search campaigns allow advertisers to reach customers as they actively search. Performance Max campaigns are great for Ecommerce websites and they can be used for lead generation as well. Display campaigns and video campaigns can be used to drive conversions and for brand awareness. Local campaigns are meant for businesses with a physical location. App campaigns are meant for businesses that want to increase downloads and engagement on their mobile app.
Tips for Choosing Your Google Ads Campaign Types:
Identify your goals – Are you focused on sales, leads, brand awareness, traffic, or something else? Align campaign types to your KPIs and your objectives.
Consider your assets – Do you have videos, images, product catalogs, or primarily text? Choose campaign types that make the most of your creative assets.
Evaluate targeting options – Do you want contextual, demographic, geographic, interest, remarketing or other targeting? Pick campaign types with needed options.
Assess complexity – Are you a beginner or expert? Simpler campaign types require less knowledge but offer less control.
Analyze performance – Look at the results and optimize accordingly. Switch or refine campaign types as needed.
Diversify – Using multiple campaign types can help you achieve both brand awareness and direct-response goals.
The Benefits of Using Multiple Campaign Types
While focusing on one campaign type aligned with your goals is a good start, leveraging multiple campaign types has advantages:
Reach More People
Utilizing a mix of Search, Display, Video, Shopping, and other campaigns expands your reach to different audiences across Google's ecosystem.
Achieve Multiple Objectives
Different campaign types can help you drive brand lift and awareness in addition to lower-funnel sales and conversions.
Gain More Data
Testing different campaign types provides more performance data and learnings to refine your strategy.
Optimize Budget Allocation
Bidding and budget can be allocated optimally across different campaign types to drive the most results.
The best advertisers take a portfolio approach using various campaign types in order to achieve their business goals. Focus on your objectives and leverage Google's array of campaign options to connect with audiences across the consumer journey.