What is an Impression in Digital Marketing?
Impressions are an important metric in digital marketing that every marketer should understand. But what exactly is an impression, and why does it matter for your online marketing efforts? Impressions are important when it comes to Content Marketing, Paid Advertising, Social Media Marketing, and SEO campaigns. This in-depth guide covers everything you need to know.
What is an Impression?
In digital marketing, an impression counts each time an ad, social media post, web page, or other content appears on a person's screen. The amount of impressions refers to the number of times a piece of content is seen by any user.
For example, if a LinkedIn ad is displayed 3 separate times on 20 users' feeds, that counts as 60 impressions for that LinkedIn ad. The key is that an impression simply tracks potential views, not actual views or engagement.
Impression Example #1
If I scroll by this advertisement below and see it 1 time, then it would count as 1 impression. Since it's the first time I've seen the advertisement, the reach would be 1. If I saw the ad a 2nd time, then it would be 2 impressions, 1 reach, and a 2 frequency because I saw the ad twice.
---
Join Surfside Niche today and learn how to create a successful niche website! Watch me build my websites and my YouTube channel to 1,000,000+ views per month. Join and build with me and hundreds of other creators.
---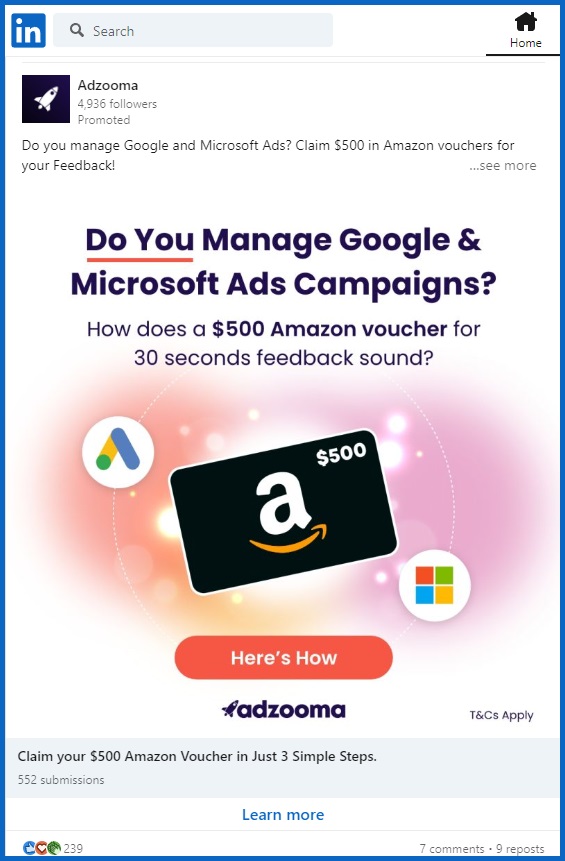 Impression Example #2
In the next example, you can see that there are search ads and shopping ads when I made the search. Each of these ads got 1 more impression when my search query triggered these advertisements.
Impressions vs. Reach vs. Engagement
Impressions are different than reach and engagement when it comes to Marketing and Advertising.
Reach refers to the number of unique users who see the content. If 100 people see your ad, the reach is 100. If 100 people see your ad twice, the reach is still 100.
Engagement means a user interacts with content or an advertisement by clicking, liking, commenting, or sharing it. Engagement builds deeper connections and it shows that someone actually interacted with an ad beyond viewing it.
Impressions are potential views only and the amount of time something is displayed on a web page. One user seeing an ad 5 times counts as 5 impressions. Two users seeing an ad 5 times each counts as 10 impressions.
So impressions measure possibilities, while engagement reflects actual interactions. Reach refers to the number of unique people who have seen an impression.
Why Track Impressions in Digital Marketing?
Impressions are not quite as important compared to concrete metrics like clicks and conversions. In the past, impressions were one of the main ways that advertisers measured success. A display advertising campaign with 10,000,000 impressions to a relevant audience on high-quality websites could be considered a success by some businesses that want to drive awareness. However, another business may consider it a failure if it doesn't drive conversions and a positive Return on Ad Spend (ROAS). Whether or not impressions are important to a company depends on a business's goals when they are creating Marketing and Advertising campaigns.
Regardless, impressions still provide valuable insights such as:
Brand awareness – High impressions help expose your brand to more potential customers. Brand familiarity is key and people may see an advertisement 2-3 times before they interact with it.
Campaign scope – Impression volume shows the overall campaign scale and reach potential before optimizing based on engagement. A low-budget campaign with a narrow audience will likely have a smaller reach and fewer impressions than other campaigns.
Ad visibility – More impressions mean your ads are being shown to more searchers or social media users. If more people see your commercial then it increases the chance of driving new customers.
Engagement context – When combined with engagement data, impressions indicate how well your content resonates. If nobody is engaging with your ads, then people may not be seeing your ads, even if they are registering impressions.
How Impressions Are Tracked and Counted
For digital ads, an impression is counted when the ad's tracking pixel loads on a page, indicating it could be seen. The same method applies to tracking impressions of social media posts and other digital content. Therefore, you will have 1 more impression every time your ad or your content is loaded.
However, ad blockers, poor Internet connections, and other factors can prevent assets from loading fully. Viewable impressions aim to improve accuracy by only counting content that loads visibly on a user's screen.
What are Viewable Impressions?
Viewable impressions aim to provide a more accurate measure of how many times ads or content are actually seen by users. The viewable impression standard requires that a minimum of 50% of an ad's pixels are visible on an active browser tab for at least one continuous second. Some use stricter definitions of 100% of pixels for one or two seconds. Viewable impressions provide a stricter, more accurate measurement of ad and content visibility and exposure to users.
Common Impression Metrics
These are some key metrics that utilize impressions:
Reach – Impressions divided by unique users. Reach shows how many unique people have seen your advertisements or your content.
Frequency – Impressions divided by reach. Frequency shows how often people saw your advertisements or content on average based on your impressions and your unique reach.
CPM – Cost-per-thousand impressions. Ad payment model based on impressions where advertisers are charged a certain amount for every 1,000 impressions their ad receives.
CTR – Click-through rate. Clicks divided by impressions will show your engagement rate.
Maximizing the Value of Impressions
To capitalize on impressions, remember these best practices:
Compare impressions to engagement rates to gauge content effectiveness.
Set impression goals based on campaign objectives and inventory.
Analyze impression trends over time and optimize underperforming campaigns.
Use viewable impressions for greater accuracy when possible.
Combine impressions with other metrics like clicks and conversions to inform strategy.
The Takeaway
While impressions have limitations, they remain one of the most prominent metrics in digital marketing. When used properly, impressions can help guide budgeting, measure brand exposure, and evaluate campaign performance. Track them alongside other metrics to maximize their strategic value.