Browse This Article:
Welcome to the 100 Day Website Traffic Challenge. If you are interested in growing your website traffic and/or YouTube video views, this is the perfect challenge for you. My main focus will be on growing free website traffic from every source.
---
---
Create a goal, do keyword research to find content ideas, create a content plan, create an off-site strategy, improve user-experience, and execute your strategy.
Website Traffic Challenge Video
---
My Website Traffic Goals and Strategy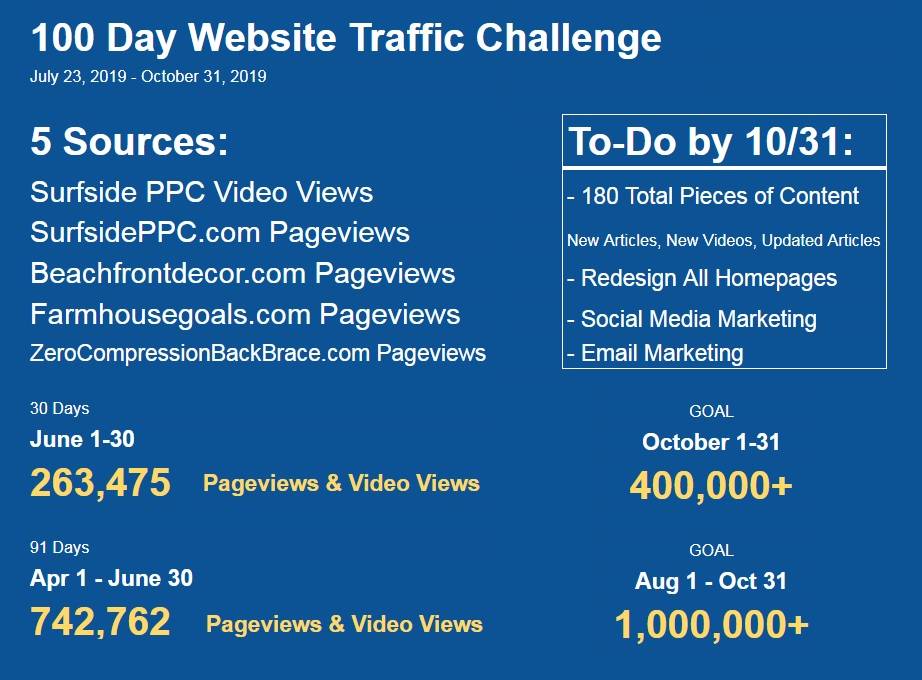 ---
My goal is to increase my page views and video views for the 5 sources below. It takes time to grow traffic, so I will be focusing on driving long-term traffic from organic search, email marketing, social media, and referral traffic.
5 Sources of Traffic and Video Views
Surfside PPC Video Views
SurfsidePPC.com Pageviews
Beachfrontdecor.com Pageviews
Farmhousegoals.com Pageviews
ZeroCompressionBackBrace.com Pageviews
Website Traffic Goals:
Current Page Views and Video Views for June, 2019: 263,475
Goal Page Views and Video Views for October, 2019: 400,000 or more
GOAL GROWTH: 52%
Current Page Views and Video Views for April-June, 2019: 742,762
Goal Page Views and Video Views for May-July, 2019: 1,000,000 or more
GOAL GROWTH: 35%
Dates:
July 23, 2019 – October 31, 2019
---
There are 2 tools I mainly use to find keywords for my business: The Google Keyword Planner and Ubersuggest. Below, I go over how to use the Google Keyword Planner and Google Sheets to find some of the top keywords for your business.

Keyword Research For SEO:
---
There are other ways to find content ideas for your business. Not only can you research your competitors top keywords and content, you can use Grouped Ideas in the Keyword Planner to find additional content ideas.
50 Content Ideas in 5 Minutes:
---
When it comes to driving more website traffic, it ultimately comes down to content. My goal is to create and update almost 2 pieces of content per day so I can continue to grow my audience.
Create and/or Update 180 Pieces of Content. That includes articles on the websites and videos on the Surfside PPC YouTube Channel.
Create content based on my keyword research.
Sharing Content Consistently on Social Media.
Sharing Content Consistenly to my Email List.
Simple Content Creation Plan:
You will need to watch our Keyword Research for SEO video first, but then you will be able to create content with ease. You can put together a calender to schedule each piece of content, or focus on a list of keywords and a time period.


---
Your content will guide your off-site strategy. My goal is to improve my social media following and grow my email list to keep driving traffic from those sources. I put my off-site strategy below to improve traffic from external sources.
My Off-Site Strategy:
Share new content immediately to Social Media Channels.
Grow email list and send 1-2 emails per week for Surfside PPC.
Grow email list for Beachfront Decor and Farmhouse Goals with a Giveaway.
Keep Pinterest scheduled with Tailwind.
Stay consistent with Instagram Marketing.
Grow Social Media following on Facebook, Twitter, Instagram, Pinterest, and YouTube.
Utilize Paid Advertising to Grow Email List and Promote Content.
---
Since I am optimizing for Page Views from each source, improving the user experience on each website is important. I put some of my main goals below for improving on-page optimization and user experience for each website.
Improve each homepage so people can easily browse the website and find what they are looking for.
Improve website speed with better hosting plans, optimized databases, and compressing images.
Improve the menu for each website to make it easier to find every page.
Add internal links to every page to keep people engaged.
Improve headlines to increase Google Search Results Click-Through Rate.
Find top Exit Pages to keep people engaged on each website.
For the first update, I compared the July numbers to the June numbers and compared the April-June numbers to the May-July numbers. So far, I have seen an increase of 20.4% from June to July and I am pacing well to reach my 400,000+ goal for October.
June, 2019 Page Views and Video Views: 263,475
July, 2019 Page Views and Video Views: 317,403
GROWTH: 20.4%
April-June, 2019 Page Views and Video Views: 742,762
May-July, 2019 Page Views and Video Views: 825,746
GROWTH: 11.2%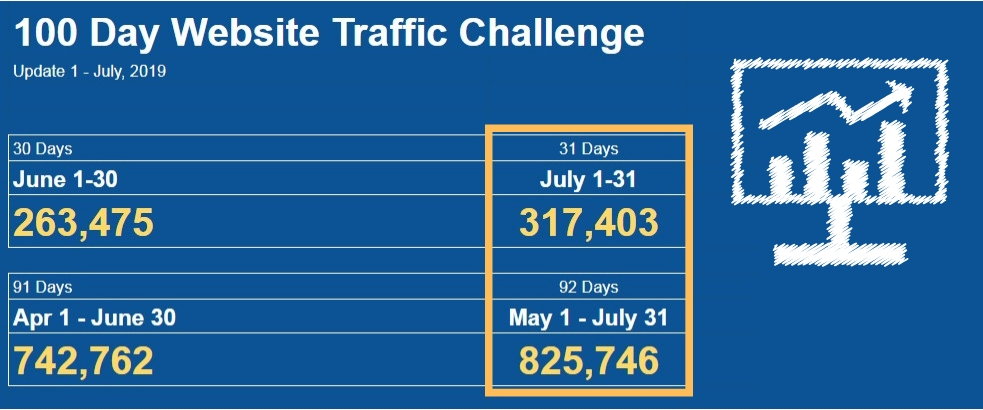 ---