When you start with SEO Keyword Research, there are plenty of tools, strategies, and tips you will come by. We have a simple search engine optimization keyword research strategy. You can get started with a simple keyword list for your business. We will not only help you find your top keywords, but we will give you tips to find your competitor's keywords as well.
You can watch our Keyword Research for SEO video below or directly on YouTube. It will help you get started with an SEO strategy that will get your business ranking high in Google and driving profitable search engine traffic.
SEO Keyword Research
The video tutorial below is a simple method to find the most popular keywords for your business. While researching keywords is important, you need to implement a content strategy as well in order to rank for your most popular keywords.


---
Keyword Research Strategy for SEO in 2020
Next, you can watch our updated keyword research tutorial for more information. Our complete guide to keyword research is located here.


---
How To Do Keyword Research For SEO
One of the main keys to a successful search engine optimization strategy is keyword research. You need to come up with content ideas for your business, and by finding keywords you can create content around the keywords that people search the most often. My process is to find a huge list of keywords, put them all into Google Sheets, and then use the Unique function to find my top keywords and rank them by average monthly searches.
1. Use The Google Keyword Planner
The tool to start with is the Google Ads Keyword Planner.
Note: You can only see exact search volume data in the Keyword Planner when you are running an active Google Ads campaign.

---
2. Enter Your Top 10 Keywords
In the Google Keyword Planner through Google Ads, you want to start by entering your top keywords to find the most relevant keywords for your business. You can create filters to make sure you only see the top keywords by average monthly searches and the most relevant and targeted search engine keywords for your business.
You can either start by entering up to 10 of your top keywords, or by entering a URL. Sometimes, I will start with a competitor's URL to see their top keywords. Otherwise, you can enter your main keywords into the Google Keyword Planner like I did below.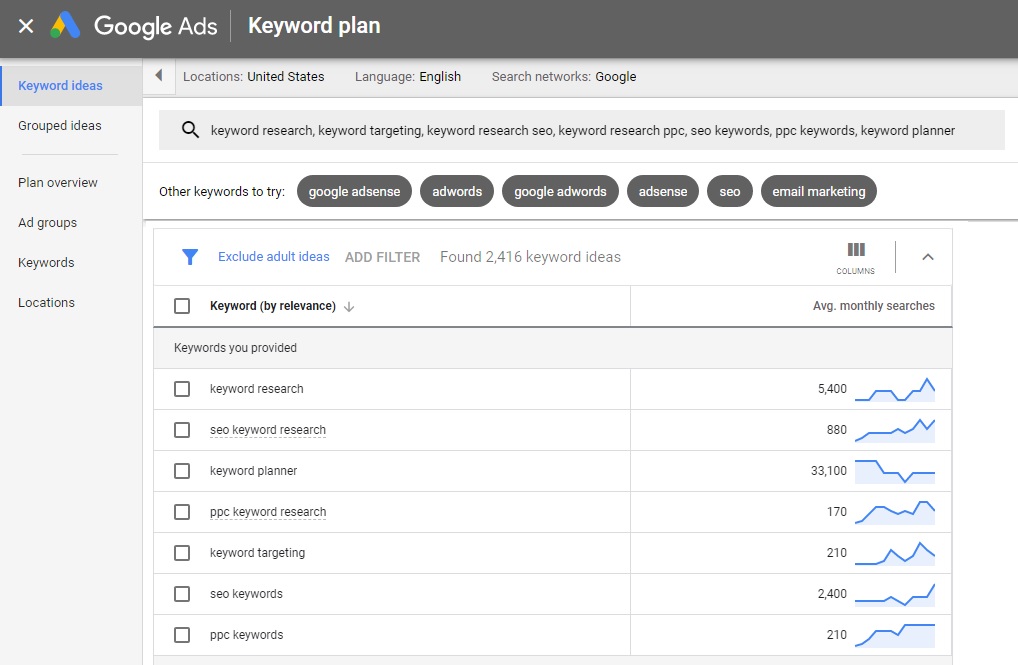 ---
3. Download Keywords from Google Keyword Planner
Next, you can Download Keyword Ideas at the top to get a CSV file of the keywords that people use most when they are looking for products and services that you sell. After that, you can go back to the Keyword Planner and enter some competitor websites. If you do not know your competitors, search your top keywords in the Google search engine and find the most relevant competitors with niche websites that are similar to yours. Perform the search for their entire website, download keyword ideas again, and build a spreadsheet of keywords and average monthly search volume for each keyword.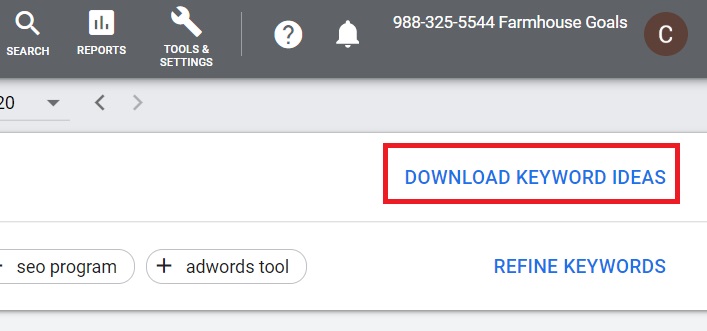 ---
Combine Your Keyword Lists
Once you do this several times with your competitors keywords and your top keywords, you want to have a list of organic search keywords for your SEO keyword research and their corresponding average monthly searches. You can take those two columns, copy them, and paste them into Google Sheets through Google Drive. We will be doing the rest of our Search Engine Optimization Keyword Research here.
Use The Unique Function in Google Sheets or Remove Duplicates in Microsoft Excel
You can use the Unique function to find unique keywords from the list and the corresponding average monthly searches. Now, you have a list of the most popular and most relevant search engine keywords for your business. From there, I generally create a content ideas list, which you can use a variety of sources to help you make.
Then, when you are creating content to rank in search engines, you can use a combination of the Google Keyword Planner and UberSuggest to find the most popular and relevant keywords for each short-tail keyword.
---
---