If you want to get started with LinkedIn Ads or if you already started and you need some LinkedIn Advertising strategies, we have you covered below. Our LinkedIn ads tutorial is detailed and we cover all the basics you need to get started. You will learn how to do everything including setting up LinkedIn ad campaigns to setting up conversion tracking.
LinkedIn Advertising
LinkedIn is one of the largest social media channels in the world. It is one of the top resources and networks for professionals. Whether you want to meet other professionals in your industry, find jobs, or learn about your industry, LinkedIn has plenty of content and opportunities. If you own a small or large business and you want to grow your revenue, you might want to take advantage of LinkedIn. However, how do you get started without wasting your budget?
We decided to put together a LinkedIn ads tutorial so you can learn best practices, strategies, and tips as you set-up your first advertising campaign. In addition, we go through all of the different LinkedIn Advertising Objectives.
How to Create LinkedIn Ads
If you don't have a LinkedIn Business Page already then you want to make one immediately. Your company page is where you publish content and share it with your followers. Next, you want to install the LinkedIn Insight Tag on your website so you can track conversions through LinkedIn. Lastly, you just need to sign-in to LinkedIn campaign manager, set-up billing, and you can follow along with our tutorial above.
LinkedIn Ads Conversion Tracking
We have a LinkedIn Ads conversion tracking tutorial below so you can monitor and analyze conversions on your website, which you can tie back to specific LinkedIn Ads campaign.
Types of LinkedIn Ads
You can learn more about all of the different types of LinkedIn ads you can create for your business. We go through the different goals for each ad type and why you would use them.
LinkedIn Sponsored Content Ads
If you have a great piece of native content like a case study, guide, free book, video, or podcast, you might want to promote it to people in the LinkedIn newsfeed on desktop and mobile. Sponsored content is one of the most popular LinkedIn ad types because you can drive awareness for your business, increase your leads, and ultimately increase revenue for your business.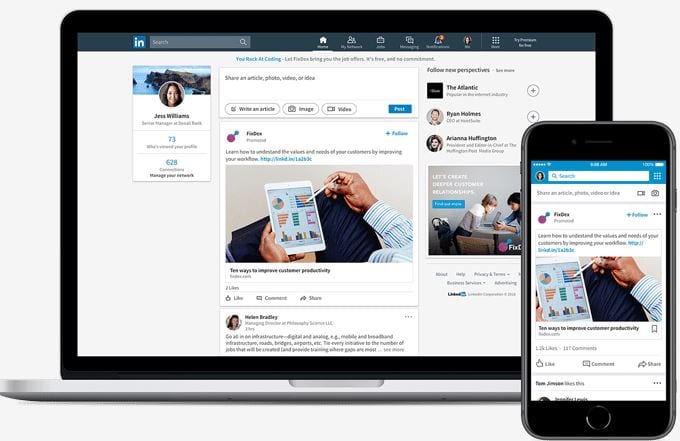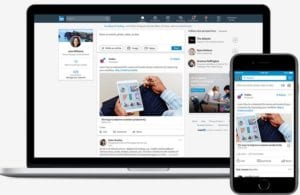 LinkedIn Sponsored InMail
Sponsored InMail allows you to target your audience and deliver content through the LinkedIn Messenger. You can reach members directly in their inbox as they check their LinkedIn mail. Since many business deals start through email, what better way to reach potential customers. In addition, it features a responsive design with a button you can see on mobile and desktop.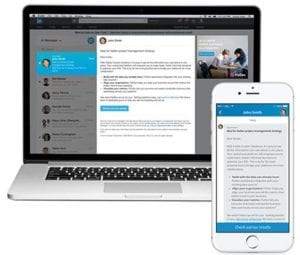 LinkedIn Text Ads
If you are familiar with Facebook right column ads, text ads are very similar. LinkedIn Text ads feature a small image along with a small blurb of text where you can put your offer. You can drive traffic directly to your website to drive sales and leads. The main key with text ads is to keep optimizing your ad campaign so you can improve on the results.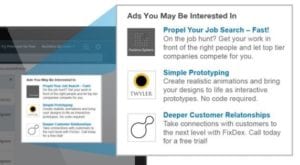 About LinkedIn
There is a total of 250 million monthly active users that frequent LinkedIn. 70% of the users are from outside the United States and 13% are Millennials. Over 25% of male and female internet users have LinkedIn profiles. In addition, there are 3 million active job listings or more at any time on the website, making it a great website for professionals looking for a job.
How LinkedIn Ad Costs Work
You can choose between CPC or CPM bidding for Sponsored Content and Text Ads. Sponsored InMail ads only cost you when your email is sent to a potential customer. The best thing about LinkedIn is you have complete control over your budgeting, bids, and more. In addition, you can set-up your target audience and bid on them. The more competitive it is to target that audience, the more it will cost you.
In Summary
If you are trying to get started, our LinkedIn Advertising tutorial will help you without a doubt. We go through everything from LinkedIn Ads strategies, best practices, marketing tips, and more to grow your business using LinkedIn. If you want to reach business professionals, LinkedIn is one of the best social media networks to do it.
If you have any questions about the LinkedIn Advertising platform, please leave a comment below. We want to make sure you feel confident when you are setting up ads. There are a lot of targeting options to consider as well as types of ads. After you set-up your first campaign, it will become much easier to optimize ev
---
---