B2B companies in every niche are leveraging the power of PPC advertising to drive more relevant traffic to their businesses website, increase their brand awareness and gain new customers. PPC, or Pay per click advertising, enables B2B companies to capture leads efficiently, in a non-invasive way. As B2B professionals have to create well-targeted campaigns designed for a smaller audience, they need to use PPC advertising differently.
To better understand how B2B companies are using PPC advertising, we will take as an example a random company called "Accounting LLC" that offers accounting services to businesses. The company resides in California but offers on-demand services to worldwide customers. In order to reach its base of clients, Accounting LLC can use a wide range of PPC Advertising Strategies for B2B Companies, including Google AdWords, Bing Ads, Facebook Ads, retargeting, display ads, video marketing and LinkedIn marketing campaigns.
Search Advertising on Google and Bing
When it comes to search advertising on Google, B2B companies need to focus more on long-tail keywords. For instance, there are over 55 million monthly searches on shoes, but only 270,000 on business accounting. Depending on the industry, market segmentation is imperative for success in this market. The buyers for our company are CEOs, financial executives, CFOs or small company accountants. In other words, anyone who has the power to decide if they want to invest in a new type of accounting software that might streamline their company's processes is a valid target.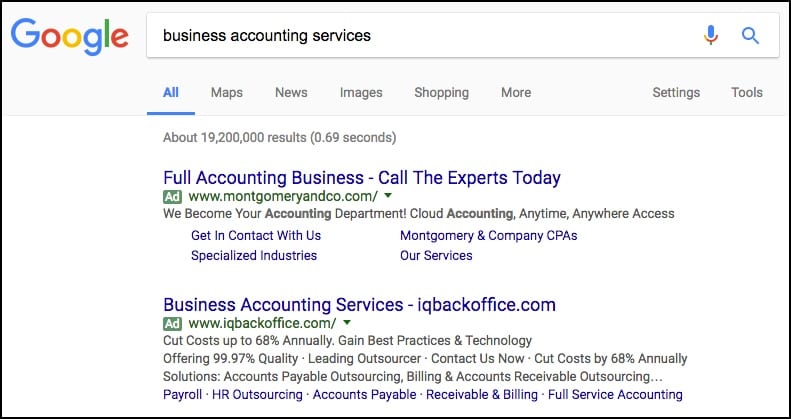 After Accounting LLC conducts a throughout research of the market and determine their ideal customer profiles, they have to start looking for keywords that are normally used in online searches by B2B professionals. Next, they need to create compelling Ads on Google and Bing and link them to high-quality, informative pages.
As a rule of thumb, the Ad copy is more informative and less decisive. Instead of the standard "Buy now", B2B marketers should include "Contact us today" or "Get more information". The reason for this is that the buying cycle is much longer in a B2B setting. The client goes through many more phases of the buying cycle before taking a final decision. The stake is higher and the revenue greatly exceeds the initial financial investment.
As a B2B manager, you need to show your clients that you have exactly what they need, and maybe even more. Make sure your ad copy speaks to their pain points and always use trusted sources of information when presenting your message. Come with the right solutions and your prospects will run to you for a fix to their problems.
Using Targeted Keywords
Using targeted keywords is vital for a B2B company. Specificity is key here. Try to identify those profitable search terms and keep innovating. This means that you should not give up after investing tens of thousands of dollars without having profit. Some B2B companies invest millions of dollars before making their first sale. However, a sale for them is worth over $5 million. Keep in mind the value of your sale when running your PPC search campaigns.
Good B2B Google Keyword
Why It's a Good Keyword: The search term 'Accounting Business Services' is a good keyword because it implies someone looking for account services for their business. They are likely either looking for companies who offer accounting or doing research about different services and their pricing. If you can reach this person at the right time with a great offer, you have a chance at landing a new long-term client.
Bad B2B Google Keyword

Why It's a Bad Keyword: The search term 'How To Do My Accounting' is a bad keyword because it implies someone doing research and looking at how to do their own accounting. If you offered a paid Accounting software, this might be a good keyword. However, since you offer accounting services, this person is unlikely to see the value in a long-term accounting partner.
Here is where your customer lifetime value (LTV) comes into play. With an LTV of $200, you can afford to look extensively for the winning search keywords. Do not focus on cheap leads, but take into account your profit margin and run multiple campaigns with a broad set of keywords. Optimize the PPC campaigns and make sure you show up on the first page, even though you might have to spend more. Eliminate irrelevant clicks and spend more budget on high-converting keywords.
Using Retargeting in B2B
Now that clients are pouring in on your landing pages, it is time to ensure none of them are lost. Retargeting or remarketing is a very powerful tool in your marketing arsenal, as it allows you to follow up on uninterested clients or clients who forgot to place an order on your site. In a B2B environment, it is important to mention that prospects, which usually include CEOs or executive managers, are very busy people. If you do not engage them while they are hot, you might lose them to your competition.
To use retargeting like a pro, make sure to segment your site visitors based on the funnel stage, and then create compelling ads that pull them back into the funnel. It's all about aligning your offers and content to each buying stage.
Some other strategies you could implement in your retargeting campaigns are using cross channel retargeting and optimizing ads for mobile users. You can run your retargeting ads not just on Google and Bing, but also on Facebook and Twitter. Do not limit yourself to just the GDN, but try to use other retargeting platforms such as DemandBase and Bizo to diversify your efforts in this direction.
Capitalizing on the GDN
Google Display Network is the best marketing tool for brand awareness. Generally speaking, B2B buyers spend more time researching online, so it makes sense to ensure they see your message as often as possible. As their minds are set on hunting great offers and researching their options, you can easily outsmart your competition by creating informative display ads.
According to several studies conducted by B2B marketers, the GDN is great not just for building brand awareness, but also for driving leads. The number of assisted conversions through GND will more than always exceed the number of assisted conversions through paid search.
Create Facebook Website Conversion Campaigns
Ultimately, one of the most innovative PPC Advertising Strategies for B2B Companies is to capitalize on B2B Facebook advertising. Create several custom audiences and then create website conversion campaigns with specific messages tailored to your audience.
The key is to focus on offering extra value. Incentives and gated content could prove invaluable for your efforts. Rather than asking them to buy from him, encourage them to consume the content you have in store for them. Once you get their email address and other contact details, you are two steps closer to getting a sale.
Conclusion
B2B companies worldwide are using PPC advertising in their favor. Now it's your time to leverage the power of Google, Bing and Facebook advertising to convince potential buyers to choose you over your competitors.
---
---