How To Become a Google Ads Specialist in 2023
Google Ads specialists play an important role in the world of PPC Advertising. They are responsible for setting up and managing Google Ads campaigns, analyzing and optimizing campaign performance, conducting keyword research and targeting, and setting up conversion tracking to measure the Return on Ad Spend (ROAS) of campaigns. Companies want to get the most out of their budgets in terms of ROAS and that requires someone with the expertise of the Google Ads platform.
If you are interested in becoming a Google Ads specialist who manages campaigns for clients, this is the blog post for you. I will go through everything you need to know to get started.

What is a Google Ads Specialist?
A Google Ads Specialist is an experienced individual that can create, manage, and optimize Google Ads campaigns for clients. They have expertise with the Google Ads platform and they know how to set up different types of campaigns that drive leads, drive sales, and increase brand visibility. Google Ads specialists effectively communicate strategies with clients, set up successful Google Ads campaigns to reach their client's goals, and report on campaign performance while communicating ongoing strategies.
---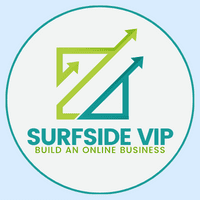 Join Surfside VIP today for only $2.99/month! Learn how to create a successful online business. Watch me build my websites and my YouTube channel to 500,000+ views per month and get all of my strategies.
---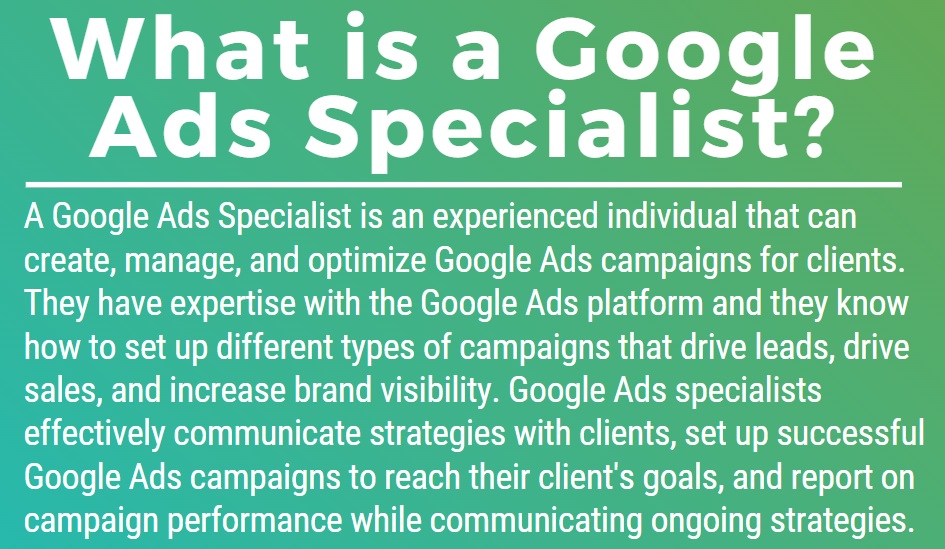 Why Become a Google Ads Specialist?
The demand for Google Ads Specialists is growing, as more organizations recognize the potential of targeted online advertising. Pursuing a career as a Google Ads Specialist offers lucrative job opportunities, professional development, and the chance to work with diverse clients across various industries.
Why are Google Ads Specialists Important for Businesses?
Google Ads Specialists play a crucial role in helping businesses reach their target audience, boost conversions, and achieve a high return on investment (ROI). By leveraging their expertise, companies can create tailored campaigns that maximize returns for their ad spend, improve brand recognition, and drive business growth.
Responsibilities of a Google Ads Specialist
You need to be able to run targeted ads like the Google Shopping Ads and Google Search Ads listed below. In addition, you will need to learn how to do the following tasks listed below the picture.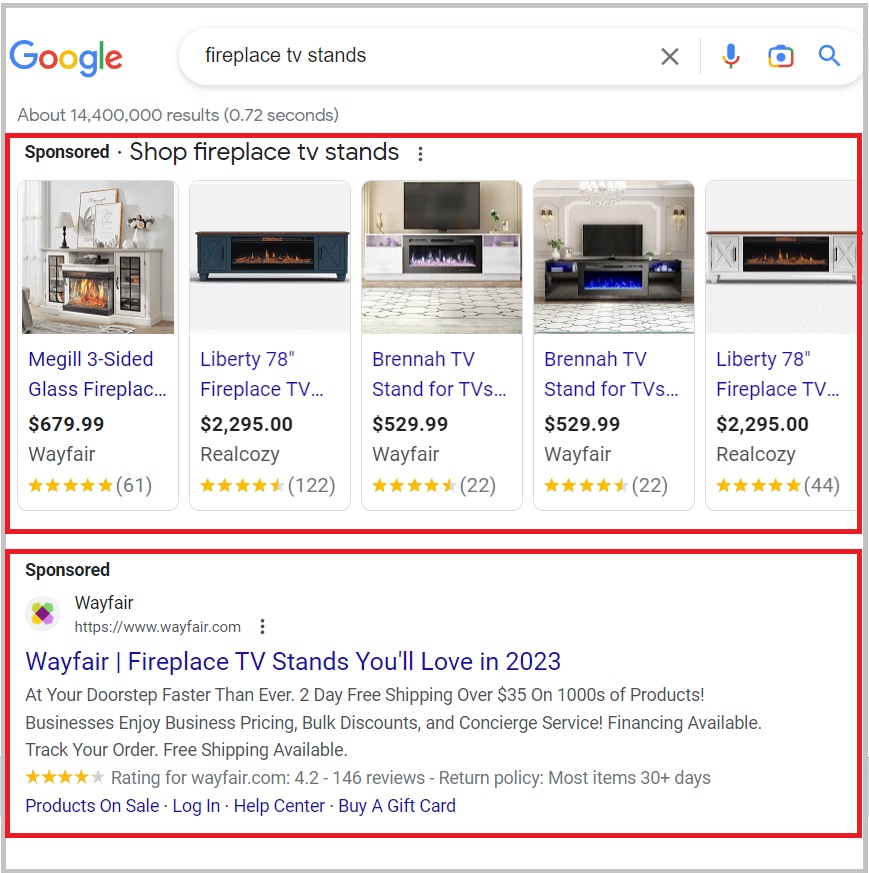 Conversion Tracking:

If you want to set up a successful Google Ads campaign, you need to start with conversion tracking. If you aren't tracking the key performance indicators for your clients, you won't have accurate data for your campaign. Every sale should be able to be tracked back to the sources of traffic that lead to the sale.

Keyword Research:

It is important to identify the keywords you should target with your campaigns. You can use a tool like Google Keyword Planner to find the best keywords for any business.

Creating Campaign Strategies and Creating Campaigns:

One of the keys to success is strategizing and setting up ad campaigns. Every campaign should have a goal in terms of ROAS. Then, campaigns need to be optimized for success from the moment they are created.

Copywriting:

One important part of driving conversions is crafting compelling ad copy. You need to be able to show the benefits of your products or services. Better ad copy that appeals to emotions will drive better results.

Bid Management:

Your bid strategy is an important part of your campaign. It's important to monitor and adjust bids for optimal performance. You should know all of the different bid strategies available.

Campaign Optimization:

One of your jobs as a Google Ads specialist is continuously optimizing campaigns for improved results. You need to test ads, test landing pages, optimize keywords, add negative keywords, test audience targeting, test campaign types, and more to get the most out of your campaign.

Data Analysis:

Analyzing and interpreting campaign data is one of the most important jobs of a specialist. You should know what keywords and ad groups are driving results and what might be leading to poor performance.

Reporting For Clients:

One of your main jobs is reporting on campaign performance and providing actionable insights. Generally, if you are creating ads for clients, you will show the monthly performance, areas of weakness, areas of strength, and opportunities.
---
How to Become a Google Ads Specialist
I cover certifications in more detail below, but you need to prepare and gain the necessary education if you want to manage advertisements for clients.
Familiarize yourself with the Google Ads platform and its features.
Gain experience by managing campaigns for personal projects or volunteering for businesses.
Get your Google Ads certifications and complete a Google Ads course.
Increase your knowledge in keyword research and website analytics.
Network with industry professionals and attend conferences and events. You can try virtual events as well.
Google Ads Certifications
Google offers a range of certification exams for individuals interested in becoming a Google Ads specialist. These exams cover topics such as search advertising, display advertising, video advertising, and mobile advertising. By passing these exams, individuals can demonstrate their expertise and become certified by Google.
Google Ads Search Certification
Google Ads Display Certification
Google Ads Video Certification
Google Ads Shopping Certification
Google Ads Measurement Certification
What Skills Should a Google Ads Specialist Possess?
To be effective in their role, a good Google Ads specialist must possess a number of key skills and qualities. These include:
Proficiency in Google Ads and Google Analytics
A strong understanding of Google Ads and the ability to use tools like Google Analytics are essential for a Google Ads specialist. This includes knowing how to set up and manage campaigns, conduct keyword research, and track and analyze performance data.
Strong Analytical and Problem-Solving Skills
A Google Ads specialist must be able to analyze data and identify areas for improvement in campaigns. They must also be able to think creatively and come up with solutions to challenges that may arise.
Attention to Detail and Ability to Multitask
Google Ads specialists must be detail-oriented and able to juggle multiple tasks and campaigns at once.
Good Communication and Collaboration Skills
A Google Ads specialist must be able to effectively communicate with clients and team members to ensure that campaigns are running smoothly and meeting the desired objectives.
Where Can Google Ads Specialists Work?
There are plenty of places that a Google Ads specialist can work. There are agencies that specialize in running paid advertising campaigns for clients. In addition, large corporations and businesses hire their paid media team in-house. In addition, if you can drive your own clients, you can be a freelancer or even create your own advertising agency.
Google Ads Specialists can work for the following companies:
Digital marketing agencies
Paid advertising and Google Ads agencies
In-house marketing departments
Freelance or consulting capacities
Non-profit organizations
Startups and small businesses
Job titles include:
PPC Specialist
SEM Manager
Digital Marketing Manager
Paid Media Specialist
How can I stand out from other candidates when applying for a Google Ads Specialist position?
There are some steps you can take to stand out from other candidates. Ultimately, if you can demonstrate your expertise with videos or blog posts, companies will trust that you can handle their ad spend. The best way to stand out is to run ads and keep up with trends.
Obtain multiple Google Ads certifications
Develop a strong portfolio showcasing successful campaigns
Gain proficiency in additional digital marketing tools and platforms
Showcase your data analysis and storytelling skills
Highlight your industry-specific experience
What is the Average Salary for Google Ads Specialists?
The average salary for a Google Ads Specialist without experience ranges from $40,000 to $70,000 per year. However, this figure can vary based on factors such as location, experience, and company size. Someone with several years of experience can earn more than $70,000/year. In addition, you can increase your salary by expanding your knowledge beyond Google Ads.
According to ZipRecruiter, the United States salary average is $54,319/year. According to Glassdoor, someone with 10 or more years of experience will make an average of $87,178/year.
How Do I Manage Google Ads Clients?
There are a lot of different steps to take if you want to manage clients. Your job is to use their budget and drive conversions optimally. Therefore, you need to be able to communicate effectively, implement strategies, optimize campaigns, and drive conversions. Some of the steps you should take are below:
Establish clear communication channels
Set realistic expectations and objectives
Communicate and implement Google Ads strategies
Regularly update clients on campaign performance
Provide data-driven insights and recommendations
Remain responsive to client concerns and feedback
What Tools Can Help Google Ads Specialists Be More Effective and Efficient?
Several tools can assist Google Ads Specialists in managing campaigns more effectively:
Google Ads Editor

Google Analytics 4: For tracking website performance and user behavior.

Google Tag Manager: To manage and implement various tracking codes and scripts.

SEMrush: For keyword research, competitor analysis, and SEO insights.

Ahrefs: For backlink analysis, keyword research, and content optimization. Visit Ahrefs now for more information.

Wordstream Google Ads Greader
How Can I Stay Up to Date with Google Ads Best Practices?
Follow industry-leading blogs and publications.
Participate in online forums and communities where professionals discuss strategies and techniques.
Attend webinars, conferences, and events related to digital marketing and Google Ads.
Network with industry peers and experts to gain insights and stay informed about trends.
Continuously review and update your knowledge by taking relevant courses and pursuing additional certifications.
Is It Worth it to Become a Google Ads Specialist
If you're interested in digital marketing and possess excellent analytical and problem-solving abilities, becoming a Google Ads specialist can be a rewarding career decision. As a Google Ads expert, it will be your job to guide companies through the complicated world of online advertising and help them get the outcomes they want. Given the chance to directly influence your clients' success, this position can be difficult at times but ultimately rewarding.
---
In Summary
Becoming a successful Google Ads Specialist requires a combination of experience, expertise, and adaptability. By developing a deep understanding of your client's business and industry, you can create Google Ads strategies that drive conversions. Constantly refining your skills in keyword research, ad copywriting, and campaign management is essential, as is embracing a data-driven approach to campaign optimization.
Stay informed about the latest Google Ads features, updates, and best practices will ensure you can deliver results for your clients. Additionally, fostering strong relationships with clients by providing exceptional service and communication is key to building trust and long-term partnerships. By following these steps, you can pave your way towards a rewarding career as a Google Ads Specialist and truly make a difference in the world of digital marketing.