Google Ads Remarketing Set-up and Tutorial
Google Ads can be difficult to understand at first. One of the main features you need to learn about is Google Ads Remarketing. You can create Remarketing audiences based on your website, mobile app, YouTube channel, customer lists, and custom combinations.
Google Ads Remarketing has been one of the most successful display network advertising strategies since the feature was released, and it continues to be a best practice today. You can also use Google AdWords Remarketing for your Search Campaigns and Video Campaigns.
Google Ads Remarketing
When you are getting started with Remarketing with Google AdWords, we give you all the tips and strategies you need. Whether you want to target Remarketing audiences for search, display, or video campaigns, our video will get you started. You can watch the video below or watch it directly on YouTube.


---
What is Remarketing?
Remarketing is a way to connect with people who previously interacted with your website or mobile app. It allows you to strategically position your ads in front of these audiences as they browse Google or its partner websites, thus helping you increase your brand awareness or remind those audiences to make a purchase. Whether you're looking to drive sales activity, increase registrations, or promote awareness of your brand, Remarketing can be an important component of your advertising.
---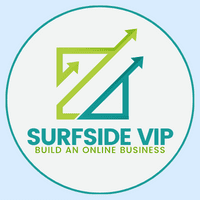 Join Surfside VIP today for only $2.99/month! Learn how to create a successful online business. Watch me build my websites and my YouTube channel to 500,000+ views per month and get all of my strategies.
---
How does Google AdWords Remarketing Work?
When someone visits your website, you can use your Google Analytics Pixel or Google AdWords Remarketing Pixel to track each person. As long as people don't have cookies disabled and don't constantly clear their cookie history, they will remain on your All Users Remarketing list for up to 540 days.
Google uses cookies to keep track of who visited your website and what they do when they visit. Then, you can create Remarketing audiences based on the pages people visit, how often they visit, actions they completed, and more. In addition, you can also track and retarget users who download, install, and use your mobile app.
Types of Google Ads Remarketing
One of the best things about Google Ads is they are constantly innovating their ad products. You are not limited to standard display Retargeting ads on the Google Display Network. There are a variety of ad formats you can use to reach people after they visit your website, visit your mobile app, or fill out one of your online forms.

Dynamic Remarketing
Dynamic Google AdWords Remarketing gives you the ability to serve people custom ads based on the products or services they viewed on your website. You can create several template ads and Google will dynamically serve ads using the product images, product categories, and service categories based on each individual browsing history.
Remarketing Lists for Search Ads (RLSA)
When people are in the buying process, they are constantly visiting different websites and performing Google searches. Remarketing Lists for Search Ads gives you the ability to create search Remarketing audiences and bid higher or lower on your target keywords.
Getting Started with Remarketing
We're going to cover how to get started with Remarketing Ads on Google. To begin, you will need to create your Remarketing audiences. In your Google Ads account, click on "Tools" in the top left corner and then "Audience Manager" under Shared Library. On the Audience Manager page, click on "Audience Sources" on the left-side menu; which will then display where you are getting your audiences from. I generally use my Google Analytics account to manage all of my Audiences, which I will cover more below.
---
Remarketing Audience Sources
Google Ads Remarketing Tag
: Collect data for your Remarketing lists and conversion tracking by adding a Google Ads Tag to your website.

Linked Google Analytics Account: Collect data from your Google Analytics property, create audiences, and publish them to Google Ads for use in campaigns.

Linked YouTube Account: Remarket to people who interact with your channel, track actions people take after watching video ads, and drive clicks with call-to-action (CTA) overlays.

Linked App Analytics: Link a third-party app analytics provider or your own software development kit (SDK) to your account to see user lists and conversions for your mobile apps.

Google Play: Create Remarketing lists based on current app users and track in-app purchases as conversions to gain insight into which ads drive action.
---
Google Analytics Remarketing Audiences
Using Google Analytics as your audience source offers numerous benefits, including tracking conversions and having your campaign data in one place to test for best practices. While there are other sources, Surfside PPC strongly recommends using Google Analytics as one of your options. If you don't have Google Analytics installed on your website, we invite you to watch our Google Analytics Tutorial for a step-by-step explanation on the process. Once you have Google Analytics set up on your website, you will need to make sure your accounts are linked.
Linking Google Analytics and Google Ads Accounts
In Google Analytics, click on "Admin" and you will see a screen with various options. By selecting "Google Ads linking", you can create a new link group and confirm that your Google account numbers match. Visit Link Configuration > Link Group Title and enter your website name.
---
Once you have completed the link information, go back to your Google AdWords account and view the "Linked Accounts" section under the Tools menu on the top of your screen. Here you will double check that the account link is completed.
Once the account link is finalized, you will want to go click on "Data Collection" under the Tracking Info menu in Google Analytics. Make sure data collection or Remarketing for Google signals is turned on and click "save" to continue. This step allows you to create audiences and publish them to your Google AdWords account.
Creating Remarketing Audiences through Google Analytics
To begin, in the Google Analytics Property menu, click on "Audience Definitions" and then "Audiences". To create a new list, click on "New Audience", and "Create New" or choose from any of the options available on the menu; depending on the type of Remarketing campaign you would like to run.
---
Once you select your Audience Source and Definition, your next step will be to select your Audience Destination; which is where you would like to publish your audience. Be sure to check Google Ads and Google Analytics and click "Publish". You have now created a specialized Remarketing audience for targeting.
Creating Remarketing Audiences through Google Ads
Your next step will be to go back into your Google Ads account and follow the steps to Audience Manager > Audience Lists. When you click on "Audience Remarketing" at the top of the menu, you can choose from website visitors, app users, YouTube users, customer list (reserved for high-spending Google Ads accounts), or a Custom Combination.
---
Once you make your selection, you will name your audience and identify list members. You also have the option of creating rule groups for page visits. There are quite a few options for each of these categories, giving you the ability to truly narrow down your targets. When you have made all of your settings selections, click on "Create Audience".
---
Google Ads Remarketing Campaign Types
You can use Remarketing for both Display and Search Campaigns. The requirement to serve your Remarketing list ads varies based on the target network. 
Google Display Network must have a minimum of 100 active visitors or users within the last 30 days.
Google Search Network must have a minimum of 1,000 active visitors or users within the last 30 days.
YouTube must have a minimum of 1,000 active visitors or users within the last 30 days.
Gmail must have a minimum of 100 active visitors or users within the last 30 days in the Display Network.
You can create brand new campaigns or add Remarketing to any campaigns you currently have running. One thing to keep in mind with targeting audiences in either scenario is your Targeting setting.
Targeting Settings
In Search Campaigns, we recommend setting your targets as "Observation" with a bid adjustment as your Targeting setting.
For Display Network campaigns, we use "Targeting" instead of Observation. These settings will optimize your campaigns more efficiently.
For YouTube Video Advertising Remarketing campaigns, you will use "Targeting" like you do for Display Network Remarketing Ads campaigns.
Create Google AdWords Remarketing Campaigns
To create a brand-new campaign, you will click on "+ New Campaign" in your Google Ads Campaign screen; select your campaign type; select your goal; select your campaign subtypes; enter your website; and click on "Continue".
---
Next, you want to name your campaign and select what locations you would like your campaign to target. You can run your ad across the whole U.S. or various DMAs, regions and selected radius locations; all the way down to the city and county level of every state. From the same screen you can also set your language targeting. For this option, you want to enter all of the languages your targets speak.
Bidding Strategies
Your next step will be choosing a bidding strategy. For these types of campaigns, we highly recommend using smart bidding strategies like Target CPA or Target ROAS so you can drive leads, sales, and conversions.
---
Targeting Remarketing Audiences
Once you have your bidding down you will set your budget, name your ad group and move to targeting. When you get to the Audience menu, you will set up your Remarketing component. Under the Browse tab, select the "Remarketing and similar audiences" tab option.
---
Under "Website users" all of your previously created Remarketing lists will be displayed. If one audience is too small to run a campaign, we recommend that you combine several lists together or use the all audience option. Once your audience starts growing, you can split up your lists into different ad groups to send people to the best possible pages based on what they are viewing.
---
After you have your preferred lists set, you can complete the campaign set up with demographics, content targeting, targeting expansion, and ad creation. If you would like more details on creating Display and Search Network Campaigns, we invite you to visit the Surfside PPC YouTube Channel for more detailed explanations.
Google Ads Audience Targeting
The video below will be very helpful when you are just learning about Audiences in Google Ads. Although Remarketing is a best practice, you should learn how to target audiences in all types of Google AdWords campaigns.


---
Google Remarketing Ads Sizes
You can use the standard ad sizes like you would for any other campaign. For Google remarketing lists for search ads, you would use Responsive Search Ads and Expanded Text Ads. For Google Display Network remarketing ads, you can use Responsive Display Ads and standard banner ad sizes like 300×250, 160×600, 728×90, and more. Google AdWords Remarketing Ads sizes are no different than the ads you use for other campaigns.
---
Remarketing Ads Cost
The cost is no different than your standard Search, Video, or Display Campaigns, all you need to do is set-up your audiences and target them like you would Custom Intent audiences, In-Market audiences, Affinity audiences, and more.
In Summary
Hopefully, our Google Ads Remarketing Setup is helpful for you to get started. As with any ad campaign, we recommend that you test different types over time to determine which option is working best for your business. If you would like more information, including access to tutorials on Google Ads, we invite you to subscribe to the Surfside PPC YouTube Channel.