Google Ads App Campaigns: Complete Guide 2023
The mobile app industry continues to thrive year after year. App revenue is expected to reach an astonishing $613 billion globally by 2025. Developing a useful or entertaining app is a major challenge, but so is Marketing your app to the right people at the right time. Google Ads App campaigns provide a user-friendly, easy-to-use platform that allows you to advertise your app on Google's largest platforms, including YouTube, Google Play Store, Google Search, and more. The Google Ads App campaign sources material from your app listing and website to create optimized content helping you achieve higher conversions.
What are Google Ads App Campaigns?
Google Ad App campaigns are a smart way to market your app on Google Play or Apple Store throughout multiple platforms across Google's digital properties. Your ad campaigns are optimized and can be scaled to target users across multiple ad groups to help you reach your goals, increasing installs or boosting app revenue. The app campaigns require minimal setup and maintenance as the algorithm works to optimize performance.
App ad campaigns use targeting and can run across the Google Search Network and Display Network, showing up across Google Search, Google Play, YouTube, and appearing in other apps. Google Ads optimizes your app installs and conversions by strategically placing your advertisements in front of people more likely to be interested with the highest potential placements based on the listing within the app store.
How do Google Ads App Campaigns Work?
Unlike traditional Google Ad campaigns, you do not create individual ads. Instead, Google creates ads for your app campaign by pulling in text, images, videos, and assets from your listings and website. Google AI then optimizes your ad across multiple platforms and helps you reach your goals. Google ensures your ads are appealing so your target customers can view a great ad that draws them in no matter where it appears.
---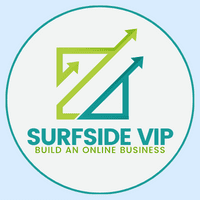 Join Surfside VIP today for only $2.99/month! Learn how to create a successful online business. Watch me build my websites and my YouTube channel to 500,000+ views per month and get all of my strategies.
---
Google Ads Assets and Ads in App Campaigns
Google Ads utilizes your business assets to create powerful ads to drive installs or actions within your app. Assets are the content that will make up your ad with the information about your business. They can be the content for headlines, descriptions, pages of your website, calls to action, location, and links that all create the information in your ad for your target customers to view.
While Google pulls information from what you have listed and your website, you will need to provide a starting bid and budget, plus the targeted location and language. It's also recommended by Google that you provide at least one landscape video and picture, a portrait video, and HTML5 assets. The system will automatically combine the assets to find the best combination to create high-performing ads for your app.
Google Ads App Campaign Types
There are several different types of Google Ad campaigns that you can use to reach large audiences using Google channels to promote your apps.
Google Ads App Install Campaigns
The most common campaign types used to drive installs of your app are the Google Ads App Install Campaigns. With App Install campaigns, you can set your bids and target manually or allow Google Ads to automate the process.
Google Ads App Engagement Campaigns
For users who already have your app installed on their device, Google Ads App Engagement campaigns target these users to complete specific actions. The App Engagement campaigns are a little more complex when setting up the ads as you want to motivate your users to purchase premium items, send out app reminders to open the app more or promote events.
For this type of campaign, Google requires your app to have an existing 250,000 installs, deep links installed, clicks attribution, a defined audience list, and ensure you properly comply with remarketing privacy and EU consent policies to protect consumers from spam.
Google Ads Pre-Registration Campaigns
The last campaign type used to promote your app is the Google Ads Pre-Registration campaign, which is strictly for Android apps. This campaign type is also only reserved for apps in the pre-registration phase of development before they release on Google Play.
---
FAQs for Google Ads App Campaigns
You probably have plenty of questions when it comes to app campaigns. In order to answer any questions you may have, we listed some frequently asked questions below. However, the best way to learn is to create an app campaign.
How do Google Ads App Campaigns work?
App campaigns use machine learning algorithms to optimize ad placements, targeting, and creative assets, helping advertisers reach the right audience and grow their mobile app. Some campaigns may be focused on driving new app installs while other campaigns are focused on driving more app engagement.
How do I set up a Google Ads App Campaign?
To set up an app campaign, create a Google Ads account, link your app, configure campaign settings such as budget, bidding, targeting options, and creative assets, and launch your campaign.
How can I optimize my app campaign?
Optimize your app campaign by tracking and analyzing performance, adjusting your targeting and bidding strategy, and A/B testing creative assets.
What are the benefits of using Google Ads App Campaigns?
Google Ads App Campaigns help increase app visibility, improve user acquisition, and enhance app engagement. The ultimate goal is to grow the overall usage of your mobile application through new user acquisition. In addition, you can drive registrations for unreleased apps and drive engagement for your existing mobile app.
In Summary
Google Ads App campaigns are an effective way to get your app in front of your target audience. You can also promote your app across all of Google's platforms and search networks. Choosing the right Google Ads campaign is essential to ensure your ads align with your goals. Google does most of the work creating your ads. All you have to do is ensure your assets are up-to-date and look professional. Then, choose the right campaign type and find the ideal budget to maximize the success of your app.