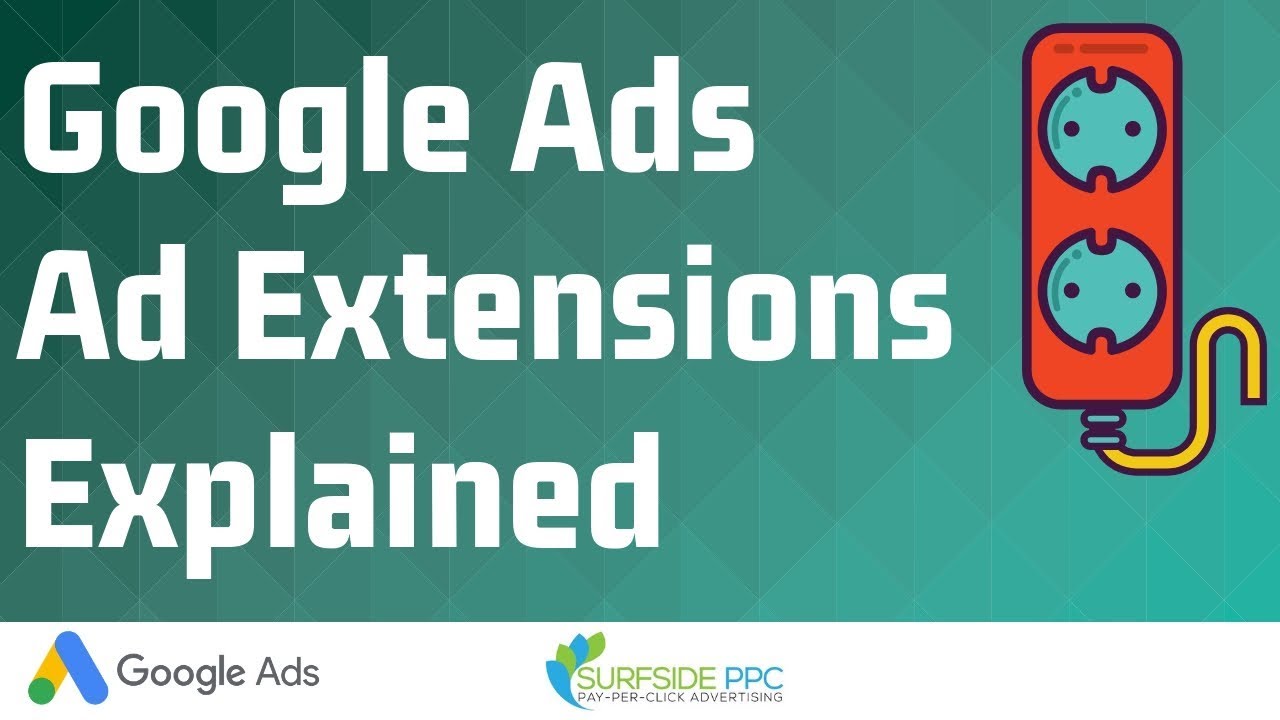 Our complete guide to Google Ads ad extensions starts with a helpful video. You can learn more about the types of ad extensions, how to create extensions, and how to add them to your campaigns.
Google Ads Ad Extensions Video
---
What Are Ad Extensions?
Google Ads Ad Extensions give an advertiser the option of adding more relevant information to an advertisement. You can show additional website links, show your phone number, highlight promotions, promote services, show pricing, add your location, and more. The additional information will assist customers as they learn more about your business.
How to Add Ad Extensions in Google Ads
Sign in to your Google Ads account
Open your search campaign
Click on the 'Ads & extensions' tab

---

---

Click on the 'Extensions' link
Click on the blue plus-sign and select the ad extension you want to add

---

---

Choose the ad extension and 'Create new' or 'Use existing'
Choose to 'Add to' the Account, Campaign, or Ad Group level
---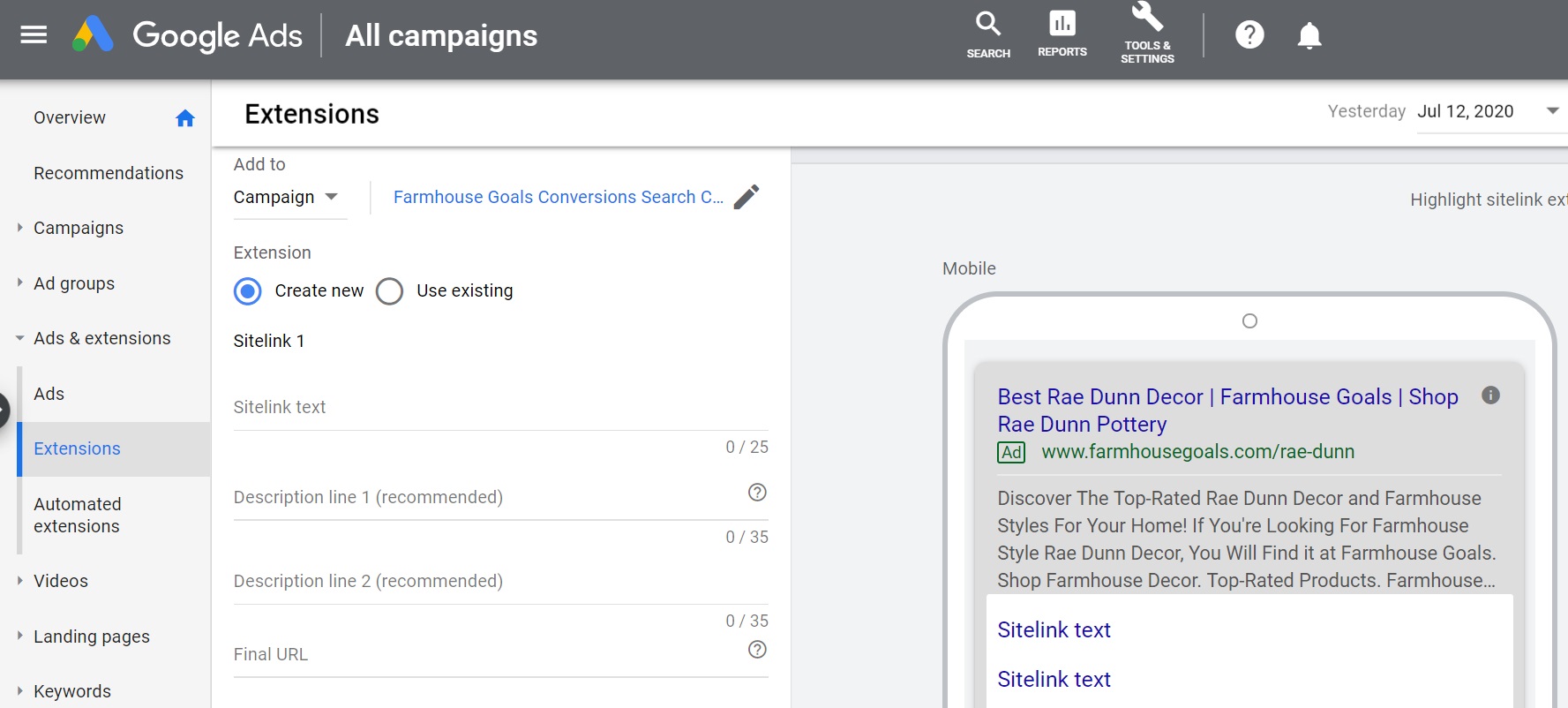 ---
Types of Google Ads Ad Extensions
The 10 different types of Ad Extensions are listed below.
Sitelink extensions
Callout extensions
Structured Snippet extensions
Call extensions
Lead Form extensions
Location extensions
Affiliate Location extensions
Price extensions
App extensions
Promotion extensions
---
---
Google Ads Ad Extensions
I go through each individual ad extensions below that you can add to your Google Ads. Depending on the ad extension, you have the option to add them to your Google Ads Account-level, Campaign-level, and Ad Group-level. For the best possible results, you should create Ad Group-level ad extensions.
Sitelink Extensions

What are Sitelink Ad Extensions?

Sitelink extensions give you the option if showing extra clickable links on a Google Ad that lead to your site just below the normal ad copy. You can link to promotion pages, other relevant pages related to a search query, your contact page, and any page on your website.

Sitelink Ad Extension Example

About Sitelink Ad Extensions

You can add descriptions for your sitelink extensions, which can make each sitelink into a mini Google ad. However, even after you set it up in that manner, Google will not always present it that way. For the most part, your ad will show around 4 sitelinks under a single advertisement. Either way, you should still add descriptions for all of the sitelinks you create.

---

Callout Extensions

What are Callout Ad Extensions?

Callout extensions allow you to add additional text to your Google Ads. Each callout can be up to 25 characters and they display similar to sitelink extensions, except they are not linked to any pages on your website. Advertisers normally use callout extensions to make the potential client pay attention to important product details and unique selling points.

Callout Ad Extension Example

About Callout Ad Extensions

You can include a total of four callouts in an ad whereby each is limited to 25 characters and must contain a minimum of two callouts in order to be displayed. Callout extensions can also be used in conjunction with other ad extension formats such as site links and are scheduled, created, and managed within the 'Ad Extensions' tab. Callouts can be added to the ad itself, ad group level, or account giving you the option of using the available information at the account or advertisement levels and select callouts for every ad groups.

---

Structured Snippets

What are Structured Snippet Ad Extensions?

Structured Snippets allow you to add more information to your Google ad about more of what your business has to offer. It's perfect for almost every business because customers can learn about your services, programs, types, and more.

Structured Snippet Ad Extension Example

About Structured Snippet Ad Extensions

When you have a large website or business with tons of options, structured snippets make a lot of sense. Your Structured Snippets options are Amenities, Brands, Courses, Degree Programs, Destinations, Featured Hotels, Insurance Coverage, Models, Neighborhoods, Service Catalog, Shows, Styles, and Types.

What you're able to do is basically show off different options for consumers before they click through to browse your products or services. For example, a potential student can make sure a University has their degree program before clicking an advertisement.

---

Call Extensions

What are Call Ad Extensions?

Call extensions allow advertisers to add their phone number to desktop and mobile ads. Mobile call extensions are clickable, which allows potential customers to click and call your business directly.

Call Ad Extension Example

About Call Extensions

You can add your phone number to your advertisements, which makes it much easier for customers to contact you. In fact, a customer can see your mobile phone number and dial it without even clicking your ad. However, once someone does click on your phone number to call you, you will be charged as an advertiser just like a website click.

In addition, it provides another recognizable element to your ad that allows it to be noticed easily. And hopefully, the phone number will get clicked by viewers who are interested in the service or product you are offering. Call extensions are helpful to any Ad campaign but are particularly important for local campaigns and campaigns whereby mobile impressions are more likely.

---

Lead Form Extensions

What are Lead Form Ad Extensions?

Lead form extensions allow advertisers who add lead forms to their advertisements. Customers can fill out and submit lead forms directly from a Google ad, without ever visiting their website. Advertisers are charged when someone clicks on a lead form.

About Lead Form Extensions?

Lead form extensions consist of the extension, the lead form itself, and a submission message. The advertiser will need to set up the way the extension looks, the ad copy, the form, and the final submission message after someone submits the form.

Advertisers can either use Web Hooks to integrate form submissions with their CRM system. Otherwise, lead form submissions can be downloaded directly through the Google Ads interface. It's vital for success to follow up with people who submit your lead form.

---

---

Location Extensions

What are Location Ad Extensions?

Location extensions allow advertisers to show their physical store location. People can click on a location to view it on a map and even call the business directly.

Location Extension Example

Location extensions help to improve ads that are based locally by allowing advertisers to show their phone number, map marker, and address on the ad. They also come with a link for showing directions in mobile ads for potential customers who are interested in the location of your business. If there is a chance that your ad may show up in local queries, it is worth it to take time to set up location extensions for your online marketing efforts.

Location extensions are set up at the campaign level and you can create them by making a new listing or by pulling them from a Google My Business account.

---

Affiliate Location Extensions

What are Affiliate Location Ad Extensions?

Affiliate location extensions show potential customers the physical locations to buy your products. People can easily find the closest stores to them that sell the products they are searching for.

Affiliate Location Extension Example

Affiliate Location Extensions are great for businesses that are selling products through retail chains. In the example above, when someone searches for a Sony TV in Palo Alto, it gives some different retailers where people can get that TV.

When someone searches for a product, an ad will show will any retail stores close by that sell the product. The person can then get directions to the retail store, visit, and hopefully buy the product. They are perfect for brands that sell products that people would prefer to see in person before they buy.

---

Price Extensions

What are Price Ad Extensions?

Price extensions are used to show the fixed prices of products and services that a business sells. They appear on desktop and mobile ads to showcase your prices. Potential customers can click on a price extension to view the product or service they are searching for.

Price Extension Example

About Price Extensions

Price extensions are extensions that indicate the price of the product or service you are advertising. They will show up beneath your ad link on desktop, mobile, and tablet devices in a carousel format. When price extensions are implemented, users will have the option of scrolling right or left to see the prices of different goods or services that are available to them and click on one in order to navigate to that particular product.

The set-up format used in price extensions looks different than most other Google Ads ad extensions. You will have to showcase your products and services with a price for each.

---

App Extensions

What are App Ad Extensions?

App extensions show on mobile and tablet devices and you can link directly to your mobile app. From a mobile ad, you can link your Google ad directly to your website and include an app extension that allows people to click, read reviews, and download it to their device.

App Extension Example

About App Extensions

App extensions only show on mobile devices. The app extension link is normally located below the text of the ad. Depending on the device that is being used, when a user clicks the call to action button, he or she will be directed to the appropriate app downloading service (Apple Store, Google Play, or Microsoft Store). if your main goal is to enhance app downloads and app promotion ads, then app extensions will be very suited for your needs.

---

Promotion Extensions

What are Promotion Ad Extensions?

Promotion extensions allow you to highlight a promotion that your business is currently running. If you run limited-time deals often, you can easily show them to customers on your text ads.

About Promotion Extensions

Businesses are always running deals and promotions, and it can be difficult to put them in front of your customers eyes. If people know they can get free shipping, discount, or other deals from your website, they are more likely to buy. That's why you should utilize promotion ad extensions.

You can also select 'Occasions' for your promotion. For example, some of the Occasions include Mother's Day, Valentine's Day, Black Friday, and more.
---
What Are Automated Ad Extensions?
Automated extensions can potentially be added to your advertisement when Google believes it will improve performance. While Google Ads will create automated extensions, you should still create ad extensions in your account.
Automated Ad Extensions Types
There are 7 different types of Google Ads automated ad extensions.
Automated call extensions
Dynamic sitelink extensions
Dynamic structured snippet extensions
Automated location extensions
Affiliate location extensions
Seller ratings extensions
Dynamic callout extensions
View Automated Ad Extensions Reporting
You can view the automated extensions that have been added to your ads by going to the Ads & extensions tab and clicking on the Automated extensions link.
---
Benefits of Ad Extensions
Ad extensions will increase the chances of your advertisement getting clicked, which will help to increase your quality score. A higher quality score will lead to lower costs because it will improve your Google Ads ad rank.
Increase your Click-Through Rate
Increase your Quality Score
Decrease Your Average Cost Per Click
Give More Information to Potential Customers
Increase your Ad Size
Increase Awareness for a Current Promotion
You Should Use Every Relevant Ad Extension For Your Business
If your business takes phone calls, you should use Call Extensions. If your business has set prices for products or services, you should use Price Extensions. If your business has a physical location, you should use Location Extensions. Every business can generally use Sitelink, Callout, and Structured Snipper Extensions.
In order to help improve your ad rank and Google Ads performance, it is highly recommended that you utilize Google Ads ad extensions. Doing this today will allow you to give more information to potential clients and customers. That way, they can have a clear picture of the products or services that you are offering. Not only that, but customers can also quickly fill out a lead form or call your business directly.
In Summary
There is no downside to adding ad extensions to your Google Ads account, campaign, and ad groups. You can get the most out of ad extensions at the ad group level because it will improve your ad performance the most. I would highly recommend watching the video above to get all of the information you need.