If you have a Gmail account, you have probably noticed the advertisements at the top of the 'Social' and 'Promotions' tabs. There are generally 2 advertisements in each tab that look something like the example below.

You may be wondering how to create Gmail Ads in your Google Ads account. That's why we put together our video tutorial on our YouTube channel and embedded it below. In addition, you can read our article for even more information.
Gmail Ads Video Tutorial
---
How To Create Gmail Ads Campaigns
In order to set-up Gmail Advertising campaigns, you want to start by creating or signing in to your Google Ads account. Once you are there, you can follow the steps below.
1. Create a New Google Ads Campaign
You want to start by clicking on the plus sign and then creating a new campaign.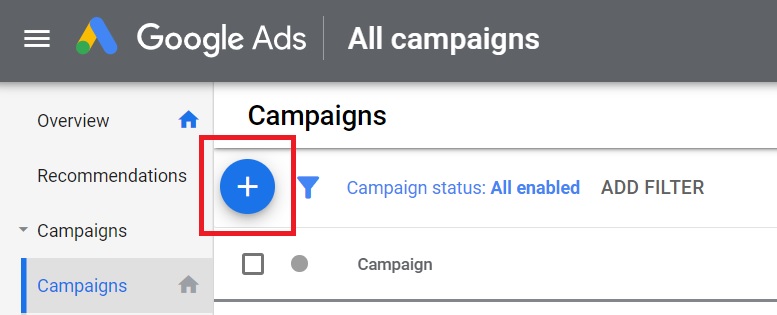 ---
2. Choose a Goal: 'Sales' or 'Leads' or 'Website Traffic'
If you are using conversion tracking, then you want to select the goal of 'Sales' or 'Leads.' If you are not using conversion tracking, then the 'Website Traffic' goal should be selected.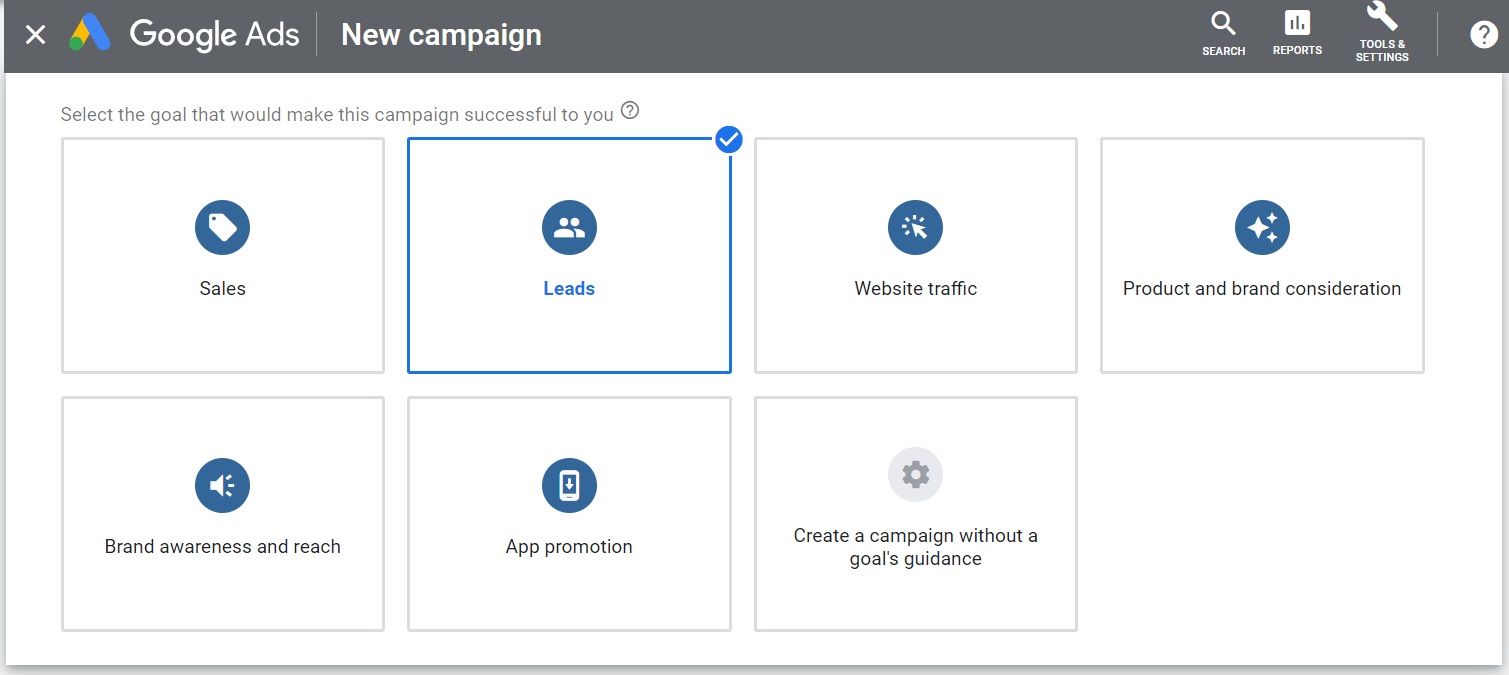 ---
3. Choose the Display Campaign Type
The campaign type for Gmail Ads that you want to choose is 'Display.'
---
4. Choose Gmail Campaign and Click Continue
From the display campaign subtypes, you should select the Gmail campaign option.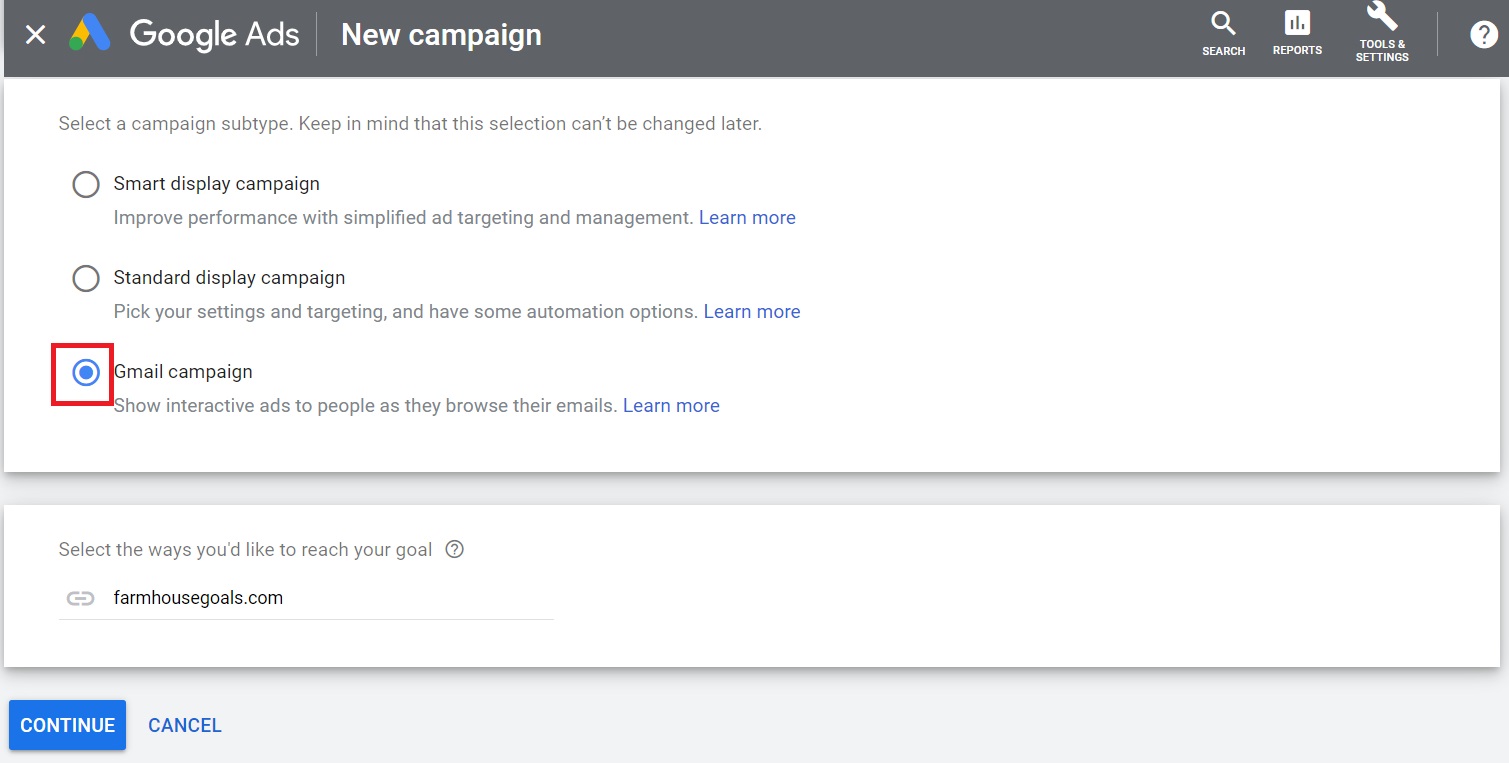 ---
5. Name Your Campaign and Set Location Targeting & Language Targeting
Set a name for your campaign, set the locations you want your advertisements to run, and set the languages your customers speak.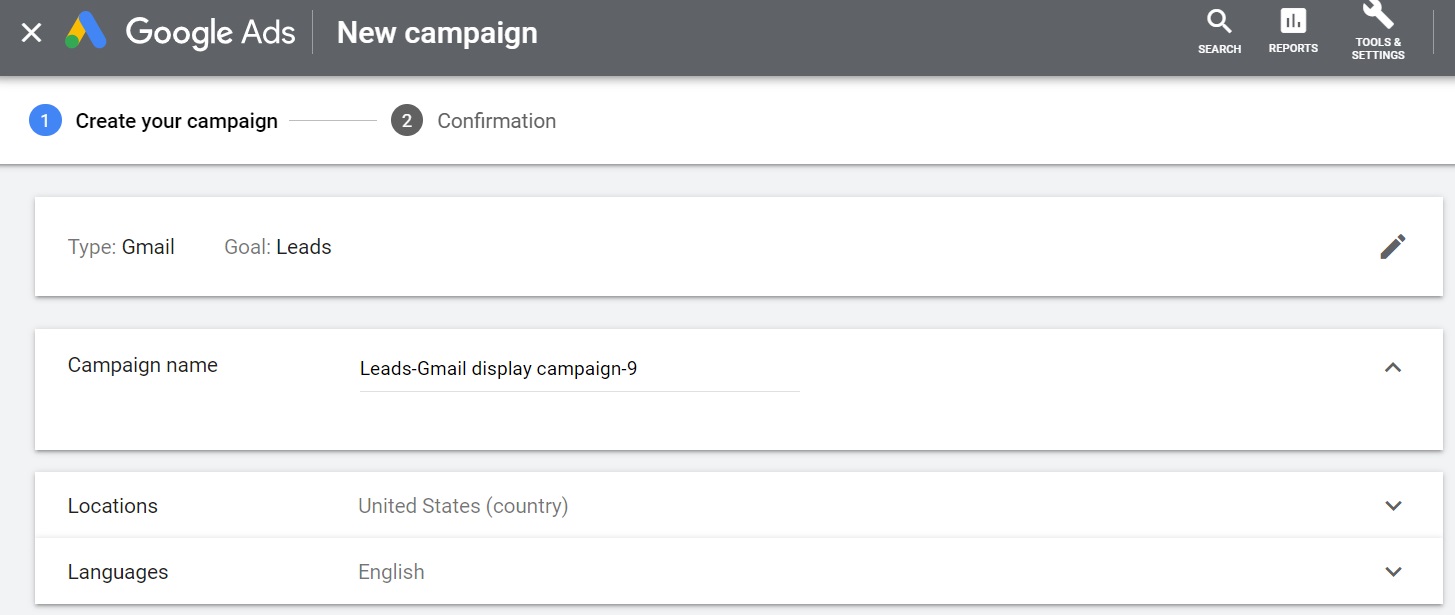 ---
6. Set Your Gmail Ads Bid Strategy
If you are using conversion tracking, then you want to use a smart bidding strategy like Target CPA, Target ROAS, or Maximize Conversions. Otherwise, if you are not using conversion tracking, then you should use the Manual CPC bid strategy.
---
7. Set Your Daily Budget
You should take your monthly budget, divide it by 30, and set that dividend as your daily budget. If your monthly budget was $900 for example, your daily budget would be $30.

---
8. Check the Additional Settings
Some of the additional settings include ad rotation, ad schedule, start dates, end dates, devices, campaign URL options, and conversions. The additional settings can ensure your ads are running optimally, at the correct times, and that they are set-up to drive conversions.
---
9. Name Your Ad Group
Set a name for your Ad Group, you will be setting up targeting and ads in the next step. I usually name Ad Groups based on my targeting settings for that particular group.

---
10. Set Targeting For Your Gmail Ads
You can choose between Keywords, Audiences, and Demographics. I prefer to utilize Audiences and Demographics when it comes to Gmail Ads targeting. With Keywords, you can target people with keywords that are related to what your business is promoting.

---
11. Adjust Automated Targeting for Gmail Ads
The options available are no automated targeting, conservative automation, and aggressive automation. You can expand your targeting to reach additional customers. For smaller budgets, I would recommend no automated targeting. For large budget campaigns, I would recommend aggressive automation.

---
12. Create Your Gmail Ad
You have the option to create a Gmail Ad or upload your Gmail Ads. It's much easier to create a Gmail Ad and you can follow the instructions in the next step to make sure you set it up properly.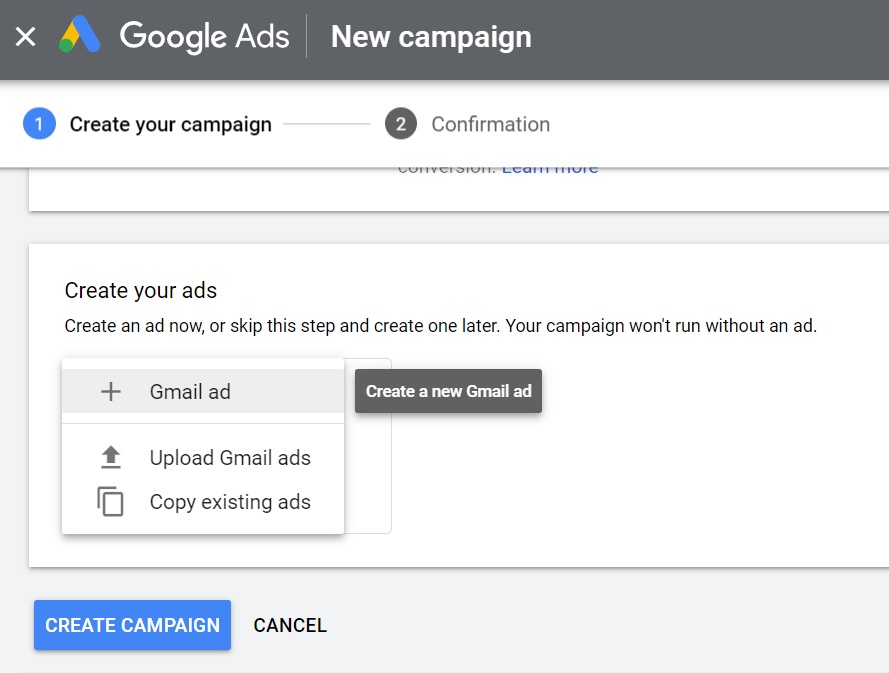 ---
13. Upload Images and Set Ad Copy
Set your Business Name, Headline, Description, and Final URL. Then, upload your Marketing Image and your Logo. You have the option to add Catalog Images as well, which can work great for Ecommerce websites.
Lastly, you can set your Custom teaser, Call to action, and Color options.
---
What Are Gmail Ads?
Gmail Ads campaigns are created through Google Ads and they are one of the campaign subtypes for Display advertising. Advertisements appear in potential customers Gmail inboxes at the top of the 'Social' and 'Promotions' tabs. They look like a standard email, although they have an 'Ad' label next to them.
When people click to open a Gmail Ad, it will open an email that will contain an image, a video, or a catalog of images. The email will allow advertisers to promote an offer with a call to action that directs each person to the advertisers website.
Unopened Gmail Ads Example
Before a Gmail Ad is clicked to be opened, it will look something like the image below.

Opened Gmail Ads Example
When the Gmail Ad is clicked, it will look something like the image below.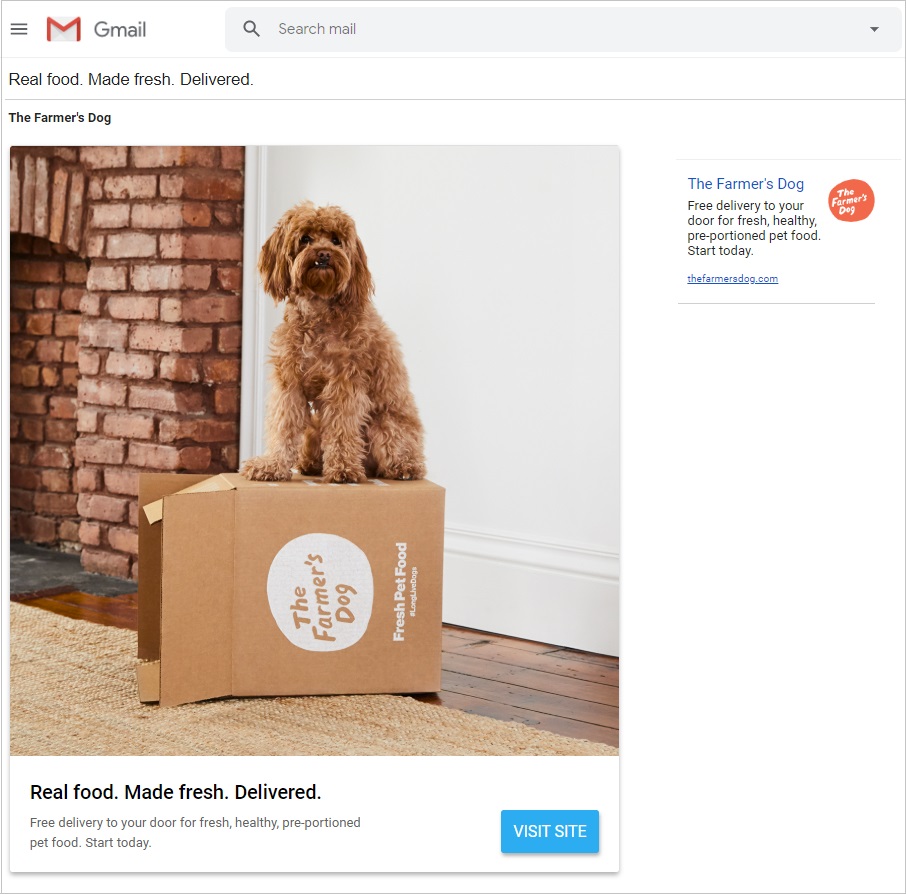 ---
Gmail Ad Specs
When you are creating a new Gmail Ad, the specs below are what you will need to follow for your ad copy, logo, marketing images, videos, catalog images, and more.
Business name:
Headline:
Description:
Marketing Image:
Landscape (1.91:1): 1200×628 (minimum size required: 600×314).
Square: 1200×1200 (minimum size required: 300×300).
Header Image (optional): 1200×400 (minimum size required: 600×200).
YouTube video link (video thumbnail size): 324×183. Aspect ratio must be 1:1.
Maximum image size: 150KB
Header Image:
1200×400 (minimum size required: 600×200).
Logo Image:
Square: 1200×1200 (minimum size required: 144×144).
Aspect ratio must be 1:1.
Logo maximum file size: 150KB
Catalog Images:
Square: 600 × 600 (min required: 300 × 300)
max file size: 150KB
Call-to-action Button:
Single Image Ad Specs
Image (upload): [300px to 650px] x [300px to 1000px]
Accepted image formats: JPEG, JPG, PNG, GIF (non-animated)
Maximum image size: 1MB
Custom HTML
8 Gmail Ads Best Practices
Below, you can find some of the best practices and strategies for running successful Gmail Ads campaigns. Ultimately, you want to focus on driving conversions and testing multiple advertisements and targeting options.
1. Use Conversion Tracking and Focus on The Key Actions on Your Website
Your campaigns should be created with the purpose of driving leads and/or sales. When I create a Google Ads account or start working with a new client, I always start with conversion tracking. Then, Google Ads campaigns can be set-up to drive leads or sales, which helps you maximize your budget.
2. Create Multiple Gmail Ads in Each Ad Group
A PPC Advertising best practice is to create multiple ads for any campaign you are running, regardless of the channel. With Gmail Ads, your top-performing advertisements will get the most impressions and clicks over time, which will drive more conversions at a lower cost for your business.
3. Test Different Targeting Options
In general, testing different targeting groups, audiences, interests, behaviors, and demographics will help you learn the best audiences for your campaigns. You won't know what will drive conversions at the lowest cost until you test.
4. Use Remarketing, In-Market Audiences, Custom Intent Audiences and Similar Audiences
Remarketing will give you the best results when it comes to driving conversions with Google Display Ads. With Gmail Ads, I would recommend testing some additional audiences as well to reach the most targeted groups of people possible.
5. Narrow Demographics Targeting to Your Target Audience
Utilize the data about your customers to reach your most profitable group of customers based on their demographics. For example, if your target market is mothers between the ages of 25-45, then narrow your audience to that group.
6. Separate Targeting into Different Ad Groups
When you are targeting different audiences, I prefer to put each targeting group into different Ad Groups. For example, I may have 1 ad group targeting in-market audiences, 1 ad group targeting custom intent audiences, and 1 ad group targeting similar audiences.
7. Test Ads with Video and Catalog Images
I would recommend creating 1 ad with a single marketing image, 1 ad with video, and 1 ad with catalog images.
The majority of Gmail Ads feature a large image to go along with your ad copy and a call to action. There's no downside to testing Videos and Catalog Images as well within your ads.
8. Test Multiple Landing Pages
One of the best ways to improve your conversion rate is to test multiple landing pages against each other. My favorite method is to simply duplicate the ads in my Ad Groups and set different Final URLs for the landing pages I am testing.
You can try landing pages with different copy, videos, images, and even designs.
In Summary
When you are creating Google Display Ads, don't forget about Gmail Ads as well. They allow you to reach people directly in their inbox. You can utilize Remarketing as well as other effective Google Display Network targeting options. There are plenty of benefits whether you want to drive brand awareness, product awareness, or even direct conversions.
If you have any questions about creating a Gmail Ads campaign, leave them in the comments section below. Thanks for reading!
---
---