10 Useful and Free SEO Tools For 2020
There are thousands of SEO tools that can help with everything from keyword research to technical SEO. Since you can't test every tool available, I have listed 10 of my favorite free Search Engine Optimization tools in 2020.
You can watch the video below or continue reading the article for more information. You can also watch it directly on YouTube.
10 Free SEO Tools Video
---
10 Free SEO Tools
We listed some helpful free Search Engine Optimization tools below. There are plenty that you can use to accomplish any task. I recommend all of the free tools available at this time at SEOReviewTools.com. In addition, there are plenty of tools you can try below.
---
Join Surfside Niche today and learn how to create a successful niche website! Watch me build my websites and my YouTube channel to 1,000,000+ views per month. Join and build with me and hundreds of other creators.
---
One thing you may find is that free tools also have a premium version. Most completely free tools have limitations or they do not work as well as paid tools. However, you can still accomplish plenty of tasks with the tools below. And, they can all help you rank higher in search engines like Google.
1. SEO Checker & SEO Content Score Checker
Access the SEO Checker here.
Access the SEO Content Score Checker here.
The first two tools are the SEO Checker and the SEO Content Score Checker. These 2 tools will allow you to find any major issues with an individual page or a piece of content on your website.
You should always know how search engines are viewing your content. The tools below will give you a score and help you find warnings and errors.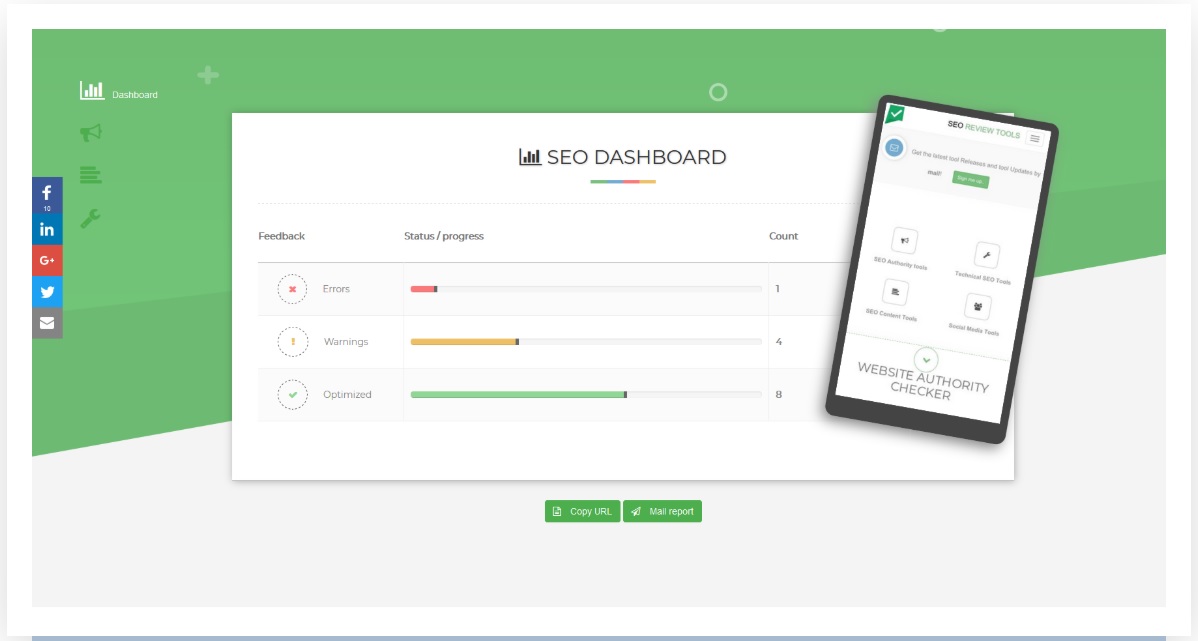 ---
2. Featured Snippet Tool
Access the Featured Snippet Tool here.
The featured snippet tool is one of the best free tools for finding commonly asked questions. All you need to do is enter a keyword and you will get a list of the most commonly asked questions related to that keyword. It's perfect when you need to expand your content and answer all relevant questions.
---
3. Bulk Google Rank Checker
Access the Bulk Google Rank Checker here.
Access the Bulk Web Page Word Count Checker here.
Rank tracking is one of the features that paid tools offer. It's rare to find a free SEO tool that can check your current ranking for a bulk set of keywords. I like to use this tool to check my rankings high search volume keywords, which can ultimately drive a large amount of search engine traffic.
There is also a bonus tool by SEO Review Tools below called the Bulk Web Page Word Count Checker. I use this tool to compare my content length to competitors.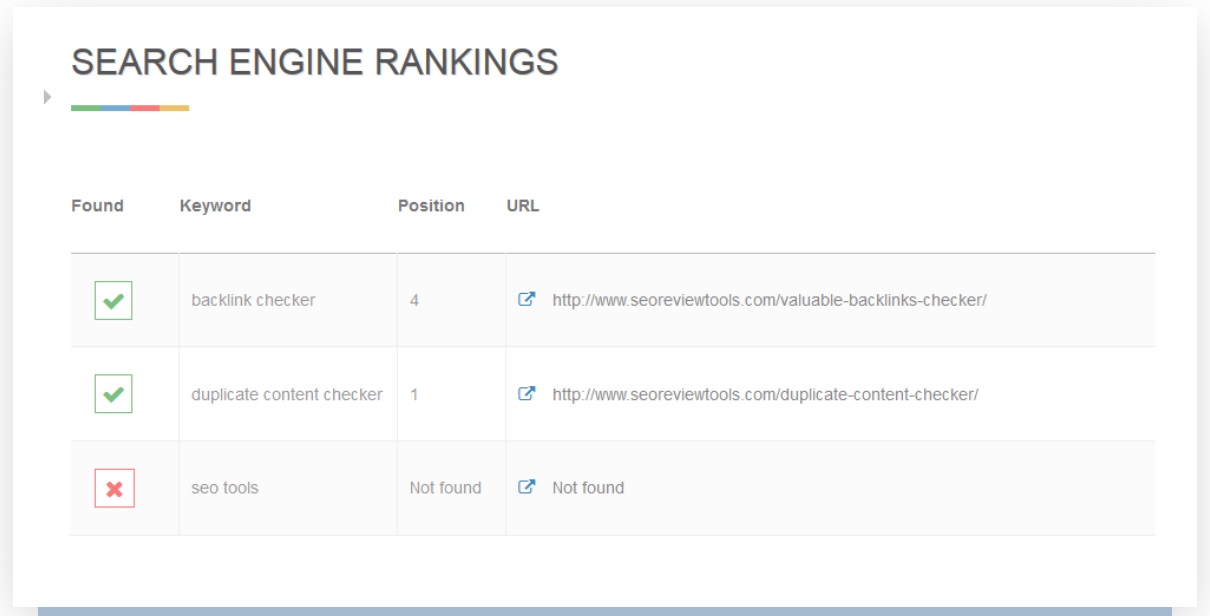 ---
4. GTMetrix
Access GTMetrix here.
Page speed is an important aspect of SEO. Not only is it a ranking factor, but it can also have a huge impact on your page engagement. People tend to leave slow-loading websites much faster since the website is not easy to use. GTMetrix will give you free page speed scores and specific issues that are slowing down your website.
---
5. Google Search Console
Access Google Search Console here.
Google Search Console is probably my favorite SEO tool. Once you start creating content, you can view your performance in the Google search results. In addition, you can find technical warnings and errors on your website. I like to view my top rankings and top search queries that are driving traffic to my website.
---
6. Google Keyword Planner
Access the Google Keyword Planner here.
My favorite free keyword research tool is the Google Keyword Planner. You can find my tutorial for how to use it below. Not only is it useful when you build Google Ads campaigns, but it can also be used to build SEO keyword lists as well. When I am doing keyword research for SEO, I use the Keyword Planner first.
Google Keyword Planner Tutorial Video
---
---
7. UberSuggest
Access UberSuggest here.
UberSuggest is a freemium tool with paid plans as well. It was free for a long time, but recently came out with a premium version. However, the free version of UberSuggest will still give you long-tail keyword ideas, keyword search volume, content ideas, top-ranking pages, and more.
---
8. Can I Rank
Access Can I Rank here.
CanIRank.com is a tool that will give you keyword optimization ideas for your website. With thousands of keywords to target in any industry or niche, sometimes it's good to know the high value and high potential keywords you should optimize for first. There are additional SEO tools available through Can I Rank as well.
Unfortunately, the free version of Can I Rank is limited and this is considered a freemium tool.

---
9. SEOBility
Access SEOBility here.
SEOBility is another freemium SEO tool that has a robust free version of their software. It is a great tool for website crawl data, rank tracking, link management, a backlink checker, and SEO scores. It is worth trying to free version to find any technical website errors and to manage your backlinks.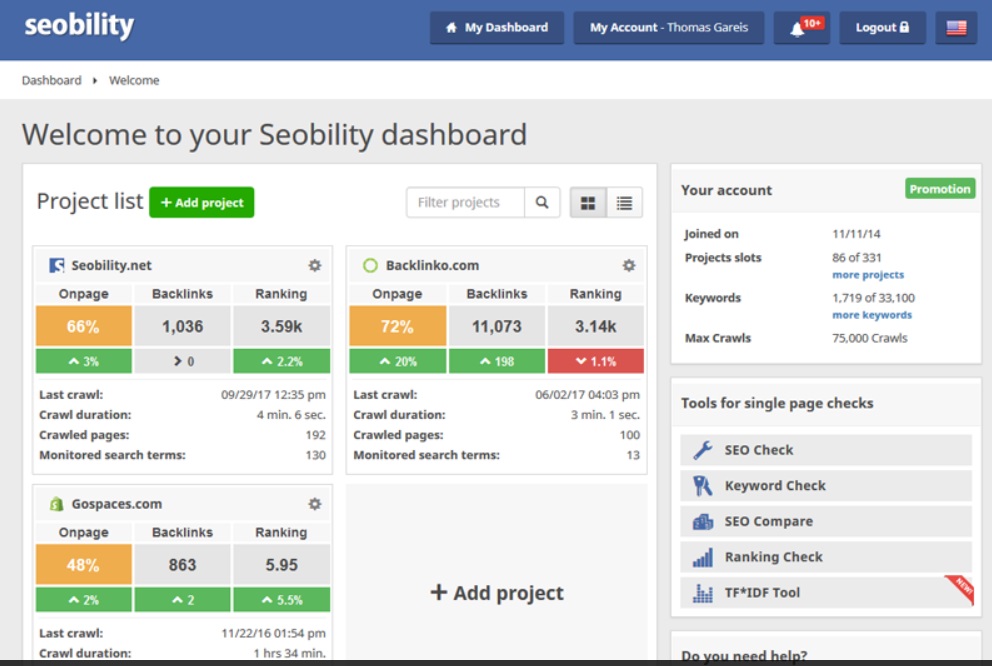 ---
10. SEO Minion
Access SEO Minion here.
SEO Minion is a Google Chrome and Firefox SEO plugin. It is one of the best on-page SEO tools. In addition, you can highlight broken links, view links on your page, view a SERP preview, and more. I would recommend installing SEO Minion and giving it a try.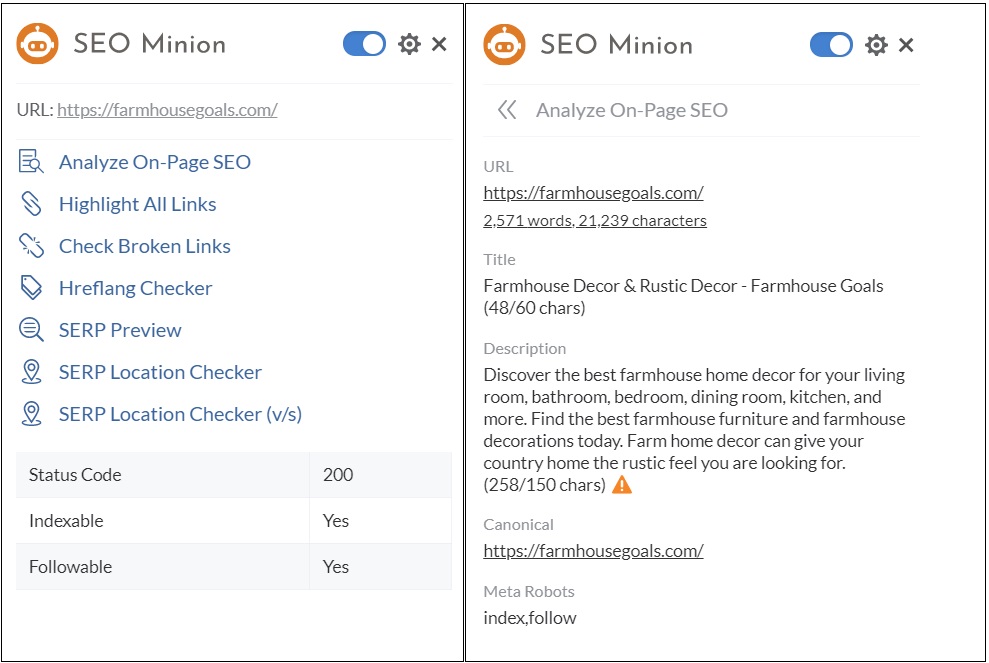 ---
In Summary
There are hundreds of SEO tools to choose from. Obviously, we can't use every single tool every day. However, there are plenty of free tools that can help you do keyword research, analyze your on-page SEO, find keyword opportunities, monitor google search performance, analyze backlinks, find technical SEO errors, and more.