In the following article, we will cover everything you need to know about Facebook Video Ads. There are a variety of video advertising campaigns you can run on Facebook to drive video views and reach a targeted audience. In addition, there are different Facebook video ad types and placements.
Why Use Facebook Video Advertising?
Video content is going to continue to grow over the next several years and being able to promote your videos is vital. We decided to put together an article and a video about paid Facebook video view advertising campaigns. If you work in digital marketing or if you own a small business, understanding paid Facebook video marketing is vital.
Facebook Video Ads Tutorial
Facebook video advertising can be difficult when you are getting started, so our tutorial and guide below will help you. Once you create, manage, and optimize several Facebook video advertising campaigns, it becomes much easier to make improvements. We would highly recommend watching the video first, and then we will cover some best practices and strategies in the blog.
---
Facebook Video Ads
Video ads can help you grab people browsing Facebook, Instagram, or the Audience Network and help them connect with your brand. When you have a great product, service, brand, business, or even just an offer you want to promote, Facebook Video Advertising is a strategy to test. Ultimately, you want to them to be engaged with your video so they seek out everything you have to offer.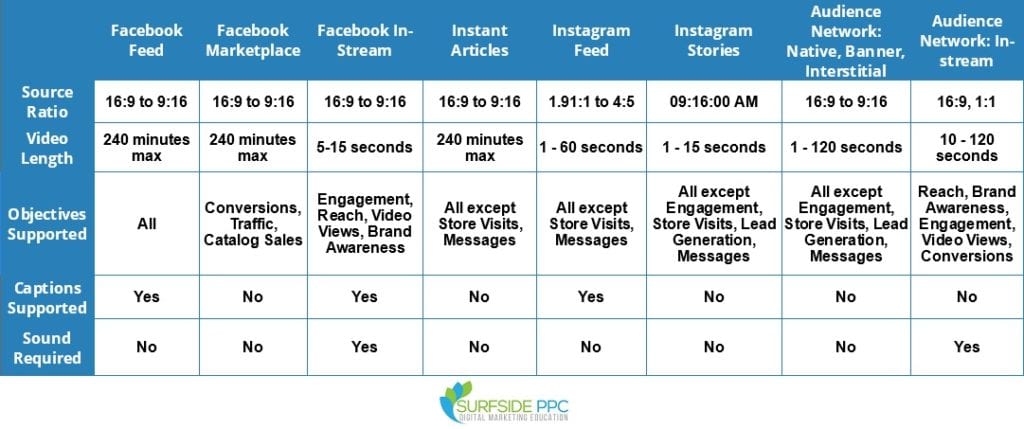 3 Facebook Video Ads Strategies
The three Facebook video advertising strategies and tips below will help you create great campaigns and connect with potential customers.
Write Down Your Goal

Before you create your campaign, you should write down your goal. Do you want to drive traffic to your website? Is your business actively attempting to reach new people and try to turn them into customers? Do you want to promote a brand new product or service to generate interest? Do you want to retarget people who already know your business?

Tip: Write down just one goal you have for your video ad campaign. If I was running a Facebook video campaign for Surfside PPC, my goal would be to increase subscribers to my email list by promoting a free offer.

Grab Attention in 5 Seconds

The worst video Ad is one that is too long, too vague, and doesn't grab your customers attention. Within 5 seconds, the potential customer should know what brand is advertising to them and the unique selling point. When someone scrolls through an Instagram story or scrolls down their Facebook timeline, they want to be entertained or intrigued immediately.

Tip: Watch Facebook Video Ad examples and create video ads based on the ones that grab your attention.

Test and Optimize

Let's look at two different advertising scenarios. The first Facebook Video Advertising Campaign has one video, one set of ad copy, one audience, and one landing page. The second Campaign has 3 videos to use, 2 sets of ad copy to test, 4 audiences, and 2 landing pages. With the first scenario, you are unable to test and optimize anything. With the second scenario, you can split-test until you drive the optimal results you are looking for.

Tip: Remember to only run one A/B test at a time. Facebook recently released split-testing so you can automate your A/B tests for ads, audiences, ad copy, and landing pages.
Facebook Video Ads Best Practices
Professional Video Development

Here at Surfside PPC, we create screen recorded videos to post to our YouTube channel. However, we would have to pay a production team to produce a video ad for us because we don't have that skill. You can try services like Shakr or Magisto. In addition, you can use Upwork or Storyhunter to find a video professional. You are setting yourself up to fail by not producing a professional video ad that represents your business well.

Short Video Ads

A very small percentage of people will sit and watch a 30-second video ad willingly, regardless of the quality. The Facebook Newsfeed and their other Video Ad Placements are set-up to work best with quick, attention-grabbing videos. Your first 5 seconds need to be clear and effective.

Use Recommended Video Aspect Ratios

For Facebook in-stream video ads, it is recommended to use 16:9 videos because that gives you access to the most ad inventory. When you are running Instagram Story Ads, it is recommended to use an aspect ratio of 9:16. Vertical video ads and square video ads work much better on mobile phones, so you need to optimize for the screen where your video will be appearing.

Utilize Captions

Captions are a great way to get people to read your video subtitles and get them engaging right away, especially if they have sound off. Sometimes you can get people to turn their sound on to engage with your Video Ad because they start reading the captions and it catches their interest.

Focus on Engagement

You need to have a focus on engagement for your video including shares, likes, comments, and clicks. In addition, you want to focus on getting more people to watch at least 50% of your video ad so they can see your message and interact with your business.
Facebook Video Ad Placements
We cover some of the different Facebook video ad and Instagram video ad placements below.
Facebook Newsfeed Video Ads
The most popular type of Facebook video ad is one that appears in the newsfeed. You are able to target audiences with your Facebook Video Ads and your ad impressions will be shown to your target audience in their timeline. The maximum file size is 4GB and the maximum video time is 240 minutes. The aspect ratio can be anywhere from 9:16 to 16:9. In addition, you get 25 characters for the headline and 30 characters for your ad copy at the top so you can describe what you're advertising.
Facebook Instant Article Video Ads
Instant Article Video Ads show when your targeted audience clicks on a Facebook Instant Article. Instant Articles are a mobile format where users can quickly read articles from their mobile phone, so keep that in mind when you choose the video you are advertising. The aspect ratio, maximum file size, and maximum video time match Facebook Newsfeed Video Ads above.
Facebook In-Stream Video Ads
In-Stream ads play automatically when people are watching other videos on Facebook. Their video will be interrupted by your video ad. In-Stream Video Ads can only be 5 to 15 seconds. The aspect ratio can be between 9:16 to 16:9. Facebook recommends 16:9 because most of their videos are that aspect ratio so it gives you more access to video ad inventory.
Facebook Suggested Video Ads
When people are clicking to watch videos on Facebook, there will be other suggested videos similar to the ones they are watching. Instead of showing your video ad in their newsfeed, you can have it show as a suggested video that they can click and watch. You pay when people interact with your video. The aspect ratio, maximum file size, and maximum video time match Facebook Newsfeed Video Ads.
Instagram and Audience Network Video Ads
We wanted to separate the Instagram Video Ads and Audience Network Video Ads. You can learn more about Instagram video ad specs and best practices.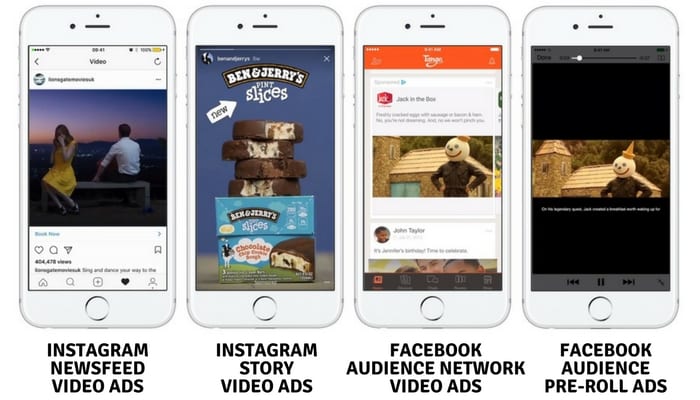 Instagram Feed Video Ads
Since Instagram is part of the Facebook Advertising Network, you can run Instagram Video Ads directly in the Newsfeed. When people browse their newsfeed on Instagram, you can promote your video to them and drive traffic to your website as well. The maximum file size is 4GB and the maximum video time is 60 seconds. The aspect ratio can be anywhere from 4:5 to 1.91:1.
Instagram Story Video Ads
Instagram Story Video Ads are a vertical ad unit that shows on mobile devices. You want to create visual images that will quickly grab the attention of your target audience. Your video limit for Instagram Stories is only 15 seconds. Your video resolution must be at least 1080 x 1920 pixels.
Audience Network Video Ads
You have the option of Facebook Audience Network Native, Banner, and Interstitial ads. In addition, you can run Audience Network In-Stream Video and Audience Network Rewarded Videos. Native, Banner, and Interstitial ads must be less than 121 seconds. In-Stream video ads must be 30 seconds or less. Lastly, Rewarded Video ads must be between 15 and 30 seconds.
Facebook Video Ad Types to Test
We recommend trying different types of Facebook video ads so you can drive the best results. Whether you want to reach new people, drive awareness, or website traffic and conversions, you need to test different Facebook Video ad units.
Facebook Carousel Video Ads
You can use Carousel Video Ads to upload multiple videos to the same Facebook Advertisement. You can tell a story about your products or explain all the benefits of the services you have to offer. Carousel Ads are very engaging because people can learn a lot in a short period of time. People on Facebook are able to scroll through all your videos, rather than being limited to one video.
Facebook Canvas Video Ads
You can put video ads in your Facebook Canvas Ads and surround them with different offers. It is definitely something to test as you look to maximize your Facebook Video results.
Vertical Video Ads
Facebook and Instagram prefer vertical video ads for mobile devices. Vertical videos that are 9:16 and square videos appear much better on mobile devices. You can see a great example by looking at the Ben and Jerry's Instagram Story Video Ad above.
Designing Facebook Video Ads
Video Length: When you are creating video ads specifically for Facebook, focus on creating ads between 5 and 15 seconds. People will struggle to engage with anything for longer than 10 seconds so you need to capture their attention quickly.
Video Sound: Many people don't have their sound on while they browse Facebook, so you want to use captions when applicable. The sound should be soothing and enhance your video.
Video Content: What you are advertising should be obvious as soon as the video starts. Focus on using the first 5 seconds to promote your company, brand, product, or service so people know what it is right away.
Facebook Video Formats
The two most popular and recommended formats for Facebook Video Ads are MP4 and MOV. If you want a complete list of accepted video formats, you can find it on Facebook here.
In Summary
Facebook Video Advertising is a great way to promote your company, product, or service. There are a variety of Facebook video ad types, video ad placements, goals, and more. It is imperative that you create attention-grabbing video ads as well as testing and optimizing your campaigns. If you have any questions, feel free to leave them in the comments section.
---
---