Drive More Google AdWords and Bing Ads Phone Calls
Video Example
Check out our video below for the visual example of this blog post. We go over ways in Google AdWords to drive more phone calls to your business.
Google AdWords and Bing Ads have made great strides in helping businesses of all sizes drive more qualified phone calls. They can help you not only target mobile devices with click-to-call ads, but you can also track the average length of phone calls and their overall value compared to the cost. Considering a phone call can be more profitable on average than someone visiting your website, businesses have plenty of reasons to take advantage of these ad formats.
I will go over some of your different options below along with things I would recommend implementing immediately. Whether you are a plumber, lawyer, doctor, dentist, or real estate agent, the tips below can help you improve revenue for your business.
Desktop Call Extensions
The first two things you want to implement are Desktop and Mobile Call Extensions. This allows you to show your phone number to people who are searching terms related to your business. They perform very similarly in Google AdWords and Bing Ads and they are similar when implemented. I will show examples below for each channel and some things you might want to consider. First we will go through Desktop Call Extensions.
---
Join Surfside Niche today and learn how to create a successful niche website! Watch me build my websites and my YouTube channel to 1,000,000+ views per month. Join and build with me and hundreds of other creators.
---
---
How to Set-Up AdWords Call Extensions
---
Google AdWords

*Click on the image for full size

Bing Ads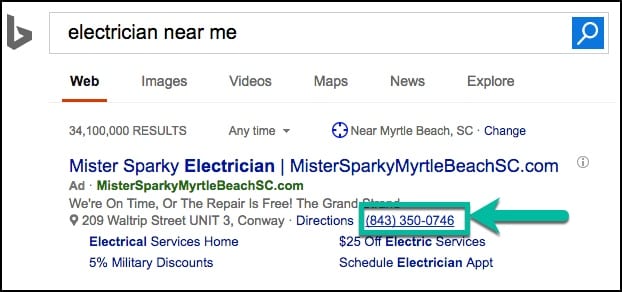 *Click on the image for full size
Things To Consider
Call Forwarding – By selecting call forwarding, Google AdWords and Bing Ads can show a number different from yours and that allows them to track phone calls better. They can show how long phone calls last on average and how often people see your phone number and dial it manually.
Mobile Call Extensions
Mobile Call Extensions are even more important than the Desktop version because people can click your ad directly and call your business. Your ad literally has a clickable button that calls you automatically when someone clicks it. You pay per phone call so you aren't charged when your number shows, only when someone calls you.
Google AdWords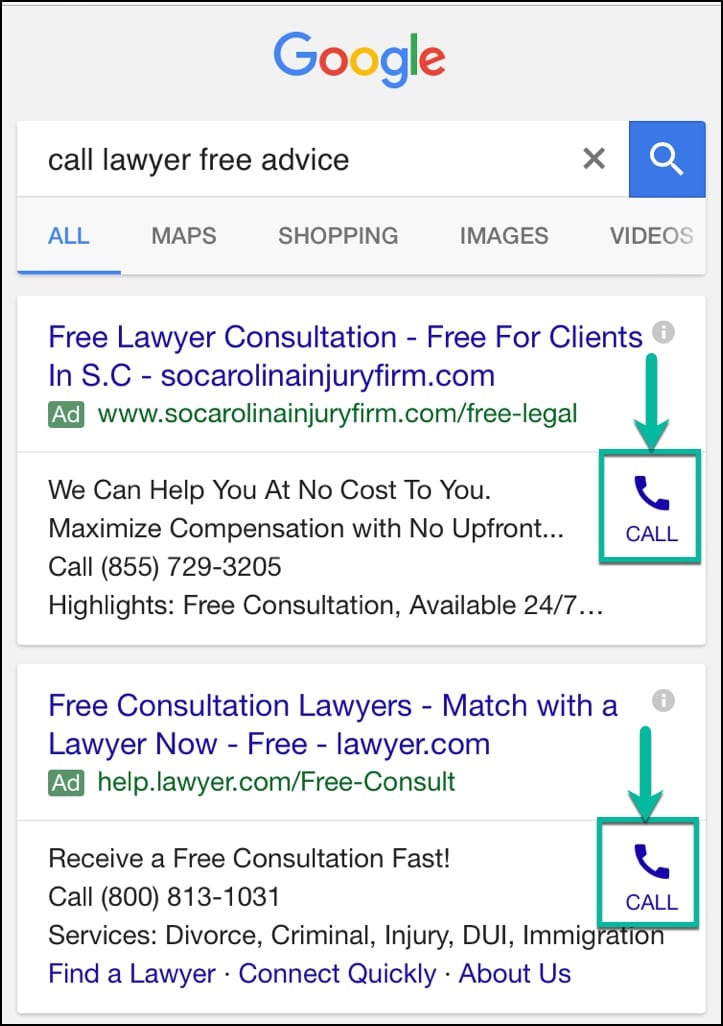 *Click on the image for full size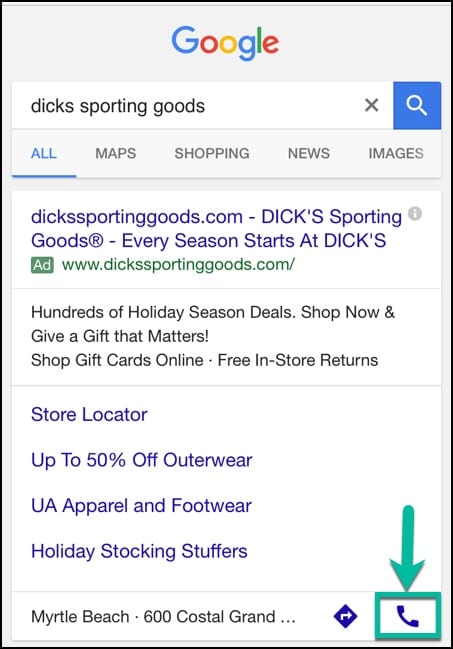 *Click on the image for full size

Bing Ads
Mobile Call-Only Campaigns
Another option you have is to run Mobile Call-Only campaigns that are set-up for the sole purpose of driving phone calls. You do not worry about sending traffic to your website but rather driving phone calls directly to your business. Your ads will only show up on mobile devices and the headline will be your phone number and several lines of description text.

---
How to Set-Up AdWords Call-Only Campaigns
---
Mobile-Call Only Campaign Example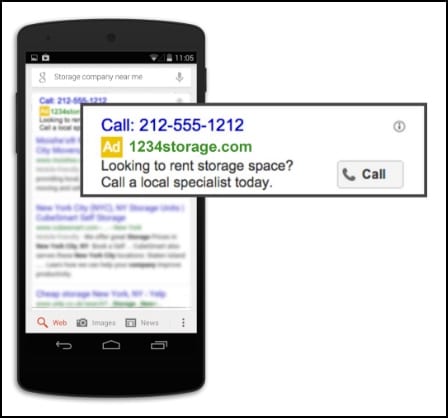 For Call-Only Campaigns, you would target keywords just like a normal Search Network campaign. When someone searches your targeted keywords, your Mobile Call-Only ad will show to potential customers and they can click it to call you directly.
Answer the Phone – You only want to run Mobile Call-Only ads when you are able to answer your phone. If you miss phone calls you will still be charged. In addition, you should make sure you have a process from new phone call to new customer to make the most of your investment.
Mobile Website Call Conversions
Using Google AdWords, you can actually track when someone clicks through to your website and then calls the phone number displayed on your website. They are referred to as Website Call Conversions. You need to implement a piece of code on your website and Google will show a trackable call forwarding number. Google is then able to track phone calls that people start after clicking through to your website and you can understand just how profitable your campaign is.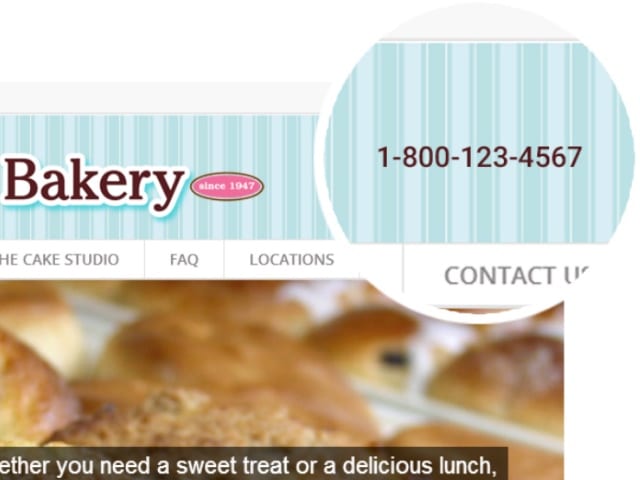 Conversion Optimizer
If you implement Mobile Call-Only Ads and track conversions using Call Forwarding, you can eventually get to the point of using Conversion Optimizer. All you need is 15 conversions in a 30-day window and Google will be able to use that data to drive more and more phone calls over time. And they won't just drive more phone calls, it will also help send you phone calls that last more time on average and generally lead to conversions.
Drive Phone Calls With Google AdWords
Imagine you get a new job in Miami and you need to find a new condo for rent. The first thing you generally do is go to Google and search 'Miami Condos for Rent.' Then, you will see an advertisement from a company that specializes in Miami Condo Rentals and they have a click-to-call ad where you can quickly set an appointment. You click on the ad, call the company directly, and set-up your appointment. Before you know it, you are in your new Miami rental condo and the company running the ad, who would have never gotten that business otherwise, now has increased their revenue just from that one phone call.
FlipKey is now able to drive phone calls that they would have never been able to drive.
Track Website and Call Analytics
In order to figure out how much you should bid and spend, you need to track absolutely everything. If you know that you spent a total $2,000 on phone calls and that lead to $5,000 in profit, then you need to find the optimal budget for driving profit and revenue. If you can't properly track your campaigns then you won't be making educated decisions on driving phone calls.
In Conclusion
By using desktop and mobile call extensions along with mobile call-only campaigns, you can drive more phone calls. And if you use AdWords and Bing Ads call forwarding and website call conversions, you have the ability to track more than ever about your advertising spend. You can see how much you spent, how many phone calls that drove, and the value of those phone calls, which is vital to your business if you want to increase leads and overall revenue.