The 'Boost Post' button is one of the first things you may see when you create a Facebook Post on your business page. In the past, your post would reach your entire Facebook audience. However, more and more Facebook page owners are boosting posts to reach their audience.
We have put together a video and a guide below so you can get the step-by-step process for boosting Facebook posts. You can also watch the video directly on YouTube.
Boost Facebook Posts
---
Facebook Boost Posts Tutorial
If it is your first time boosting one of your Facebook posts, there are some best practices you can follow. In addition, seeing the step-by-step directions can be helpful as well.
1. Create A New Post On Your Facebook Page or Choose An Existing Post to Boost
You need to start by posting something on your Facebook business page. Otherwise, you can choose to Boost an existing post. Generally, I would recommend boosting a post that shows a new product offering, a new service your business is offering, or a limited-time promotion.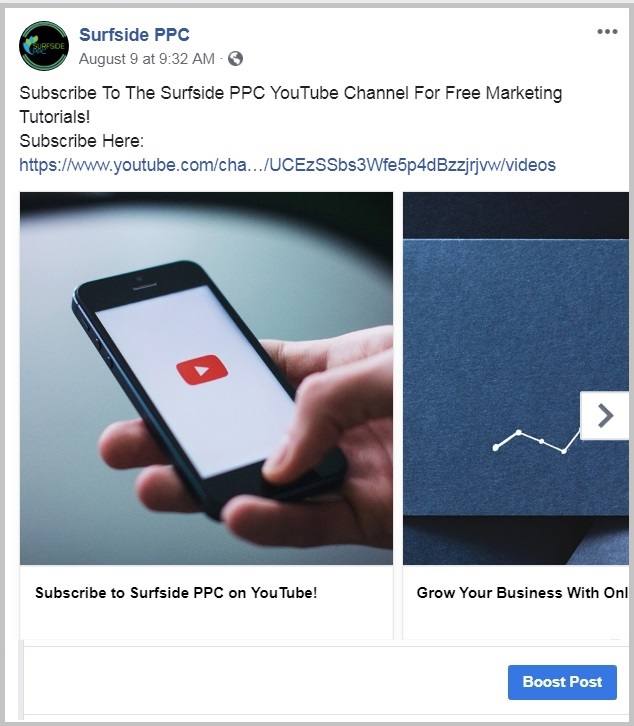 ---
---
2. Click on the Boost Post Button
Next, you will have to click on the blue 'Boost Post' button underneath your post. Once you click that button, it will open up a prompt where you can set your targeting and your budget.
---
---
3. Choose Your Location and Audience Targeting
First, if you want to set an audience for targeting, start by choosing your location targeting and demographic targeting. Then, you can choose from Facebook interests, behaviors, and demographics that you can target.
You can also target one of your Saved audiences or a Custom audience as well.
---
Otherwise, one popular option is to choose to target your Facebook page likes audience and set your location targeting. For example, you can target everyone who likes your page in the United States.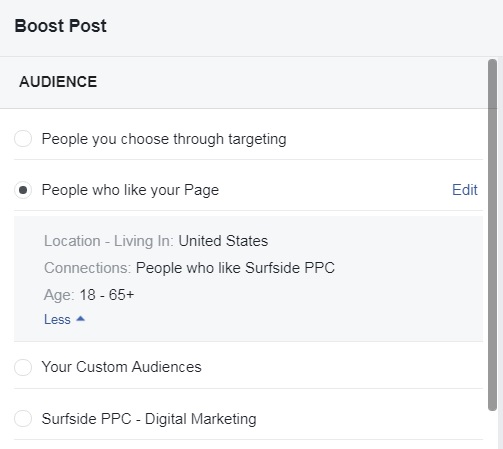 ---
4. Choose Your Placements
Next, you can choose the placements where your post will run. You cannot exclude Facebook, but you can choose to include or exclude Instagram and Messenger.
---
However, I generally choose to turn the Automatic Placements option on. That way, Facebook can run my post ad in the best places to spend my budget as optimally as possible. You should only exclude placements if you don't want your ad to run there.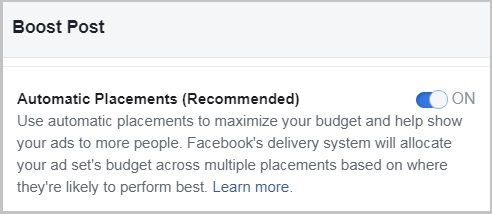 ---
5. Set Duration and Budget
Next, you need to set the total duration that you will be boosting your post and the total budget. Generally, I wouldn't recommend spending a large portion of your budget on a boosted post or running it for a long period of time. In addition, you can always adjust the duration and budget based on performance, so you aren't locked in based on your decision.
---
6. Check Estimated People Reached
One way to guide your duration and budget decision above is by looking at the number of people you will reach per day. Facebook will give you an estimate based on your audience and your budget.

---
7. Tracking Conversions
As long as you have your Facebook pixel installed on your website, you will be able to track conversions back to your boosted post. Your campaign won't optimize for conversions, but you can still record when they are driven.

---
8. Choose Your Payment and Ad Account
Your Facebook Post Boost will be running in a Facebook Ads account, and you will need a payment method for the upcoming spend. You can use the default payment method on your Facebook Ads account or add a new one if you need to.
---
9. Preview Your Boosted Post
Next, you can preview how your Boosted Post will look across some of the different placements like the Desktop Newsfeed, Mobile Newsfeed, Instagram, Instagram Stories, and Messenger Inbox.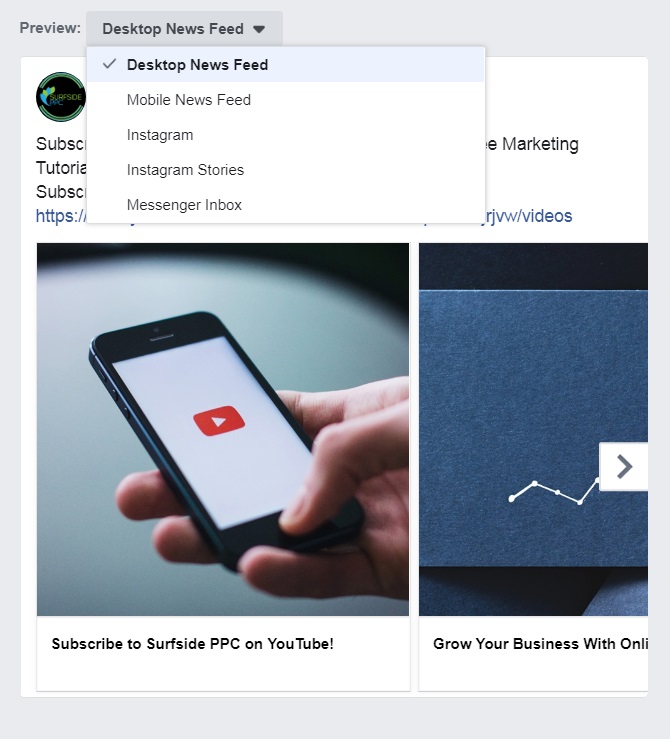 ---
10. Click on 'Boost' to Boost Your Post
Finally, you can launch your campaign after you boost your post. Click on the blue 'Boost' button and your post will start reaching more people.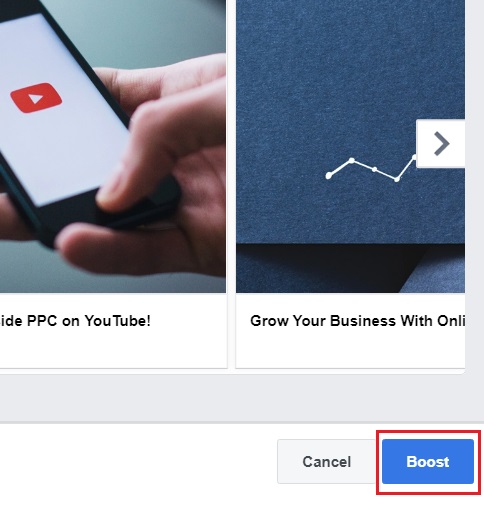 ---
11. See Boosted Post in Facebook Ads Manager
Once you publish your boosted post, it will launch as a campaign in Facebook Ads Manager. You can pause or enable the new campaign at any time. In addition, you can update the budget, duration, and targeting settings as well.
---
Best Practices for Boosting Facebook Posts
While you can boost any post you want on your Facebook page, there are some best practices and recommendations that you can follow as well. I touched on a few of them in the video and the article above, but I wanted to give you the guidelines I follow.
Boost Posts That Drive Engagement Like Shares

If you want to get the absolute most out of your campaign, then boost your most engaging Facebook posts. If you find that one of your recent posts performs well in terms of shares, likes, and comments, then you can amplify it by boosting it.

Since the goal of boosting a post is to increase your reach, when people are sharing your post then it will be viewed by more people.

Boost Posts to Your Facebook Page Like Audience

One popular option is to reach the people who already like your page with your posts. Since Facebook cut organic reach years ago, sometimes you need to boost a Facebook post in order to reach a large portion of your audience.

---

Boost Posts For a Short Duration

Your Facebook posts should be timely, so you should focus on conversions like sales and leads with long-term campaigns. I prefer to run campaigns for a short duration and a low budget so I can focus most of my budget on conversions.

---

Boost Promotions & New Offerings

If you are running a limited-time offer and a discount, then you can quickly share it with people who like your Facebook page. In addition, if you have new products for sale or new services to offer, you can reach an audience who follows your brand.

Boost Posts to Reach Your Local Market

Let's say you are a restaurant in a local market like Athens, Georgia. You decide to offer catering and football specials for football season. You can create a post that links back to your website and highlights some football food specials to your local market, where you can also reach NFL and College Football fans.

---

Spend Most of Your Budget on Conversion Campaigns

While Facebook boosted posts can be helpful to highlight new promotions or business offerings, I still recommend spending the majority of your budget on driving conversions. If you are running Facebook Ads campaigns, I would recommend trying to drive leads or sales, which will lead to an increase in business revenue.
---
In Summary
If you had any questions about the blue 'Boost' button underneath your Facebook posts, I hope they are answered now. The best way to learn some best practices for your brand is to continue to test different types of posts and targeting. If you have any questions, please leave them in the comments section.
---
---