17 Effective Ways to Drive Website Traffic in 2023
Driving traffic to your website is a difficult task. It can be very hard to find great traffic sources that consistently drive website traffic.
In this comprehensive guide, we will cover 17 proven tactics you can use this year to increase website traffic, leads, and sales. Whether you have a small budget or no budget at all, you'll find traffic-driving techniques to fit your needs.
1. Optimize Your Website for Search Engines
The first step to driving more website traffic is making sure your site is optimized for search engines like Google. By improving your website's SEO (search engine optimization), you make it easier for your content to rank higher in search results pages.
SEO Tips:
Use targeted keywords – Research keyword phrases related to your products/services and use these throughout your site content. Focus on long-tail keywords with low competition but decent search volume.
Create SEO-friendly content – Blog posts, videos, infographics etc should be over 1,500 words and have your target keywords in titles, headlines, image alt text etc.
Improve site speed – Quick page load times keep visitors on your site. Use image compression, minify CSS/JavaScript files and enable browser caching.
Get backlinks – Earn backlinks from high-authority sites. Guest blogging and link inserts in relevant niche websites help with link building.
Optimize technical SEO – Proper URL structures, use of alt image tags, meta descriptions etc all help search engines crawl your site.
By spending time improving your website's SEO, you make it easier for organic traffic from search engines to start flowing in.
---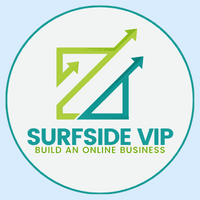 Join Surfside VIP today for only $2.99/month! Learn how to create a successful online business. Watch me build my websites and my YouTube channel to 500,000+ views per month and get all of my strategies.
---
2. Produce Engaging Content
Once you've optimized your site for SEO, the next step is populating it with content that engages visitors and keeps them on your site.
Content Creation Types:
Blog Posts – Regularly posting new articles helps drive repeat traffic. Aim for at least 1-2 blog posts per week.
eBooks / Guides – Long-form content like ebooks lets you showcase your expertise. Offer them as a free download in exchange for an email address.
Videos – Host video content like product demos, tutorials, live streams etc. Videos can help improve conversion rates.
Podcasts – Launch your own branded podcast discussing topics related to your niche. Podcasts help build brand awareness and loyalty.
Visual Content – Create visually engaging content like infographics, photos, illustrations etc that people will be eager to share online.
By continually adding new, high-quality content to your website, you give visitors more reasons to come back and spend time engaging with your brand.
3. Use Email Marketing
Email marketing allows you to directly engage your subscriber base with updates, offers, and promotions that drive traffic back to your site. Some best practices include:
Send regular newsletters – Give subscribers value-packed email newsletters on a consistent schedule.
Promote new content – Share links to your newest blog posts, videos, guides etc.
Leverage giveaways – Offer freebies, discounts, and deals to incentivize clicks.
Segment your list – Send targeted emails tailored to different subscriber groups.
Test subject lines – Try different subject lines to determine which get the most opens.
Email is a direct line to qualified leads and past customers ready to be re-engaged with your brand and site.
4. Build Social Media Audiences
Growing engaged followers on social platforms expands your audience reach and gives you a larger base to tap into for driving traffic.
Some social media growth tips:
Post Valuable Content – Share your best articles, videos, images, and more natively on social.
Go Live – Broadcast live streams sharing your expertise and personality.
Run Contests/Sweepstakes – Incentivize follows and shares with prize giveaways.
Leverage Hashtags – Use trending hashtags related to your niche to expand reach.
Engage Followers – Reply to comments, answer questions, and interact 1-on-1.
The larger your owned social media audiences get, the greater the multiplier effect on any traffic campaigns you execute.
5. Repurpose Content Into YouTube Videos
One effective way to get more mileage out of your top-performing blog posts is to turn them into YouTube videos.
Some tips for repurposing written content as video:
Use slides – Take your blog headers and turn them into slides for a video script outline.
Supplement with B-roll – Use supplementary stock video clips to make the repurposed video more engaging.
Record a voiceover – Turn your article text into a spoken video script narration.
Optimize with keywords – Include your target SEO keywords throughout the narration and description.
Insert calls-to-action – Add subscribe prompts, link-outs to your website etc.
Repurposed videos help you tap into YouTube's huge search audience while also generating views from your existing blog content.
6. Use Pinterest to Drive Referral Traffic
Pinterest is an underutilized referral traffic source. By creating eye-catching, valuable pin content, you can drive consistent traffic to your site from Pinterest searches and feed scrolling.
Here are some tips to maximize Pinterest for referral traffic:
Create engaging pin images – Use high-quality, vertical images that catch the eye and convey what the content is about.
Optimize pin descriptions – The description copy should include relevant keywords and compelling hooks to encourage clicks.
Link pins to blog content – Point your pins to in-depth blog content on your site so Pinterest becomes a traffic and lead generation source.
Promote your pins – Share new pins to your followers and use hashtags to increase reach and help pins get discovered.
Driving Pinterest traffic takes patience, but the lifetime referral value of regularly produced viral pins can be immense.
7. Guest Blog for Niche Websites
Guest posting on popular and authoritative blogs in your industry helps expose your content to targeted new audiences. It's also an effective link-building tactic that can boost your own website's search rankings.
How Guest Blogging Works:
Identify blogs – Find relevant blogs that accept guest posts and have good organic search traffic.
Pitch article ideas – Craft pitches focused on providing unique value for the target blog's audience.
Insert backlinks – When writing the post, seamlessly insert 1-2 contextual backlinks pointing back to your website.
Promote your post – Share and promote the guest post across your social media channels once it goes live to maximize reach.
By consistently contributing guest posts on industry-leading blogs, you can earn quality backlinks while tapping into new traffic sources.
8. Network with Other Niche Sites
Building relationships with other websites and influencers in your space can lead to various cross-promotional opportunities that drive new visitors.
Website Networking Strategies:
Link insertion deals – You place their link on a page, they insert a link back to your site on their page.
Sponsored giveaways – You provide the giveaway prize, they promote and host the giveaway on their platform.
Social media takeovers – You get to temporarily "take over" their social media account and post your own branded content.
Joint webinars – Host a joint webinar where you both share expertise with your combined audiences.
Networking in your niche helps build your brand's visibility and trust while letting you tap into new traffic sources from sites with aligned target audiences.
9. Start Publishing Guest Blogs on Your Blog
On the flip side, starting your own guest blogging outreach can attract authors in your space to contribute articles on your own site. This influx of new expert content will help engage your site visitors.
Guest Blogger Outreach Strategies:
Create guest posting guidelines – Have clear expectations around content quality, backlinks, author bios etc.
Establish a formal process – Make it easy for them to submit pitches with topic ideas aligned to your content goals.
Promote their content – Share guest posts on social media and email newsletters so they gain exposure to your audience.
Keep the pipeline filled – Continually connect with new potential guest contributors so you have a steady stream of incoming content.
Having a thriving guest blogging program provides a consistent source of fresh, expert content that will keep visitors engaged on your site.
10. Start Your Own Podcast
Podcasting continues to grow as both an entertainment and marketing channel. By starting your own branded podcast targeted to your niche, you can set yourself up as an industry thought leader.
Tips for launching a successful niche podcast:
Choose the right topic – Select something you're genuinely passionate about that fits with your expertise.
Book the right guests – Interview industry experts your target audience will be excited to hear from.
Promote across channels – Share new episodes on your blog, email lists, social media etc.
Repurpose content – Turn segments of popular episodes into blog posts to double their traffic value.
Insert targeted ads – Promote your own products, services, offers etc where relevant during episodes.
A branded podcast helps build authority and awareness with your niche while driving recurring tune-in traffic.
11. Use Paid Advertising
Paid ads allow you to put your brand and offers in front of targeted audience segments across major digital platforms.
Some top paid advertising channels include:
Google Ads – Target SEO keywords related to your niche with text, display, and video ads.
Facebook Ads – Highly targeted ads based on detailed audience demographics and interests.
YouTube Ads – Pre-roll and mid-roll video ads on YouTube searched and related videos.
Bing Ads – Similar to Google but with lower competition and costs in some niches.
LinkedIn Ads – Target your ads by job title, industry, skills and more.
Paid ads are a fast way to expand your reach and get your website in front of new targeted audiences.
12. Use Retargeting Ads
Retargeting helps you reconnect with website visitors after they've left your site by serving them ads across the internet related to their site browsing behavior.
Some tips for effective retargeting campaigns:
Identify clear goals – Do you want visitors to subscribe, make a purchase etc? Set a specific objective.
Segment your audiences – Customize your ads and offers based on where the visitor landed/exited on your site.
Track conversions – Use UTM parameters and pixels to monitor the performance of your campaigns and fine-tune them.
Remarket across platforms – Use platforms like Google, Facebook and others to maximize your retargeting reach.
Cap your spend – Set reasonable daily/monthly budgets and use volume-based bidding to stay in control of costs.
Retargeting helps remind previous visitors about your brand and site while capturing potential missed conversions.
13. Leverage Behavioral Email Marketing
Send targeted behavioral emails to re-engage different website visitors based on their on-site behavior.
Here are some ideas for targeted email campaigns:
Abandoned cart – Send offers to users who added to cart but didn't complete purchase.
Browse abandonment – Remind visitors who left your site before converting about your offerings.
Page visit – Email visitors who frequented certain pages but didn't convert.
Inactivity – Win back inactive subscribers with special deals for them.
Segmenting your email lists based on visitor behavior allows you to tailor messaging to welcome visitors back and encourage specific desired actions.
14. Join Relevant Facebook Groups
Joining and actively engaging in Facebook Groups related to your target customers is a great way to tap into built-in audiences of potential website visitors.
Here are some tips to leverage Groups effectively:
Provide real value – Answer questions and give thoughtful advice. Don't just plug your website.
Share your expertise – Offer a unique perspective that sets you apart as an industry expert.
Be helpful – Proactively look for ways to assist struggling group members.
Monitor engagement – Notice which post types and engagement tactics elicit the most positive response.
Link to your content – When relevant and allowed, occasionally share links to your blog posts or website.
Facebook Groups provide a captive audience of aligned potential customers. By genuinely helping them, you gain trust that earns website clicks.
15. Use TikTok to Reach New Audiences
TikTok offers major audience expansion potential thanks to their powerful algorithm that can quickly make viral hits out of accounts with compelling and engaging content.
Some tips for TikTok success:
Hook viewers fast – Grab attention immediately before lost interest scrolls kick in.
Provide value – Give advice, share hacks, reveal insider tips – and deliver takeaways that help viewers.
Call-to-actions – Give clear direction on any follow-up or conversion steps you want viewers to take.
Engage in Comments – Respond, answer questions, and start conversations with commenters.
Link in Bio – Include a link in your bio leading to a landing page on your website.
With 1 billion monthly active users, mastering viral content that strategically positions your brand can become a powerful traffic driver.
16. Host Live Webinars
Webinars positioned as free classes are fantastic lead generators and customer acquisition tools. The live interaction also helps you build relationships with attendees.
Some webinar best practices include:
Select hot topics – Choose subjects your audience has expressed interest in learning about.
Promote the event – Advertise your webinar through email, social, guest posts, etc.
Offer value – Make sure attendees walk away feeling they benefited from the time invested.
Open/close strong – Start with an engaging hook and end with a compelling call to action.
Have follow-ups planned – Follow up with resources, offers, and event recaps.
Webinars position your brand as a helpful educator in your space while generating leads and traffic from broad promotions and registrations.
17. Pursue Public Relations Opportunities
Earning media exposure through public relations tactics like press releases can rapidly expand your brand's reach and awareness. PR builds credibility that drives new visitors to check out your website.
Some PR opportunities to consider pursuing include:
Pitch reporters at industry publications – Offer unique data, expert perspectives, or new product announcements that may warrant coverage.
Look for relevant awards – Apply for award programs; earned awards equal easy press release fodder.
Send newsworthy releases – Distribute releases centered around milestones, achievements, and events.
Expert source pitching – Contact journalists in need of quotes/insights related to your expertise.
Contribute guest articles – Pitch high-authority publications with article ideas for their site.
Well-earned media exposure helps compound visitors who discover you through other means, accelerating overall traffic growth.
Conclusion
With the right marketing mix, these 17 tactics can help rapidly grow your website traffic.
Stay focused on providing real value to potential customers and becoming a helpful expert resource in your niche. By doing so, all of your efforts in driving traffic will also increase engagement and conversion once visitors hit your site.
Experiment with different options and track analytics so you can double down on tactics proving the most effective. With smart optimization, the growth opportunities highlighted in this guide will quickly scale your website traffic and business success to new heights.