Hair Salon Pay-Per-Click (PPC) Advertising Strategies
Hair salons have a lot more competition nowadays than they used to. That's why it is more important than ever to have a good digital marketing strategy to help drive new customers that will last a lifetime. There are a lot of different ideas you can employ and marketing strategies you can test. In addition, you need a professional website that will help you attract customers and maybe even schedule appointments online. You also want to have a strong understanding of website analytics and marketing analytics so that you can constantly improve and get more for your budget.
Below are some of the top Pay-Per-Click (PPC) Advertising Strategies for Hair Salons on channels like Google AdWords, Bing Ads, Facebook Ads, Twitter Ads, Pinterest Ads, and more. PPC has long been one of the best ways to drive new customers to your business because you can actively run search engine ads when people search for a business similar to yours.
Hair Salon PPC Advertising Strategies
This article is geared towards Pay-Per-Click Advertising but we will still cover some different things you need in general to get targeted website traffic and ultimately drive more phone calls and customers.
1. Informative Hair Salon Website
Having a website that explains all of your services, pricing, contact information, phone numbers, addresses, and even some of your unique value propositions is incredibly important. Many hair salon websites even book appointments online but you don't need that functionality.
---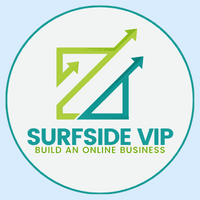 Join Surfside VIP today for only $2.99/month! Learn how to create a successful online business. Watch me build my websites and my YouTube channel to 500,000+ views per month and get all of my strategies.
---
If you don't have any website at all or if you have one that is a lower quality, you should upgrade it immediately. After all, your website is a representation of your business and it is incredibly important.
2. Google Analytics Website Tracking
Tracking your website data through Google Analytics helps you track your ppc advertising campaigns, understand your SEO impact, and most important help you find areas of opportunity. We have used Google Analytics at Surfside PPC to help our clients understand what search keywords are the most important for their business, the demographic data on their website visitors, the geographic data on their website visitors, and sources of website traffic from referral websites like Yelp.
If you don't understand website analytics, it can be very hard to get started so we can certainly help you install Google Analytics and set-up tracking so you can use that data to grow your business revenue.
3. Google AdWords PPC Advertising
When we want to look something up the first thing most of us do is pull out our phone, tablet, or go on a laptop to search the Google search engine. That involves people who are online shopping and people who are looking for a hair salon. It's one of the few places online or anywhere that you can find ready-to-buy customers who are actively searching for your business.
Google AdWords allows you to bid a certain amount of money on specific search queries to drive relevant traffic to your website. For example, you can show your ad when someone searches 'Best hair salons in Boston' and drive someone who needs a new hair salon directly to your website. Depending on your competition, that click to your website might cost anywhere from $1.00-$5.00 per click most likely. If they end up using your Hair Salon and becoming a lifelong customer then it is obviously worth the small investment. And if you aren't using Google AdWords, your competitor likely is and stealing customers from your hair salon.
Mobile Call-Only Ads: You can also create a campaign where you only pay when someone calls you. So you can bid on a keyword like 'best hair salons' and when people search it your phone number ad will come up that will allow someone to call you directly and make an appointment.
4. Bing Ads PPC Advertising
One thing many business owners don't realize is that Bing has a solid market share when it comes to online search engines. Google is obviously the market leader but Bing Ads provides plenty of opportunity and volume to drive new hair salon customers using PPC Advertising.
Similar to Google AdWords, you can employ the same exact strategy and continue to optimize both accounts to maximize your budget. You might start by driving customers at $30/customer but maybe you can get it down to $15/customers with the right hair salon online marketing ideas.
We believe Bing Ads is extremely underrated as an advertising network and every large and small business should at least have a small every day budget on Bing Ads, and that includes your hair salon.
5. Facebook Advertising
The marketing capabilities on Facebook are tremendous and if you use Facebook ads you can not only build up your page but you can also attract new customers who use Facebook. There are a lot of targeting strategies for hair salons using Facebook ads and you should definitely at least give it a test budget.
You can target people who are actively looking for a new hair salon and you can also use the data from your Google Analytics account above that I mentioned to find your target customers. You can show your ad and maybe an introductory deal to an audience to help drive phone calls and foot traffic.
Instagram Advertising
You can target people directly on Instagram with ads and it is a great channel for a hair salon because of the visual aspect. You can use a hairstyle that you have done or even make a collage of four hairstyles that other people can get at your local business.
Instagram is a great channel for small businesses because you can remind people about your business in a natural way. No one is annoyed by seeing your pictures and your channel and it will only help drive business.
7. Retargeting
When someone visits your website but doesn't convert, you can retarget them with ads across the Google Display Network and Facebook to make sure they book an appointment with you.
Retargeting is a great strategy because you can choose to target a group of people who have already shown interest in what you have to offer. Most people aren't randomly landing on a business website so if they don't convert then you want to keep them engaged with advertisements.
8. Pinterest & Twitter Ads
Depending on the size of your hair salon and your overall budget, you might want to incorporate Twitter ads and Pinterest ads as well to people in your local market. It might be better for a hair salon with multiple locations but ultimately it is an option to reach a lot of people, drive targeted traffic, and grow your number of lifelong customers.
5 Hair Salon Digital Marketing Tips
Now that we have gone through some Pay-Per-Click Advertising options for your hair salon, now I want to go through 10 more tips that you can utilize to get more eyeballs on your business using online marketing techniques.
1. Start a Google My Business Account
By starting a Google My Business account, you can get professional local listings in the search results without any added cost. We have an example below from a business called Parlor in New York City that seemed popular.
Ultimately, you want Google to rank your business high in search results and you want information about your business to show when people search for you. A Google My Business account will give potential customers all of the important information they need without any hassle, and there's no downside for you using it.
2. Request Positive Reviews
Getting positive reviews on Google, Yelp, and Facebook helps people see that you are a trustworthy business where people will get exactly what they are looking for. One way to increase reviews is to simply ask your most loyal customers if they can give you a review on any one of the three.
Many people don't think to give your business a review because they don't understand how much it can help. I once gave a small business a five star review and they actually gave me a discount the next time I walked in.
3. Post Regularly to Instagram and Twitter
Let's say at a minimum that you are cutting and styling ten people's hair per day. After you are done with styling, it's a great idea to ask if they would mind if you took a picture for the social media page. You can avoid getting their face in it or maybe they would prefer their face in it. All in all, you want to show others that they can get a beautiful haircut at your hair salon when they are browsing their page.
4. Text Message SMS Marketing
Many people forget to make hair appointments or they only make them when they really feel they need a haircut. By using SMS marketing, you can text message your existing customers to make an appointment with you. It will work best if you offer a discount so they feel the need to get their haircut rather than wait another month.
5. Build a Facebook Audience
You can run a Facebook ads page likes campaign if you are really having trouble getting those initial page likes. It's a good idea because you can reach people in your local market who might become customers. You just need to be consistent like Twitter and Instagram with a daily post that includes a picture, a daily deal, weekly specials, or new innovative hair styles that you are doing.