Dental Pay-Per-Click (PPC) Advertising Strategies
If you have your own dental practice, one of the challenges can be gaining new patients. Once you open, you need to be able to find people who need your dentist services so you can grow your practice. With everyone searching on their desktop devices and mobile devices constantly, you need a dental digital marketing and pay-per click strategy.
We're going to go through some of our top recommendations when it comes to dentist online marketing because you might not be taking advantage of everything you need to be. Are you going through Google Analytics reports? Do you have a measurable marketing budget? Do you know areas of growth based on your online data? That's where you can take a step above your competitors.

Dentist PPC Advertising Strategies

Below are our top advertising strategies for Dentistry's to use so they can take their online marketing to the next level.

1. Informative Professional Website
If you don't have an informative and professional website, you will lose patients to competitors. Your website should have all of your services listed with detail, all of your contact information, positive reviews and testimonials, insurance options, pricing estimates, and all the services offered for kids.
---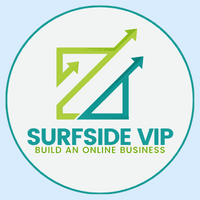 Join Surfside VIP today for only $2.99/month! Learn how to create a successful online business. Watch me build my websites and my YouTube channel to 500,000+ views per month and get all of my strategies.
---
In addition, your website should have a contact form so people can quickly see your availability. One of my favorite features I've seen on a dentist website is the actual openings in the calendar so people can quickly and easily book appointments online or over the phone.
2. Start a Google My Business Account
Google WANTS to help your business, you just have to give them all of your information. If you went through the difficult process of schooling to be a dentist and now have your own practice, you absolutely need to set-up a Google My Business account and give all of the information you need to about your practice.
People will be able to find you on Google maps, list your address, help people get directions, list your website, show your hours, show photos, show Google reviews, and more helpful information that will only give you more patients.
3. Google Analytics
Google Analytics allows you track everything about who visits your website, how they get there, and what they do. By using Google Analytics, you can know the following: How many people are filling out your contact form, where people are from who visit your website, what the top pages are, whether people come from social media, search engines, or paid advertising, and plenty more.
Google Analytics is the best way to help grow your online presence because you can uncover opportunities and ideas.
4. Google AdWords PPC Advertising
Let's say you just opened your own dentist in Los Angeles or Boston, you need to compete with the established dentistry's in the area. The fastest way to do that is to bid on keywords and target users when they search terms related to your business. When people type in "Boston Dentist" for example, you can bid on that exact keyword through Google AdWords and drive targeted traffic to your website.
The difficulty with PPC Advertising is when you get started, there's so much you need to understand to do it properly. You need to know how to target the right keywords, create effective ads, use ad extensions, drive conversions, and continue to optimize your account so you can get the most out of your ad spend.
5. Bing Ads PPC Advertising
With Bing Ads, you don't quite have the volume of Google AdWords but you have the same overall effectiveness on a cost per new patient basis. The clicks many times cost less because the competition is less than AdWords, so it's certainly worth testing.
Many people don't realize the overall value of Bing Ads but it's a huge search engine and your AdWords campaigns can be mirrored directly over to Bing. Since it's a Microsoft product, it has continued to have backing and support and should keep growing long-term alongside Google.
6. Facebook & Instagram Ads
Let's face it, we spend far too much time on social media and we are all guilty. Husbands, Wives, Mothers, and Fathers are all using social media channels to follow their interests, follow their favorite celebrities, and interact with friends and family. And where there are eyeballs, there is advertising.
Facebook and Instagram are two huge social channels where you can run advertisements and laser-target so you can reach your ideal customer. This is where Google Analytics data comes in because you can do your best to reach your target market.
You can also use both channels to build up your own presence and show pictures of happy patients, behind the scenes information, information about doctors, and more.
7. Retargeting
When someone visits your website but doesn't convert as a new patient, you want to retarget them with ads. Maybe your pricing was too high to begin so you offer a new patient rebate, maybe they didn't realize you were open Saturday so you include your hours, or maybe they just weren't ready to give you a call the first time they visited your website.
Retargeting is still practiced heavily because it still works. The people who show interest in your website have some level of interest in your services, we generally don't visit a random Dentistry website in a random town, we do it because we need a dentist.
8. Yelp and Yellow Pages Advertising
A quick Google search for dentist's in almost every small town and every large city across the United States will have a Yelp listing towards the top and a Yellow Pages listing within the first two pages. You can advertise on both of these channels to reach customers who might also want to read your customer reviews on Yelp.
I would highly recommend starting with Google AdWords and Bing Ads but having a strong presence on these two websites.
4 Dentist Digital Marketing Ideas
We have several more digital marketing ideas that can really help your practice and your online presence.
1. Ask For Reviews
If you have patients who come regularly and you have a great doctor patient relationship with, you should definitely ask them for reviews for Google Reviews, Facebook, and Yelp. Positive reviews are the first thing people look for when they want to find a new dentist.
2. Google Webmasters
There are so many reasons for having a Google Webmasters account. You can optimize your website for search engines, submit your sitemap to Google, and even know when your website has been hacked. Google Webmasters is a way for you to tell the Google search engine what pages you want them to index, and in return you get important data about when your website appears in search engines.
3. Social Media
If you can remain active on social networks like Facebook and Instagram, it's a great way to put faces to your dentistry. People are more likely to call you or contact you if you have a good social media presence.
4. Video
By using video and uploading it to social channels like Facebook and YouTube, you can describe your services and show happy customers. We have moved to a video-first world and showing your dentists and your office to potential patients is a good way to get them to call you and book an appointment.
In Summary
You definitely want to start with a professional website, a google my business account, and a google analytics account to get started. The more information you can put on your website to describe your services, the better your organic listing will look in Google.
Once you have a good organic presence, you will definitely want to bid on keywords using Google AdWords and Bing Ads